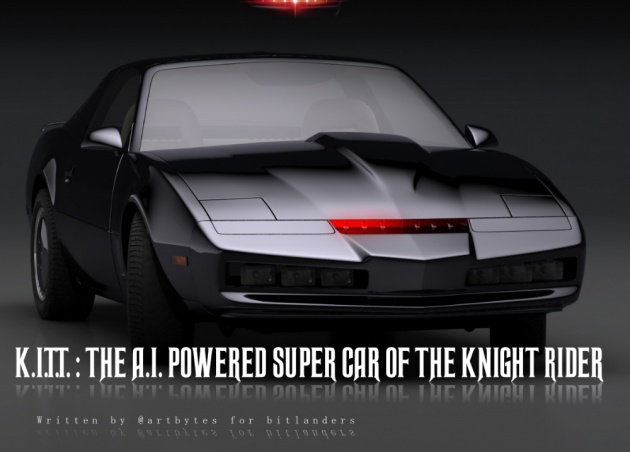 Image Credit: edited by @artbytes using Inkscape
Original image source: Free Knight Rider Live Wallpaper
Back in the 1980s, a TV series about a black 1982 Pontiac Firebird Trans Am that talks have become a big hit. The car is powered by an artificial- intelligent computer processor and can talk and often times drive itself without a driver. The show is called THE KNIGHT RIDER and the car is named KITT or Knight Industries Two Thousand.
A talking and self-driver car was purely science fiction during those times. It was 'Futuristic' to say the least.
Here is the original trailer of that show.
CBLOG: K.I.T.T. - The AI Powered SuperCar of the Knight Rider
In this CBlog we will talk about the nearly indestructible Trans AM known as KITT and the Knight Rider.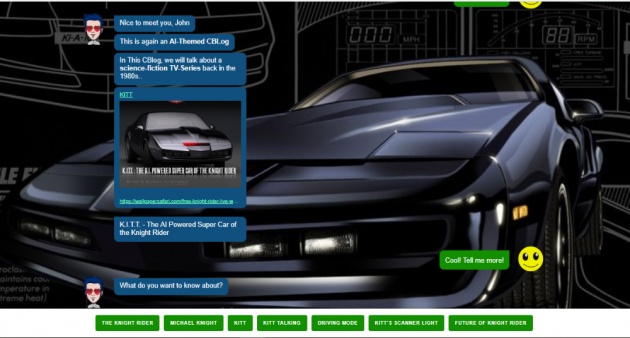 Image Credit: Screenshot of CBLOG: K.I.T.T. - The AI Powered SuperCar of the Knight Rider
Interact in this chat blog to find out more.
Thanks for chatting.
-o-o-O-O-O-0-0-0-O-O-O-o-o-
If you like this article, please share.

John Reynold Loberiza (a.k.a @artbytes) is a freelance graphic artist, web developer, and blogger. He is also a licensed Financial Adviser under Insular Life.
The content of this blog post is the author's original work. Proper credit is always given to the respective sources of information and images. Please feel free to check out my other blog posts: http://www.bitlanders.com/Artbytes/blog_post
If you have any reactions or inquiries regarding the subject of this post, please write it in the comment or send the author a private message.
For more information or questions you can also:

~°~°~°o0O0o°~°~°~
Join Bitlanders

If you are not a member of Bitlanders yet and you are a content creator- a writer, blogger, photographer, an artist or a hobbyist, you can earn from your creations (blog posts, photos, artworks, or videos) by uploading them in Bitlanders.
You can join Bitlanders by clicking this link-> http://bit.ly/Join_bitlanders