The local HBO here in our region has recently been showing the film John Wick. Since it is one of my all-time favorite action films, I thought of blogging my personal review and opinion about it.
However, I changed my mind as something similarly important has entered my thinking cap. Instead of writing my review about said film, I opted to write about the Hollywood actor who starred in the movie – the talented Keanu Reeves.
Keanu Who?
(Image Source: Google.com – a photo of Keanu Reeves)
Famous actor Keanu Reeves has done numerous movies of different genres. The almost 52-year-old actor has done roles in various movie themes such as action, drama, thriller, horror, etc... Among my favorites are his films that are action oriented – some of which includes The Matrix, Speed, Constantine, and John Wick.
Throughout his career, Keanu achieved global recognition and has put plenty of awards in his trophy case. Aside from his successes in the movie industry, Mr. Reeves is also a known philanthropist and likewise plays music.
As you may have probably guessed, this post is about Keanu Reeves. This blog will showcase his achievements, notable actions, and exploits in and out of the movie industry. So sit back and enjoy reading this informational blog. For those who are wondering, I am going to blog about Keanu Reeves as one of the reasons why a film becomes great is because of how the actor and actresses portrayed their respective roles (also, I heard that a sequel to John Wick is in the works)
Already 30+ years in the entertainment industry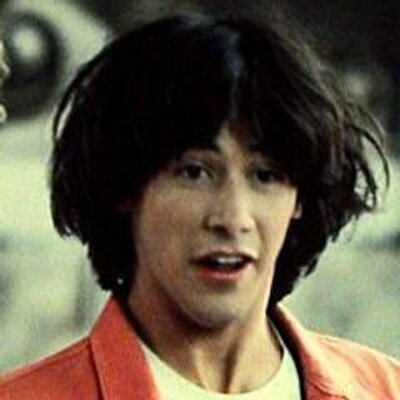 (Image Source: Google.com – a photo of a teenage Keanu Reeves)
Officially, Keanu has been in the entertainment industry for more than 30 years. A lot of people probably mistakes that his first film is the comedy movie "Bill and Ted's Excellent Adventure". This is quite understandable since it was the film that catapulted his acting career. Truth be told, many people did not expect this particular movie to be a critical hit – but somehow, it garnered a cult following and inspired a theme park, a comic book series, animated TV series, etc…
Anyway, Keanu's first two movies are "One Step Away" and "Youngblood". However, before said two films, he has already been part of TV commercials and a theater production.
It is also interesting to note that although, the Bill and Ted's movie franchise made Keanu a recognizable figure in Hollywood, not all of his films are blockbuster hits. Keanu starred or was in over 50 films – some of his movies are considered as flops or did poorly in ratings, reviews, and financial aspects. Although, this is a given with the wide diversity of film genres he chose to be part of, nonetheless, many of his movies (and role) are absolutely brilliant that it broke records or revolutionized something in the industry.
Some readers of the so-called "millenial generation" have probably not heard about the movie Bill and Ted. Don't worry as I will be providing the trailer of this 1989 movie below. The comedy antics during those times (80s) might be different today so don't scratch your head and wonder how it became a blockbuster movie
(Video Source: YouTube.com)
An assorted type of actor
One may wonder why or how did Mr. Reeves starred in different film genres when clearly, action is his thing. Frankly speaking, I don't know the answer myself. After reading numerous magazines and articles, it seems that, its just the way he is. It appears that the reasons on why or the methods how his decisions are based, is known only to himself.
For instance, did you know that he was considered in the mega action movie "Heat". This particular movie could cement his Hollywood action-star status as it also started big Hollywood names such as Robert De Niro and Al Pacino (plus it comes complete with an awesome plot).Interestingly, reports has it that he turned down the role to be part of a Hamlet theater play in Winnipeg (Canada).
Another good example is when he turned down the lead role offer for Speed 2. Many analysts believes that the amount offered to him could be the biggest in his career. Instead, he opted to tour with his band.
Anyway, even though Keanu may have unique career choices, his impressive talent and acting abilities cannot be denied (as can be seen whether he is in the lead or supporting roles)
5 of my favorite Keanu Reeves films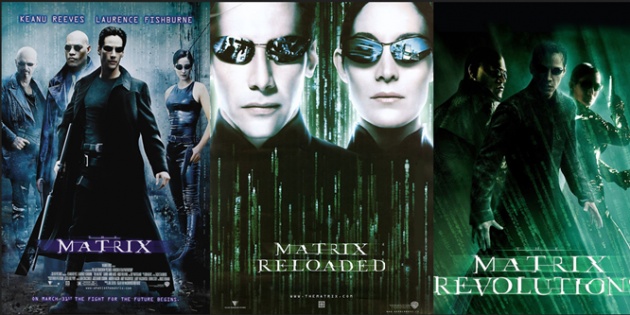 (Image Source: Google.com – Movie Posters of The Matrix Trilogy)
The Matrix Trilogy
Of course, I will start with my favorite one. I'm sure many of my batchmates will agree that The Matrix trilogy is one of the best films of our generation. It redefined the action genre with its 360 slow-sequence scenes, futuristic plot, and machinistic special effects.
Speed
This fast paced action film surely brought the audience at the edge of their seats. This big budget film transitioned Keanu's teen comedic roles to action and suspense.
Something's Gotta Give
Yeah, I know what you're thinking. How come a non-action movie entered my list – on top of it, Keanu was not even in the lead role. Well what can I say – it's a great movie in just about every aspect (plus Keanu's role can be considered major since it has a significant part in the movie).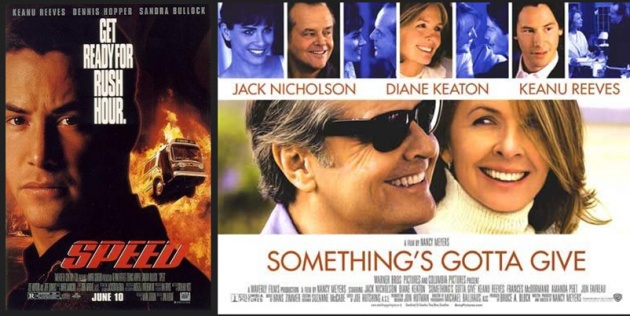 (Image Source: Google.com – two movie posters has been merge/edited by jikZ)
The Devil's Advocate
Keanu may have missed the chance working with the great Al Pacino in the movie Heat, but that opportunity came to fruition know this particular film. This thought provoking movie has a powerful darkly theme that Keanu fans would surely enjoy.
John Wick
With all honesty, I gave my thanks to the movie cosmic divine beings for this film. I have to say that after Mr. Reeves did The Matrix films, it would be quite hard to top the trilogy off. The movies he made after the trilogy is good but is somewhat lacking. His fans are looking for that certain something that made Keanu clicked - and it has been reignited in the film John Wick.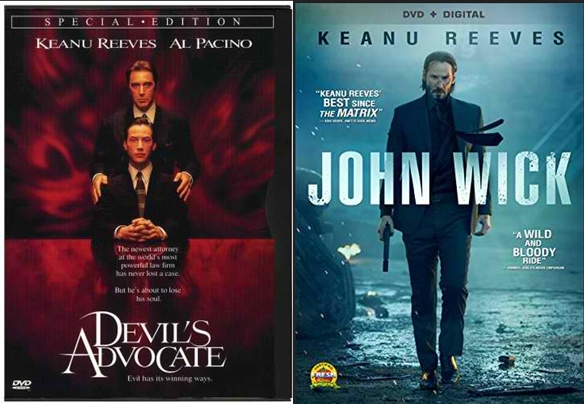 (Image Source: Google.com – two movie posters has been merge/edited by jikZ)
More than just an Actor
Naturally, being in the movie industry for more than 3 decades, Keanu did not remain an actor all that time. He also ventured into directing, producing, and also accepted theater roles (in fact, I think he even wrote a children's book though I have to confirm this)
Additionally, aside from acting (or doing any of those stuffs listed above), he was also part of the band Dogstar and also had a brief stint with the band named Becky. I also somewhat recall that the reason why Keanu turned down some movie offers is due to his involvement in the band (conflicting schedules maybe).
Philanthropy Work and other Admirable Traits
Anyway, let us now move pass the entertainment industry and look at Mr. Reeves' exploits outside the industry. There are a number of Hollywood figures who are known for their philanthropy activities and charitable actions. Keanu is also one of these celebrities – but his case is quite unique.
One can say that he is one of those celebrities who does not mind the money (or the fame, so to speak) as there are humors floating around for a few years now saying that he agreed to have a budget cut in some of his films in exchange for a better cause (like more funding for the crew or to get enough money to get a suited A-list actor to be part of the film)
True or not, one certain thing about Mr. Reeves is that he supports multiple charity institutions – one such organization is for cancer patients. Some readers may not know this but Keanu's sister used is a leukemia survivor.
Here is also a clip showcasing that Keanu has class and is also down-to-earth. The clip shows Keanu riding a train (truth! an A-list Hollywood celebrity riding public transport). But that is not the essence of the short clip. In the clip, it can be seen that Keanu gave up his seat to a lady passenger (in fact, there are tons of YouTube clips taken by random fans showing how polite and approachable Keanu is to his fans)
(Video Source: YouTube.com )
.
A Closing Message
We've reached the ending portion of this blog. I know that this is quite a long shot – but just in case this blog will reach the front page of Google (sort of becoming viral) and will somehow reach the attention of Keanu, I want him to know that I am one of his biggest fan.
And just in case Mr. Reeves will ask what is bitLanders all about, it is a social media site that rewards it's members. It is also a site that is involved in different charities (which he may find interesting). Lastly, the site has this cool referral system. And it would be cooler to have invited a Hollywood celebrity (wink wink hehehe)
That's just about it. I'll just put my referral link HERE in case there's a famous reader who is not yet part of the bitLanding community but is interested and would like to join (joining is free and there is a current $1 sign-in promo)