Kontrabando is Tagalog term which is an adjective and of which stands for contraband or smuggled. It is supposedly a news program in the Philippines under TV5 but it is more than that. Aside from being a news program, it is also a commentary one which got people or audiences cracking up. Literally, it is a news program with a humor.


This show had become an online hit with thousands of views, hits and shares per week. It started unexpectedly as the network administration want to capitalize on social media by drawing younger viewers from the online side. And yes it has indeed made its way towards the online stardom.

It was fun to know that the show was conceptualize over a box of pizza when the people who though about it also became the news anchors or hosts.



From then on, the show had ranked the news industry with its satirical, tongue-in-cheek folly. It has its own segments which definitely makes a viewer laugh and become interested with News.

Kontrabando counts down the most mind-bending, thought-provoking quotes or sound bites of the week that you won't hear/see in any other newscast. And they deliver their News in a new that the audience will have no other option but to laugh because although they are funny, they speak of the truth of how the society and the country is doing right now at this generation.


The hosts mix of charisma, humor, and cleverness is perfect. They may not be your typical news anchors with perfectly kempt hair and expensive suits, but they get their message across.

Here are the hosts:

Ramon Bautista

He was just as normal as the rest of college stuedents at the University of the Philippines, Diliman. He collaborated with RA Rivera and became parters in doing and shooting diferent videos and short films that found their way to cyberspace and into into internet stardom.
His stardom started when he appeared in his own show in MTV Philipinas, The Ramon Bautista Show. It was a show interviewing prominent artists in the Philippines music industry.

He is a Filipino actor, radio DJ, TV show host, commercial model, filmmaker, producer and University of the Philippines, Diliman professor. Dubbed as the "Internet superstar", his fans follow him on Tumblr, Twitter and Facebook. His formspring.me account had the most "smiles" in the world in 2011.

Bautista's first book, Bakit Hindi Ka Crush Ng Crush Mo? (at iba pang technique kung paano makaka-move on sa wasak na puso), which was published in October 2012 by Psicom, tackled different issues on love like long distance relationships, "friendzone", NBSB (no boyfriend since birth), crushes, MOMOL (make out make out lang) and moving on from a past relationship.

Lourd de Veyra

Lourd Ernest de Veyra is a multi-awarded Filipino musician, emcee, poet, journalist, broadcast personality and activist who first became famous as the vocalist of the Manila-based jazz rock band Radioactive Sago Project. He is known for being a no-nonsense in terms of his commentaries and realizations about anything and everything under the sun. He is straight to his point and doesn't care whoever that person he is referring to. He expresses it with profanity and anyone who listens or watches him would be literally dropping his or her jaws, either in amazement or dumbfounded repugnance. It will make you research on the matter just like what happened to me. I am not really into politics or history matters but when I watched an episode of the Kontrabando where Lourd had given some hanging information about the date on when the Martial Law was signed in the Philippines, I later on learned something about it and about how the Philippines was during the Martial Law time.
He also hosts a show called Word of the Lourd and it is self named. It just provide information about the issues and reality which is happening in the Philippines. He said he is not really conscious about his achievements and how the new generation is looking up on him but what is important for him is the fact that he has a job which he needs to do well and provide more than what is expected. He works seriously and if he is given something or given a task, he will do something about it. He will research for it to death. That is mainly the reason why he is just so knowledgeable of the matters he is speaking about.

De Veyra is a member of Artists for the Removal of Gloria (ARREST Gloria), an alliance of artists whose common call is the removal of Philippine President Gloria Macapaga-Arroyo from office.
He is also into essay writing, novel and poetry. Here are his notable awards:

1999 Don Carlos Palanca Memorial Award for Literature (Third Prize in Essay, English Division)
2003 Don Carlos Palanca Memorial Award for Literature (Second Prize in Essay, English Division)
2004 Don Carlos Palanca Memorial Award for Literature (First Prize in Teleplay, Filipino Division)
Jun Sabayton
He has been very known as Bayaw who has been very vocal about his plans of running for president in the upcoming 2016 Elections. He even have his own website: Bayaw.ph which encourages everyone to vote for him.
With the 2016 elections well on the horizon, NEWS5 has launched B.A.Y.A.W for President, an advocacy campaign featuring Jun Sabayton as a candidate running under the B.A.Y.A.W. or Bagong Alyansang Ayaw sa Walang Hiya platform. The campaign is a satire with a TV documentary feel featuring the election situations through humor and slapstick comedy.
He is a director and has been found as Lourd de Veyra's sidekick.
Check out his segment: Chikang Bayaw:
RA Rivera
He has produced/directed various film/video projects for local musicians such as Radio Active Sago Project and Pedicab in which he is a non-musical band member. He directed "Astro" for Radio Active Sago Project, in which he was awarded Best Music Video on MTV Pilipinas.
Generoso Cupal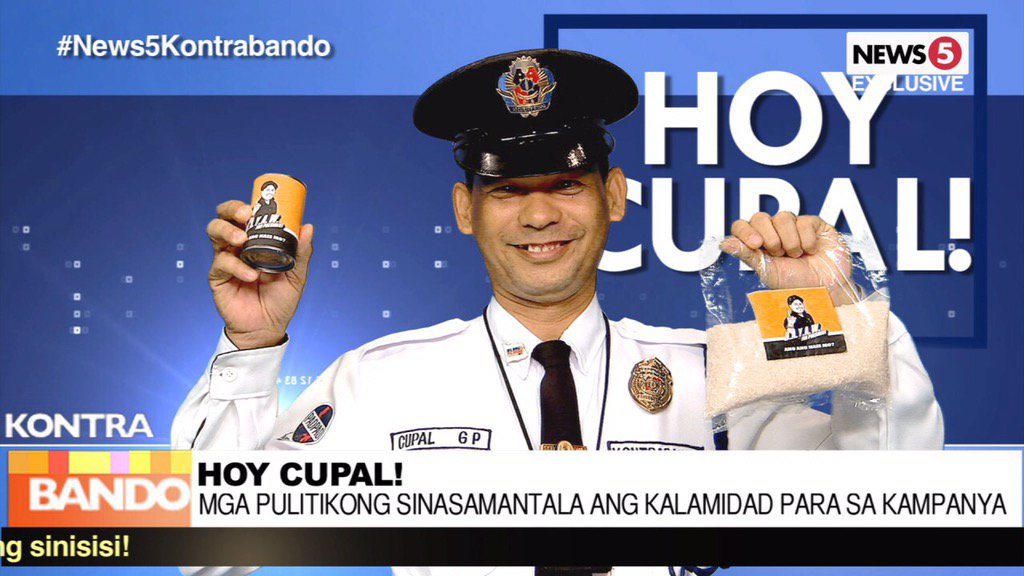 Kontrabando's hard-hitting security and counter-terrorism expert, makes the ladies swoon and the country's top reporters insecure. With his no-holds-barred commentaries, perfect intonation, affable looks and of course, unforgettable surname, who wouldn't get fixated on his Cupal-ness?

Bea Benedicto


She's the cherry atop the Kontrabando sundae. Looking at her will turn your depressing days around. No indecipherable doctor's prescription needed!
The rose among the thorns.
Bea Benedicto delivers her unique weather report on 'Kontrabando'. She is also giving some tips for the heart while delivering the weather report. It is unique.

She graduated from the Ateneo de Manila University and I'm currently studying at the Fashion Institute of the Philippines.
If you crave for news delivered in a fun and amusing manner, Kontrabando is a smorgasbord. They share their episodes online on their Facebook fan page. Here are some of their interesting video episodes:
Some other TV shows in the Philippines: