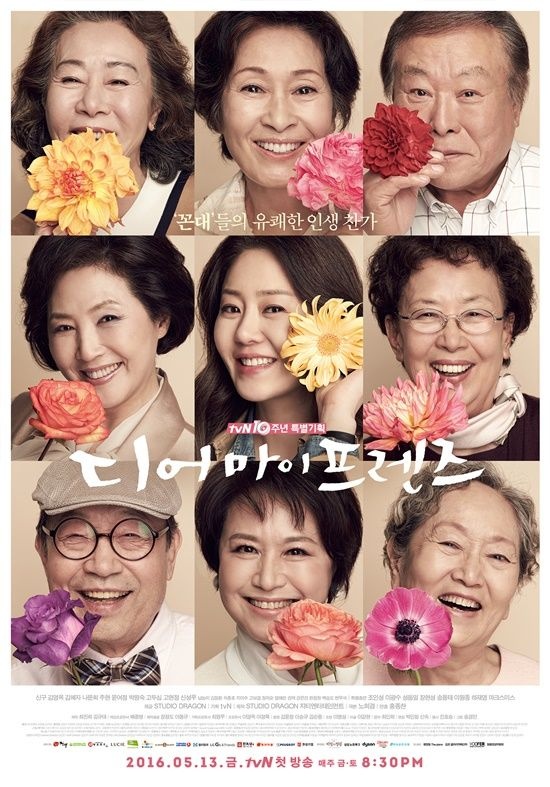 Image Source: AsianWiki
Dear My Friends / 디어 마이 프렌즈 (2016)
Just because you're aged doesn't mean you're grown up. There's a difference between being mature and being old. -Park Wan-
About
"Dear My Friends" is a Korean drama that aired on May 13 until July 2, 2016. The drama is aired on cable TV called tvN every Friday and Saturday at 20:30 KST (Korea Standard time) with a total of 16 episodes and lasted about 60 minutes each episode.
"Dear My Friends Trailer"
Video Source: Youtube
"Dear My Friends" came from director Hong Jong-chan who previously directed drama "My Secret Hotel", in cooperation with No Hee-kyung as a writer who also wrote famous Korean drama like "Padam Padam... The Sound of His and Her Heartbeats", "That Winter,The Wind Blows", "It's OK, This is Love", etc. No Hee-kyung won awards in 2016 (9th) Korea Drama Awards in the category "Best Screenplay" which took place on October 7, 2016.
Story
Depicts the realistic and enjoyable lives of older and younger people who become dear friends. -asianwiki
Park Wan, a writer and translator suddenly forced to go to her mother's school reunion along with her mother friends, because her mother's driving license get suspended because of violation. Other than that, her mother also asked Park Wan to write a book that tells the story about her mother and her friends. However, Park Wan refused all requests of his mother, because she did not curious at all about their stories. Park Wan has a pretty bad temper especially when in front of his mother, they were always quarrels. However, not so when she was in front of her mother's friends, she treats them like her friend.
"Park Wan at her mother's school reunion"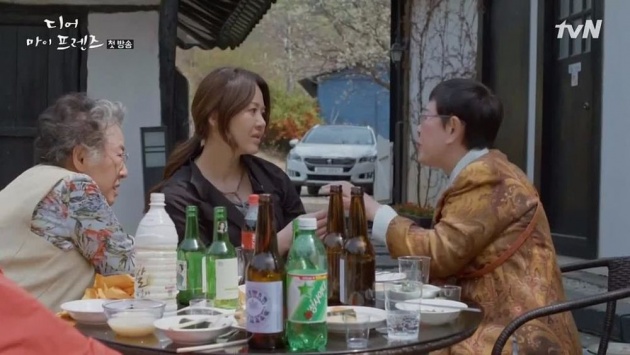 Image Source: Dramabeans
But in the end, Park Wan agreed to go to the school reunion with her mother, Jang Nan-hee, his mother's friends, Jo Hee-ja and Moon Jung-ah, and her grandmother, Oh Ssang-boon. There, She met Moon Jung-ah's, Kim Suk-kyun, and another friend of her mother, Oh Choong-nam, and Lee Young-won, an actress who had just returned from US.
And the epic story between them begins. . .
Cast and Character
"The Cast of Dear My Friends"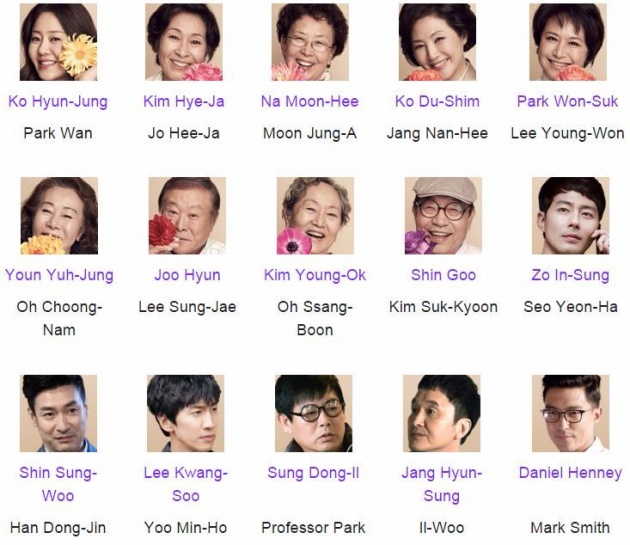 Image Source: AsianWiki
A Reunion Drama
Screenwriter No Hee-Kyung previously worked with Jo In-sung, Lee Kwang-soo & Sung Dong-il in her famous drama series, "It's Ok, This is Love (2014)". The three of them is the main leads in that drama, but in "Dear My Friends", they have been casted as special guest actors. Therefore they do not have a lot of screentime in this drama like the main cast.
"Go Hyun-jung, Jo In-sung, Shin Sung-woo, Lee Kwang-soo, Sung Dong-il"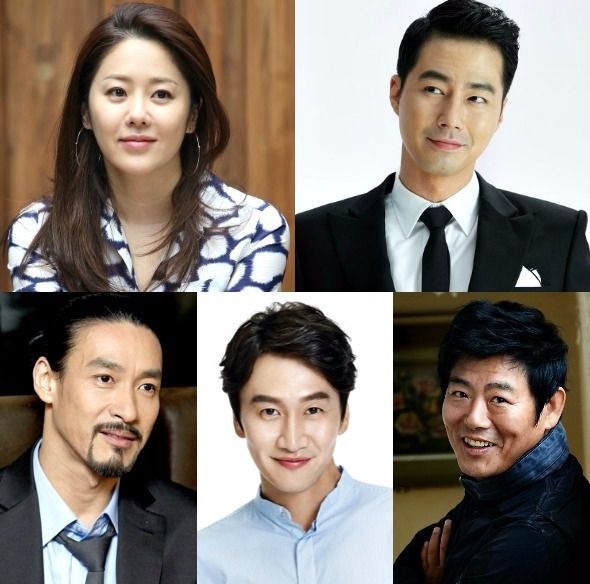 Image Source: Dramabeans
For you who are fans one of them, do not worry, because they still have an important role in this drama, especially for Jo In-sung and Lee Kwang-soo. Although they are not the main cast, but they'll get a lot of screentime in the few episodes toward the end. As for me, Lee Kwang-soo is one of the reason why I started to watch Dear My Friends along with its unique story. And in the end I began to like each character in this drama. They really did a great job.
A Beautiful Cinematography
Selection of the proper cinematography in a drama in my opinion is an added value for the drama itself. It also can make the scene feel more alive and real if it handled in the right place. As in "Dear My Friends", the filming place not only be done in Korea alone. Go Hyun-jung as one of the main character along with Jo In-sung filming this drama in Slovenia and Croatia for one week. Yeah, so "Dear My Friends" not only will presenting the beauty of Korea, but also the beauty of Slovenia and Croatia which can pleased the audiences.
"Beautiful moment between Park Wan and Yeon-ha"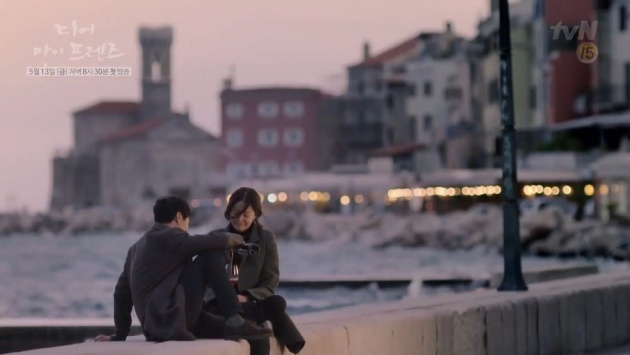 Image Source: Hancinema
As for me, personally I really like the cinematography of this drama. I found it really beautiful which is a good combination with its beautiful story. There are some scenes that even today I still remember because its beauty and the impact of the scenes which made me emotional whether it was sad or happy. Like the happiness moments between Park Wan and Yeon-ha, the beautiful scene in beach when Jung-ah with her mother and her friends went for a trip, the beautiful road trees when Hee-ja lost her way, etc.
Stories of Elders
As I have mentioned above that "Dear My Friends" have an unique story which is rarely seen in Korean drama world. Yeah, the main focus of this drama is about the life stories of elder people. Even though they already old enough but they still have a dream to be achieved in their lives and they still need to struggle for their lives. "Dear My Friends" will not only be focused on one person or one story but every the cast of this drama have their own story to tell. And each story will be inter-related with each other that makes Dear My Friends more interesting and entertaining.
"Taking photo for their funeral photo"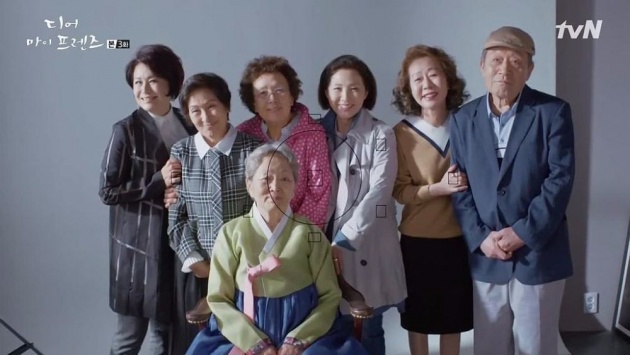 Image Source: Dramabeans
I really like how the screenwriter of this drama bring the story in this drama, it was well-built from the beginning till the end. Slowly we began to know more about the life of each character and get to know more about them as the episode passed and slowly we began to feel what they feel and get attached for them. Like in the early episode, I slightly dislike the character of Kim Suk-kyun which I found he was a bit annoying, but over the story, I feel sympathy for him, because his character is getting better and I became more knowledgeable about his past and his real nature.
Dear My Friends
One of the reasons why I started to watch "Dear My Friends" is because Go Hyun-jung. I have seen some of her previous dramas like her mega hit drama "The Great Queen Seondeok (2009)", along with her other drama like "Dae Mul (2010)", and "The Queen's Classroom (2013)". Even though she has aged but I still find her as beautiful and attractive actress and just like the other casts of this drama, her acting never disappoint me. She did a great job in portraying her character and she can bring her character more alive.
From my point of view, "Dear My Friends" is like a storybook where the elders is the main cast and Go Hyun-jung as Park Wan is the storyteller and the cast itself. In the beginning episode you will see a scene where Park Wan's mother ask her to write a book about the story of her mother and her friends. Although, she strongly refuse about that idea at first but in the end she agree about it. And in every episode you will hear Park Wan's voice as the narrator which is like a storyteller of the book and make the audience know more about each character.
"Mother and son beautiful moments"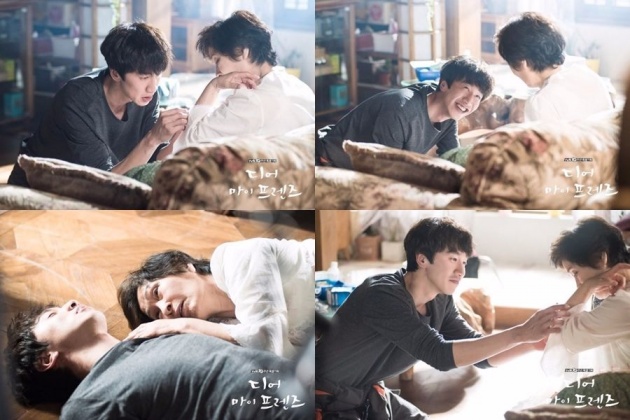 Image Source: Google
When I watched "Dear My Friends", it is like watching a drama with 9 stories in it where the story is on interconnected with each other. Although this drama has 9 main cast and only lasted with 16 episodes but every cast have their own portion of story in this drama and I think it was divided fairly well for each cast.
Aging is something you should be proud of. -Oh Choong Nam-
Personally, I like Kim Hee-ja's story the most compared to other stories. Her story is really interesting and touching. From her will to be free and live alone, then found her lost love, and in the end she has to faced her biggest fear in her live. As for the character, I like Oh Chung-nam's character the most. She is always straightforward when talking and even though she already old but she is still taking GED test along with younger people.
"Kim Hee-ja accidentally meet with her first love"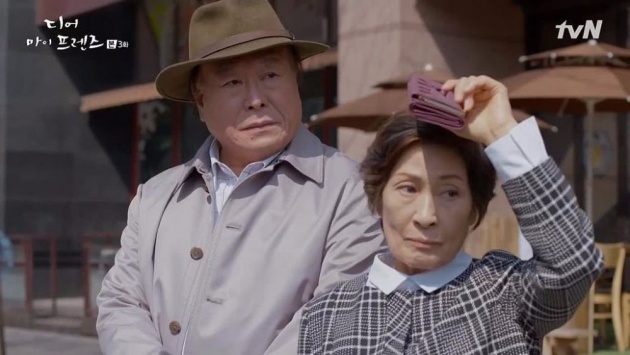 Image Source: Dramabeans
True friendship is hard to obtain and difficult to keep the friendship in the long term, because in a relationship there will definitely be a problem, misunderstanding, etc. "Dear My Friends" really describe how a true friendship really is. Although they are old but they can keep their friendship for decades. When one of them had a problem, they are always there even though they could not be of much help. Just the fact that there is someone beside them is really a big help and comforting, at least they know that they are not alone.
"A trip with Jung-ah's mother"
Image Source: Dramabeans
After watching "Dear My Friends", somehow I want to become like them where they still have a solid friendship even though they already old and they still happy with their lives. This drama really teach many things about life and has complete feeling like you could laugh and smile when they happy, hurting and crying when they get hurt and sad, worried and nervous when they get serious problem, etc.
In the end, I would recommend "Dear My Friends" if you are looking for an unique Korean drama with fresh and heartwarming story. And if you like family genre drama then you will surely love this drama. Maybe the pace of story in early episodes will a bit slow since most of it will tell and describe each character, but do not stop watching and continue till the end because "Dear My Friends" will not disappoint you.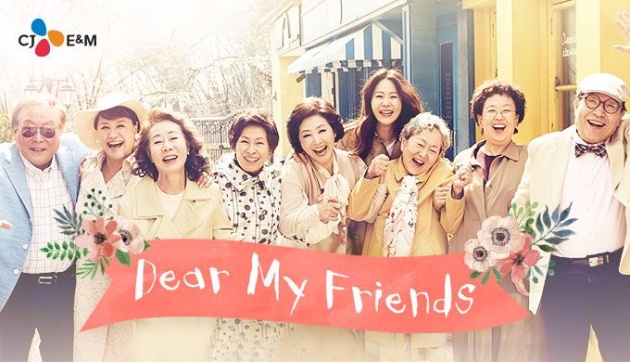 Image Source: DramaFever
The biggest sin out of all sins is not knowing what your own sins are. Being ignorant. -Kim Suk Gyun-
Regards
LookUp
©2016 LookUp. All rights reserved.