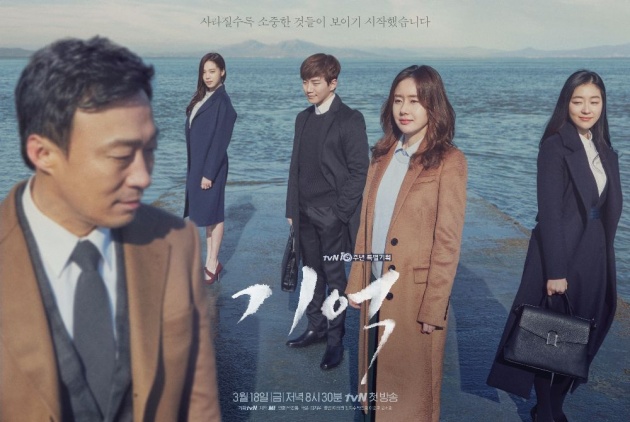 Memory / 기억 (2016)
As the saying goes, life's misfortune suddenly came one day. And this very scary and quietly, so that there was no time to prepare.
About
"Memory" is a Korean drama that aired on March 18 until May 07, 2016. The drama was aired on cable TV tvN every Friday and Saturday at 20:30 KST (Korea Standard time) with a total of 16 episodes and lasted about 60 minutes each episode.
"Memory / 기억 (2016) | Highlight"
Video Source: Youtube
"Memory" directed by Park Chan-Hong who previously directed various drama such as "Shark (2013)", "Fermentation Family (2012)", "The Lucifer (2007)", "Rebirth (2005)", etc, and comes from the writer Kim Ji-Woo. When I searched the AsianWiki about their previous drama project, I was surprised that it turned out they were always working on the same drama project since 2001.
Story
Park Tae-seok, a successful and famous attorney suddenly was diagnosed with Alzheimer's disease. And he was asked to become an attorney for the future Hangook Hospital's chairman, on the recommendation of a vice president of the renowned company, Shin Yeong-jin. During the handling of the case, he also had to hide the fact that he had Alzheimer's disease. One day, his wife, Seo Young-joo, realized that something was wrong with her husband.
"Park Tae-seok shocked after being told about her illness"
Na Eun-seon was a judge and ex-wife of Park Tae-seok. She lost his son, Park Dong-woo, in a hit and run accident 15 years ago. She always blames and hates Park Tae-seok for the incident and she also felt guilty, and eventually they divorced. Although time has passed, but she still continued to feel guilty about the incident as the culprit still has not been found. She desperately wanted to know who is the real culprit even though the statute of limitations has expired for the hit and run case. One day, the culprit appeared.
"Park Tae-seok's and Na Eun-seon's child, Park Dong-woo"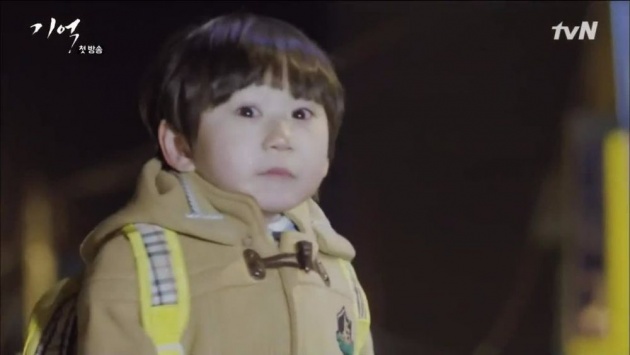 And the story to find the real culprit began. . .
Cast and Characters
"The cast of Memory"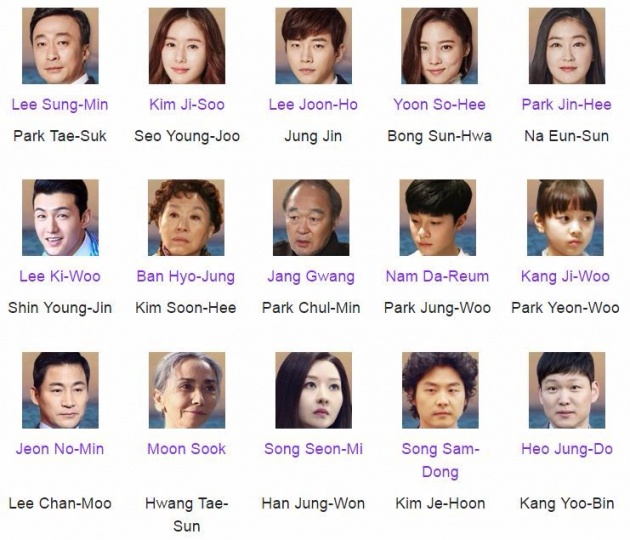 Image Source: AsianWiki
Remarkable Acting
I would like to give standing ovations for Lee Sung-min's acting in this drama. Although he has played in many Korean dramas or movies, but his name began to be known since his exceptional performance in the famous Korean drama "Misaeng (2014)". He also did a great job in this drama. He could portray Park Tae-seok's character and convey the emotion very well in "Memory". Even I still remember some of his dazzling scenes in this drama. Like the scene when he was confused and lost on the road, the scene when he got angry and blame himself, etc.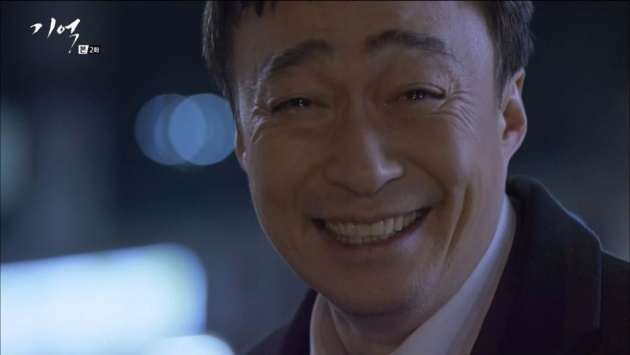 Image Source: Google
As for the other cast, their acting was also good, although not as powerful as Lee Sung-min. At first I felt that Lee Joon-ho's and Yoon So-hee's acting was a little stiff but after a few episodes their acting was getting better. Even Yeo Hoi-Hyeon, which I found his face is still unfamiliar in the Korean drama world, he also did a good job in his acting.
Law and Alzheimer's Drama
Alzheimer's disease (AD), also known as just Alzheimer's, is a chronic neurodegenerative disease that usually starts slowly and gets worse over time. It is the cause of 60% to 70% of cases of dementia. The most common early symptom is difficulty in remembering recent events (short-term drama loss). -wikipedia-
When you hear of Korean drama with law or attorney and Alzheimer's disease as its plot, then for Korean drama fans likely will mention about the famous drama "Remember (2015)". At first when the synopsis of this drama was out, many Korean drama fans said that "Memory" just imitate the famous drama "Remember" and not creative with the story. Although the drama itself was not yet aired, but people were already skeptical of this drama . Well, it was understandable, because coincidentally this drama was aired a few weeks after "Remember" ends.
"Korean drama Remember's poster"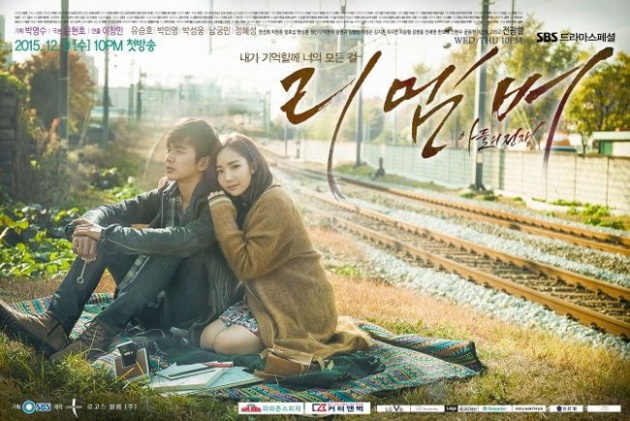 Image Source: AsianWiki
I guarantee that the story of "Memory" is totally different with "Remember". The story of "Remember" is more about law conflict like justice, manipulation, domination, etc, while "Memory" is more to the family drama . So this drama will not show the conflict of laws and legal processes in detail and the story will more focus about how the case law in this drama are interrelated and affect the lives of Park Tae-seok. The similarity of both dramas lies only in the disease that the main lead suffered, Alzheimer's, and both happened to be an attorney.
Memory
One of my favorite Korean drama genre is melodrama and family, even though I like all genre as long as I can enjoy watching them. And the title "Memory" is really suitable for this drama, sounds simple but has a lot of meaning in it, just like this drama.
In my opinion, the story of "Memory" is well written from the beginning till the end. Since the beginning we learned that the main actor, Park Tae-seok has bad personality when handling the law case, and eventually he was diagnosed with Alzheimer's disease. And as the story unfolds we become more informed about his real personality and his past life. Then he began to cherish his family and his co-workers to create beautiful drama.
"Bon Sun-hwa, and Jung-jin scene"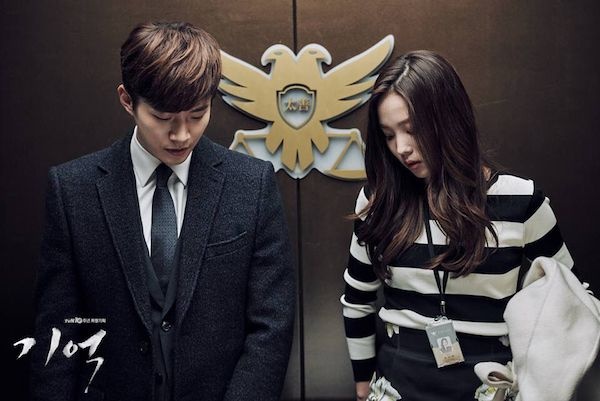 The love triangle between Kim Jae-hoon, Bon Sun-hwa, and Jung-jin as the side story was entertaining and cute. It could release some tension after some serious scene in this drama.
Personally, I am satisfied with the ending of this drama. As I mentioned above that the drama is more to family drama rather than legal drama. If the ending of this drama is viewed in terms of the legal drama maybe it will not provide satisfaction to the audience, because the ending of this drama does not explain in more details about the people who are involved in legal cases. And I'm OK with that idea, because the main story was about the life of Park Tae-seok with Alzheimer's disease and its effect on the people around him.
I was annoyed with the character Na Eun-seon at some time, because whenever she met with Park Tae-seok, she always blamed and hated him for what happened to their child, Park Dong-woo. I felt that she was overact every time Park Dong-woo's name mentioned, even though 15 years have passed.
"Seo Young-joo, Park Tae-seok's wife"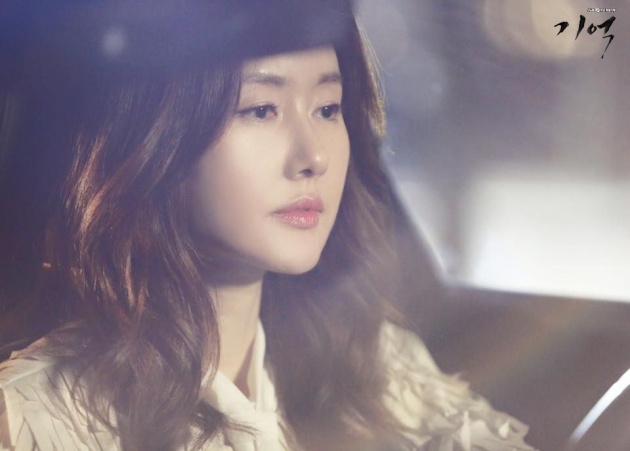 Image Source: Koreandrama
My favorite character is Park Tae-seok's wife, Seo Young-joo. She has a good personality, caring, compassionate, and always stands beside her husband. When she found out that her husband had Alzheimer's disease, she can accept it and remain calm even though deep in her heart she was in pain. She continued to support and care for her husband, and she did not want him to know that she knew about her husband disease. Kim Ji-soo really did a great job in portraying her character.
"Park Tae-seok and his family"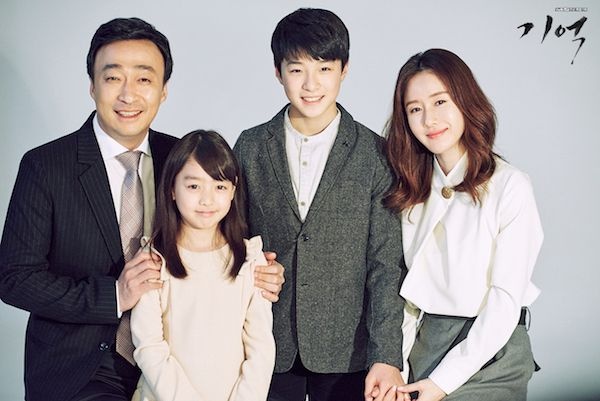 The selection of the appropriate music in every scene is very important, especially for drama with melodrama genre. I feel there is music which overused in every dramatic scene in this drama, which sometimes makes me tired. But overall I like the soundtrack and background music of "Memory". The camera directing also looks good in this drama. The zoom in/out shoot in some scenes and the selection of camera angle, personally I like it.
The conclusion is, I would recommend "Memory" if you like Korean drama with family and melodrama genre. Although "Memory" got a small rating when it aired, because it aired on cable TV, and not gained much attention like any good-looking Korean drama, but the story of "Memory" was well written which could make you curious in every episode. As family drama, of course there are many things can be learned in this drama about family.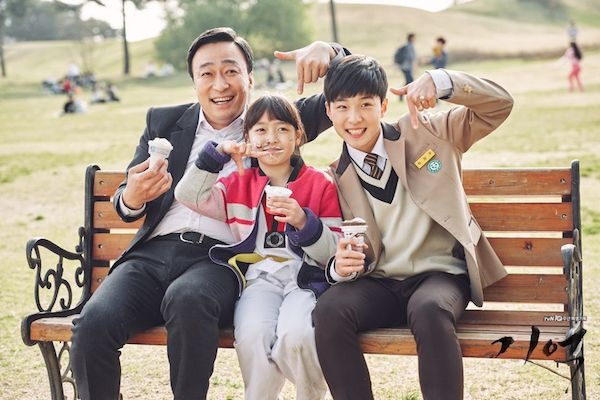 Hope is a good thing. It's the best gift. And good things will never disappear.
Regards
LookUp
©2017 LookUp. All rights reserved.