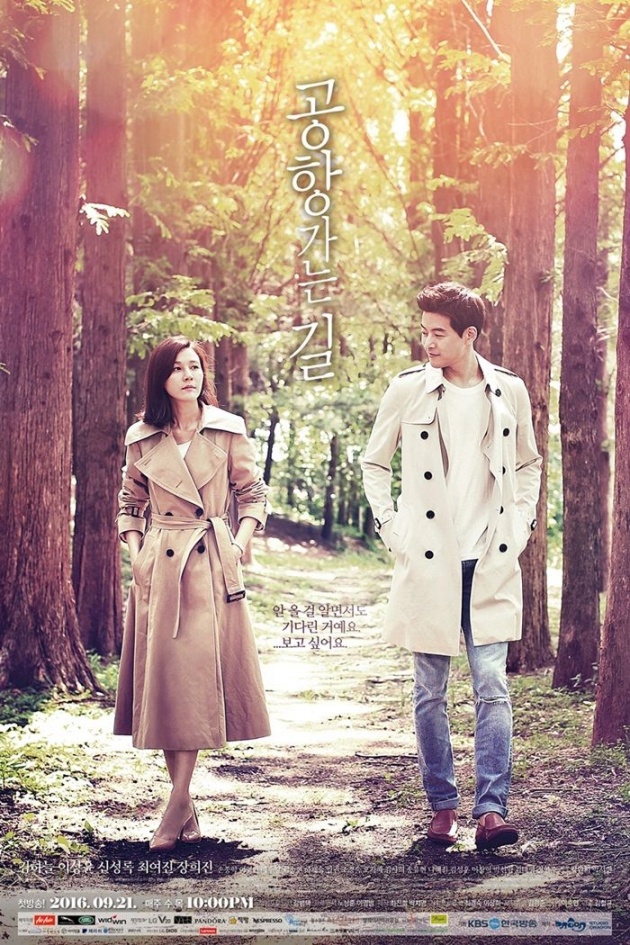 Image Source: AsianWiki
On the Way to the Airport / 공항 가는 길 (2016)
A person with death in front of them will always leave something behind for the one they cherish right before they leave this world, because they're desperate.
About
"On the Way to the Airport" is a Korean drama that aired on September 21 until November 10, 2016. The drama was aired on KBS2 TV station every Wednesday and Thursday at 22:00 KST (Korea Standard time) with a total of 16 episodes and lasted about 60 minutes each episode.
"On the Way to the Airport | 공항가는길 [Trailer]"
Video Source: Youtube
"On the Way to the Airport" directed by Kim Cheol-kyu who previously directed various drama such as "My Beautiful Bride (2015)", "Emergency Couple (2014)", "She is Wow (2013)", "Hwang Jin-Yi (2006)", etc. This drama comes from the writer Lee Sook-Yun and based on AsianWiki, "On the Way to the Airport" is her first drama project because mostly she wrote on Korean movies such as "Thread of Lies (2014)", "One Fine Spring Day (2001)", etc.
Story
Hyo-eun, a 12 year old girl is forced to attend an International School in Malaysia by her father, Park Jin-suk, although his wife, Choi Soo-ah, do not agree with it. However, in the end Choi Soo-ah drove her to Malaysia in a homestay introduced by Song Mi-jin, Choi Soo-ah's best friend. There also lived a girl named Seo Anny, Seo Do-woo's daughter, who had lived there long enough.
"Choi Soo-ah and her daughter, Park Hyo-eun"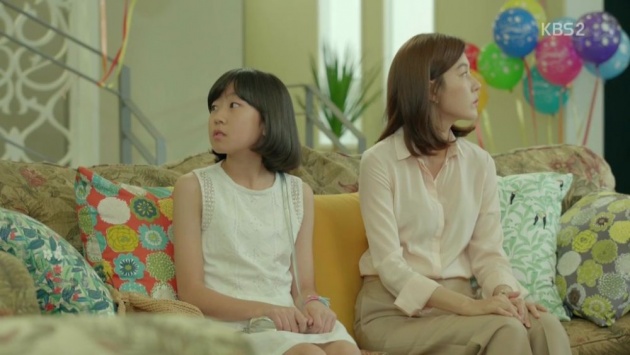 Image Source: Dramabeans
After some time passed, there was an unexpected incident happened there, so Choi Soo-ah decided to bring home Hyeo-eun, without Park Jin-suk knowing. The incident also has affected the life of Seo Do-woo. Especially after he finds out that his wife, Kim Hye-won, was involved in the incident.
"Seo Do-woo and his daughter, Seo Anny"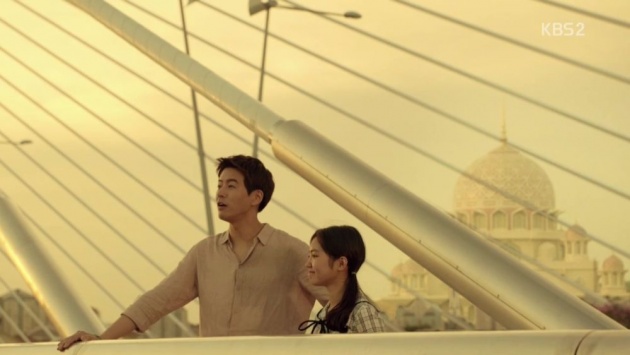 Image Source: Dramabeans
Fate eventually brings Choi Soo-ah and Seo Do-woo together. In their difficult situation in their life, they began comfortable with each other. Because of this, rumors about their relationship began to spread.
Cast and Characters
"The cas of On the Way to the Airport"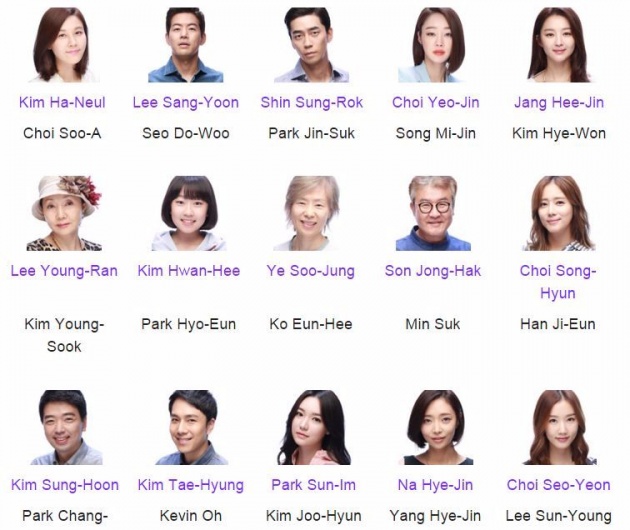 Image Source: AsianWiki
Outstanding Drama
There are so many good aspect about "On the Way to the Airport". That is why I could say that this drama is outstanding. From cinematography aspect, personally I really like it. They really did a great job by make it so beautiful. From the beautiful sunrise, the raining scene, the romantic scene in hangang river, the beutiful views in Jeju island and many more. For a Korean drama with melodrama and romance genre, things like this are important. In addition to this, the selection of songs and the music background is also very important. And they are also nailed it in the choice of music that they used in this drama. The songs and music background fit perfectly with every scene in this drama.
"Seo Do-woo take the beautiful sunrise photo for his daughter"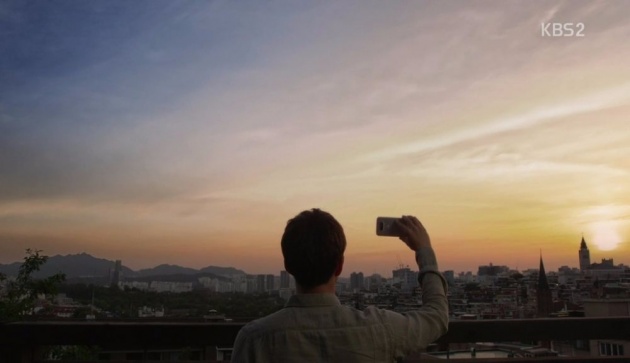 Image Source: Dramabeans
In the case of the cast in this drama, there is no doubt about them in term of acting. From Kim Ha-neul, Lee Sang-yoon, Shin Sung-rok, Choi Ye-jin, and Jang Hee-jin, all of them really did a great job in portraying their own character. And last, about the story of this drama, the screenwriter also did good job even though this was her first drama project. Every problems in the drama handled in a realistic way so we could understand each character and rooting for them.
An Affair
Beforehand I would like to warn you before you decide to watch this drama. The main story of "On the Way to the Airport" will be focused about affair, love, family, and friendship. Yeah, this kind of story is not common in Korean drama world, although there are some Korean dramas that has lifted this kind of theme before. Usually which is often raised in the drama is a story from the viewpoint of victims of the affair, but the interesting part of this drama is the story will take from the perspective of the affair perpetrator, which is between Choi Soo-ah and Seo Do-woo.
"Choi Soo-ah and Seo Do-woo secret meeting"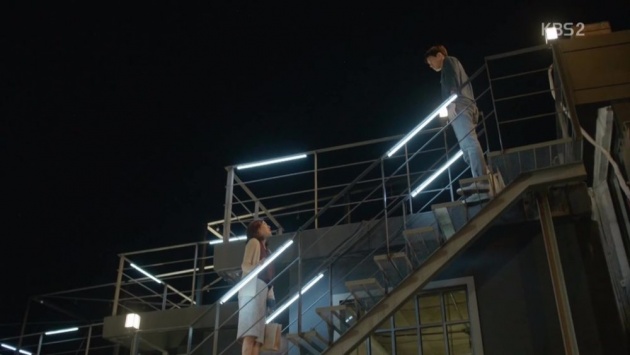 Image Source: Dramabeans
You'll see how nervous and frightened Choi Soo-ah feels when she has an affair for the first time in her life, or how desperate they want to meet each other when things get hard in their life. Even though I know that an affair in relationship moreover in marriage is a wrong doing, but I cannot help myself to support them and want them to be together.
Hangang and Airport
I really like how the story of this drama is built. "On the Way to the Airport" is always pay attention to trivial things but give a huge impact for the audience. One example is the provision of a contact name. Choi Soo-ah's nickname is "Hangang" and Seo Do-woo is "Airport", and there is reason behind it. Airport is the place where Choi Soo-ah met with Seo Do-woo for the first time officially. And Hangang is the place where they spent their moments together for the first time. That's why both of the places was really meaningful for them.
"Choi Soo-ah and Seo Do-woo first moment in Hangang"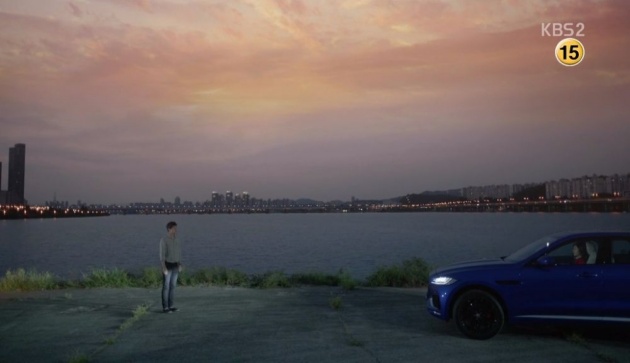 Image Source: Dramabeans
The Han River or Hangang (Korean pronunciation: [ha(ː)n.ɡaŋ]) is a major river in South Korea and the fourth longest river on the Korean peninsula after the Amnok (Yalu), Tuman (Tumen), and Nakdong rivers. -Wikipedia-
As a melodrama and romance drama, little things like that are very necessary. Just by looking at them exchange messages or calls alone already makes me smile and rooting for them. "On the Way to the Airport" did a good job by choosing Kim Ha-neul and Lee Sang-yoon as the main lead. Their chemistry is incredible and looks good each other. Even when they just looking at each other without talking and just by looking at their eyes I could feel their love.
"Choi Soo-ah comforting Seo Do-woo"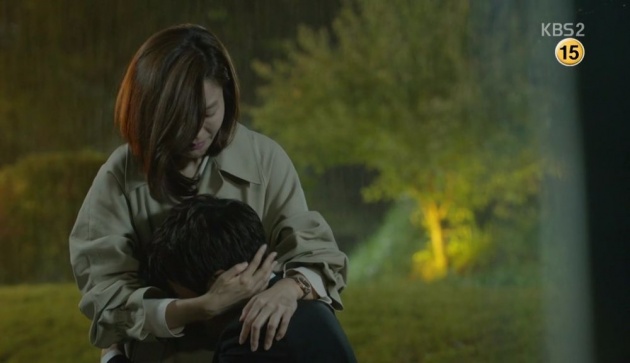 Image Source: Dramabeans
The story of this drama might seem slow but still enjoyable. But, I think there is excessive use about the flashback scene, which sometimes made me want to skipped it. Other than that, everything is OK for me.
Personally, I really how the ending of this drama handled. The end of this drama does not seem forced and rushed, even though I heard that this drama got cut from 20 episodes to 16 episodes due to low rating. But, "On the Way to the Airport" managed to provide satisfactory end for me.
"Choi Soo-ah and Seo Do-woo first kiss"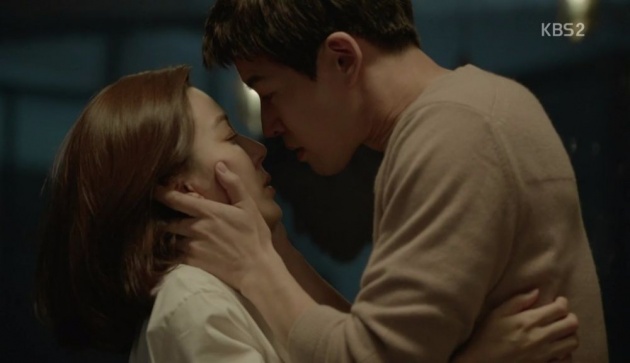 Image Source: Dramabeans
And lastly, I want to congratulate Kim Ha Neul who received the award for "Best Actress" and to Lee Sang-yoon who got an award as "Excellent Actor (mini-series)", and "Best Couple Award" for them, in "2016 KBS Drama Awards" which is held at the end of December last year. They really deserved it for their great performance in the "On the Way to the Airport".
The conclusion is, I would recommend "On the Way to the Airport" if you want to watch Korean drama with romance and melodrama genre and not common and interesting plot. But, as I have mentioned above that this drama will contains about affair in the marriage, so you need consider this before decide to watch it. Although in my opinion, there are many things can be learned in this drama, especially about how to have a good relationship.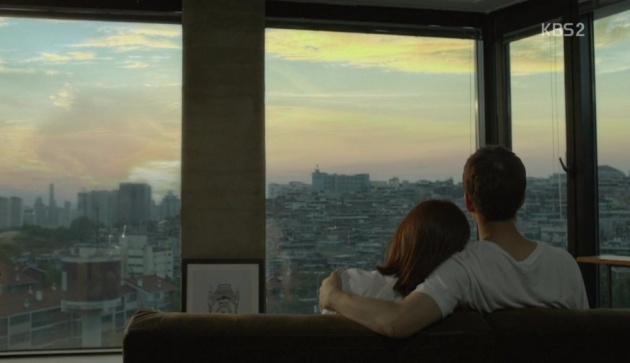 Image Source: Dramabeans
I didn't know that people could be so comforting. I managed to comfort myself until now. I was arrogant.

-Seo Do-woo-
Regards
LookUp
©2017 LookUp. All rights reserved.