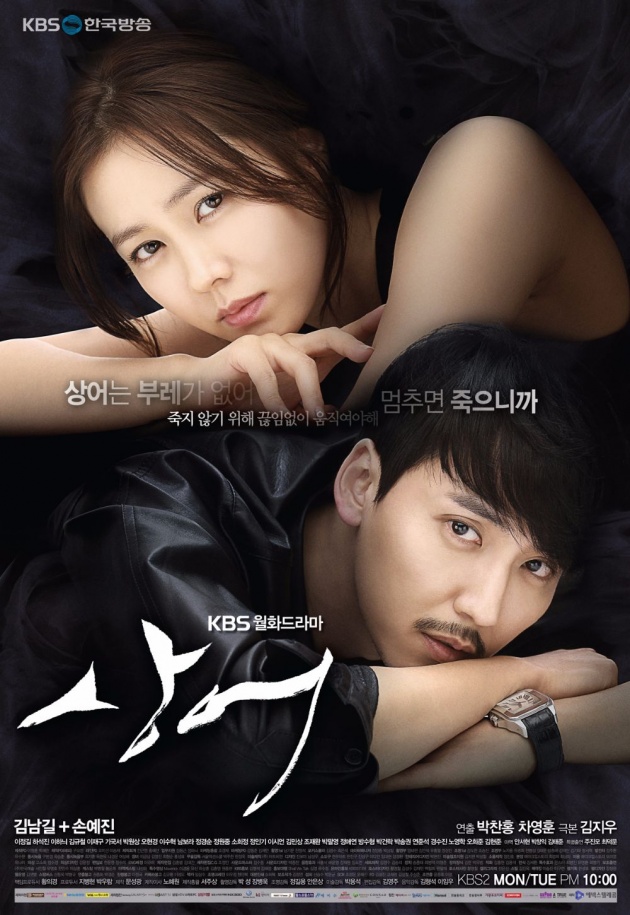 Don't Look Back : The Legend of Orpheus / Shark / 상어 (2013)
Repeated coincidences are no longer coincidences. -Kim Joon
About Shark
"Shark" or also called "Don't Look Back : The Legend of Orpheus" is a Korean drama that aired on May 27 until July 30, 2013. The drama was aired on KBS2 TV station every Monday and Tuesday at 21:55 KST (Korea Standard time) with a total of 20 episodes and lasted about 60 minutes each episode.
"KBS월화드라마 상어 하이라이트 (Shark highlight)"
"Shark" directed by Park Chan-Hong who directed various drama such as "Rebirth (2005)", "The Lucifer (2007)", "Fermentation Family (2011-2012)", "Memory (2016)", etc, and by Cha Young-Hoon who previously directed Korean drama "Bridal Mask (2012)". This drama comes from the writer Kim Ji-Woo who wrote various Korean drama such as "Rebirth (2005)", "The Lucifer (2007)", "Fermentation Family (2011-2012)", "Memory (2016)", etc. Both, Park Chan-hong and Kim Ji-woo have worked on same Korean drama project several times.
Story of Shark
Han Yi Soo (Kim Nam Gil) who wants to gain omnipotent power to take revenge for his family and he finally points his dagger to a lady he loves. Jo Hae Woo (Son Ye Jin) learns about Yi Soo's ugly truth about his family but she cannot stop loving him. This story is about agonizing love and tragic life of a man and a woman. -KBS World
Cast and Characters
"Cast of Shark"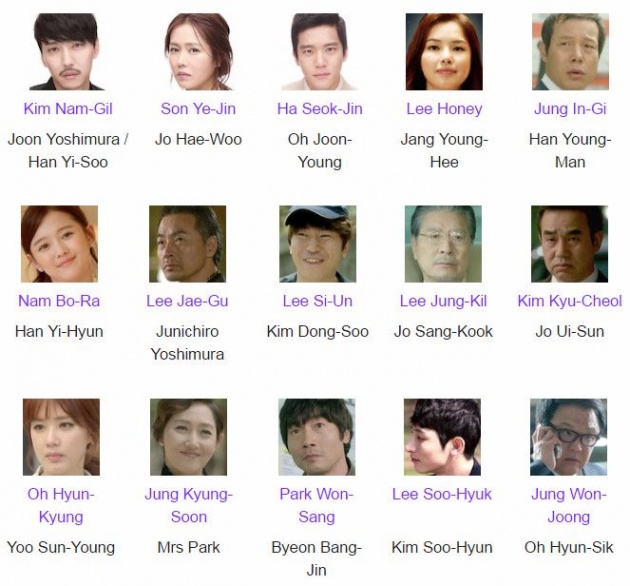 Don't Look Back : The Legend of Orpheus
Well, I am back with Korean drama review blog :D It has been a long time since my last Korean drama review blog, "Moorim School". I was pretty busy last month so I can not write a blog about Korean drama review, but more about Korean reality show review "Hello Counselor" because I think it's easier. Actually I have rarely seen Korean dramas lately, maybe I'm having withdrawal syndrome :D I just finished Netflix series "Sense8" recently, and now I'm becoming addicted to the Thailand drama series :D I do not know when I'll be back watching Korean drama, but I will definitely be back at it.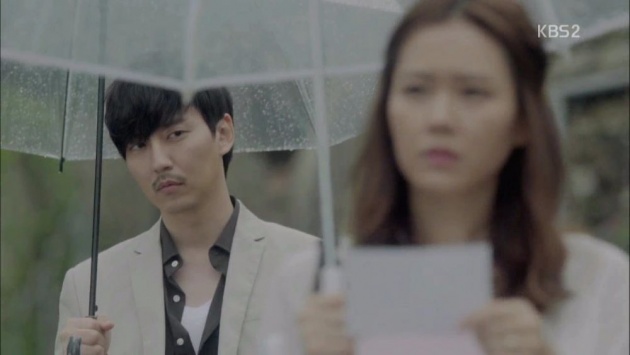 This time I will discuss about an old Korean drama titled "Shark" or "Don't Look Back : The Legend of Orpheus" which aired four years ago. I finished this drama a long time ago, but I think the drama is still worth for me to write a review. Because my heart is still in pain whenever I watch the music video of this drama which showed the main couple. I can still feel the bitter and sadness of this drama. Although I have started to forget the story of this drama but I will try my best to write a review about this drama.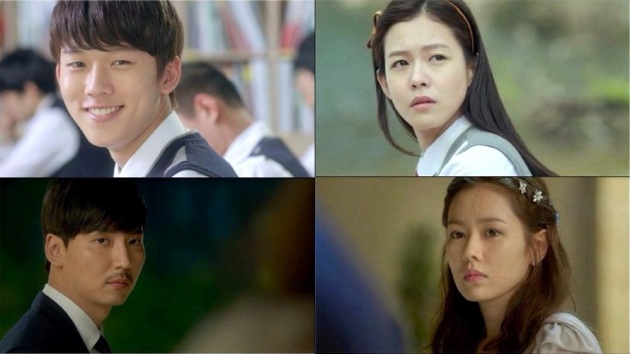 There are several reasons why I decided to watch "Shark". The first is because of its genre. Melodrama is one of my favorite genres and along with revenge as its plot, "Shark" became the right choice for me because I want a dark story that time. The second is because of its main cast. Son Ye-jin became one of the reasons why I wanted to watch this drama, because "Shark" was her drama comeback after three years hiatus from dramaland. And having Kim Nam-gil as the main male lead is a bonus, because I like him since his megahit Korean drama "The Great Queen Seondeok (2009)".
"Son Ye-jin as Jo Hae-woo"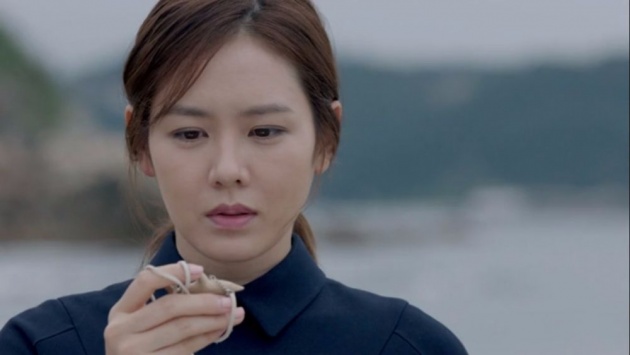 The story of "Shark" begins with a story when the main cast are still teenagers and they just get to know each other for the first time. Their relationship is getting closer and we become aware of their family background. Actually, I really liked the story when they were young and I hope they appear longer not just few episodes in the beginning. Their acting and chemistry is superb. I could felt their sadness and pain only by their expression.
"Yeon Jun-suk and Kyung Soo-jin"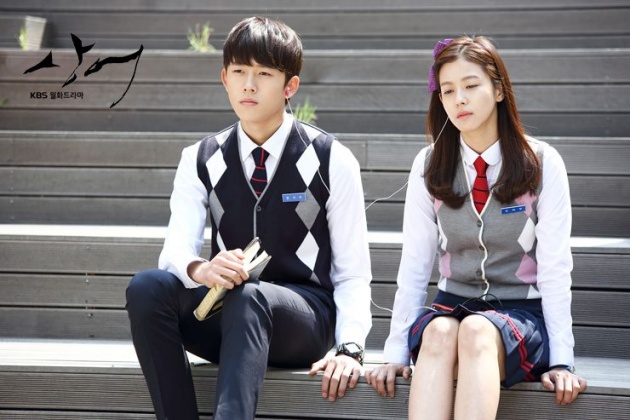 The story continues after a few years and now they have grown up. "Shark" did a good job in casting the actors and actress. Because I can see there is a similarity in the face between the young players and the adult players. Like between Yeon Jun-Suk and Kim Nam-gil, Kyung Soo-Jin and Son Ye-jin, or No Young-Hak and Ha Seok-Jin. And I have no complaint with their acting, they all did a good job.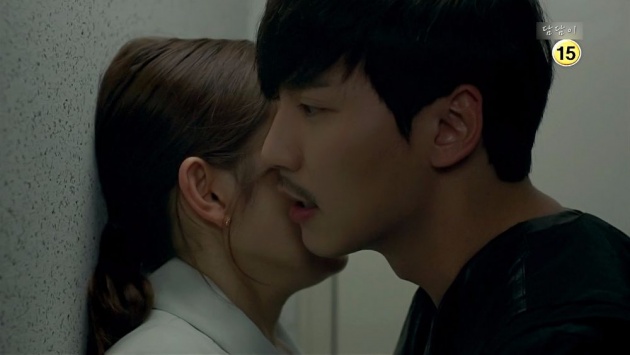 The story of "Shark" may seem slow, but I'm fine with that, because it's typical of drama with melodrama as its genre. The story may also be confusing as it involves a lot of characters. So you need to focus while watching this drama, or maybe you should watch it twice if you're still confused :D I also like the ideas of the story from this drama, mixed between revenge, crime, love, and power. We are made to wonder and curious about what will happen in the next episode, which I think this is a good point. Although sometimes "Shark" didn't give enough explanation about some events, but I am fine with it and just speculated it by myself :D The story also not easy to guess or unpredictable and there are some plot twist which is unexpected.
"Han Yi-soo and Jo Hae-woo kiss scene"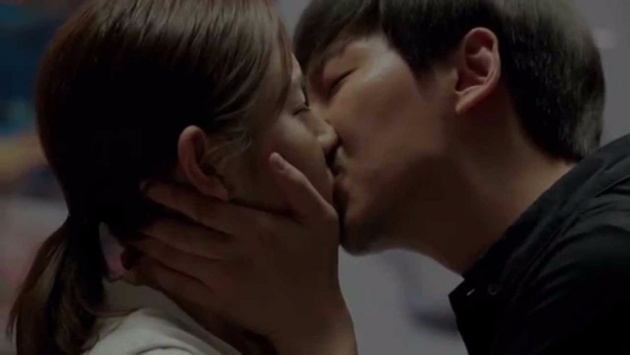 Overall, I did not have much problem with the story of "Shark". Probably only at the end of the drama which I think is not quite satisfactory. Some questions were left unanswered and did not give further explanation which give unclear ending whether happy ending or sad ending. So I made my own conclusion that the end of "Shark" is a happy ending.
In a melodrama, the chemistry between main players is important and I am very satisfied with "Shark". The chemistry between Kim Nam-gil as Han Yi-soo and Son Ye-jin as Jo Hae-woo is excellent. Like I could feel their heartache when watching them together, or when they look at each other or even when there is a kiss scene. I could feel their pain just through their facial expression and their teary eyes. I am rooting for them though I felt bad with Oh Joon-young.
"Oh Joon-young with his wife, Jo Hae-woo"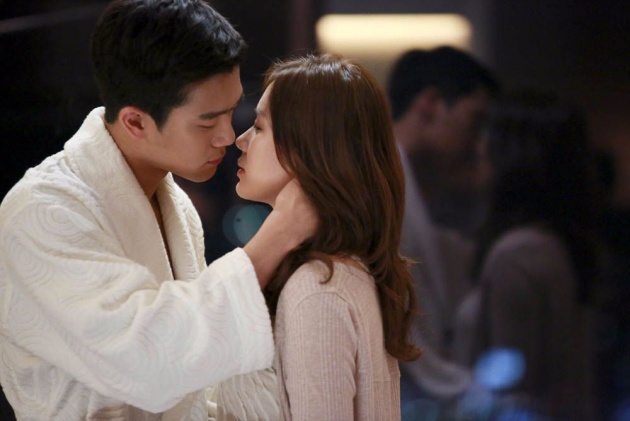 About the music used in "Shark", I think they fit well with each scene. And I like some OST (Original Soundtrack) used in this drama such as "Between Heaven and Hell" by BoA and "Sad Story" by Jung Dong-ha.
"A romantic scene from Shark"
Overall, I would recommend "Shark" if you like dark story and want to watch Korean drama with melodrama genre mixed with revenge. Though there maybe some annoying or disturbing characters and the story may confusing, but "Shark" still worth to watch for Korean drama lovers.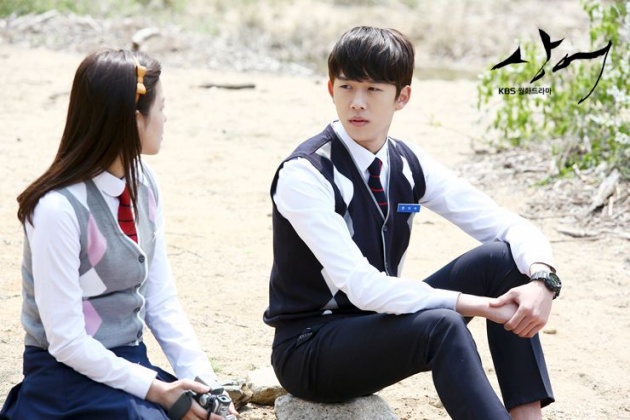 Jo Hae Woo: What do you like the most in the world?
Han Yi Soo: Shark. (Jo Hae Woo: What?) Sharks don't have swim bladders.
Jo Hae Woo: Then, how do they live?
Han Yi Soo: To live, they must keep on moving endlessly, since if they stop, they die. Even when they are asleep, they have to keep moving to stay alive.
Jo Hae Woo: They sure do live a tiresome life.
Han Yi Soo: Still, in the ocean, the shark is the strongest.
Jo Hae Woo: So is that why you like sharks the most? Because they're strong?
Han Yi Soo: No, I pity them. It doesn't seem as if anyone would like sharks.
Jo Hae Woo: Then, hypothetically, what would you do if I disappeared?
Han Yi Soo: I'll go find you.
Jo Hae Woo: And if you can't find me?
Han Yi Soo: I'll definitely find you.
Jo Hae Woo: How? How will you find me?
Han Yi Soo: Until I die, I will look for you. Because, I won't even be able to die before I find you.

-dialogue between Jo Hae-woo and Han Yi-soo-

Source from the drama
Regards
LookUp
©2017 LookUp. All rights reserved.