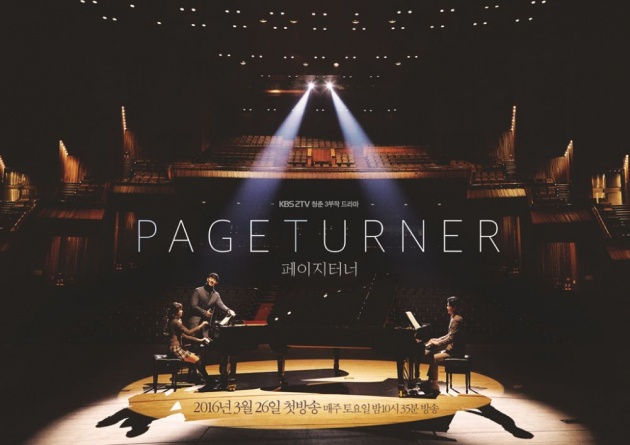 Image Source: Google
♬ Page Turner (페이지 터너) ♬
Hi guys~! It's me again, I hope you do not get bored of seeing my blog or maybe read it :3 Lately I often watch Korean drama special, perhaps because of the number of episodes were little and its unusual story. This time I will discuss about the Page Turner that I watched a few days ago. The reason I chose this drama is because of its music-themed drama, especially the piano, since I like the sound of piano and because of its main cast. Happy reading guys~!^^
"Page Turner (페이지 터너) Teaser Video"
Video Source: KBSdrama @Youtube
♫ About Page Turner ♫
Page Turner (페이지 터너) is a Korean drama special that aired on KBS2 each Saturday 22:35 KST (Korea Standard Time) and began airing in 26 March 2016 and finished in 9 April 2016. Page Turner consist with 3 episodes with 60 minutes long each episode, because its drama special. This drama came from Lee Jae-hoon as the director and Park Hye-ryun as the writer.
The story will focus around three youths and their passion in life. Just like page-turner who flips the music score and help the performance from the closest place and become the best partner, the three of them will become each others page-turner and change their life.
A page-turner is a person employed to turn sheet music pages for a soloist, often a pianist, usually during a performance. -wikipedia
♫ Story ♫
The story opens with the piano competition where Yoo-seul and Jin-mok each other, and ended with the defeat of the Jin-mok. They both are enemies since they were little. Yoo-seul always been first and Jin-mok became second. That's why Yoo-seul always looked down Jin-mok with her arrogance personality. This triggered Jin-mok anger. Unable to stand, he went to church to pray so Yoo-seul can repent her mistakes and plead for justice in God. Granted, Yoo-seul later had a car accident with her mother and make her blind.
On the other hand, there is Cha-sik who is a pole vault athlete and for him pole vault is everything. He just scored a new record in the pole vault competition. But he had an accident in his second attempt and had to be taken to hospital.
"Jin-mok witnessed Yoo-seul who tried to commit suicide"
Image Source: captured from video
At the hospital, Yoon-seul who felt her life was over and because of pressure from her mother, accidentally meet Cha-sik and asked him to take her to the roof of the hospital with the intention to commit suicide. When Yoo-seul was about to jump to commit suicide, Jin-mok come up with a bunch of flowers because he felt guilty and worried about her. And Cha-sik witnessed both of them.
Then, the warm and beautiful story between three of them begins. . .
♫ Cast ♫
"Page Turner (페이지 터너) Main Cast"

"Main Cast Character Posters: Seo Jin-mok, Yoon Yoo-seul, Jeong Cha-sik"

Image Source: Google
Beside the main cast, there is some supporting cast which adds to the entertainment value in this drama, such as Kim Dong-hee and Yoo Sang Pil Yeon-mi as Gyoo Sun. They both always made me laugh because of their funny comments and conversation. You could say, they are the gossipers and rumor spreaders.
You do not need to doubted about the acting of the main cast. They did a good job in conveying emotions and feelings in acting. Especially Kim Soo-hyun, I have seen many of her drama, and she never made me disappointed with her acting. She really did a great job playing as blind person.
♫ Beautiful Melodies and Performance ♫
What I like the most about music-themed drama is music itself. They always brought beautiful musics and melodies. As for Page Turner, this drama succeed in presenting beautiful musics and melodies for audiences. Especially for me, since one of instrument I like the most is piano, although I can't play it.
In the beginning of drama you could hear the beautiful melodies from Chopin Valse in E minor Op. Posth played by Jin-mok and beautiful music piece from Rachmaninoff Prelude Opus 23 No. 5 played by Yoo-seul in piano competition. Although I don't know much about piano music piece, but I really enjoyed listening to these beautiful melodies.
"Piano performance by Yoon Yoo-seul and Seo Jin-mok as page-turner"
Image Source: captured from video
As for piano performance, the casts really did a good job in acting as pianist. They could convey the emotions through playing piano and immersed in it as if they were actually playing the piano. I do not quite know whether they can play the piano in real life, but their acting telling me that they could play the piano really well. Obviously, it was only views from my standpoint as people who only can enjoy the sound of piano and didn't know anything about piano.
♫ A Warm Youth Drama ♫
Youth drama always identical with love, hope, passion, friendship, etc, which is the main topic of this drama. But if you expect a love story in this drama then you will be disappointed, because this drama didn't discuss further about teenage romance, and more focused in friendship. The positive points of this youth drama is there are almost no cases of outrageous bullying in school life, which is usually presented in many Korean dramas, although cases of bullying are still common in there in real life.
"Yoo-seul's beautiful smile"
Image Source: captured from video
The life of youth is kind of complicated but sometimes adults consider it trivial matters. They have to choose the right path for their future and parents will have an effect on their choice. Just like what happened to the three youths in this drama. Yoo-seul who is a talented pianist decided to stop playing the piano after she became blind. However, she found other happiness that she never felt before since she met with Cha-sik. Freed from the restraints of an ambitious mother who kept forcing her to play the piano even though she became blind, Yoo-seul transform into cheerful girl and often smiling.
"Cha-sik playing piano for Yoo-seul after hard practices"
Image Source: captured from video
A similar incident also occurred in Cha-sik. When he followed the pole vault competition he suffered an accident and required him to give up as an athlete pole vault. In contrast to Yoo-seul's mother, Cha-sik's mother was more supporting Cha-sik when he was in a desperate state. Thanks to his mother, Cha-sik find a new start in life and finally met with Yoon-seul.
Different stories come from Jin-mok. Although he is a talented pianist since childhood, but he's still lacking in bringing the emotion in his play, that's why he's always been number two. His parents are not supporting him as a pianist, because his future is unclear. Until finally he hesitated with his ability in playing the piano and almost desperate. And everything changed since he saw the relationship between Yoo-seol and Cha-sik.
"Jin-mok Who began to doubt his ability"
Image Source: captured from video
Although all of them have different life issues, but this drama succeeded in presenting warm drama through the relationship between the main cast. With its light story, you could easily relate to the drama and understand better about youth life and its problem. This drama did a good job in delivering the main message about youth life problems, parents influence in youth life and passion in life. With pianist as background story, makes this drama perfect as a warm and beautiful drama. The open and realistic ending maybe could make some of you disappointed, but if you could understand the main message of this drama, then you'll enjoy this drama like I did.
"Jin-mok cover up Yoo-seul with his umbrella because of snow rain"
Image Source: captured from video
If you like music-themed drama, warm and beautiful drama with high school life as background, you should try this drama, but don't expect too much about love story between main cast. Page Turner (페이지 터너) will entertain you with its warm and beautiful story.
Regards
LookUp
©2016 LookUp. All rights reserved.