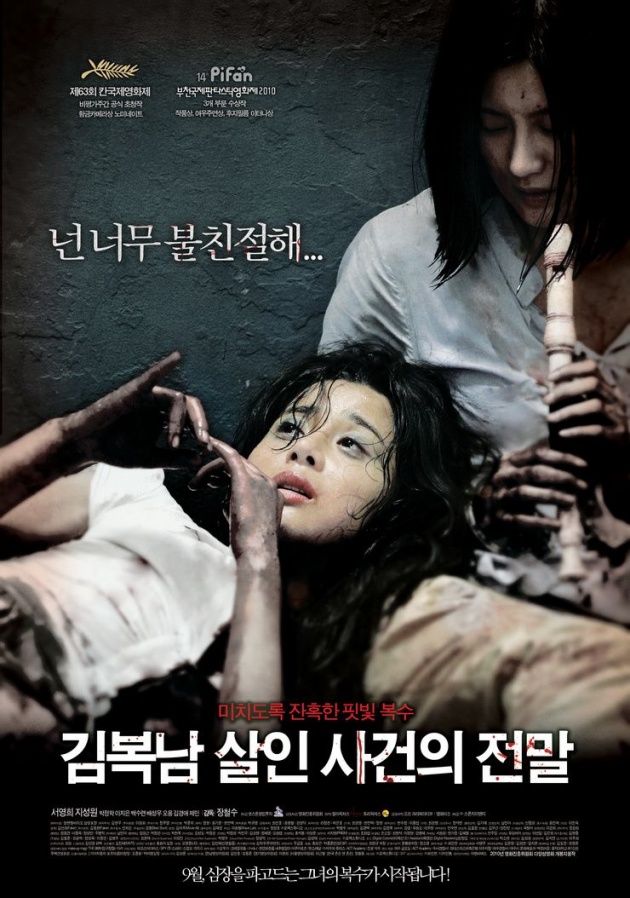 Bedevilled (김복남 살인사건의 전말) (2010)
You're too unkind. . .
About
Bedevilled is a South Korean movie which released in 2 September 2010 with suspense-thriller, and horror as its genre. Bedevilled comes from director Jang Cheol-Soo which received many awards as "Best New Director" in this movie. With a duration of approximately 115 minutes, Bedevilled comes from writer Choi Kwan-Young and Ki Ki-Tae as cinematographer.
"Bedevilled Trailer (2010) English Subs"
Video Source: Youtube
P.S. Don't watch the trailer if you want spoiler free :D
The Bedevilled's world premiere took place in "Cannes Film Festival - International Critic's Week" in May 2010 and subsequently screened at various film festivals such as the Puchon International Fantastic Film Festival, Sitges Film Festival, The London Korean Film Festival, etc. Based on IMDb, Bedevilled got rating 7,3/10 from 9,135 votes as of now.
Story
The story begins with a scene of Hye-won who witnessed a crime committed by two men with a woman in a night. A few days later he got a call from the police to report to the police and a witness of the crime, but Hye-won does not care and refused to mention who the real criminals. Since that night, Hye-won continued to experience things that are not pleasant at her work and her life, until his boss told Hye-won to take leave.
"Kim Bok-nam and her family"
In other places, there is Kim Bok-nam, who is a Hye-won's childhood friend. Unlike Hye-won who could stay on the mainland, Seoul, Bok-nam had to live on a remote island along with her daughter and her husband. Bok-nam is often sent letters to Hye-won ask to visit her on the island, but Hye-won does not care about the letter. In addition Bok-nam also always have hope to be able to stay in Seoul along with her daughter because she often got a bad treatment from the residents of the island.
"Kim Bok-nam's happy face after seeing Hye-won again"
During her leave, Hye-won remembered the letter from Bok-nam and decided to take a vacation to visit her for a week on the island called Moo-do Island. The first few days appears to be nothing unusual about the island and the residents who live there. However, after seeing Bok-nam who is often got injured and acting strangely, Hye-won realizes that there is something wrong with this island and the people around her, and finally decided to leave the island as soon as possible.
The tragedy between Bok-nam and Hye-won began. . .
Cast
"The Cast of Bedevilled"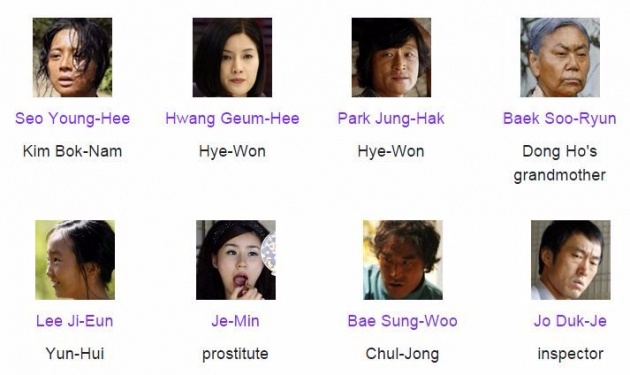 "The Moo-do Island, the main setting place of Bedevilled"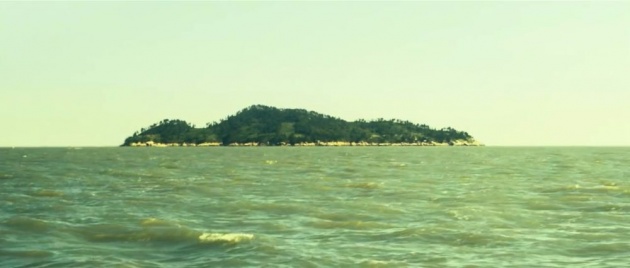 Image Source: Snapped from the video by me
The Moo-do Island
The Moo-do island, this island would be a major setting place in Bedevilled, where almost all the scenes in this movie take place. Island which is not too large and only inhabited by 9 people consisting of five older people, 2 men, 1 woman, and one daughter. To reach this island there will be a boat that sailed every 2 times a day. Yeah, can you imagine living in a remote island inhabited by only 9 people, and you can not go everywhere, sounds crazy, does not it? I think places like this are very well suited for a movie with suspense-thriller genre like Bedevilled, a very suitable place for commit a murder.
The Cinematography and Music
The selection and use of cinematography and music is a very important thing in a movie. Especially for a movie with suspense-thriller genre like this, the cinematography and music that fit will greatly affect the comfort and tension of audience when watch it.
"Hye-won and Yun-hui playing in beach"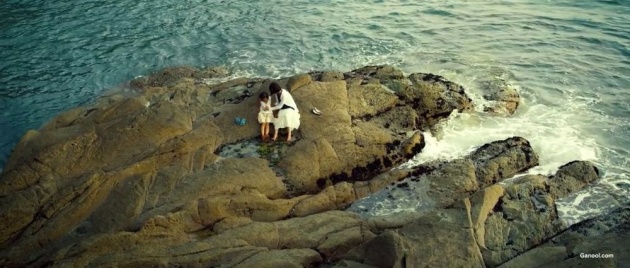 Image Source: Snapped from the video by me
As for the Cinematography, personally I really like it. Since the major setting place in this movie take place in the island, so you will be presented with beautiful scenery, like the beach, the stretch of grass, blue sky, etc. (but still, this island is creepy :D) While in the selection of background music in this film I think is very suitable to accompany every scene that exist, such as scenes of tense, sad, happy, etc, which can add more feeling when watch those scenes. In conclusion, Bedevilled has done a great job in two aspects above.
"A dead body covered in soybean paste"
Bloody and Nudity
Talk about Korean thriller, usually you will see a lot of bloody scene throughout the movie. And sometimes you will see blood flowing excessively in the murder scene or other scene that looks less natural and make the audience annoyed. As for in Bedevilled, you'll also see a lot of blood in several scenes, but in my opinion the use of blood effects are quite good and not overdone. In this movie, you will also find a lot of adult and nudity content. In addition, there are also several scenes of sex abuse that make the movie unsuitable for people who are still minors, so do not be shocked and be prepared for those scenes. And for you who do not like movies that contain adult content or scenes with a lot of blood, I suggest you do not watch Bedevilled.
"The unforgettable scene"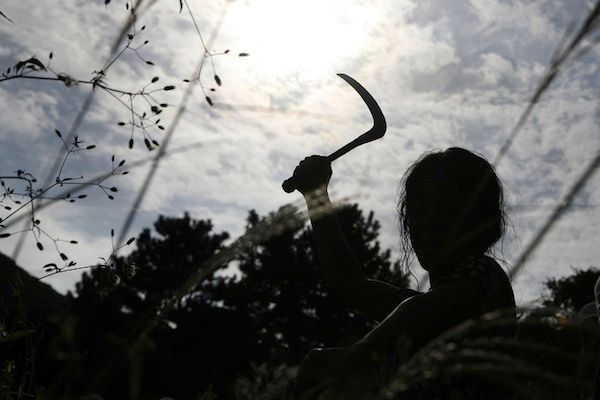 Unforgettable
In a movie either bad or good there must be some scenes that might be hard to forget even after a few days you have finished watching the movie. It is no different with Bedevilled. For me, so many memorable scenes in this movie which is hard to forget after I finished watching it. Even after a week had passed I still remember clearly some scenes in this movie. One of them is there is a scene of murder around rice fields that make me shocked and terrified about the way how the murderer kills its victims which is too vicious and surprising, added with the way of shooting that scene which I think is very good to add more frightening feeling in that scene.
An Award Winning Movie
One of the things that attracted me to see this movie is because Bedevilled got a lot of awards. This is what makes me want to know how good is this movie. After I finished to watch it, one word for Bedevilled "AMAZING!!!". Yeah, this movie really surprised me and I think deserved many awards. Some of the awards are often obtained in the category of "Best New Director" and "Best Actress" for Seo Young-hee. Below is a list of some of the awards:
2010 (14th) Puchon International Fantastic Film Festival - July 15-25, 2010
Best of Puchon
Best Actress (Seo Young-Hee)
Fujifilm Eterna Award
2010 (4th) Cinema Digital Seoul Film Festival - August 18-24, 2010
Butterfly Award
2010 (6th) Fantastic Fest - September 23-30, 2010
Audience Award
Best Actress (Seo Young-Hee)
2010 (24th) AFI FEST - October 28-November 5, 2010
New Auteurs
2010 (47th) Daejong Film Awards - October 29, 2010
Best New Director
2010 (30th) Critics Choice Awards - November 8, 2010
Best Actress (Seo Young-Hee)
Best New Director
2010 (8th) Korean Film Awards - November 18, 2010
Best Actress (Seo Young-Hee)
Best New Director
2010 (13th) Director's Cut Awards - December 17, 2010
Best Actress (Seo Young-Hee)
Best New Director

...

source: Asianwiki
I have no complain if Seo Young-hee received many awards in the category "Best Actress" for Bedevilled. Her acting absolutely stunning and unbelievable. She really could make Bok-nam's characters come to life, especially with her facial expression. Her acting really stand out in the whole movie compare to other actress, although they are also not bad in terms of acting. As an award winning movie, Bedevilled is a recommended movie for you to watch.
Bedevilled is not just a suspense-thriller movie, there is more than it. There are some lessons about life can be learned from this movie, especially about friendship, human relations, and human feelings. And of course, do not imitate the bad scenes in this movie.
"A beautiful moment between Bok-nam and Hye-won"
Image Source: Google
Although the storyline of Bedevilled was slow in the early to mid, but do not get bored and stop to watch it, but watch every detail of the scene in the movie. Because then you will be able to understand more each character, especially Bok-nam. I know that what was done by Bok-nam in this movie is wrong, but I can understand why she act like that. And when I watch her doing it, there is a sense of excitement, relief, and I also support it, even though it was wrong. (I won't spoil you about what she did in the movie, better watch it yourself :3)
There is also some unexpected things that happen in the movie. I like how Bedevilled slowly tell to the audiences about the relationship between Bok-nam and Hye-won in the past. It was nice to build up the story and to understand more about them.
"Yun-hui, Kim Bok-nam's daughter"
Image Source: Google
In the end, I would recommend Bedevilled if you like a suspense-thriller movie, especially South Korea movie. Or if you get bored of some mainstream movie and want to try something new, then watch Bedevilled, I assure you, it is worth your time. But do not watch it if you have weak heart, because Bedevilled will scare you. I suggest you do not see the trailer of this movie because it contains spoilers that might lessen the fun of Bedevilled.
The meaning of Bedevilled:

to torment or harass maliciously or diabolically, as with doubts, distractions, or worries.

source: dictionary
Regards
LookUp
©2016 LookUp. All rights reserved.