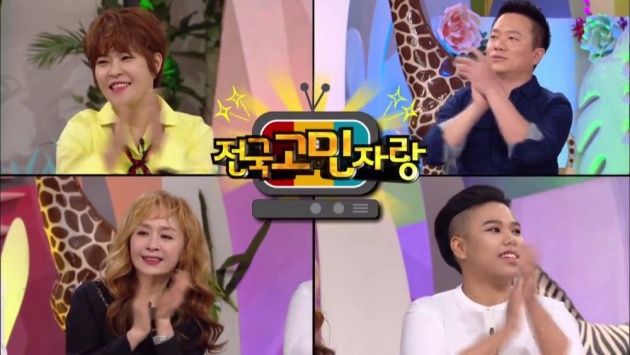 Image Credit: Snapshot from Youtube video
Korean Reality Show Review: Hello Counselor - Don't Run Away
Hello guys~ LookUp again here :3 In my previous blog, I have discussed the first and second concerns of "Hello Counselor" about "My Excruciating Love" and "Endless War", and now I am going to discuss about the third concern, "Don't Run Away". If you want to know more about "Hello Counselor" you could read my old blog about it titled "Hello Counselor: The Problem Solver TV Show". Once again, do not be bored with my blog because I still have so many things to review :D I hope you could enjoy it. Happy reading~!!!
"Watch this episode of Hello Counselor below"
About Hello Counselor
Hello CounselorHello Counselor (Hangul: 안녕하세요; RR: Annyeonghaseyo) is a South Korean reality show first that debuted in November 2010. It is hosted by Shin Dong-yup,[2] Lee Young-ja, and Cultwo (Jung Chan-woo, Kim Tae-gyun). Choi Tae-joon joined the show as host starting August 29, 2016. According to the show's official description through KBS, Hello Counselor is a talk show with an emphasis on regular people, regardless of age or gender, that aims to help take down communication barriers by sharing stories about life.[1] The program airs every Monday on KBS World. -wikipedia
3nd Concern: "Don't Run Away"
"Uzoh Paul"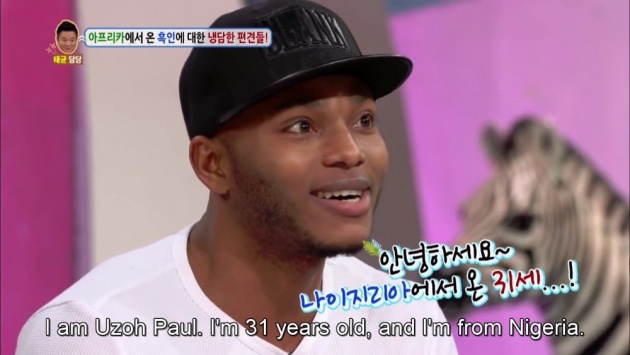 Image Credit: Snapshot from Youtube video
The third concern comes from a 31 years-old Nigerian man, Uzoh Paul, who now lives in Daegu, South Korea. He has been living in Korea for nine years. He comes to "Hello Counselor" because he has a problem with Koreans who treat him badly or unfairly. Like, when he sits in a bus or subway, people move away from him because they think he is dirty, or when he's looking for a room, there are people who refuse to rent the room to him, because he thinks that Africans are dirty. He just wants Korean people to treat him better like a normal person or like the Korean itself.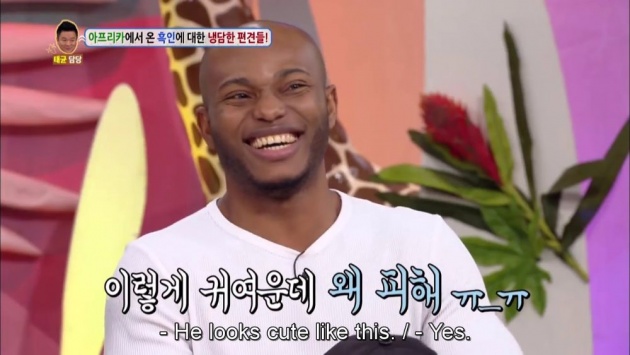 Image Credit: Snapshot from Youtube video
I'm not surprised if in Korea there is still a case like this. The older generation of Koreans tend to be narrow-minded and difficult to accept differences. But I guess it is different now and younger generation are more open to differences. It is bad that there are still people who treat other people badly just because their skin color is different or they do not meet their qualification standards. I am sure this is not only happening in Korea alone, but also in some other countries, even including my own country, Indonesia.
My first impression when I saw Uzoh Paul is, that he was not so bad to the point where he called "dirty". And I am sure, it is not appropriate to call someone as "dirty" when in reality he is not and to generalize that all Africans are "dirty". Perhaps, at first he looks scary because he has a good body, but actually he looks kind.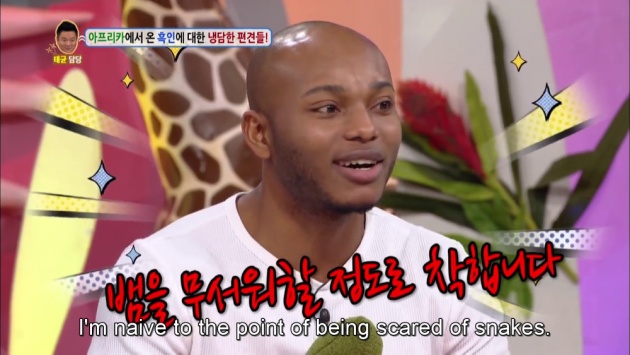 Image Credit: Snapshot from Youtube video
He tells that most of the bad experiences that happen to him usually happen when he was around women. There was a time when he took the elevator and when the door opened, people did not want to ride the elevator because they saw him inside it. And when he sits on a public transport, people do not sit beside him, so he chooses to stand up because he did not want to see people standing because of him. He said that actually he is a naive person to the point of being scared of snake :D
"Uzoh Paul's Friends"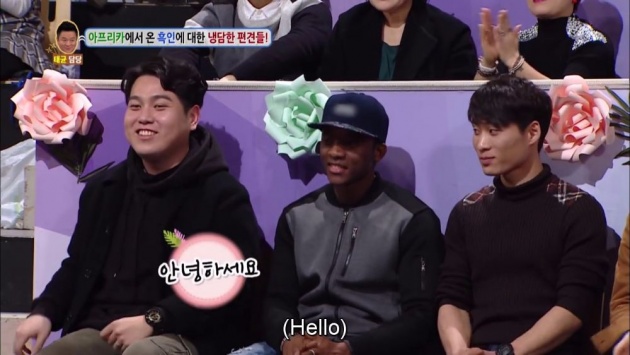 Image Credit: Snapshot from Youtube video
The friends of Uzoh Paul also come to "Hello Counselor" to give testimonies about how people treated him. One of his friends said that there are many foreigners who come from different countries such as US, Canada, Australia, etc, but some Koreans give different reactions after knowing that Uzoh Paul is an African, as if they looked down on him. Meanwhile, one of his friends who is also an African said that he also experienced a similar experience with Uzoh Paul. When he first came to Korea, he worked part-time and he worked with people from various countries, but his boss always said rude things and swear only to black people, and in the end he quit his job because of it.
"Uzoh Paul's friend: Veigar"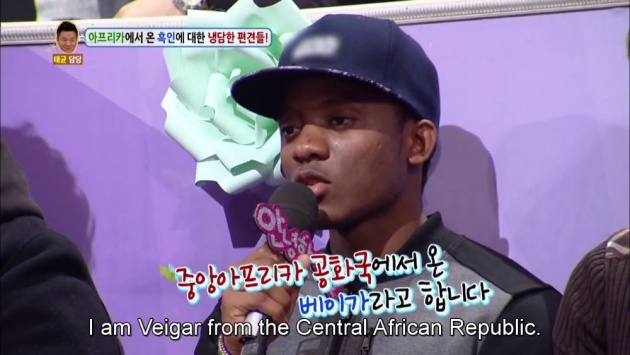 Image Credit: Snapshot from Youtube video
I totally agree with what his friend said, that they were born black not because they want to. They can not choose whether they will be born as African or from another country. So we can not judge them based on skin color alone and we cannot avoid them just because we are have different skin color, because they are equal to us, just a human being.
"The girlfriend talking over the phone"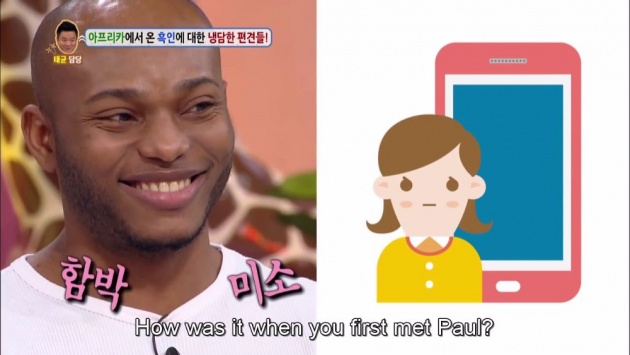 Image Credit: Snapshot from Youtube video
But luckily, there are still a lot of good Koreans around him. He even admits that he currently has a girlfriend who is a Korean. But there are some problems with their relationship. As they walked together, there were some people who stare at them and the other problem is the parents of the girlfriend did not know they were dating, because there is a chance they would against their relationship. Although his girlfriend could not come to "Hello Counselor", but she had time to share stories about their relationship over the phone. In the end, Uzoh Paul just wants people to treat him equal with others and when he applied for a job later, he hoped that people could treat him fairly without biased.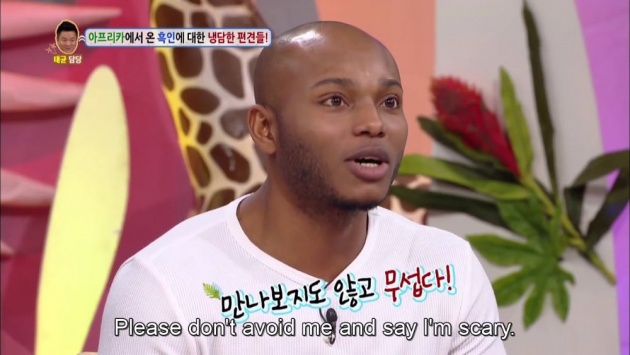 Image Credit: Snapshot from Youtube video
Overall, I would vote this problem as a not serious concern. Although there are some people who treat him badly or differently, I'm glad that he still has good people around him. I'm sure he'll get through this problem with the help of them. People who hate or envy with us will surely exist in our lives, we cannot please everyone, right? So, ignore them and keep doing good dreed. With this, he earned 108 votes out of a total of 200 votes.
"The final result with 142 votes"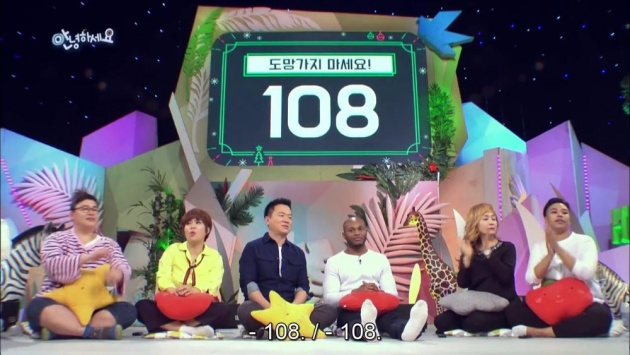 Image Credit: Snapshot from Youtube video
Today's Winner
In the end, "My Excruciating Love" come out as the winner of this episode with 146 votes and "Hello Counselor" will give $1000 gift certificate to the winner as the prize.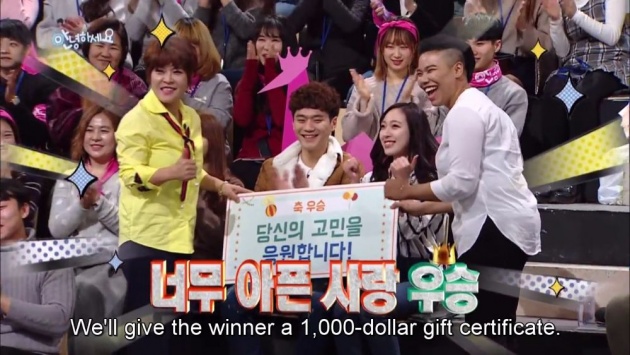 Image Credit: Snapshot from Youtube video
That's it my simple review about "Hello Counselor". Wait for my next blog about "Hello Counselor" and see you next time :D
Regards
LookUp
©2017 LookUp. All rights reserved