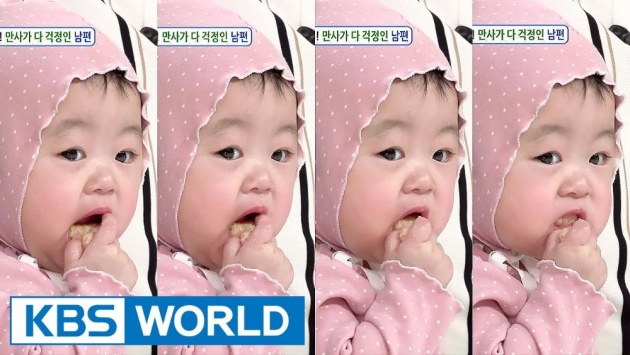 Korean Reality Show Review: Hello Counselor - Don't Worry
Hello guys~ LookUp again here :3 In my previous blog, I have discussed the first and second concerns of "Hello Counselor" about "Where's my house?" and "Bang! Bang! Bang!", and now I am going to discuss about the third concern, "Don't Worry". If you want to know more about "Hello Counselor" you could read my old blog about it titled "Hello Counselor: The Problem Solver TV Show". Once again, do not be bored with my blog because I still have so many things to review :D I hope you could enjoy it. Happy reading~!!!
"Watch this episode of Hello Counselor below"
About Hello Counselor
Hello Counselor (Hangul: 안녕하세요; RR: Annyeonghaseyo) is a South Korean reality show first that debuted in November 2010. It is hosted by Shin Dong-yup,[2] Lee Young-ja, and Cultwo (Jung Chan-woo, Kim Tae-gyun). Choi Tae-joon joined the show as host starting August 29, 2016. According to the show's official description through KBS, Hello Counselor is a talk show with an emphasis on regular people, regardless of age or gender, that aims to help take down communication barriers by sharing stories about life.[1] The program airs every Monday on KBS World. --wikipedia
3rd Concern: "Don't Worry"
The third concern comes from a 20s year-old housewife, Kim Min-jeong. She comes to "Hello Counselor" because she has a problem with her husband. They have been married for a year and her husband is a gallant man, but he is worrying too much about so many things. Her husband has useless worries, such as worried if the building is collapse, the elevator will drop, car accidents, etc. Her husband also thinks that all transportation is dangerous, it makes her unable to go anywhere because her husband does not allow her. She comes to "Hello Counselor" with the hope to stop her husband which worrying many things.
"The wife: Kim Min-jeong"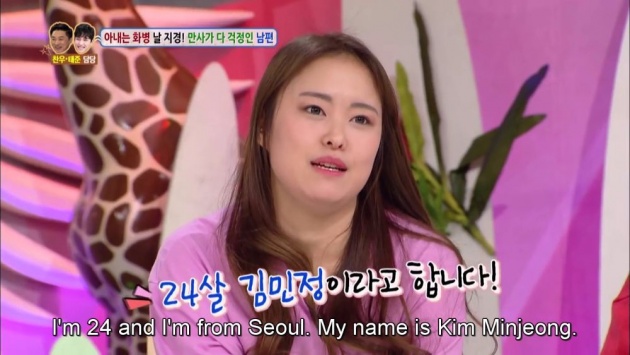 Image Credit: Snapshot from Youtube video
I admit that I'm a bit like her husband, but not as extreme as he is :D Sometimes I also think negatively about things that haven't happened yet, which eventually makes me stop to do something or stop me to go somewhere. Or sometimes I think that something bad will happen to someone in the future. Maybe, you also experienced this :D
She said that when they are in a tall building, her husband is worried that the building will collapse. When they're inside the elevator, he's worried that it'll drop suddenly. When they're in a vehicle, he's worried that the bus will crash, the train will collide, or there will be a fire inside the subway. She does not know why her husband thinks like this. She also said that this started since they had a baby and at that time there was a lot of news about accident. Her husband thinks it's safer if he drives the car himself when they go to somewhere or to travel and the problem occurs when they have to travel far.
"Kim Min-jeong's husband"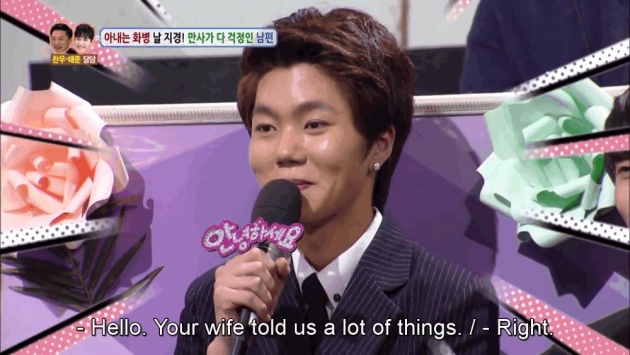 Image Credit: Snapshot from Youtube video
We meet with the husband. He admits that she has become an excessive worry since having a baby. Plus he also had some accidents that made him traumatized. He worked as parcels delivery. Once he entered the building he would start to thinks about useless worries and his palm will sweat because of it.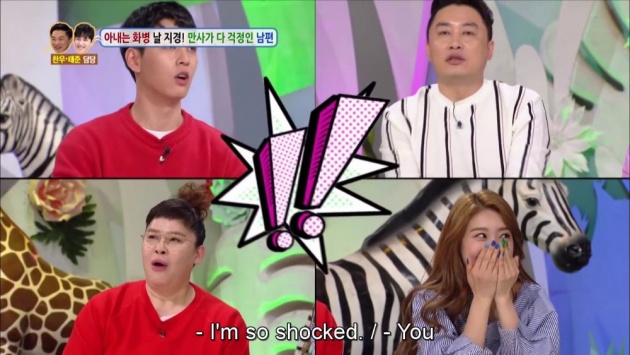 Image Credit: Snapshot from Youtube video
Well, it's become clearer now that his baby had the greatest influence on his excessive worries. He even seemed to care less if someone else was injured or involved in an accident as long as his baby survived or safe. I feel that the husband is very childish, like he told his wife to leave home but on condition that she leave alone. Or when he does not allow others like one of his family to babysitting his baby, instead his wife must do it. And that's one of the reason why she can't go anywhere.
"The husband and his baby"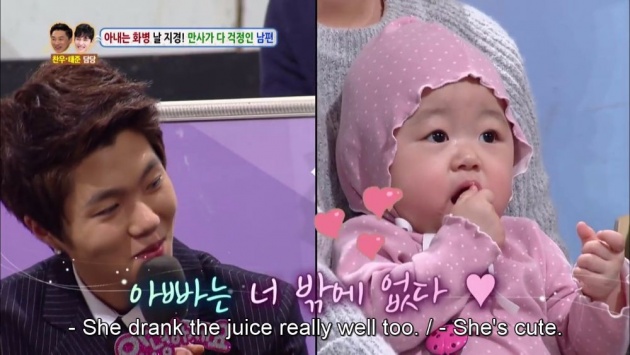 Image Credit: Snapshot from Youtube video
The problem is, his talk didn't match with his action :D Though he loves his baby very much but he rarely takes care of her. I do not agree if a mother or a wife have to do all house chores, it's old-fashioned. And since he has baby, he should spend more time to babysitting her. It's frustrating when you hear his excuse or his reply :D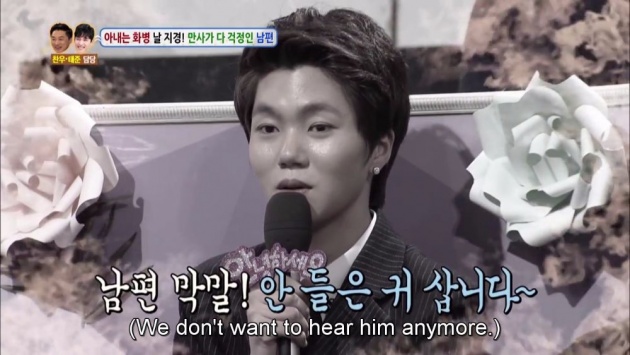 Image Credit: Snapshot from Youtube video
At first, the problem is just about his excessive worries, but it lead to other problem which affect his household. Maybe because they got married in early age, still young and inexperienced, especially the husband, he really need change the way he thinks. Whether it's about his wife or his baby, he need to be more understanding.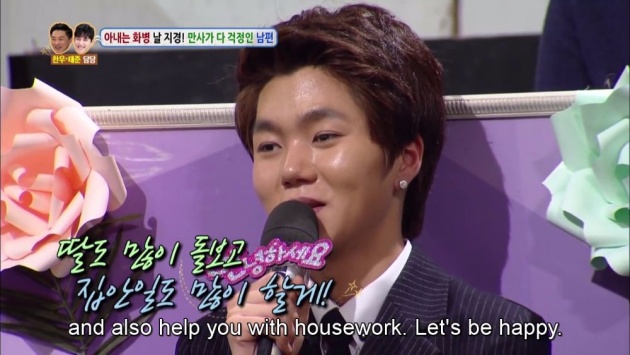 Image Credit: Snapshot from Youtube video
In the end, he promise that he will change the way he thinks, help with housework and spend more time with his baby. He also said that he want to travel to many place with his wife. Though his promise sounds less convincing, I hope he will keep it.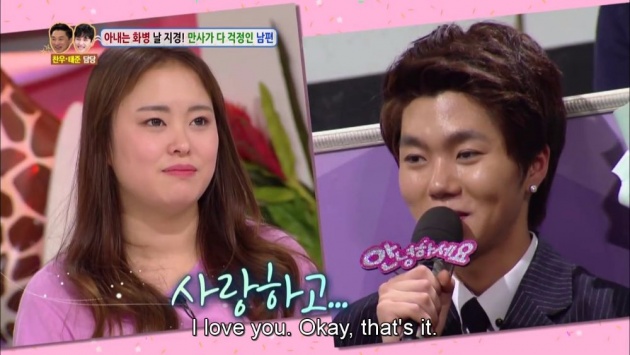 Image Credit: Snapshot from Youtube video
Overall, I would vote this matter as a serious concern. I know that the husband is under stress too since he has to be the head of houshold in young age and has big responsibilities. And it takes time to get free from trauma but he can start by always be positive. Trust and communication is the key in a relationship. I hope the husband will put more effort to change and not restrain his wife too much. With this, she earned 129 votes out of 200 audiences.
"The final result with 129 votes"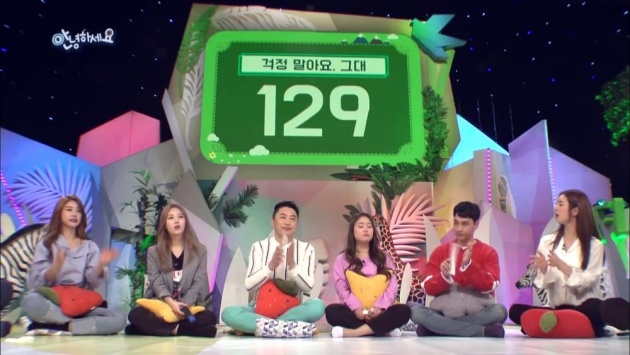 Image Credit: Snapshot from Youtube video
Today's Winner
In the end, "Where's my house?" come out as the winner of this episode with 125 votes and "Hello Counselor" will give $1000 gift certificate to the winner as the prize.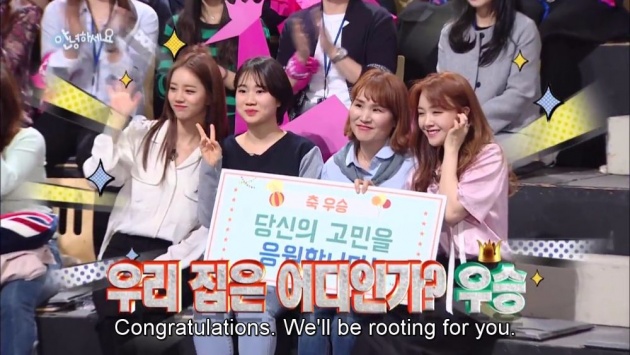 Image Credit: Snapshot from Youtube video
That's it my simple review about "Hello Counselor". Wait for my next blog about "Hello Counselor" and see you next time :D
Regards
LookUp
©2017 LookUp. All rights reserved