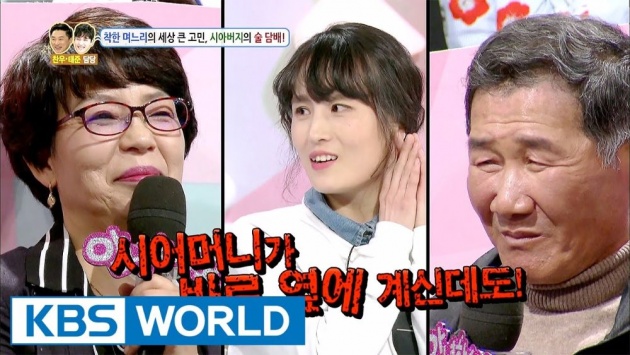 Korean Reality Show Review: Hello Counselor - I Beg of You
Hello guys~ LookUp again here :3 In my previous blog, I have discussed the first and second concerns of "Hello Counselor" about "A Fake Husband" and "I Want to Smash It", and now I am going to discuss about the third concern, "I Beg of You". If you want to know more about "Hello Counselor" you could read my old blog about it titled "Hello Counselor: The Problem Solver TV Show". Once again, do not be bored with my blog because I still have so many things to review :D I hope you could enjoy it. Happy reading~!!!
"Watch this episode of Hello Counselor below"
About Hello Counselor
Hello Counselor (Hangul: 안녕하세요; RR: Annyeonghaseyo) is a South Korean reality show first that debuted in November 2010. It is hosted by Shin Dong-yup,[2] Lee Young-ja, and Cultwo (Jung Chan-woo, Kim Tae-gyun). Choi Tae-joon joined the show as host starting August 29, 2016. According to the show's official description through KBS, Hello Counselor is a talk show with an emphasis on regular people, regardless of age or gender, that aims to help take down communication barriers by sharing stories about life.[1] The program airs every Monday on KBS World. --wikipedia
3rd Concern: "I Beg of You"
The third concern comes from a housewife and also a daughter-in-law, Jeon Mi-young. She came to "Hello Counselor" because she had a problem with her father-in-law. Every night, her father-in-law goes to small room and locked the door. In the room, he drinks soju alone and in a month he can drinks between 40 - 50 bottles of soju. In addition to heavy drinkers, he is also a heavy smoker. In fact, he often coughed in the middle of the night or in the morning, but that did not stop him from smoking. His habit has also affected the people around him, especially his grandchildren. She came to "Hello Counselor" so that they can have a talk to her father-in-law.
"Daughter-in-law: Jeon Mi-young"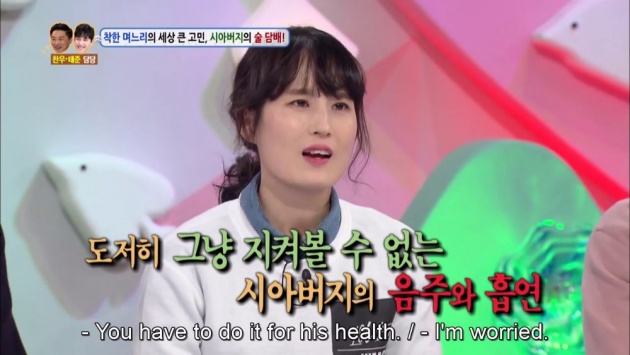 Image Credit: Snapshot from Youtube video
The concerns are quite different this time. Usually the concerns that are discussed is about husband and wife, friend, or about the family. However, this time the daughter-in-law comes here to expose her father-in-law. Based on my observations, either from Korean movie or drama, I think drinking soju is the most common thing there. So I'm not surprised by this kind of habit.
"Father-in-law"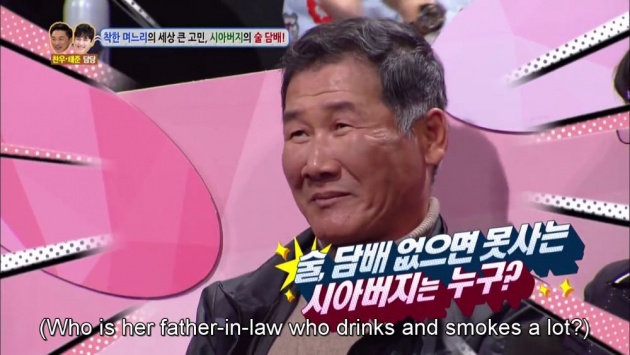 Image Credit: Snapshot from Youtube video
She said that her father-in-law is 61 years old now. For 20 years he always drinks soju and he usually drinks 2 bottles every day. He also used to smoke one cigarette in an hour. After dinner, he goes inside his room alone, only turns on the TV and drinks soju. Because of his habit, his grandchildren began to imitate his style like when drinking soju, or pretending to smoke, even though she was only 2 years old. She has tried to talk seriously with her father-in-law to stop smoking, but he does not listen. He even promised her that he would quit smoking after her first child was born, but he didn't keep his promise even after her third child was born.
"Father-in-law and his wife"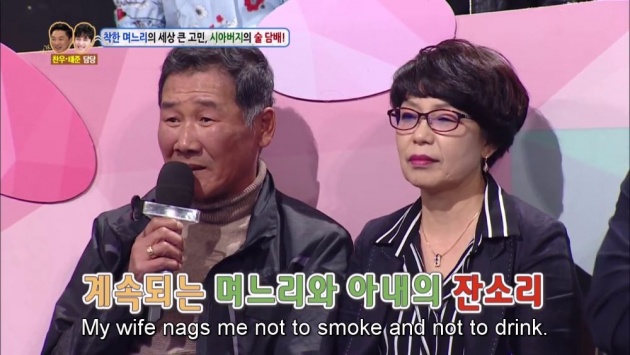 Image Credit: Snapshot from Youtube video
We meet with the father-in-law. He didn't understand why this is a concern, because he just drinks soju and smoking but not gambling. He said that he did not want his granddaughter to imitate his habit when drinking so he decided to drink soju in the room. He said when he smokes he blow the smoke to the opposite direction of the wind :D
"Jeon Mi-young's husband"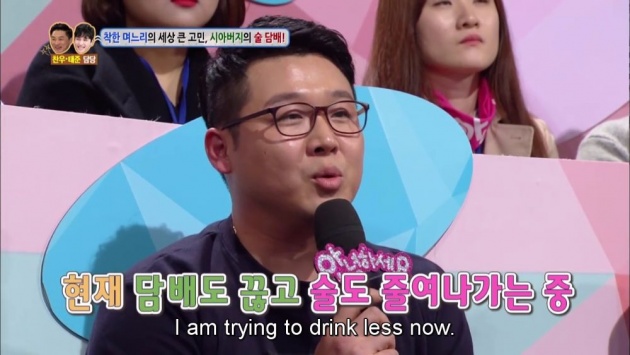 Image Credit: Snapshot from Youtube video
Well, actually he realized that it was not good to smoke and drink in front of kids especially after he witnessed the behavior of his grandchildren who imitated him. I know, it's hard to stop heavy drinkers and heavy smokers but we can not justify their actions, especially if it harms others or the people around them. I have a neighbor who is a heavy smoker, and I hate being around him because he smells of cigarettes. In fact, he often coughed loudly and sounded up to my house, but it did not stop him to smoke. I'm glad that I'm not a smoker and a drinker :D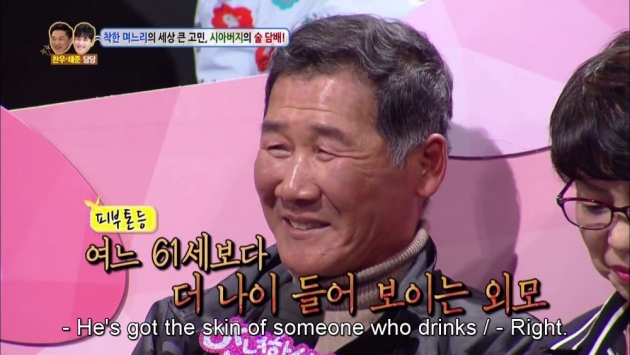 Image Credit: Snapshot from Youtube video
Another problem is, he is a sulky type of person and his wife confirmed that. When he sulked because of a fight he could not talk to his wife for a month. The funny thing is he did not admit that he was easily sulk :D He reasoned that he was just upset when his wife asked him to quit smoking and drinking.
Actually we can tell from his face that he is a heavy smoker and drinker. For a man who is about 61 years old, his face looks older and darker. We can see the difference between his face and his wife's face. He even has been diagnosed by a doctor that his liver condition is bad. This is of course very worrying for his family. He said that he had tried to quit smoking but always failed.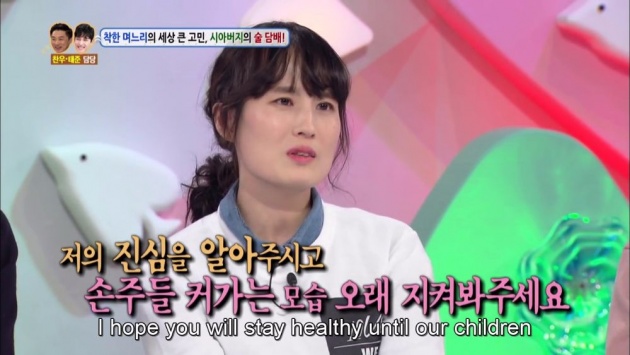 Image Credit: Snapshot from Youtube video
In the end, she just wants her father-in-law to stop smoking and reduce drinking. She wants her father to always be healthy even until her children get married someday. The father-in-law also promised to quit smoking and reduce his drinking so he can fullfil his wish to travel with his wife.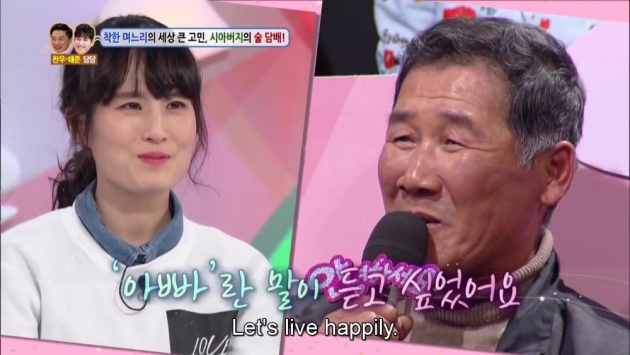 Image Credit: Snapshot from Youtube video
Overall, I would vote this matter as a serious concern. I understand his desire to do whatever he wants in his old age, but not by ruining his health. If he really wants to travel with his wife, he need to stop smoking and be healthier. Yeah, no one can guarantee that he will live long if he quit smoking, but at least he has tried to live a healthier life. With this, she earned 139 votes out of 200 audiences.
"Final result with 139 votes"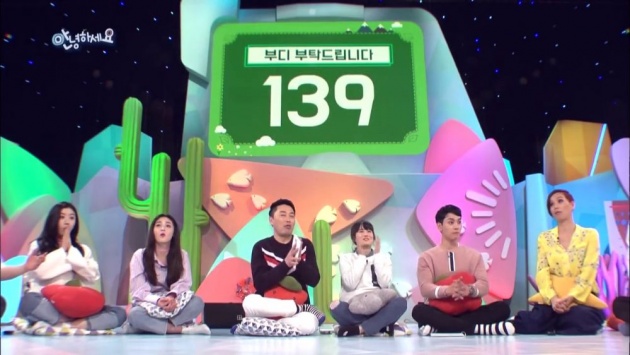 Image Credit: Snapshot from Youtube video
Today's Winner
In the end, "I Beg of You" come out as the winner of this episode with 125 votes and "Hello Counselor" will give $1000 gift certificate to the winner as the prize.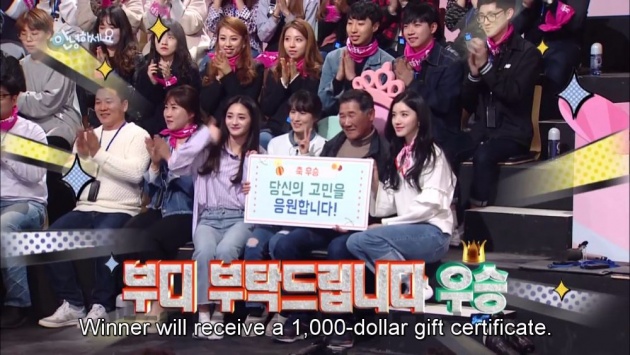 Image Credit: Snapshot from Youtube video
That's it my simple review about "Hello Counselor". Wait for my next blog about "Hello Counselor" and see you next time :D
Regards
LookUp
©2017 LookUp. All rights reserved