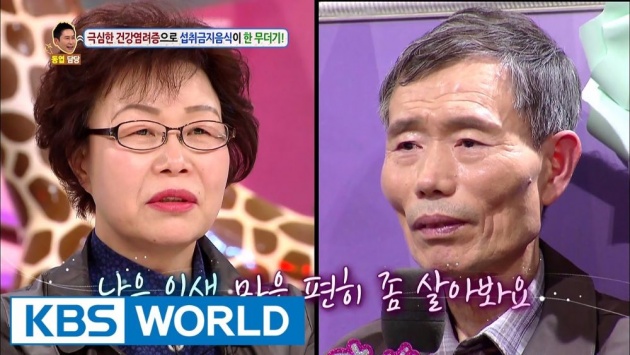 Korean Reality Show Review: Hello Counselor - I'll Take It Easy!
Hello guys~ LookUp again here :3 I come with new blog and new episode of "Hello Counselor" to review. In this blog I will discuss about the first concern, "I'll Take It Easy!". If you want to know more about "Hello Counselor" you could read my old blog about it titled "Hello Counselor: The Problem Solver TV Show". Also read my review about other episode in here or here. Once again, do not get bored with my blog because I still have so many things to review :D I hope you could enjoy it. Happy reading~!!!
"Watch this episode of Hello Counselor below"
About Hello Counselor
Hello Counselor (Hangul: 안녕하세요; RR: Annyeonghaseyo) is a South Korean reality show first that debuted in November 2010. It is hosted by Shin Dong-yup,[2] Lee Young-ja, and Cultwo (Jung Chan-woo, Kim Tae-gyun). Choi Tae-joon joined the show as host starting August 29, 2016. According to the show's official description through KBS, Hello Counselor is a talk show with an emphasis on regular people, regardless of age or gender, that aims to help take down communication barriers by sharing stories about life.[1] The program airs every Monday on KBS World. -wikipedia
"Jin and Jimin of BTS"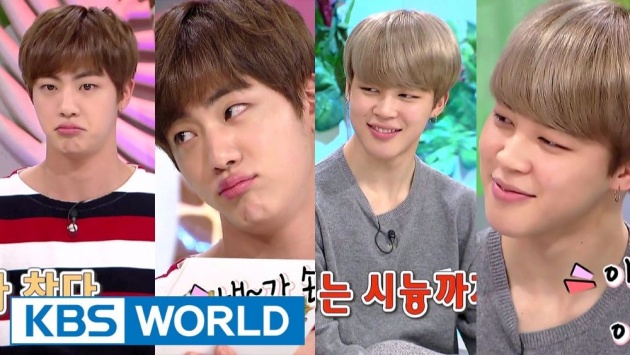 Special Guest: Jin, Jimin, and Kim Seunghye
On this episode, "Hello Counselor" invites three special guests, Jin, Jimin, and Kim Seunghye. Jin and Jimin are members of a South Korea idol group, BTS or also called Bangtan Boys, Bulletproof Boy Scouts or Beyond The Scene. BTS consists of 7 members: Jin, Suga, J-Hope, Rap Monster, Jimin, V, and Jungkook, under Big Hit Entertainment. Kim Seung-hye is a comedian in South Korea and better known on "Gag Concert", a comedy show.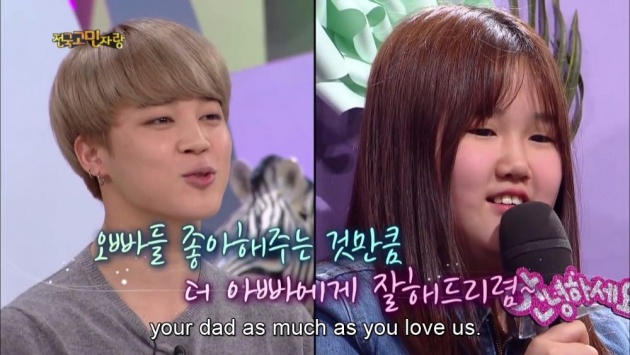 Image Credit: Snapshot from Youtube video
In this episode, the daughter "Haeun" and the father "Seo Sang-hwa" also come to "Hello Counselor", because the daughter want to see BTS :D You can read their story "My Ugly Dad" on my previous blog, here.
1st Concern: I'll Take It Easy!
The first concern comes from a 60 year old housewife, Wi Ok-ja. She comes to "Hello Counselor" because she has a problem with her husband who always sits in front of TV all day and watches programs about health. Because of this, he always forbids his family to eat certain foods because it is not good for health, such as red meat, fried chicken, sashimi, etc, and they can only drink water. He is always picky in terms of food when they eat out and can not stop nagging. He also has a problem about cleanliness and germs. Even it took him an hour just to wash three dish. Because of this, the wife is often stressed and wishing "Hello Counselor" can stop him.
"The wife: Wi Ok-ja"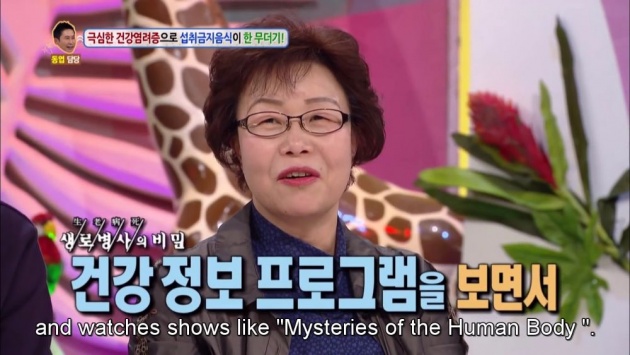 Image Credit: Snapshot from Youtube video
I do not know why I'm not so interested in this concern. Maybe the intro story is not strong enough for me. Most of the problems that occur in a household are due to lack of communication, stubbornness, and selfishness. As in the previous episode, this time the husband is also a problem in the family because of his stubbornness and selfishness. He becomes affected by the health TV program he watches all day and forces his family to eat food that he thinks is worth eating.
"The picky eater husband"
Image Credit: Snapshot from Youtube video
The wife says that her husband is always watching TV programs about health all day long. Even when they are visiting relatives, the husband will go home just for the sake of watching the program. The husband never eats red meat and only eats boiled meat. If he wants to eat grilled meat, it has to be grilled using pure charcoal. He never eats fried chicken and only eats oven-baked chicken. He does not like sashimi because its raw and smell. He never eats junk food like pizza. He does not want his wife to put any sugar, salt, and other seasoning in his food and usually, he only eats vegetables.
Yeah, all of the foods above are good for his health, but the wife complains that he went overboard with it. Whenever they try to dine out, the husband always finds faults with every restaurant and he always picky about his foods which make it tough for the wife to cook three meals a day for him. The wife even grows bean sprouts in her home and make tofu by herself. To make it worse, her husband has OCD (Obsessive-Compulsive Disorder) and always nagging to her if something does not match his wishes.
"The son: Lee Kyung-goo"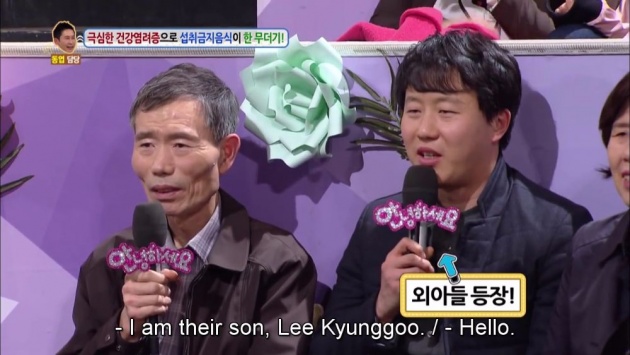 Image Credit: Snapshot from Youtube video
Finally we meet with the husband. He says several reasons why he does not eat certain foods, such as grilled meat which cancerous, hate fishy smell, etc. He also mentions some of the health programs he often watches and most of the programs are from KBS which is where "Hello Counselor" aired :D Though he does not like junk foods but he mentioned that he likes to eats noodles, chips, and even ramyeon :D
My first impression when I saw my husband for the first time was, I did not think he was the type of picky eater and nags a lot. He does not seem to talk much and expressionless. And as a person who always cares about his health, he does not look like a healthy person and looks less energized.
"The husband's sister"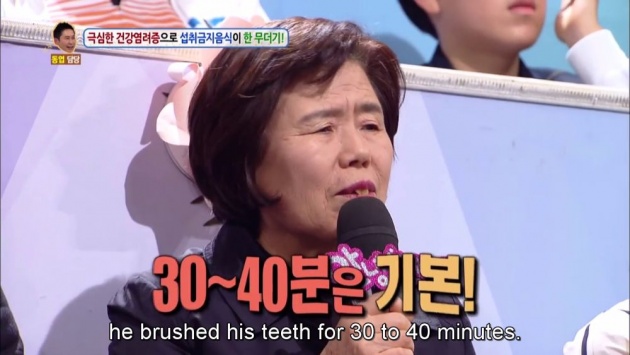 Image Credit: Snapshot from Youtube video
Their only son, Lee Kyung-goo, and the husband's sister also come to show to give testimony about this concern. The son tells some experiences about his father such as he and his mother can not eat fish at home and have to go eat out because his father does not like the smell of fish and how stressed his mother is to serve meals for his father. The husband's sister says that he has been like this since young. He brushed his teeth for about 30 to 45 minutes long and he used a brush to washed his hand. He was not picky eater when he was young and can eat well, but when he got sick, he became very sensitive as he is now.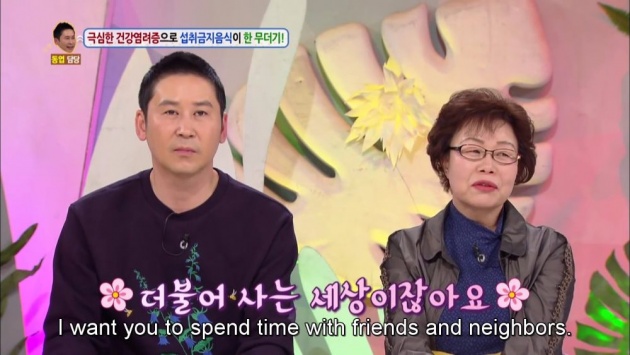 Image Credit: Snapshot from Youtube video
We come to know that actually the husband is sick, it is called tetanic spondylitis and he has to take medication and check up regularly, that is why he is become more sensitive now. The wife says that even though her husband has problem health but he still can do some things. She just want him to get better and do something together with him like going out and meeting with friends. But what she want the most is to travel together with him.
Well, I think the husband is not that bad. He is not a stubborn type of husband. Even he can accept all the advice given and aware of his faults all this time. Maybe he just nagging a lot which I think is normal for people around his age or older. In the end, he even gives permission to his wife to do whatever she likes and he agrees to go on vacation with her.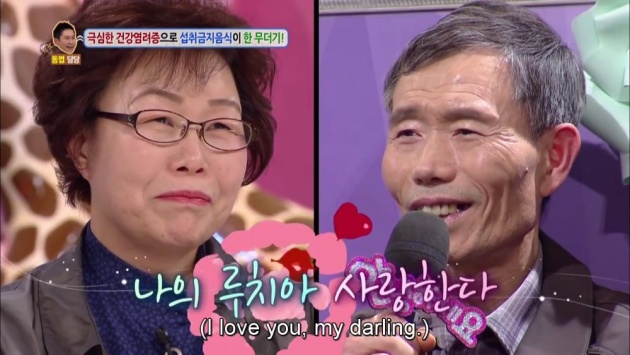 Image Credit: Snapshot from Youtube video
Overall, I would vote this matters as a serious concern to support the husband. Selfish nature is not good in a relationship, especially in a family. I hope the husband could be more understanding to his wife and they can communicate every problem they face to get the best choice. I also hope that the husband will keep his promise. With this, she earned 154 votes out of 200 audiences.
"The final result with 154 votes"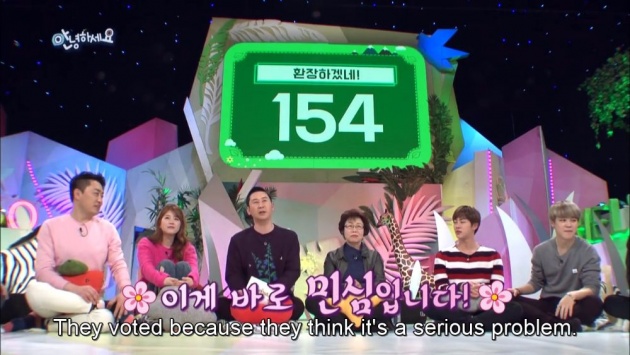 Image Credit: Snapshot from Youtube video
To be continued. . .
That's it my simple review about the first concern of "Hello Counselor" this episode, "I'll Take It Easy!". I will discuss the other two concern on my next blog which is about "The Unwelcome Guest" and "What My Son Likes". I hope you enjoy this boring blog and see you next time~ :D
Regards
LookUp
©2017 LookUp. All rights reserved