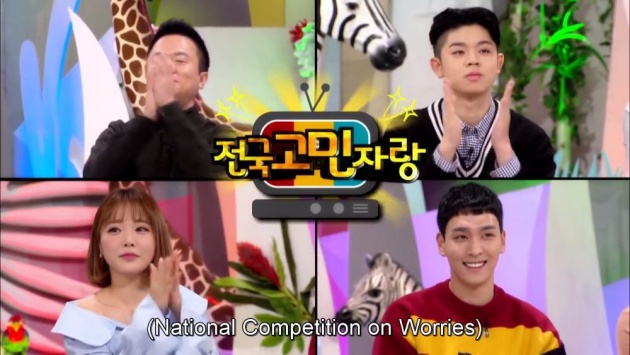 Image Credit: Snapshot from Youtube video
Korean Reality Show Review: Hello Counselor - MC Gree, Hong Jinyoung [ENG-2017.02.20] Part. 1
Hello guys~ LookUp again here :3 Again, I will discuss about "Hello Counselor" on this blog with different episode. If you want to know more about "Hello Counselor" you could read my old blog about it titled "Hello Counselor: The Problem Solver TV Show". Also read my review about previous episode in here "Korean Reality Show Review: Hello Counselor - Yeo Esther, Hong Hyegeol [ENG-2017.02.13] Part. 1" and "Korean Reality Show Review: Hello Counselor - Yeo Esther, Hong Hyegeol [ENG-2017.02.13] Part. 2". Do not be bored with my blog because I still have so many episode to review :D I hope you could enjoy it. Happy reading~!!!
"Watch this episode of Hello Counselor below"
Video Credit: KBS World TV via Youtube
About Hello Counselor
Hello Counselor (Hangul: 안녕하세요; RR: Annyeonghaseyo) is a South Korean reality show first that debuted in November 2010. It is hosted by Shin Dong-yup,[2] Lee Young-ja, and Cultwo (Jung Chan-woo, Kim Tae-gyun). Choi Tae-joon joined the show as host starting August 29, 2016. According to the show's official description through KBS, Hello Counselor is a talk show with an emphasis on regular people, regardless of age or gender, that aims to help take down communication barriers by sharing stories about life.[1] The program airs every Monday on KBS World. -wikipedia
"The Queen of Trot: Hong Jinyoung"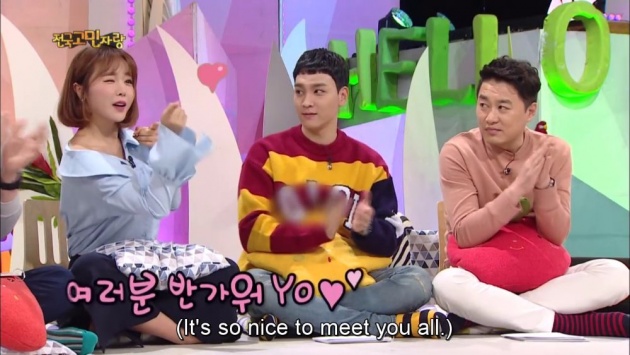 Image Credit: Snapshot from Youtube video
Special Guest: MC Gree and Hong Jinyoung
In this episode "Hello Counselor" invites special guest, the rapper MC Gree and the trot singer Hong Jinyoung. MC Gree is the son of Kim Gura, the famous comedian and MC in South Korea. Actually I do not know him so I will not describe more about him :D But I know more about Hong Jinyoung as she often appeared on variety show like "Immortal Song", "Running Man", etc. She is like the happy virus on the show, because she always spread happiness with her cute smile :D And she is being known as Queen of Trot. It was quite fun having them on "Hello Counselor" although MC Gree rarely talk in here and Hong Jinyoung is more talkative than him.
1st Concern: "The Job Hopper"
The first concern came from a 30s year-old mother with a 9-month-old daughter, Jeon Heewon. She has a problem with her husband who always changes jobs for no apparent reason. They have been married for 2 years and before marriage, her husband once said that he will work very hard and make her happy. But it was a mere promise, she felt deceived and blinded by love.
"The wife: Jeon Heewon"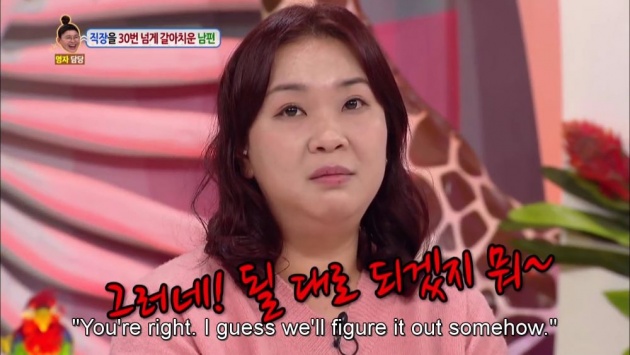 Image Credit: Snapshot from Youtube video
Actually I am confused about how to respond to this situation, because I myself do not have a regular job: D and moreover I'm single: D But, yes, according to what the hosts in "Hello Counselor" say, people who often change jobs indicate that people is less responsible. The husband says that he has a total of six jobs within two years after they got married. Wow, that means he always changes jobs once every two months. And he confessed that he had a total of 35 jobs if counted from before his marriage. That's crazy: D
"Jeon Heewon's husband"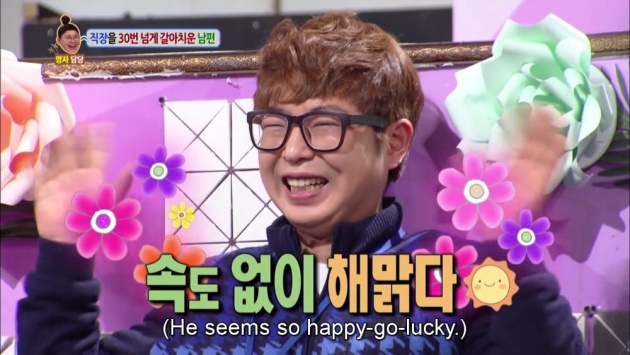 Image Credit: Snapshot from Youtube video
The more surprising thing is the reason why he suddenly quit his job. He confesses that he feels stress because his tough job or because of her boss. And he can suddenly quit of his job just because of anger and emotion. Oh God ~ I agree with what his wife said, that if her husband already has a plan after quit or has back up job, it does not matter if her husband suddenly quit his job. But, NO, her husband quit his job but did not have a plan and it was just a moment of emotion. He did not think of any further consequences especially to his family and the finances for everyday life. This is so bad.
"The wife burst out into tears while telling about her immature husband"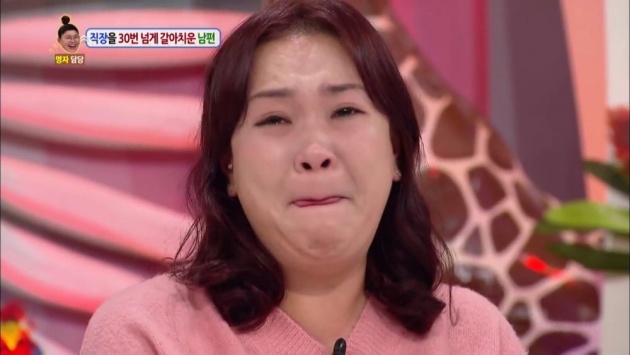 Image Credit: Snapshot from Youtube video
The thing that makes the wife feel more disappointed with her husband is whenever they run out of money for their daily needs, her husband will ask help to his mother, even though his mother has just had surgery because of cancer. Up to the point where his mother says she can not help anymore because she has no money. OMG~ This is worst. The wife even plans to find a job, but because of the age of her daughter which is still baby, she can not leave her alone. She also tried to live as frugally as possible. The problem is that even if the wife has tried to do that, the husband likes to drink alcohol every day and get drunk.
"The host can't believe with unbelievable husband's excuse"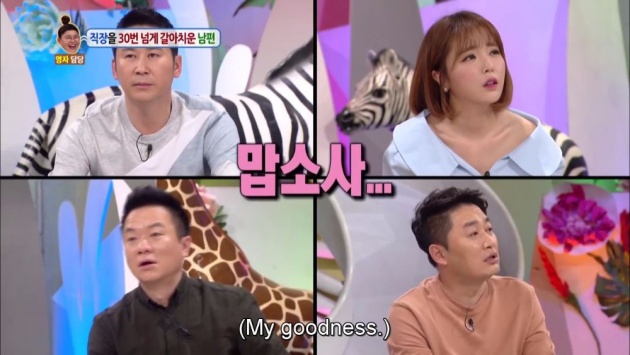 Image Credit: Snapshot from Youtube video
So many bad sides of the husband and like the wife said, her husband is immature and irresponsible. However, fortunately he also realized that what he did was wrong and he regret it. He promised to his wife to work steadily for a long time and trying not to get stressed. Also, until he find a new job he promised to her wife that he won't quit his current job. And about his drinking habits he promised to only drink once in three days. I like that the host of "Hello Counselor" gives the husband plenty of advice about his nature and habits that must be changed and some motivations too.
"The husband and the wife reconcile"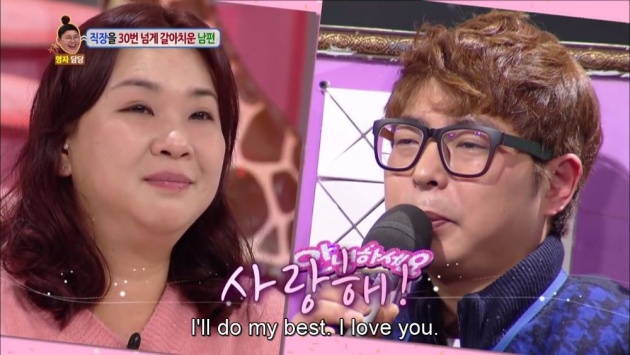 Image Credit: Snapshot from Youtube video
Overall, I will vote this matters as a serious concern. The husband seriously need to change his behavior. Because if he does not change even the wife is ready if later must part with him. With this, she earned 157 votes from 200 audiences which is mean this is a serious concern. I hope the husband will keep his promise and this family could be better.
"The final result with 157 votes"
Image Credit: Snapshot from Youtube video
To be continued. . .
That's it my simple review about "Hello Counselor". I will discuss the other two concern on my next blog which is about "My Ugly Dad" and "Just Listen to Me Once". I hope you enjoy this boring blog :D
Regards
LookUp

©2017 LookUp. All rights reserved