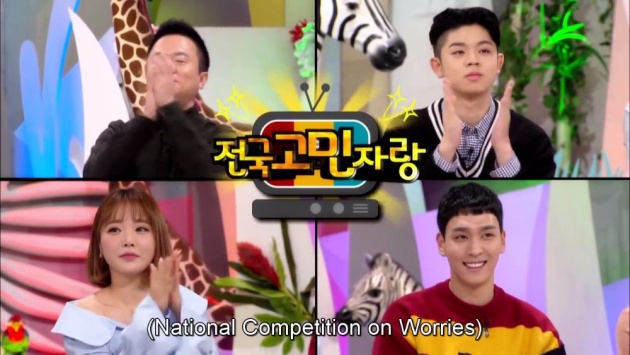 Image Credit: Snapshot from Youtube video
Korean Reality Show Review: Hello Counselor - MC Gree, Hong Jinyoung [ENG-2017.02.20] Part. 3
Hello guys~ LookUp again here :3 Again, I will continue to discuss about "Hello Counselor" from my previous blog. If you want to know more about "Hello Counselor" you could read my old blog about it titled "Hello Counselor: The Problem Solver TV Show". Also read my review about previous concern in here or here. And you could read my review about other episode in here or here. Once again, do not be bored with my blog because I still have so many things to review :D I hope you could enjoy it. Happy reading~!!!
"Watch this episode of Hello Counselor below"
About Hello Counselor
Hello Counselor (Hangul: 안녕하세요; RR: Annyeonghaseyo) is a South Korean reality show first that debuted in November 2010. It is hosted by Shin Dong-yup,[2] Lee Young-ja, and Cultwo (Jung Chan-woo, Kim Tae-gyun). Choi Tae-joon joined the show as host starting August 29, 2016. According to the show's official description through KBS, Hello Counselor is a talk show with an emphasis on regular people, regardless of age or gender, that aims to help take down communication barriers by sharing stories about life.[1] The program airs every Monday on KBS World. -wikipedia
3nd Concern: "Please, Just Listen Me Once"
"The Son: Kim Jaeoh"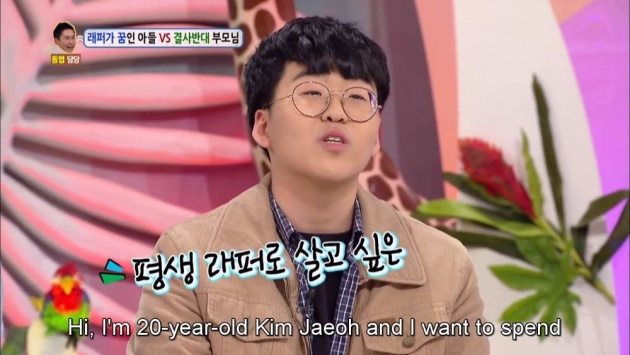 Image Credit: Snapshot from Youtube video
The third concern comes from a 20-year-old son who is about to going to college soon, Kim Jaeoh. He comes to "Hello Counselor" because he has a problem with his parents. Kim Jaeoh has dreams to become a rapper, but his parents do not approve of it. The problem is that his parents do not know what hip-hop or rap music is, though he's been trying to give understanding to his parents. He can not even practice rap at his home, because his parents always scold him and look down on rap music. He bet all his life in rap music and hoped his parents would support him.
"The parents who are against the rap"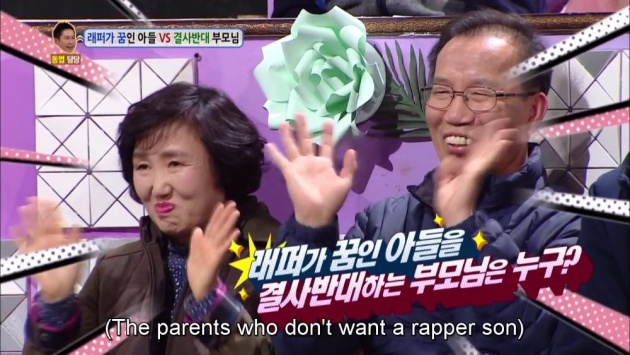 Image Credit: Snapshot from Youtube video
In my opinion this issue is quite interesting. A child who is faced with two choices between reaching his dream or following the wishes of his parents. The problem is, both are stubborn and nobody wants to budge. The child remains strong with his dream of becoming a rapper and his parents want his son to be just ordinary people, like going to college, graduating, working, and then getting married. This is indeed understandable when viewed from the perspective of parents. However, his son also has his own way of life so he has the right to decide what he will become in the future.
My first impression when I saw Kim Jaeoh was that he did not have the impression of a rapper. He was just an ordinary young man with glasses who likes to wear over-sized, baggy clothing. His parents even once told him, why he dressed like beggar :D If only based on outward appearance I assume he does not have the talent to be a rapper or his rap will sound bad.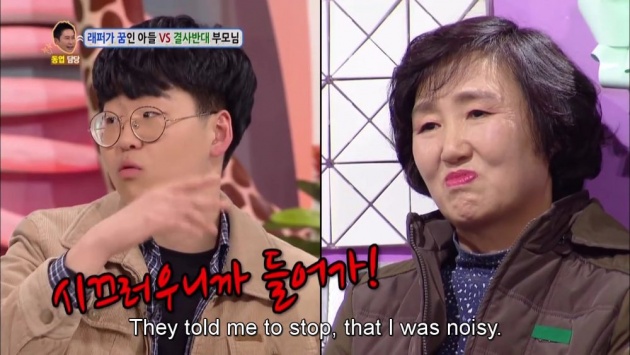 Image Credit: Snapshot from Youtube video
To show his determination to become a rapper, he even has a stage name, "Oh Jae Ga Jae". Yeah, his name sounds unique even to me who does not know what it means :D And based on his words, he has written 30 lyrics of his own song. But his parents still do not understand about him and his dreams. His father said that rapper has no future, while his mother says that rapper is not even human, with the meaning that what they sing is not human language :D OK, for me too sometimes I do not like rap songs but sometimes I like them, just depend on the rhythm and the music, even though I do not know the meaning :D
"The father's opinion about rap music"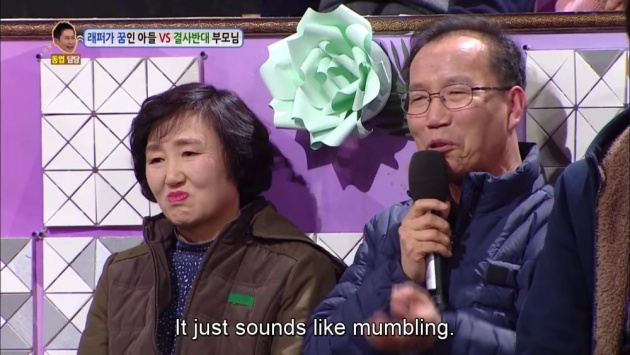 Image Credit: Snapshot from Youtube video
Later they found out that the age gap between the son and the parents is around 40 years old. I understand why the parents did not like hip hop or rap music, because for old generation, these kind of music is practically new. They say that rap is not even music and just mumbling talk. In fact, hip hop and rap music is popular these days especially in South Korea. But, yeah, it is very difficult to compete in Korean entertainment world, because every month or day there will be new songs released. There are many people who have the talent in music but not publicly known, so the talent itself is not enough to be able to survive in this industry.
"The mother's opinion about rap music"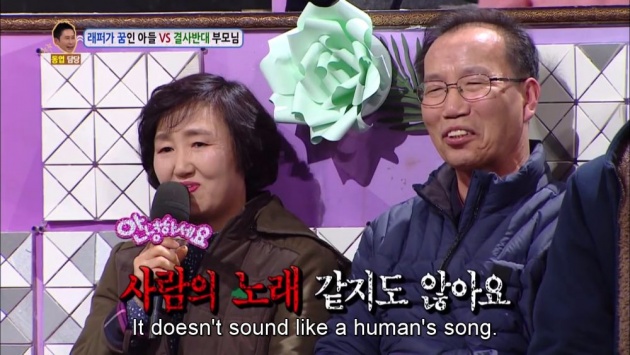 Image Credit: Snapshot from Youtube video
To prove how talented he is in rap, "Hello Counselor" has invited famous rapper, "Minos" and "Hanhae". They will be the jury and determine whether he deserves to be a rapper or not. The result is not as what people imagine in the beginning when they first saw him. He's pretty good in rap. And as the two jurors said, he is talented enough and has the opportunity to become a professional rapper if he continues to learn and practice. The problem is, his parents are still not want to open their heart even after seeing this fact. Yeah, the son and the parents both are stubborn and stand with their own choice.
"Special appearance: Minos & Hanhae"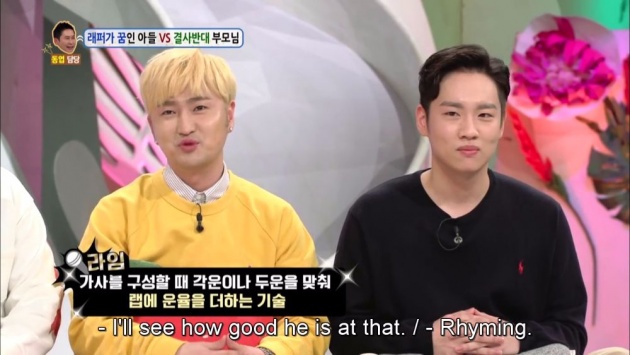 Image Credit: Snapshot from Youtube video
I do not think there will be any end to this matters if they will not budge. But "Hello Counselor" must end :D Just like what the guest says, I think the son should follow his parents' wishes first and focus on his study. And just make rap as a hobby but still have to practice and maybe he can focus on rap after graduating from college. I also agree with the host statement from "Hello Counselor" saying that young people in his age but already has a specific dream to achieve is already a great thing, as many young people of his age when asked what their dreams are, most of them cannot answer or did not know about it. Almost the same as what happened to me when I was at his age :D
"The final result with 142 votes"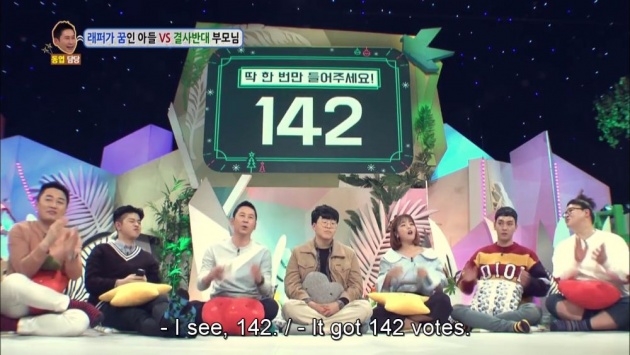 Image Credit: Snapshot from Youtube video
Overall, I would vote this matter as concern because it seems that this problem will not get resolved easily. As a parent, they should support his son, or at least believe in him and give him the right to make the choice of his own life. However, his son also still need the parents guide. With this, he gets 142 votes out of a total of 200 votes, it means many audiences also think that this is serious concern.
Today's Winner
In the end, "The Job Hopper" come out as the winner of this episode with 157 votes and "Hello Counselor" will give $1000 gift certificate to the winner as the prize.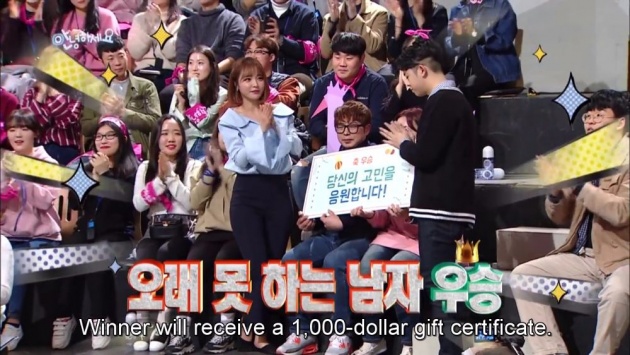 Image Credit: Snapshot from Youtube video
That's it my simple review about "Hello Counselor". Wait for my next blog about "Hello Counselor" :D
Regards
LookUp
©2017 LookUp. All rights reserved