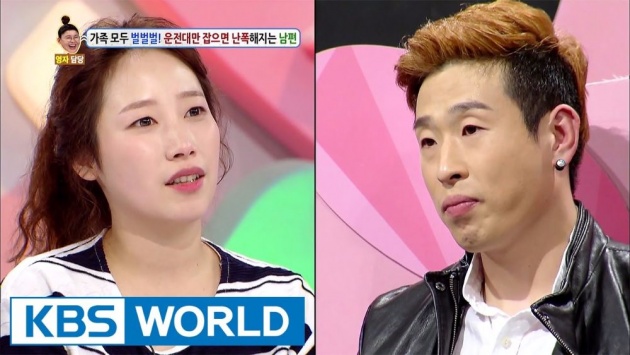 Korean Reality Show Review: Hello Counselor - The Risky Man
Hello guys~ LookUp again here :3 I come with new blog and new episode of "Hello Counselor" to review. In this blog I will discuss about the first concern, "The Risky Man". If you want to know more about "Hello Counselor" you could read my old blog about it titled "Hello Counselor: The Problem Solver TV Show". Also read my review about other episode in here or here. Once again, do not get bored with my blog because I still have so many things to review :D I hope you could enjoy it. Happy reading~!!!
"Watch this episode of Hello Counselor below"
About Hello Counselor
Hello Counselor (Hangul: 안녕하세요; RR: Annyeonghaseyo) is a South Korean reality show first that debuted in November 2010. It is hosted by Shin Dong-yup,[2] Lee Young-ja, and Cultwo (Jung Chan-woo, Kim Tae-gyun). Choi Tae-joon joined the show as host starting August 29, 2016. According to the show's official description through KBS, Hello Counselor is a talk show with an emphasis on regular people, regardless of age or gender, that aims to help take down communication barriers by sharing stories about life.[1] The program airs every Monday on KBS World. --wikipedia
"Minzy, Solbin and ZN"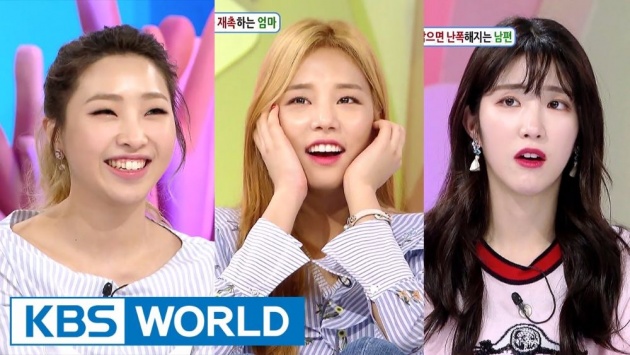 Special Guest: Minzy, Solbin, ZN, Kim Min-jun
On this episode, "Hello Counselor" invites Minzy, Solbin, ZN and Kim Min-jun as the special guest. Gong Min-ji or also known as Minzy is a South Korean singer and songwirter. She is a former member of South Korean girl group called 2NE1. She left the group in April 2016. Kim Min-jun is a South Korean actor. He has played in various dramas and movies such as "Hwarang: The Poet Warrior Youth (2017)", "One More Happy Ending (2016)", "Top Star (2013)", etc.
Meanwhile, Solbin and ZN is part of member South Korean girl group LABOUM which debuted in 2014 under NH Media and Nega Network's joint venture Global H Media. The name LABOUM is taken from French term which mean "The Party".
1st Concern: The Risky Man
The first concern came from a 20s year old mother and housewife, Kim Min-jeong. She comes to "Hello Counselor" because she has a problem with her husband. Every day she has to go through life and death situations. It was caused by her husband who became evil when he held the steering wheel. Her husband always yelling and cursing when he drive even to elder people. The problem is that it happens even when she and their kids are in the car and he still drives recklessly. She afraid that something horrible might happen because of it. She comes to "Hello Counselor" to stop her husband.
"The wife: Kim Min-jeong"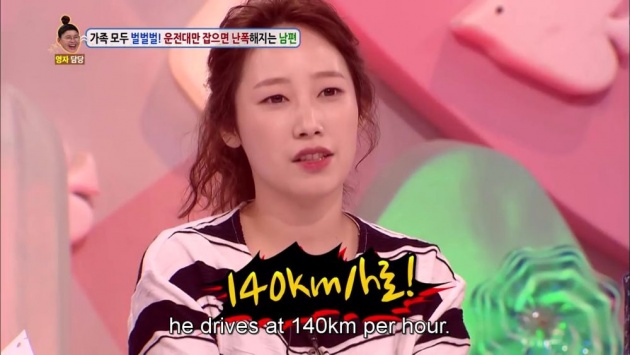 Image Credit: Snapshot from Youtube video
She says that her husband always drives as if she were competing in racetrack. Her husband will not yields with others and usually he drives up to 140 km / h even though he and his son are in the car. When she tried to stop her husband, he frightened her, like stopping abruptly when in a red light to make her stumble to the front, etc. A truck driver was trying to cut in one day, her husband didn't yield and instead he got into a quarrel. He even chased the truck driver and start to fight with the truck driver even though his kids was there crying. Actually, her husband is very relaxed and easygoing. He's kind to his kids and an attentive husband to her, but he changes only when he drives.
"Kim Min-jeong's husband"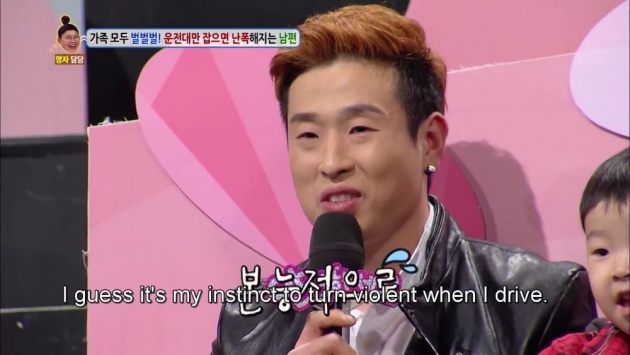 Image Credit: Snapshot from Youtube video
We meet with the husband. He said that his instinct to turn him become violent when he drives. About the truck driver case, he said that when he warned him for breaking traffic rules, instead he raised his middle finger while on the phone, so he chased him and finally the truck driver apologized to him. The reason why he often speeding is because he works at an agricultural product wholesaler and he has to deliver fresh food quickly. His client will complain if he is late with the delivery, but mostly he was late because arguing with another driver on his way. He also said that he deliberately frightened his wife while driving to stop her nagging at him. He admit that he was wrong at that moment but he keep repeating the same mistake the next time.
"The husband and his siter"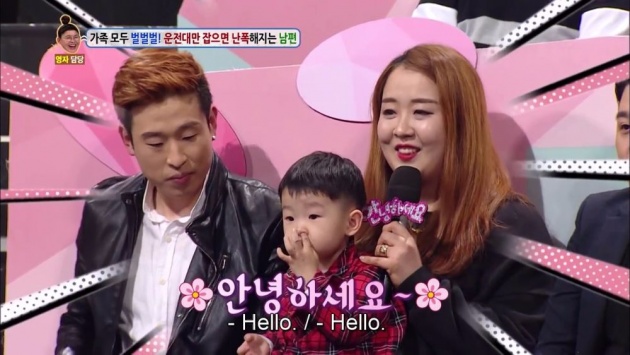 Image Credit: Snapshot from Youtube video
Well, it's strange that he suddenly changed only when driving. Based on his statement, he has never been involved in a major accident but based on his wife, it was a lie. His wife accidentally found a message that her husband was involved in a fight and broke the teeth of another driver. And the settlement money was around $ 2,000. But not only that, it turns out her husband has often experienced a similar incident without being noticed by his wife. And of course he has spent a lot of money as the settlement money. It's a pity, right? Money that could have been used for the needs of his child or his family was wasted as a result of his behavior.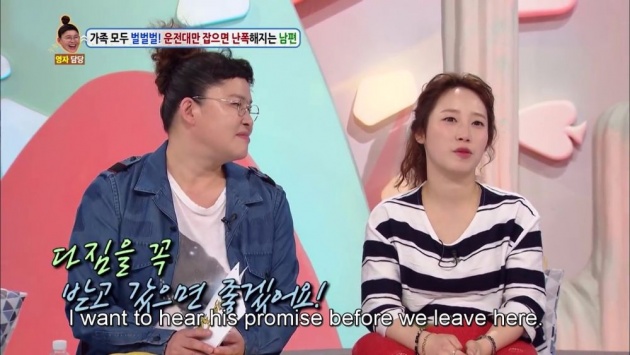 Image Credit: Snapshot from Youtube video
His sister and his friend also came to "Hello Counselor" to testify. They confirmed that he suddenly changed only while driving. His sister said he was kind to his family but changed when he was driving, even when their parents were in it. His sister also added, once he had been involved in a big accident that even the entire family did not know. He had to undergo major surgery and was in hospital for several months.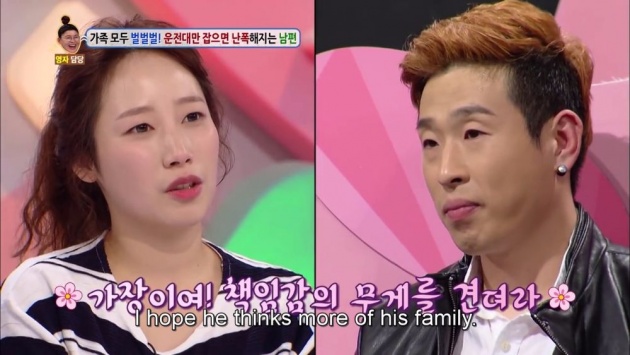 Image Credit: Snapshot from Youtube video
It's good that he and his family still safe until now, because it's dangerous to drive recklessly. The husband knew that it was wrong, he even have made promise to change after the bad things of the past, but it was not easy, he repeated again his bad habits. By being willing to come to this show, it has proved that he has an intention to change. I agree that he needs to see a psychiatrist to help him change.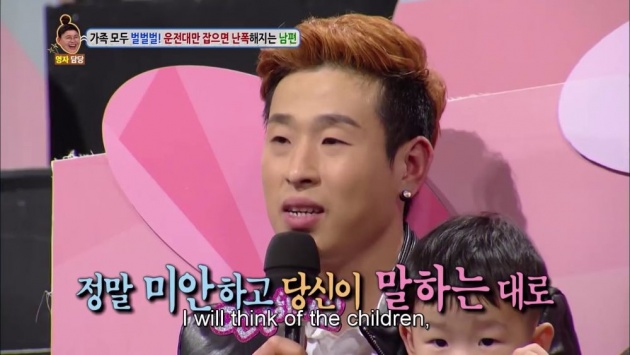 Image Credit: Snapshot from Youtube video
In the end, she want her husband to make promises that he will think of his family when he drives and he won't make his family anxious. The husband also agrees with the promises and will try to change slowly. He also apologized to all the drivers who had been involved in troubles with him in the past.
"The husband apologize to the drivers"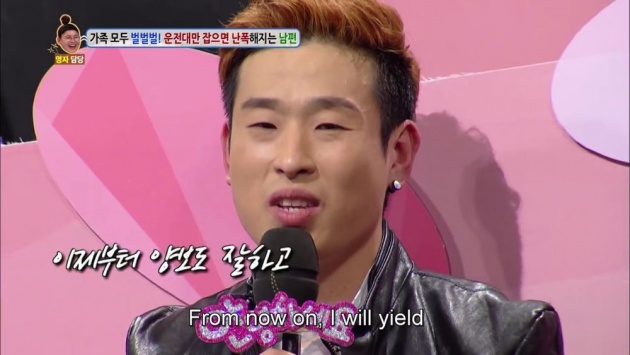 Image Credit: Snapshot from Youtube video
Overall, I would vote this matter as a serious concern. He really need to change his bad habits for the happiness of his family and people around him. He should think of his family while driving so he will not drive carelessly. With this, she earned 157 votes out of 200 audiences.
"The final result with 157 votes"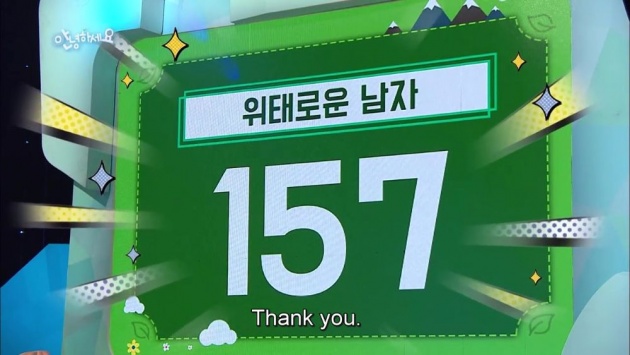 Image Credit: Snapshot from Youtube video
To be continued. . .
That's it my simple review about the first concern of "Hello Counselor" this episode, "The Risky Man". I will discuss the second concern on my next blog which is about "Suffocating Love". I hope you enjoy this boring blog and see you next time~ :D
Regards
LookUp
©2017 LookUp. All rights reserved