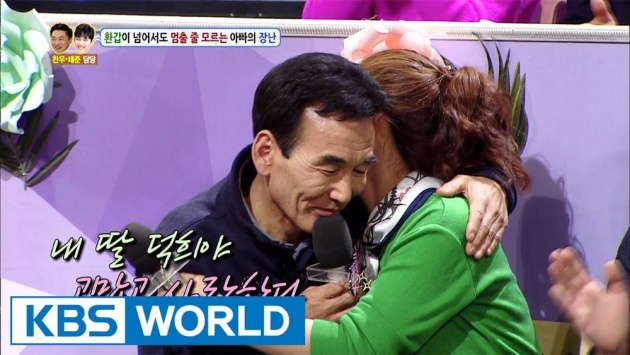 Korean Reality Show Review: Hello Counselor - The Unbelievable Man
Hello guys~ LookUp again here :3 I come with new blog and new episode of "Hello Counselor" to review. In this blog I will discuss about the first concern, "The Unbelievable Man". If you want to know more about "Hello Counselor" you could read my old blog about it titled "Hello Counselor: The Problem Solver TV Show". Also read my review about other episode in here or here. Once again, do not get bored with my blog because I still have so many things to review :D I hope you could enjoy it. Happy reading~!!!
"Watch this episode of Hello Counselor below"
About Hello Counselor
Hello Counselor (Hangul: 안녕하세요; RR: Annyeonghaseyo) is a South Korean reality show first that debuted in November 2010. It is hosted by Shin Dong-yup,[2] Lee Young-ja, and Cultwo (Jung Chan-woo, Kim Tae-gyun). Choi Tae-joon joined the show as host starting August 29, 2016. According to the show's official description through KBS, Hello Counselor is a talk show with an emphasis on regular people, regardless of age or gender, that aims to help take down communication barriers by sharing stories about life.[1] The program airs every Monday on KBS World. --wikipedia
"SinB and Umji of Gfriend"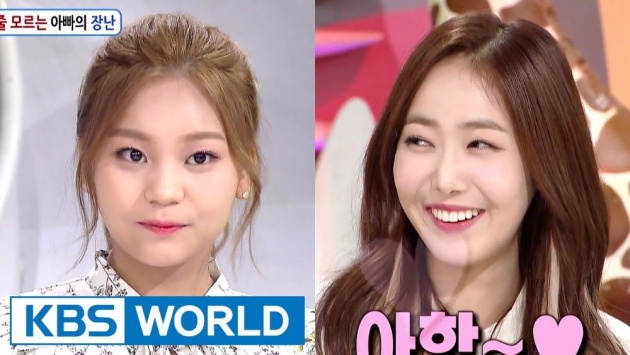 Special Guest: SinB, Umji, and Zizo
On this episode, "Hello Counselor" invites three special guests, SinB, Umji, and Zizo. SinB and Umji are part of a South Korean girl group called GFriend. The other members are Sowon, Yerin, Eunha, and Yuju. GFriend was formed in 2015 under Source Music. Since their first debut they have gained a lot of attention and earned several awards in 2015. Meanwhile, Zizo is a South Korean Hip Hop Artist under QUAN Entertainment who is good at freestyle rapping.
1st Concern: The Unbelievable Man
The first concern comes from a 20s year-old woman, Lee Jeong-hee. She came to "Hello Counselor" because she had a problem with her father. She has been stressed out because her father often lies and pulls prank on her. Her father used to call her just to fool her. For example: the father said that her mother collapsed, and tell her to come home right away, but only find that her mother was watching TV. Her father has been over than 60 years old, but he keeps pulling prank on her. She comes to "Hello Counselor" with hope that her father would stop doing it.
"The daughter: Lee Jeong-hee"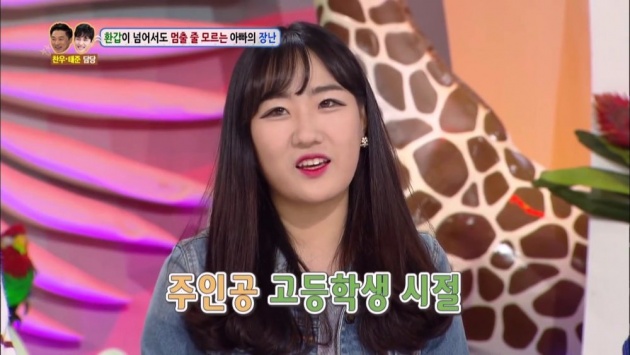 Image Credit: Snapshot from Youtube video
Lee Jeong-hee, the daughter, says that his father is a mischievous father. Even when she was in high school, her father once came to her school with her older sister, but her father introduced her sister to her teacher as her stepmother. The unbelievable thing is that her father did not give an explanation or told the teacher that it was just joking and the teacher really believed that her sister was her stepmother :D Once, her father said that the roof of her house collapsed due to heavy snowfall, but when she got home, turn out it was just a lie.
"The mischievous father"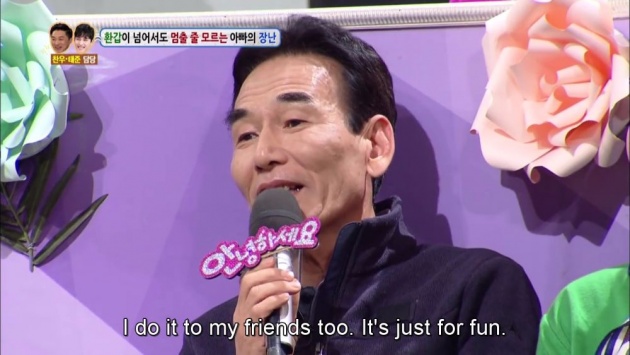 Image Credit: Snapshot from Youtube video
We meet with the mischievous father, he said that he pulled prank not only toward his family but also his friend and it was just for fun. He also did not think that this is a problem. He reasoned that he often does this because his three daughters are a quiet person so he often makes jokes and pulls prank to make them more easygoing. About the stepmother thing, he said when he and his daughter went out together, many people thought that she was his wife, and many people would be jealous of him, that's why he said to the teacher that she was the stepmother.
"Lee Jeong-hee's older sister"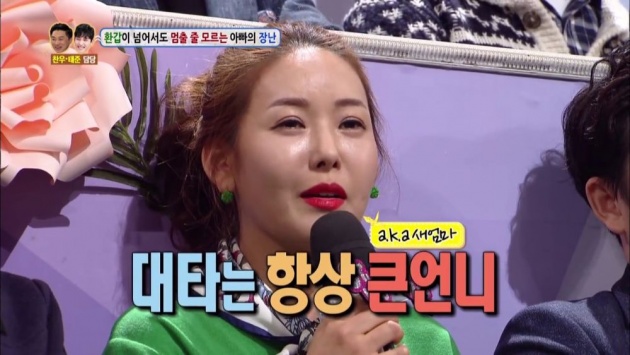 Image Credit: Snapshot from Youtube video
Well, somehow I can relate to the father, since I am also a quiet person. Sometimes it can be awkward or frustrating when dealing with quiet person, so I understand the father intention. I am OK with him, if his jokes was reasonable and tolerable. But when he brought his family into his jokes or it can hurt someone's feelings, I disagree with him. Even, his worker quit the job out of anger with him.
"The father and his grandson"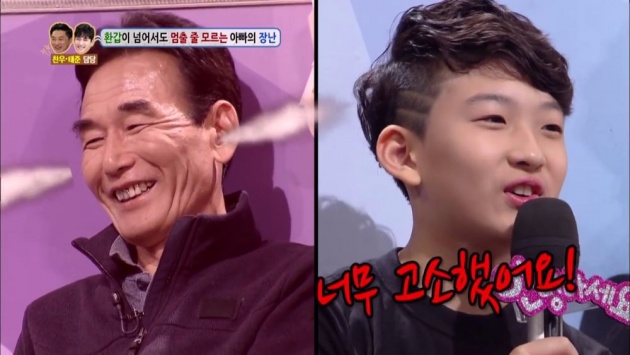 Image Credit: Snapshot from Youtube video
After some discussion, we found out that the mother had been sick for 6 years due to cerebellar degeneration, a condition where the cerebellum shrinks and cause motor difficulties. And just like the older sister said, actually her father is warm-hearted father. Yeah, living with a sick person for years sometimes makes people around them depressed and distressful. And I know that he used his jokes to liven the mood in his family. But sometimes, he can not regulate himself, when it's the right time to joke and when it's time to be serious, and end up hurting people around him.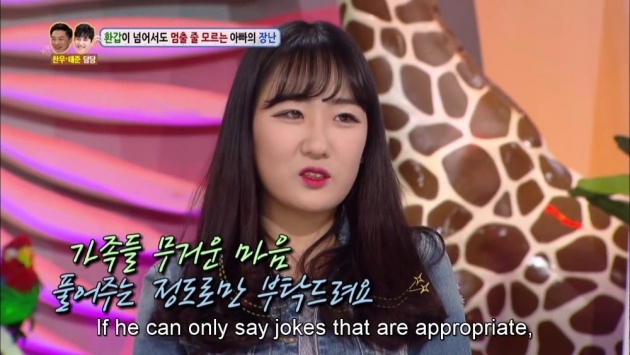 Image Credit: Snapshot from Youtube video
The daughter just want her father to stop make a joke and pull a prank and want him to be more serious at least when he is around her mother, she want her father to only use appropriate jokes which is did not hurt her feeling. The father had also promised that he would become a better husband for her mother and also he would become more serious.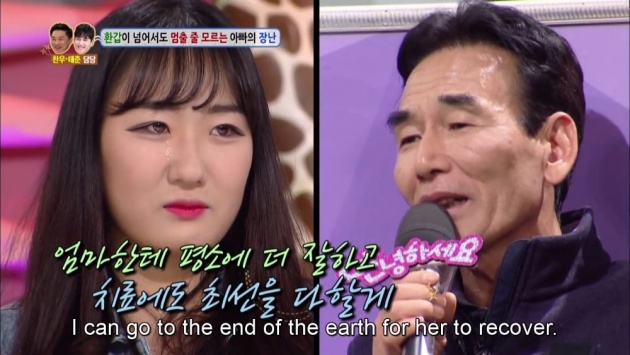 Image Credit: Snapshot from Youtube video
Overall, I would vote this matter as a not serious concern. Actually the father is a great father and he will do anything for his ill wife. It's just that I hope he can differentiate when it's time to joke and when it's time to be serious. With this, she earned 105 votes out of 200 audiences.
"Final result with 105 votes"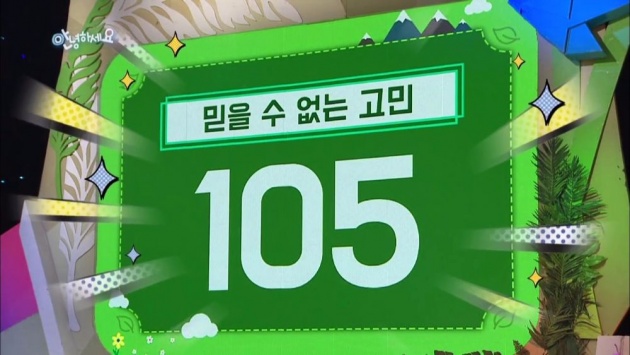 Image Credit: Snapshot from Youtube video
To be continued. . .
That's it my simple review about the first concern of "Hello Counselor" this episode, "The Unbelievable Man". I will discuss the other two concern on my next blog which is about "Can you taste it?" and "Let Go of Your Dream". I hope you enjoy this boring blog and see you next time~ :D
Regards
LookUp
©2017 LookUp. All rights reserved