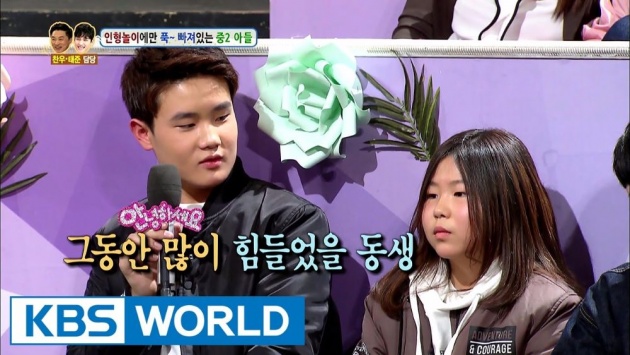 Korean Reality Show Review: Hello Counselor - What My Son Likes
Hello guys~ LookUp again here :3 In my previous blog, I have discussed the first and second concerns of "Hello Counselor" about "I'll Take It Easy!" and "Why did you come to my house?", and now I am going to discuss about the third concern, "What My Son Likes". If you want to know more about "Hello Counselor" you could read my old blog about it titled "Hello Counselor: The Problem Solver TV Show". Once again, do not be bored with my blog because I still have so many things to review :D I hope you could enjoy it. Happy reading~!!!
"Watch this episode of Hello Counselor below"
About Hello Counselor
Hello Counselor (Hangul: 안녕하세요; RR: Annyeonghaseyo) is a South Korean reality show first that debuted in November 2010. It is hosted by Shin Dong-yup,[2] Lee Young-ja, and Cultwo (Jung Chan-woo, Kim Tae-gyun). Choi Tae-joon joined the show as host starting August 29, 2016. According to the show's official description through KBS, Hello Counselor is a talk show with an emphasis on regular people, regardless of age or gender, that aims to help take down communication barriers by sharing stories about life.[1] The program airs every Monday on KBS World. --wikipedia
3rd Concern: "What My Son Likes"
The third concern comes from a 40s year-old mother, Kim Mi-jung. She came to "Hello Counselor" because she had a problem with her son. Even though her son is already an eight grade student, but he is still obsessed with plushies. Every day he plays with plushies, talks to them, and even during family trip, he would brings his plushies. His house is already full of plushies. When new plushies are released, he will force his mother to buy them for him and threaten that he will make trouble if her mother does not comply with him. The mother came to "Hello Counselor" with hopes that her son can stop his obsession with plushies.
"The mother: Kim Mi-jung"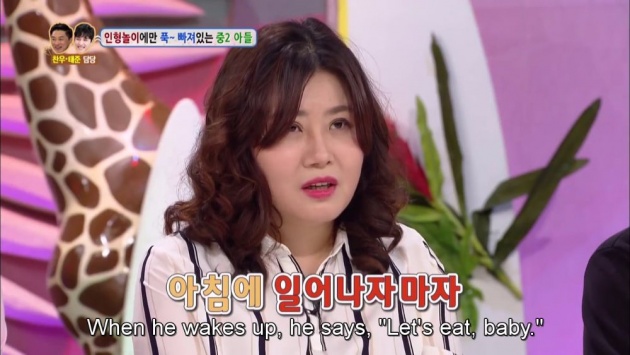 Image Credit: Snapshot from Youtube video
Well, if judged only from the introductory story above, it seems not a serious concern. Because nowadays, many people are obsessed with things like this, like collecting action figures, things related to cartoon or anime, etc. But it would be strange if seen from the point of view of other people when there is a man who is obsessed with plushies. But I'm sure there is story behind why the son obsessed with plushies until now. So, for now I could not judge whether this is a serious concern or not.
"The son's collection"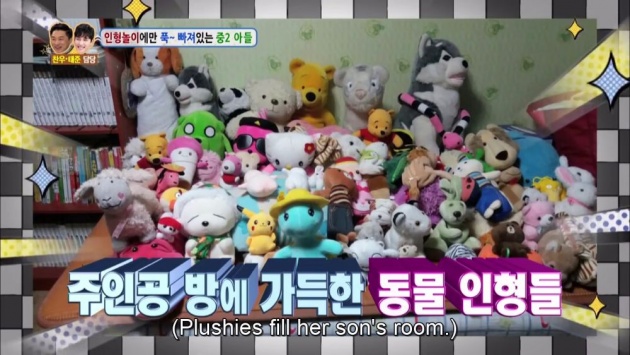 Image Credit: Snapshot from Youtube video
The mother says that her son has started liking plushies since he was little and he has a large collection of animal plushies. The mother also said how her son played with the plushies, such as when they ate he would pretend to feed them, he also bathed them like a person, he hug them while sleeping, and he did it every day. When they go on holiday, then the car will be filled with his plushies and even the son put a seat belt on them. Until now, her son has had about a hundred of plushies, though she's already throwed away some of them. Usually the son bought the plushies with his pocket money. In addition, he also asked for money to his mother, and if his wishes were not obeyed, he will make a commotion, whinning and end up going to school late. Another problem is, the son did not want to arrange his plushies after playing with them and they always scattered at home and the plushies also produce a lot of dust.
"The son: Hyejun"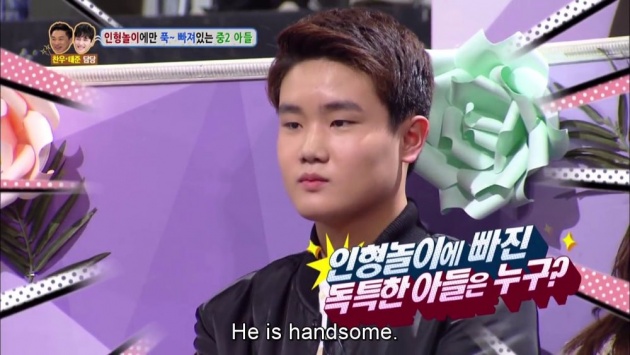 Image Credit: Snapshot from Youtube video
Finally we meet with the son and he explains the reason why he really likes plushies. He says that he likes its unique textures which is soft and fluffy. He also said that he does not like hard plushies and he just likes the living creatures shaped plushies, such as animal. The other reason is, he's been liking animals since he was a kid but his parents did not allow him, instead they bought animal plushies. He often felt lonely when both of his parents worked, so he often played with his plushies, and since then he started collecting them until now.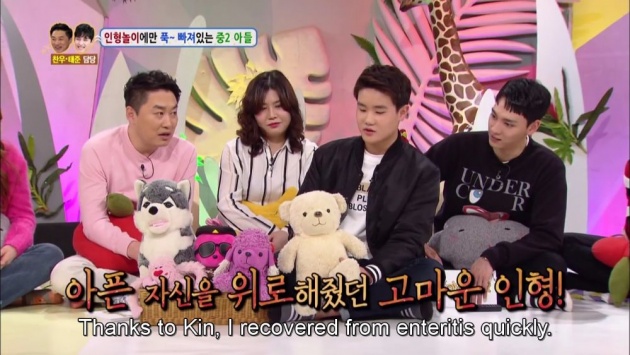 Image Credit: Snapshot from Youtube video
Well, my first impression when I saw the son was, he did not seems like a person who loves plushies very much. Some of kids may have imaginary friends or something like that, but judging from his looks, he's too big to play with plushies. Even at first his friend said that he's weird and after some times he found that he's a good friend. (I am agree with him :D). In his age, he should begin to learn about responsibility and it can start from a small thing like clean and arrange his plushies after he done playing. But, I admit that it is hard to deal with child in their puberty.
"The son's friends & sister"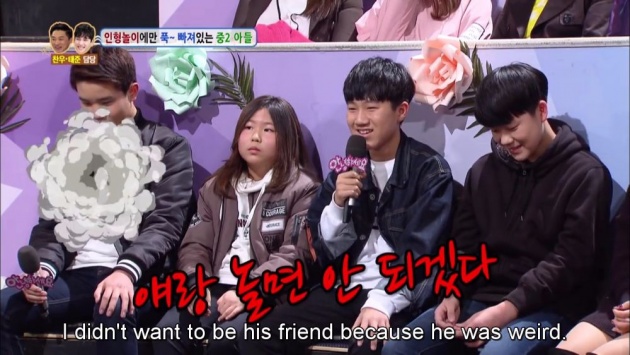 Image Credit: Snapshot from Youtube video
Other than his friend, his sister also came to "Hello Counselor" to give testimony. She got bronchitis because of the dust produced by plushies while playing with her brother. One time, her brother lock her in the room just because she refused to play with him and in the end her teacher scolded her because she did not do her homework. Even, she said that her brother is really weird :D
After some discussion, the son says that he wants to be an actor, that's why when he plays with his sister, he imitates a scene from a drama. Even she forced his sister to watch the scene of a drama and memorize its lines :D I agree with what the host says that his sister looks very exhausted from playing with her brother, though just a joke :D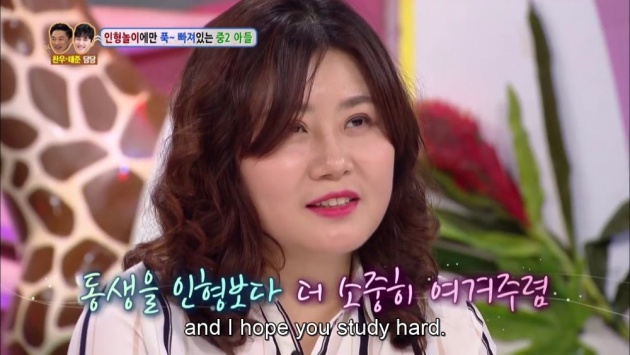 Image Credit: Snapshot from Youtube video
I would not consider this matter as serious concern at first, but after hearing some stories from many parties, I conclude that this is a serious concern. I am OK with him about having so many plushies and playing with them at his age, but he still needs to learn about responsibility. I know that he is still in puberty, that's why his emotions are still unstable. He is selfish, does not care about the feelings of the people around him, and thinks that what he does is not wrong. He even thinks that his plushies are more important than his sister.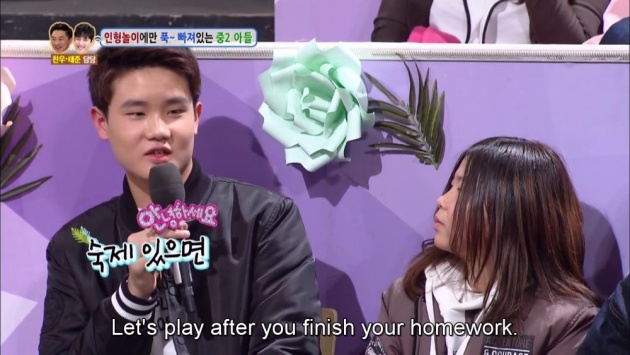 Image Credit: Snapshot from Youtube video
The mother does not expect that he will stop his obsession with plushies. She just wants her son to be more respectful of his sister and wants him to study harder. Although it is doubtful, the son is willing to change his behavior. Yeah, it's a good thing that the son can already accept his mistake. Although I think mistakes are not just from the son, but the mother also contributes to this problem. Obsessing with something is not a bad thing as long as he knows the limit. I hope they can be a better family.
"Final result with 151 votes"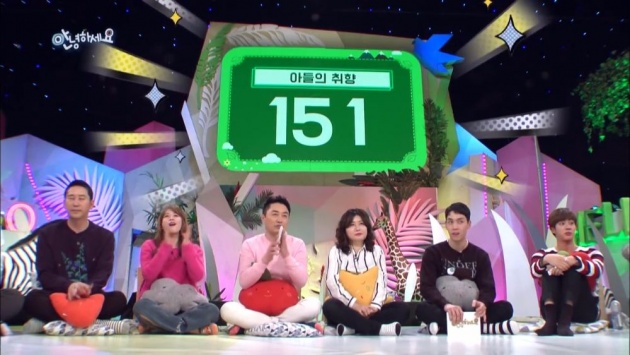 Image Credit: Snapshot from Youtube video
Overall, I would vote this matter as a serious concern. I hope that he will keep his promise and be respectful to his sister. It's hurt when your brother says that plushies are more important than you as his sister. With this, she earned 151 votes out of 200 audiences.
Today's Winner
In the end, "I'll Take It Easy!" come out as the winner of this episode with 154 votes and "Hello Counselor" will give $1000 gift certificate to the winner as the prize.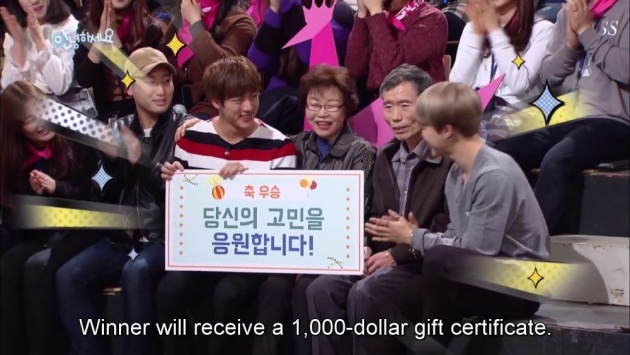 Image Credit: Snapshot from Youtube video
That's it my simple review about "Hello Counselor". Wait for my next blog about "Hello Counselor" and see you next time :D
Regards
LookUp
©2017 LookUp. All rights reserved