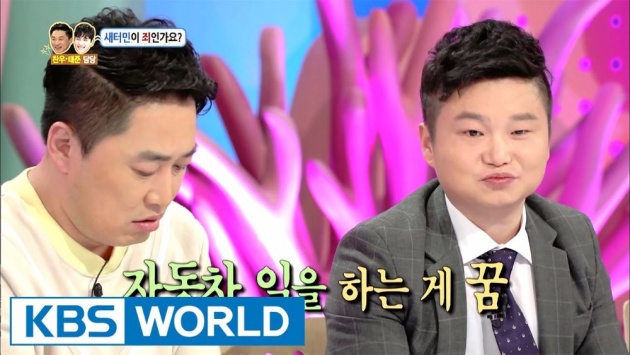 Korean Reality Show Review: Hello Counselor - Where Did You Come From?
Hello guys~ LookUp again here :3 In my previous blog, I have discussed the first concerns of "Hello Counselor" about "Please Fix The Flaws", and now I am going to discuss about the second concern, "Where Did You Come From?". If you want to know more about "Hello Counselor" you could read my old blog about it titled "Hello Counselor: The Problem Solver TV Show". Once again, do not be bored with my blog because I still have so many things to review :D I hope you could enjoy it. Happy reading~!!!
"Watch this episode of Hello Counselor below"
About Hello Counselor
Hello Counselor (Hangul: 안녕하세요; RR: Annyeonghaseyo) is a South Korean reality show first that debuted in November 2010. It is hosted by Shin Dong-yup,[2] Lee Young-ja, and Cultwo (Jung Chan-woo, Kim Tae-gyun). Choi Tae-joon joined the show as host starting August 29, 2016. According to the show's official description through KBS, Hello Counselor is a talk show with an emphasis on regular people, regardless of age or gender, that aims to help take down communication barriers by sharing stories about life.[1] The program airs every Monday on KBS World. --wikipedia
2nd Concern: "Where Did You Come From?"
The second concern comes from a man in his 30s, Song Man-hyuk. He comes to "Hello Counselor" because he has a problem with the people around him and also his customers who always questioned him where he came from. He is a car dealer and when he is talking to his customers they are always questioning him. When he said that he was from North Korea then the attitude of the customer immediately changed. They often say harsh and hurtful things. People also talk down to him and treat him like a beggar. When he defected, he thought that he would pursue his dream but he didn't know that people would biased against him. He comes to "Hello Counselor" to raise his voice against prejudice.
"The car dealer: Song Man-hyuk"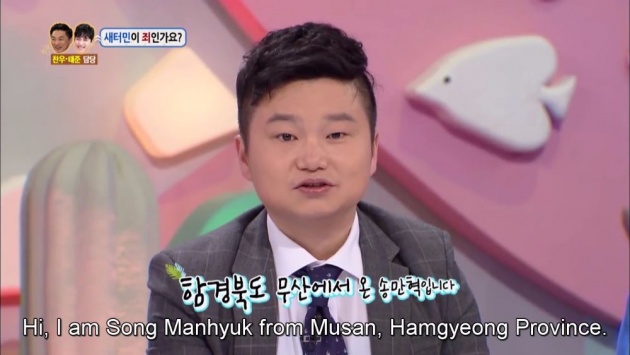 Image Credit: Snapshot from Youtube video
Well, I wouldn't be surprised if there is a case like this in South Korea. We already know that the relationship between South Korea and North Korea is not good and war could break at anytime. It's a tough job to fight against the differences in South Korea even though they are more open now. And actually "Hello Counselor" has been dealing with almost same concern where one becomes isolated and have hard times just because they are different from others. For example the concerns I've discussed before titled "Don't Run Away".
"Song Man-hyuk's friends and co-worker"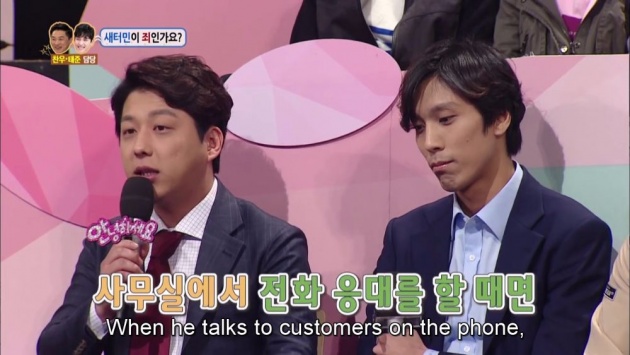 Image Credit: Snapshot from Youtube video
He said that he lived in South Korea for 10 years now and has been a car dealer for 8 years. He also said that nearly 90% of its customers said harsh things to him. Although from the outside he looks the same as others but when he speaks sometimes his northern Korean accent comes out and raises questions for his customers. When he said that he was from North Korea, even the polite customer begin to talk down to him or some customer left. He likes cars since he was in North Korea and has worked part-time job many times. He also failed many job interviews because of this. Thankfully he has good friends which always cheer him up and support him.
"Song Man-hyuk's friend from North Korea"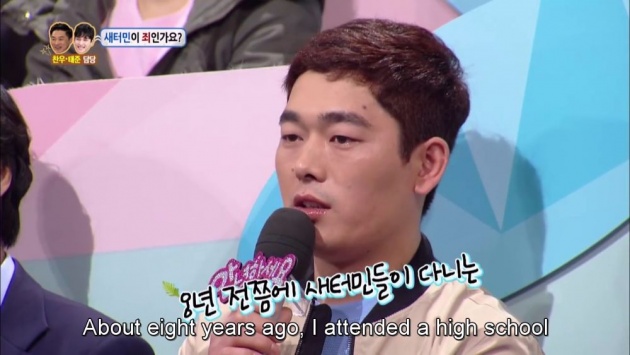 Image Credit: Snapshot from Youtube video
His three friends come to "Hello Counselor" to give testimonies about his concern. One of his friend said, when he talks to customers on the phone they often swear at him because they thinks it's voice phishing. Even after he explains to them, they still swear at him and in the end he can't talk to costumers on the phone. His friend also said, back then his styles was unusual which got people more suspicious of him.
"Talking overt the phone with his grandmother"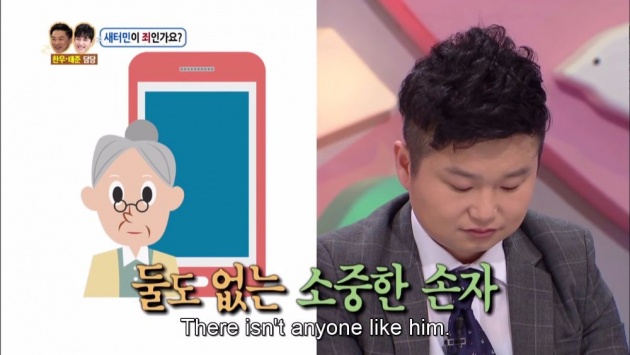 Image Credit: Snapshot from Youtube video
Actually his biggest concern is about his accent. To fix his accent he deliberately did not talk to his fellow defector for several months and even to his grandmother. Because once his accent comes out, people will start suspicious of him and ask where he comes from. In the end he had no choice but to reply that he was from North Korea. To avoid such situations he sometimes deliberately does not talk and be cold hearted when someone talk to him. This causes him to build a wall between him and other people to protect himself. It also causes a decrease in his confidence, fear that people will look down on him.
"Blind date practice with Oh My Girl"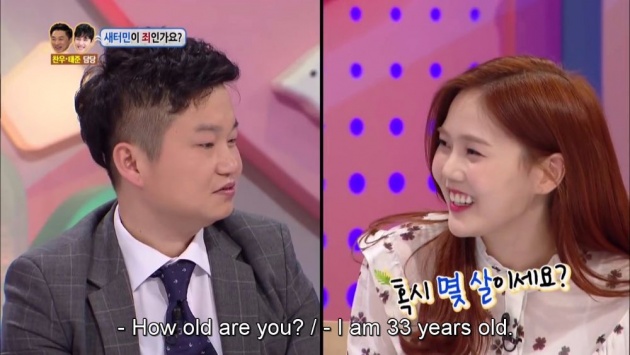 Image Credit: Snapshot from Youtube video
In the end he just wants people not to think of him as a different person. He will try his best to approach people first and become more friendly. His friend said that he is a diligent man who work harder than anyone else and he just hope he would put his burden down and continue to work with them.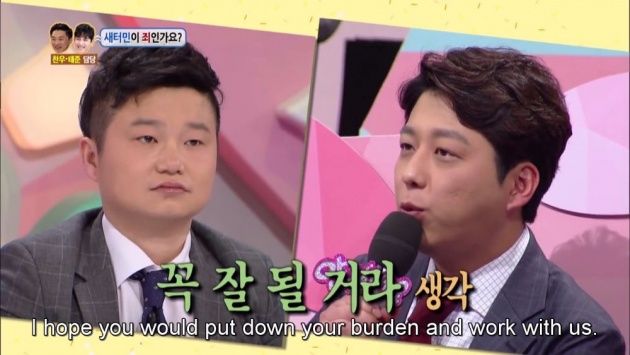 Image Credit: Snapshot from Youtube video
Overall, I would vote this matter as a serious concern to support him. Yeah, it's hard to rise above prejudices, not in South Korea alone but also in my own country. We can not avoid when they treat us differently just because we are not same to them. The most important thing is how we react and deal with the situation and by having good perople around us will be a big help to ourself. With this, he earned 99 votes out of 200 audiences.
"The final result with 99 votes"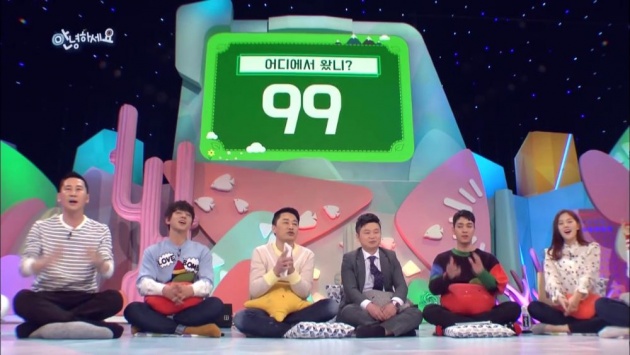 Image Credit: Snapshot from Youtube video
To be continued. . .
That's it my simple review about the first concern of "Hello Counselor" this episode, "Where Did You Come From?". I will discuss the other third concern on my next blog which is about "Good Guy, Bad Guy". I hope you enjoy this boring blog and see you next time~ :D
Regards
LookUp
©2017 LookUp. All rights reserved