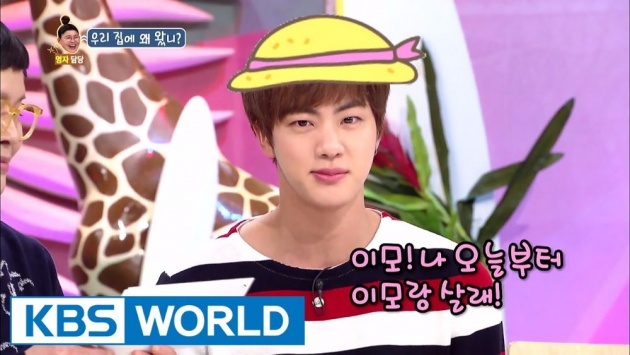 Korean Reality Show Review: Hello Counselor - Why did you come to my house?
Hello guys~ LookUp again here :3 In my previous blog, I have discussed the first concerns of "Hello Counselor" about "I'll Take It Easy!", and now I am going to discuss about the second concern, "Why did you come to my house?". If you want to know more about "Hello Counselor" you could read my old blog about it titled "Hello Counselor: The Problem Solver TV Show". Once again, do not be bored with my blog because I still have so many things to review :D I hope you could enjoy it. Happy reading~!!!
"Watch this episode of Hello Counselor below"
About Hello Counselor
Hello Counselor (Hangul: 안녕하세요; RR: Annyeonghaseyo) is a South Korean reality show first that debuted in November 2010. It is hosted by Shin Dong-yup,[2] Lee Young-ja, and Cultwo (Jung Chan-woo, Kim Tae-gyun). Choi Tae-joon joined the show as host starting August 29, 2016. According to the show's official description through KBS, Hello Counselor is a talk show with an emphasis on regular people, regardless of age or gender, that aims to help take down communication barriers by sharing stories about life.[1] The program airs every Monday on KBS World. -wikipedia
2nd Concern: "Why did you come to my house?"
The second concern came from a 40-year-old single woman living in Suwon, Lee Yoon-hee. She comes to "Hello Counselor" because she has a problem with an unwelcome guest who suddenly comes in her peaceful life. The unwelcome guest was her 20-year-old niece. Since her niece has moved into her home, she has done all kinds of house chores, including cooking, washing dishes, washing clothes, cleaning, etc., and she feels like living with her mother-in-law. The problem is, her niece does not help at all and moreover she is very fussy. One day, she quarreled with her niece and told her to move out of her house, but still nothing changes. She came to "Hello Counselor" with the hope that her peaceful and joyful life will back to her.
"The aunt: Lee Yoon-hee"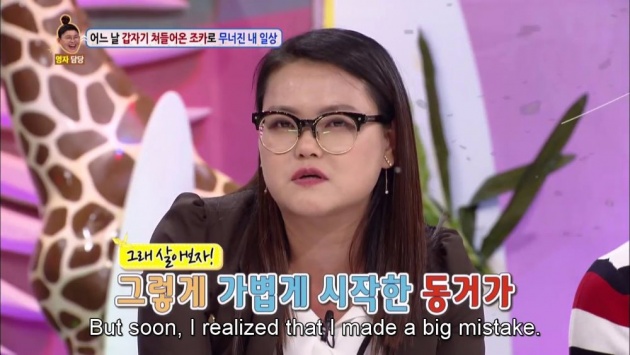 Image Credit: Snapshot from Youtube video
Well, at first glance I do not think this is a serious concern. Yeah, living with someone sometimes could be not comfortable especially after accustomed to living alone. However, if she comes to "Hello Counselor", I think this is not a trivial matter.
"The niece: Hye-bin"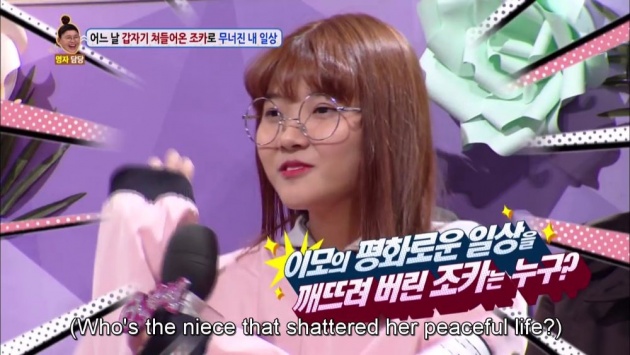 Image Credit: Snapshot from Youtube video
She then said that her niece had been living with her since three months ago. Her niece suddenly came in with a suitcase and asked to live together. She had tried to get her niece back to her house but she refused to leave, and eventually they quarreled because of it. She also said that her niece had a problem with her parents. Her niece does nothing and very sensitive to smells, even she sleep till 2 PM. There aren't many things which she could do by herself though she is already 20 years old. Another problem is, her niece eats a lot but sometimes she often vomits afterwards. She had to stop her niece or she would not stop eating.
"Hye-bin's mother"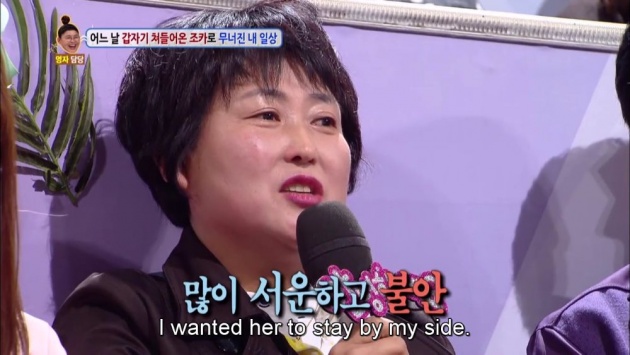 Image Credit: Snapshot from Youtube video
We meet with the niece, Hye-bin. She admitted that everything his aunt had said was true but she did not know that it would be this serious. She says that she can not wake up if she does not sleep exactly 12 hours. She then says the reason why she moved from home is because she didn't get along with her parents because of the generations gap. Her parents had her after ten years of their marriage. She also got bullied a lot when she was younger because of her skin and smell of fish. She used to scared of people and had to cover her face whenever she went out, but she is fine now because of her glasses. And most of the times she relieved the stress by eating.
"Hye-bin's father"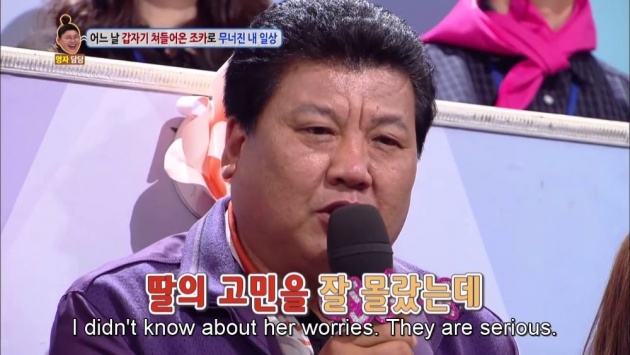 Image Credit: Snapshot from Youtube video
We get to know that actually Hye-bin has low self-esteem because of the bad incident at the past. Like she feels that people stare and talk about her when actually they're not. And the worst part is, whenever she talked about this problem to her parents, they seems did not care about her. She did not even discuss her problem to her father because of her father's rough nature. Her mother told her not to worry about it and said: "Just forget about it. Kids are like that these days." and never think that it was serious issues for her.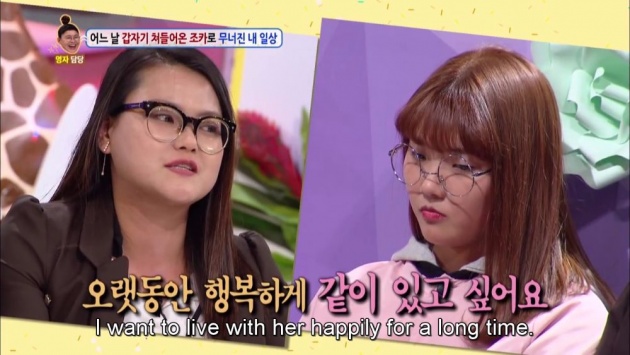 Image Credit: Snapshot from Youtube video
Well, at first this concern started with trivial matter just about niece who move to his aunt house. But after many things are discussed and told from each side, we become aware of the source of the real problem. The real problem comes from her family like lack of communication, the difference of generation and mindset, etc, which makes Hye-bin become her current self with low self-esteem. I am glad that Hye-bin has the courage to come to "Hello Counselor" with the determination to change herself. And of course, she need a lot of support from the people around her, especially from her parents. As the parent, they should change their attitude towards Hye-bin because kids these days is different with kids at their age.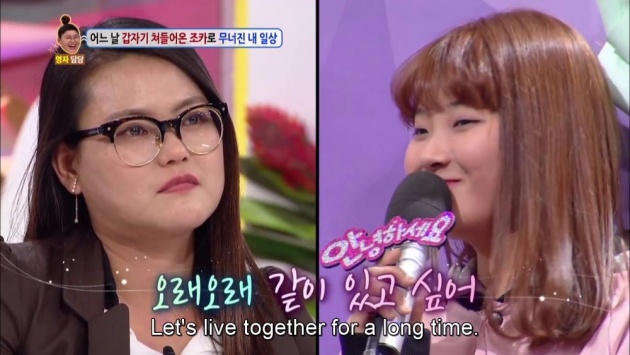 Image Credit: Snapshot from Youtube video
In the end, her aunt just want her to not sleep until 2 PM, clean the dish that she used, and meet nice people in the university to help her regain her confidence and become more optimistic. If she is willing to try harder, her aunt want to live with her happily for a long time.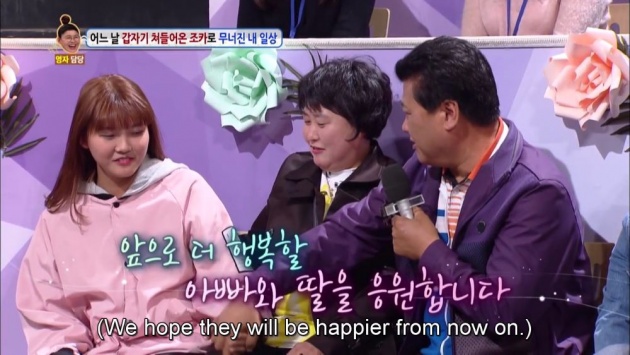 Image Credit: Snapshot from Youtube video
Overall, I would vote this matter as a serious concern to support her. I hope she can keep her promise and put more effort to change. Yeah, it's not easy to change the routine, but if she is willingly to try and people around her keep supporting her, it will become easier for her. And I hope her relationship with her parents will get better after this. With this, she earned 108 votes out of 200 audiences.
"Final result with 108 votes"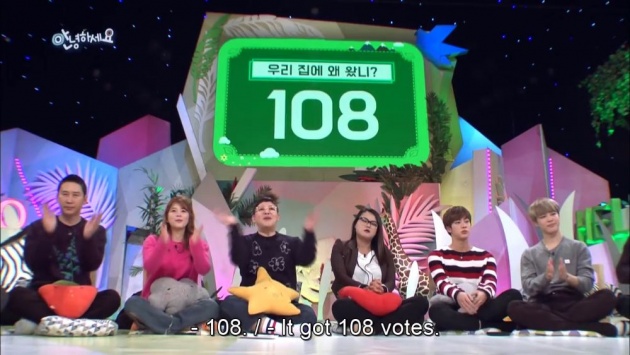 Image Credit: Snapshot from Youtube video
To be continued. . .
That's it my simple review about the second concern of "Hello Counselor" this episode, "Why did you come to my house?". I will discuss the last concern on my next blog which is about "What My Son Likes". Read the previous concern about "I'll Take It Easy!". I hope you enjoy this boring blog and see you next time~ :D
Regards
LookUp
©2017 LookUp. All rights reserved