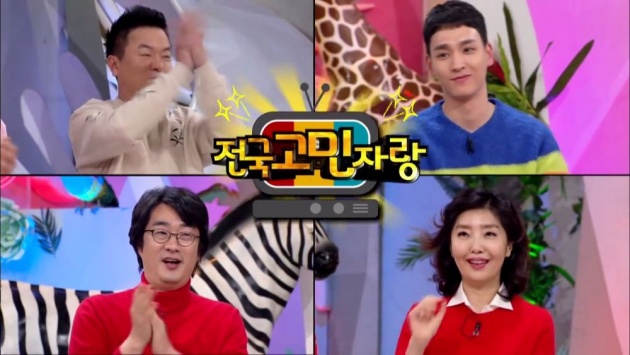 Korean Reality Show Review: Hello Counselor - Yeo Esther, Hong Hyegeol [ENG-2017.02.13] Part. 1
Hello guys~ LookUp again here :3 I will discuss about Korean thing again this time :D Actually this is an experimental blog since lately I do not have many idea to write a blog and I am still in lazy mode to write long review about Korean drama or movie :D. That is why I write this blog, which is about Korean reality show called "Hello Counselor". I have wrote about this show before in my previous blog titled "Hello Counselor: The Problem Solver TV Show", but now I am going to write about this show in different way. I will write a review about the whole show in each episode, especially about the concern which is being discussed on the show. Since this is my first attempt, I hope you could enjoy it or you could skip this blog but do not forget to give buzz :D Happy reading~!!!
"Watch this episode of Hello Counselor below"
About Hello Counselor
Hello Counselor (Hangul: 안녕하세요; RR: Annyeonghaseyo) is a South Korean reality show first that debuted in November 2010. It is hosted by Shin Dong-yup,[2] Lee Young-ja, and Cultwo (Jung Chan-woo, Kim Tae-gyun). Choi Tae-joon joined the show as host starting August 29, 2016. According to the show's official description through KBS, Hello Counselor is a talk show with an emphasis on regular people, regardless of age or gender, that aims to help take down communication barriers by sharing stories about life.[1] The program airs every Monday on KBS World. -wikipedia
"The married couple: Yeo Esther and Hong Hyegeol"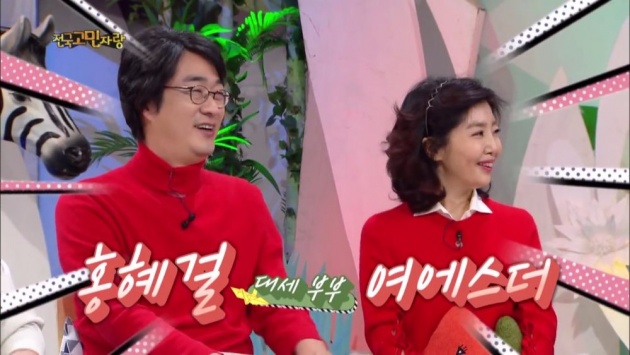 Special Guest: Yeo Esther, Hong Hye-geol
In this episode "Hello Counselor" invites special guest which is Yeo Esther and Hong Hye-geol married couple. Actually I do not really know them, but because they are a married couple which is old enough (around 50 years old), so I think they are suitable to be a guest on this show. At first, I thought they are going well with each other, but in fact they often differ and argue each other, which I found it was funny and entertaining, the wife treated her husband like a son and the husband treated his wife like one of his patient :D
1st Concern: "Daughter, Please Stop"
The first concern comes from a mother in her 60s years old, named Kim Yoon-ja who has concerns about her married daughter. She come to the show to asks her daughter to stop giving a birth because she's worried about her health and her happiness as a woman. She told that her daughter has 8 children and plans to have 10 children. Her daughter is a woman around 30 years old and her husband is 10 years older than her. They have been married for about 14 years.
"The mother (Kim Yoon-ja) and her concerned daughter"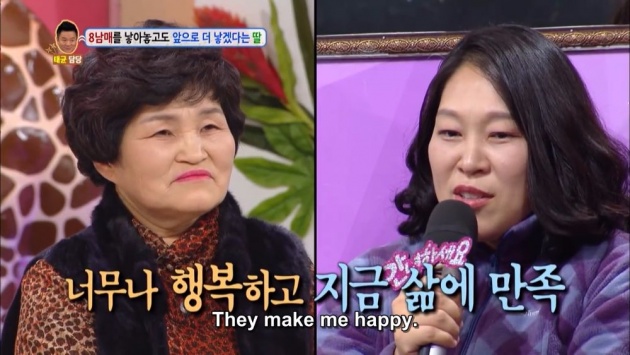 At first I felt there was no problem with the desire to have many children and for me this was not a concern. Because my parents also have 7 children and did not have much trouble in raising their children, even my neighbor has more than 10 children and still lives well. So I think it depends on the parents themselves. And I do not know how life's situation or environment in Korea which is of course different from the situation in my area. So those things can be a consideration when wanting to have many children. And her mother's worries about her daughter's happiness as a woman who never dressed and wearing make up like most women in her age, in my opinion did not really matter as long as her daughter was happy with her life, and I also saw no regret or grief on her daughter for having so much child. It is fortunate that her children and her husband are willing to help with the house chores.
"The daughter and her husband came with all their children on the show"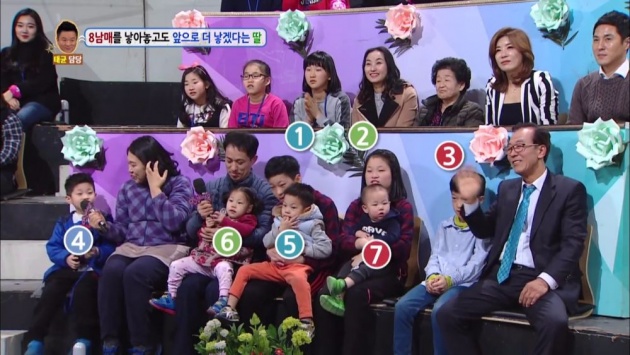 "The situation of the daughter's house with all her 8 children"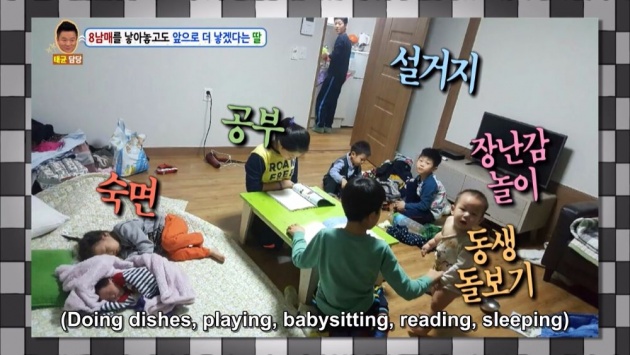 Later, the daughter revealed that her goal is to have 12 children which of course make her mother shocked. As the counseling progressed, they also found out that the daughter is very stubborn and like a ruler in her family. She often ignores her husband's opinions and often makes unilateral decisions. I think this is the bigger concern than having many child. The husband looks intimidated by his wife and could not speak up his opinion. And the biggest concern is the daughter told that she will emigrate to Canada with her child. She even has set the date. She did not care about others objection about her going to emigrate, even her child also said that they do not want to emigrate to Canada. She reasoned that the Government of Canada will support a big family so they can live better compared in Korea. In my opinion, this matter could be a criticism for the Korean government to make its people have better life. So that no more Korean people leave their country because of the environment.
"The mother and husband shocked after heard the date about emigrate"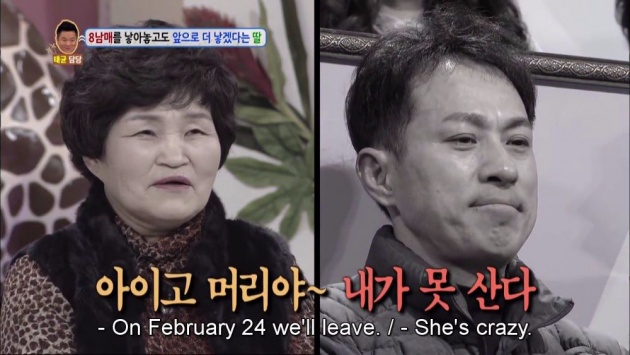 Overall, I will vote this matters as a concern. Not about wanting to have many child but about the daughter stubbornness, her unilateral decision to emigrate and the way she ignores her husband opinion. She need to fix her behavior for the sake of family happiness. With this, she earned 139 votes from 200 audiences who thought that this matters was a concern. 139 votes is a fairly high number on "Hello Counselor". That means there are 139 audiences who think that this issue is a concern and needs to be changed or fixed. Even though in the end the daughter still being stubborn and likely she will not change her mind about going to emigrate to Canada which make her mother very heartbroken.
"The final result with 139 votes"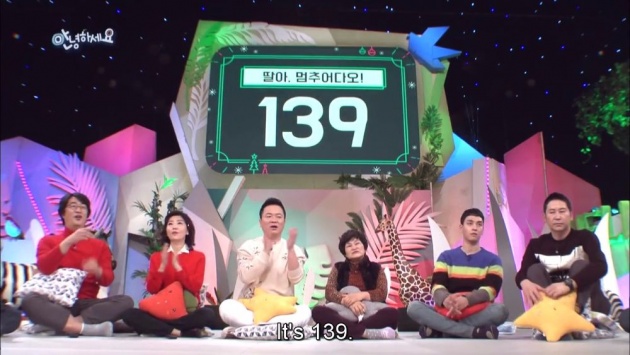 After knowing the results, it is expected that the daughter will reflect on herself that what she has been done so far is not a good thing and she cannot always force her opinion to be accepted by everyone. Of course, it all depends on her whether she will change or not, and the people around her should support her in the change, even though I do not think that's easy.
"The heartbroken mother after hearing her daughter final decision"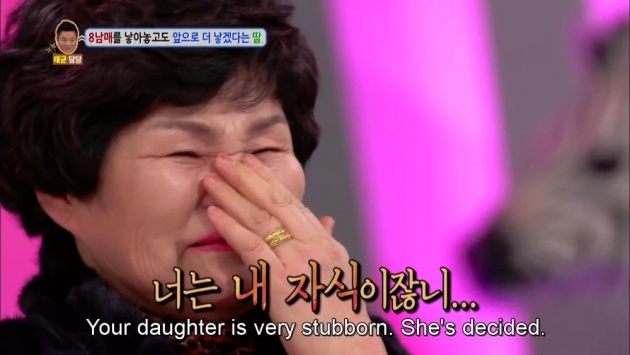 To be continued. . .
That's it my simple review about "Hello Counselor". I will discuss the other two concern on my next blog which is about "She is Gold, I am Poop" and "Hello, I am Young-sook". I suggest you to watch "Hello Counselor" because it gives us a lot of lesson about life and we could learn many things from other peoples opinion.
Regards
LookUp
©2017 LookUp. All rights reserved