When we wake up in the morning, we must eat. Food is the fuel of life. There is a proverb that I like to remind myself: "If you are a gazelle in the Savanna, when you get up in the morning, start running or you will be eaten. If you are a lion in the Savanna, when you get up in the morning, start running or you will be unable to eat. Regardless if you are a gazelle or a lion, start running."
I am a lion and I would love to start my day with Bolani Kachalo:
Food is necessary to our survival, but nothing forbids us to make sure the food also provides us with great joy and entertainment. This happens when multiple cultures and traditions cross path and give space to creativity and diversity of taste and texture. It is not a coincidence that Italian food is the most popular food internationally, and probably the most appreciated worldwide.
Something that I really appreciate and that brings me back to traditional Italian Ravioli is Mantoo:
Central and South Asia, starting from Afghanistan, is the cradle of multiple culinary cultures and traditions. It is the point of connection between Middle Eastern food and Asian food. Their specialties and preparation style connect very different worlds and express the best of all those traditions.
I absolutely love Qabuli Palaw:
A few weeks ago, I was lucky enough to meet Shabir Noor, an Afghan man of my age and with the same number of years in the US. He is the owner of Kyber Pass, the oldest Afghan restaurant in Manhattan. We agreed to shoot a series of videos and interviews about Afghan cuisine and his restaurant preparation. Semyon, Alexey and I spent an afternoon in his restaurant and delightfully broke bread with him sharing the great dishes he prepared for us.
The videos were prepared with the intention to entertain and inspire our viewers. The cook was a special character and we wanted to portrait his dedicated attitude, something quite unusual in the western culture where often the chef is a merciless dictator.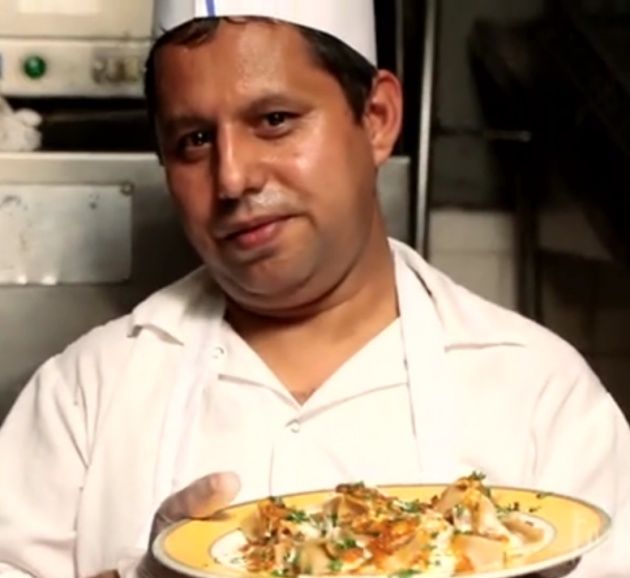 NO POLITICS, JUST INTERNET and chicken palaw:
Roya Mahboob and her team in Herat just opened the Herat Center where we are filming culinary shows and food preparation of Central and South Asia traditional dishes. Their videos will be a regular additions to the Film Annex and Afghan Development Culinary channels. Regardless if you are a gazelle or a lion, you can come on our platform and learn and appreciate what thousands of years of traditions and wisdom were able to give us.