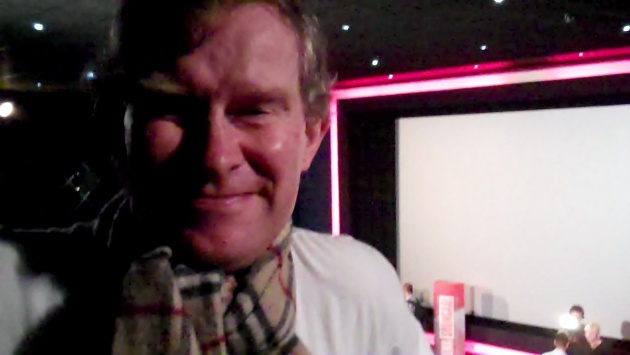 Monday 1 July 2013
David Walliams is incredibly tall. This I discover at close quarters when he brushes by me as I wait for Kumar to emerge from the screening of RAIDERS OF THE LOST ARK at London's BFI South Bank, introduced by Neil Marshall. It is another in the BFI's excellent series of 'Screen Epiphanies' – I previously saw Jim Broadbent introduce STEAMBOAT BILL, JR and Kumar and Lady O saw James Franco introduce PSYCHO. Like many of us, Marshall (no relation to RAIDERS producer Frank Marshall) idolises the opening of the movie, to which he paid homage in his last-but-one film, DOOMSDAY. At least, I think it is DOOMSDAY. As I write this (Sunday 7 July), I ask Kumar but he is sound asleep. (Bless.)
Walliams has of course had his own screen epiphany, though I confess I cannot recall the movie. That's what I get for being old, or not being connected to the internet.
Whilst Kumar enjoyed Indiana Jones' encounter with multiple snakes and a fierce Arab swordsman (cue one of cinema's funniest gags – I laughed for three minutes straight when I first saw it at the Ritz, Leicester Square – now Empire 2 – in July 1981) I am busy typing up the last few entries of my June diary. Well, not every day is terribly interesting. Kumar enjoys the movie, which he has never seen on the big screen, though he is not fussed about having his picture taken with Mr Marshall, whom I confess I do not recognise. Unlike, BRITAIN'S GOT TALENT judge, Mr Walliams. I imagine what we might have said to each other. 'Larry.' 'David.' We could both curb our enthusiasm. (Even though he is asleep, I imagine Kumar groaning.)
Tuesday 2 July 2013
'Don't forget to book my place on the Future Film Summer Filmmaking Fortnight,' Kumar said yesterday as priority booking opened for British Film Institute members at 11:30am today. But do you know what, readers, I do forget, until Kumar returns home from school, by which time I am hitting the phone. (Not dialling, just hitting.) I book the ticket easily enough. Kumar heads for his steering group meeting and after posting my June diary on FILM ANNEX, I head for an editorial board meeting at the London School of Economics of one of the magazines for which I write. It is a lively meeting, though we have discussions on why we do not have enough women contributing to the magazine. Nor it seems are we reviewing enough books written by women, as I peruse the reviews section of the latest issue, which features my piece on WE STEAL SECRETS.
Tickets for a screening of PACIFIC RIM arrive by post, at the same time as I receive an email from Warner Bros asking for an address to send the tickets. I notify them that no further action should be taken. With replies like that, I could be a civil servant.
Wednesday 3 July 2013
The British version of the TV series THE APPRENTICE is heading towards its inevitable conclusion. The three men and three women become two men and three women after ,in the 'smell what sells' task the blokes buy high-end ceramics with their £150 start-up capital. Their market stall does reasonably well, but when it comes to opening a pop-up shop, which they configure into a stall it is a 'flipping disaster'. For a nanosecond, the project manager looks like he will escape blame. But he doesn't. Lady O, Kumar and I are gripped, though Kumar does not want to play the 'who will get fired' game. ('I don't like to guess – it spoils it,' he has complained in the past.)
Thursday 4 July 2013
My final French lesson for the foreseeable future ends with my tutor saying it was a privilege to teach our class. Strangely, I wish after nine months of lessons – 90 minutes a week when I could make it – I knew more. Every lesson begins, 'what did you do at the weekend' ('Qu'est-ce que vous faites le weekend prochain?') and ends with 'what will you do at the weekend' (qu'est-ce que vous faites le weekend suivante?'). I just wanted to learn some words. After nine months were really the only words that stuck are 'chapeau melon'? (Bowler hat.) The text book is only in French which is good for you getting used to the absence of English, but if you keep having to interrupt, 'what's this word, what's that?' Is it a really good way to learn? The trick is to create your own vocabulary book and to write out your own sentences. I miss learning objectives and assignments that enable you to acquit yourself linguistically in certain situations. I'm afraid these lessons get a 'non' from me even though I confessed I enjoyed making my tutor laugh. Take it seriously, Larry!
I spend my evening doodling a script idea for one of those pretentious psychological thrillers inevitably shot in black and white. What if someone, like me, has a heart attack and then wakes up in hospital convinced they had killed someone? I run with it for a while and, as usual, rule out the obvious ending that someone might surmise – that he has witnessed a crime as a child and felt responsible, so takes on the guilt himself. As I write, the film lacks a middle, which usually takes the form of attempting to achieve the goal through another person and dealing with their agenda.
I think I am enjoying writing the dialogue too much. At one point, my hero dons a striped tee-shirt and some leggings.
'Why do you look like a mime?' he is asked.
I don't want to talk about it,' my hero replies.
Friday 5 July 2013
The problem with being invited to press screenings is that there are three film fanatics in my household: Lady O, Kumar and yours truly. Film companies cater for, at most, two. While I would not expect them to change this, it does make it hard if I want to take Lady O out to a movie and Kumar asks, in his typical Kumar way, what do I do? Now Kumar hates press screenings: the audiences are so false, he explains. (Not true.) But he wants to see something else. The timings have to exactly match what we are watching, so the film must start at 18:30. If it starts at 18:00 and we get to the cinema five minutes late, he won't go in: 'I'll miss the commercials'. All the press screenings are in the West End and on Friday nights the student discounts for unwaged under-18s like Kumar disappear. I was shocked – SHOCKED – to be told that if he wanted to go to see A FIELD IN ENGLAND at the Curzon Soho, I would have to pay £14.75. I don't think the Curzon Soho really cares about the unwaged. I mean, if you don't have a job, what are you doing in Soho, right? The Vue West End isn't much better. Student discounts don't exist. If the West End thinks it can afford to price some people out of it, good luck, but I don't think it makes economic sense for niche cinemas to exclude people of open mind but lesser income from their doors just because it is the weekend. The Curzon chain seems to be expanding so I may be out of synch. But my basic principle is that a top priced cinema ticket should not cost more than the average new release DVD. Are the seats wider? Do they tilt back? Are drinks holders in the right position? Then cut the blooming price!
That was a broadcast on behalf of the 'sensible cinema ticket price' party.
Still, what to do with Kumar?
He did in fact see PACIFIC RIM at the Odeon West End and enjoyed it, though how he moaned and cursed and wanted to walk out. ('What – you're not coming with me?' he asked of me.) Apparently he had to be placated through bribery ('l'argent de poche' – I knew Truffaut would teach me more French than my tutor) but as usual he spoilt the evening as far as Lady O and I were concerned.
'And that is why I don't want children,' he would say, as if his behaviour was inevitable.
We three did in fact see A FIELD IN ENGLAND on Film Four for no ticket price at 22:45 that evening – it is the first film in the UK to be screened on terrestrial TV and in the cinema (also on Video on Demand) simultaneously. Lady O fell asleep in front of the TV but Kumar and I stuck with it. Kumar was unimpressed. I determined the organising principle of the film. If you remember LOST, well, it's like that only set during the English Civil War, with some magic mushrooms and a mysterious Irish man (Michael Smiley) who inflicts terrible torture and forces his captives to search for treasure. The ale house the characters are promised seems ever far away.
Saturday 6 July 2013
I awoke with a terrible headache! Was it the 3D in PACIFIC RIM that caused this? Or maybe the two bottles of Budweiser that I had drunk during the screening? Was it the trippy fast cutting of A FIELD IN ENGLAND that did me in? Whatever it was, MY HEAD BLOOMING HURT.
After a late start to the day and the inevitable laundry – during the wash cycle I went shopping and had to carry a blooming heavy bag (filled with, amongst other items, four litres of water) home – Lady O and I watched the second set of the Wimbledon Ladies Final. My attempts to roar Sabine Lisicki to victory through my television set were for naught. She was beaten by Marion Bartoli 1-6, 4-6 in two sets. Well, armchair applause cannot be heard.
Kumar did join me for a trip to the library, during which my headache did not abate. We went shopping for his snacks to take to the 'Edgar Wright Takeover Event' at the Prince Charles Cinema. I tried to teach him the value of getting the most for his money. He bought a tube of Pringles, a bag of popcorn and a litre of lemonade. All that a growing child needs, I don't think.
A quiet flat, a Saturday night! What could two adults in advancing dotage do?
TV!
Lady O took control of remote control and watched COURAGE UNDER FIRE and, later, KILL BILL VOL ONE. In between, whilst she was in the lavatory, I managed to watch the 20:45 LATE NIGHT WITH JIMMY FALLON (with Kevin Hart and Olivia Munn) and also a bit of SHAUN OF THE DEAD (she wasn't in the loo the whole time but didn't disapprove of my choices when she returned). I went to bed at 11 O'Clock leaving Lady O to watch Beatrix Kiddo taking on the Crazy 88.
Happy days!
Sunday 7 July
It was 13:30 and Kumar still wasn't home. He had not returned from the 'Edgar Wright Takeover Event' at the Prince Charles Cinema off London's Leicester Square. Had he fallen asleep on a tube? Had he fallen down the side of his seat? Had he gotten into a sneak preview of THE WORLD'S END?
At 13:40, the doorbell rang.
Kumar – he was home.
So what happened?
Kumar wanted to cool down.
What happened?
Well, he explained, after a long pause – a long, dramatic pause. He watched A FISTFUL OF FINGERS, Edgar Wright's debut feature, a western with some modern anachronisms (for example no horses), corny jokes ('none shall pass' – cue a passing nun) occasionally faltering sound and a guest appearance by the late Jeremy Beadle.
Kumar liked it.
Amazingly he stayed awake during most of the following programme: SPACED (Series One, Episodes 1-3), SHAUN OF THE DEAD, SPACED (Series One, Episodes 4-7), HOT FUZZ, SPACED (Series Two, Episodes 1-3), SCOTT PILGRIM VERSES THE WORLD and finally SPACED (Series Two, Episodes 4-6). Edgar Wright turned up twice, once at the Q and A for FISTFUL OF FINGERS and again about 09:15 in the morning to give out Jaffa Cakes with Nick Frost (shaven head, with glasses). This time Kumar stayed to get his photo taken with the other survivors – those who weren't worried about the concerns of others. During the evening, Kumar also saw Wright's mock trailer, DON'T and some episodes of BRANDON GENERATOR, narrated by Julian Barratt.
Kumar ended up walking from Highbury Barn to home – at least that is what he told us. He wolfed down half a corned beef and cheese sandwich. Then he went for a lie down on the bed. And off to sleep. I had to wake him to encourage him to eat his Chicken Arrabbiata, which he did, very slowly. Then he returned to bed, to sleep.
Kumar is not a tennis fan. If he was, he might have been excited by Andy Murray finally winning the Men's Singles Title at Wimbledon: 6-4, 7-5 and 6-4 against World No 1 Novak Djokovic. Murray had home advantage – 15,000 fans and the Prime Minister, David Cameron, screaming 'come on Andy' or in the Prime Minister's case, 'look at me – perk of the job'. Murray did have Gerard Butler in the audience cheering him on, standing next to Bradley Cooper. Murray's win had the air of unreality about it. We all expected a five setter, twists and turns, but Murray did what no other player had done during the championship, except Del Potro, he took two sets off Djokovic. Even better, he got the third set. The interesting thing about Murray is that while he is a winner, he does not look like a champion. The difference is the calm authority, the self-knowledge, exuded by Djokovic even in defeat. Lady O and I watched the first few games on TV. Then I did some writing and then listened from 4 games to 3 in the second set (to Djokovic) to the end. It was so tense, I cramped up on Andy's behalf.
In the morning, I wrote a review of PACIFIC RIM and emailed it into my paper. Then I travelled to Hackney to see WADJDA at the Picturehouse. There was not much of an audience. In fact at 10:40, the auditorium had the cleaners' lights on and no music. No-one was there. Would there be a film? Yes, there was, though the cleaners' lights were switched on again during most of the trailers (for WE STEAL SECRETS and MGM Classics) until they were finally switched off during the trailer for FRANCES HA (film of the year so far).
WADJDA was impressive, the first film to be made in the Royal Kingdom of Saudi Arabia where cinemas were apparently banned for thirty years. It is the likeable story of a twelve or thirteen year old girl who is teased by a boy who steals her sandwich and, later, her head scarf who is always ahead of her because he has a bike. Wadjda wants one, but she lacks funds. She does her best, selling bracelets with football colours – she uses her big toe to tie knots – and she passes a note one for one of the girls who is interested in a boy outside her family. The only way Wadjda can get the 800 rials necessary to buy a bike is to win a Koran recitation competition. Meanwhile her mother has problems with her driver and her father is on the verge of taking a second wife. There is also an election going on. We certainly root for Wadjda and the ending is a real crowd rouser – realistic of its way. We know why Wadjda has problems with the Koran and why she spends 62 rials on a videogame that may improve her knowledge. The Koran competition is instructional. Where the film scores is pointing out the distances between religious devotion and desire, with two of Wadjda's classmates being frowned upon for decorating one another. The film also explores how difficult it is to move too far away from the system you have been educated to accept – Wadjda's mother won't apply for a job in a hospital because the atmosphere is too liberal.
Monday 8 July
I check out Si Horrocks' page on Kickstarter. Three days to go, and he does not look anywhere near his £15,000. It does not look good, my friend.
Tuesday 9 July
I cook dinner for Kumar as usual. He sets out for Steering Group as usual. I go for a nap. I sleep. Time passes. I wait for the doorbell. There is no doorbell. It is past 9:00pm. Where is Kumar? I put my ear to the door. Then open it. He is there.
'Where have you been, Larry? I've been ringing the door since 07:30pm?'
'Sausage party?' I ask.
'7:30.'
Apparently, he has buzzed me, which is not the same as passing me some dodgy pharmaceutical. Then the downstairs neighbour let him through the front door. So he got to the flat door and knocked, those delicate knuckles bumping, bumping. Well, I did not hear him! I ask him if he wants a cup of tea or some brandy! We don't have any brandy but it is the St. Bernard thing to do. Kumar declines. There is however a bigger problem.
Where is Lady O?
We wait, and wait. At 09:45pm, I ring her office and blooming ask for her to come blooming home.
At 09:55pm, she walks through the door. She was only completing a JOB APPLICATION, which apparently she sent off.
Well, that's all right then.
I need a drink – coffee?
Wednesday 10 July
The first Ashes test begins at Trent Bridge. This means nothing to my American readers, so let me explain. The English invited a game called cricket, played by gentlemen in whites. No, not tennis! It is played in a large expanse of green, with seats a respectful distance away. No, not baseball! There are umpires, two of them, who monitor both sides of the crease which consists of two wickets. These are two sets of three stumps that each support two bails. Two sides play one another. There are eleven players on each side, with extra players to bring out drinks and gloves or to replace knackered fielders. There is a batting side and a bowling side. The batting side has two players on the crease at any one time. One of them stands with his back to his wicket wearing a crash helmet and mouthing, 'Ooh, look I'm Eddie Kidd!' There is usually someone from Yorkshire who tells him to get on with it. One of the batsmen faces a bowler. His job is to hit the ball with a long flat, heavy bat which hurts if you drop it on your foot. Ooh, painful. There is something called an over. Six balls are thrown in swift succession towards the wicket. It is the bowler's job to knock over the stumps, demonstrate that the batsman is blocking the wicket with his leg ('leg before wicket') or force the batsman to hit it either into the hands of the fielder or wicket keeper. Occasionally, a bowler fields off his own bowling; the ball trickles back from the batsman after his nice defensive shot. The batsman has to hit the ball and leg it. He then runs across the crease to the other set of stumps. This is known as a run. A fielder can pick up the ball and fling it at the stumps. If he does so before the batsman gets back to the opposing crease and the bails fly off, the batsman is out. I don't care what thee say, he's out!
Simple!
And that Kumar is the end of your bedtime story.
Surely, you don't want me to finish the rules. I thought not.
Anyway, England plays Australia. England bats first (they have two innings in a five day test). The team is all out for 215 in their first innings. Disaster! Gave away their wickets too cheaply! Schoolboy errors, etc. Now it is time for Australia to turn the screw. But our bowlers contain their batsman. You'd put money on Australia to win. I'm not sure how much, though.
Today is the final day of Si Horrocks' campaign to raise £15,000 to show his movie, THIRD CONTACT on the big screen, by which he means BFI IMAX in Waterloo; it has already been screened at a film festival in Germany. Unsure whether Mr Horrocks will reach his target, but having checked one of his quotes from a German film critic, I pledge a small sum, the equivalent of two trips to the cinema for Lady O and myself. I recheck the Kickstarter site to check that my name appears. It does. There is a late surge. Somehow Si has raised £14,000. 'Should have gone to IndyGoGo,' says Kumar in one of his dismissive interjections; he can keep what he raises if he doesn't meet the target, less 9%. The suspense builds. Si is tweeting like mad. The penultimate episode of THE APPRENTICE (UK) is on TV. It is the interview stage. Two guys and one woman are given the old heave ho, leaving Leah and Luisa. Leah the plastic surgeon verses Luisa, the Queen of Hundreds and Thousands. Does Lord Sugar need to go for another sweet? Tune in next week, folks.
Good luck, Si.
Thursday 11 July
He is successful. Si Horrocks raises over £15,400 to get his film distributed. Now for the hard part!
In the second day of the first Test, Australia build a lead, following a record breaking 9th wicket partnership. I listen on my radio as the number 11 gets bowled out for 98 shortly before 15:00. Then I go and pay £160 off my AMEX card.
Friday 12 July
I see PAIN AND GAIN at the Vue Cinema in Leicester Square. At first, I think it is a 'Show Film First' screening. It actually turns out to be for journalists. I ask for Jenny Erwood and while she isn't there I am admitted.
The bar limit has been reached, so no drink. I do get some pizza and a hot dog, which I smuggle into the screening, making sure I do not leave any crumbs or dirty plates.
In the cricket, England builds a lead, slowly... Stuart Broad, batting, does us proud for once.
Saturday 13 July
England is finally bowled out for 380. Australia needs 311 to win. I'm not sure I can listen.
I undertake the usual chores, laundry and shopping. Then I head for West India Quay for the 21:30 screening of TRAP FOR CINDERELLA. The Northern Line is closed so from Kings Cross, I take two trains (district and circle) to get to Bank Station to get the Docklands Light Railway. I take my seat just as the credits begin. There is a fire, or rather very unconvincing CGI. I guess the plot twists and am rather bored. Mints are eaten. The journey home is not much fun. At midnight, the Central Line (from Bank to Holborn) is heaving. Pressure on the doors makes the train falter. Young people in their shorts and t-shirts take it in good cheer, alcohol having already done its work.
Sunday 14 July
It is the final day of the first Ashes Test. I don't listen. Australia is inching closer to the target of 311. In the morning, Kumar and I attend the UK Cinema
Showcase. We miss the screening of PRINCE AVALANCHE (new David Gordon Green film) but attend a discussion about blogging and a screening of BORROWED TIME (new British movie). Then we go to the Apple Store. Kumar originally intended to meet up with a friend, but he does not get his act together. The friend is busy next Saturday. Kumar sees THIS IS THE END again (at Vue Cinema in Leicester Square). I see THE EAST at Cineworld Haymarket – well, I nod off a bit. We take busses back.
England secures a victory in the cricket in controversial circumstances, an instance of being caught behind where the batsman might not have edged it. It leaves a sour note.
Monday 15 July
The kind people of 'Vice' (whatever that is) let me see GIRL RISING at the Rich Mix cinema near Liverpool Street Station. I only just make it. The cinema is half full. No Q and A but a photograph of the audience is taken. I find the message of sending more girls to school in the developing world is honourable but the experience is like hit over the head for over ninety minutes. A Liam Neeson linking voiceover does not take away the pain.
Before setting off, I give feedback on a short story I have been sent. It is a compelling yarn. I learn a new word 'yola' (it's a boat). The writer also sent me a script to comment upon. The dialogue is good. The short story could use some editing, but no one really wants to see their work cut, do they?
Tuesday 16 July
No word from my correspondent. Kumar attends Future film Steering Group and sees twenty minutes of GRIZZLY MAN. He could only tell me the bare bones of it. (Bear, bare – never mind.)
The premiere of THIRD CONTACT is 18:00 on 2 September, but I did not pledge enough for a ticket (awww!)
I am asked by a publicist if I want to write a feature on SPRING BREAKERS, whether it is pro or anti-feminist, for publication next month. I send back my apologies - and a link to my review on FILM ANNEX.
Wednesday 17 July
Dr Leah Totten wins THE APPRENTICE (UK) with her promise of three surgical procedures – take £250,000 from Lord Sugar, remove the grin from his face, and smile ever brighter. My favourite joke about her sort is as follows: heard about the plastic surgeon; melted in front of the fire. (Thank you, Brian Clark – WHOSE LIFE IS IT ANYWAY?)
Thursday 18 July
Bizarrely, when paying a bill, I forget the pin number of my debit card. I am truly getting old. I do have enough cash for shopping. Meanwhile, Lady O has an interview for a job. (well, she's not landed gentry, you know, but has relatives who like goats). She even is transformed by a new haircut. Alas, the interview does not go well (in her estimation). The chalice of promotion is placed ever further away. She spends the usual evening watching MASTERCHEF AUSTRALIA.
The Second Test begins at Lords, England verses Australia. England bats first. It ends on 289-7.
Friday 19 July
A trip out to the Devonshire House in Crouch End, but they continue to diddle us on the onion rings, five for the price of six. (Well, who counts onion rings, they might reasonably argue?) Lady O and I order the beef Tennessee burger; Kumar selects the chicken Tennessee burger and chases it with a chocolate brownie ice cream sundae. As carnivores, we get what we deserve. It is not as if we do this every week. It is noteworthy that for the first time ever, Kumar ate the salad in his burger. He's no longer afraid of a little green (or tomato)!
In cricket, England is all out for 361. Australia's first innings crumbles at 128 all out. England bats again but lose three quick wickets. Who will put the game to bed? Why the opener, Joseph Root.
In the evening, Kumar and Lady O watch PREMIUM RUSH on Sky Movies and follow it with DREDD. I type a little and go to bed at Eleven O'Clock. Kumar falls asleep during DREDD; I am later told that it isn't as good as THE RAID.
Saturday 20 July
Lady O issues to me the commandment of King Duncan: 'meet at the Cineworld Wood Green at 10:30 for the 10:45 screening of THE WORLD'S END'. 'Please, please, don't be late.' I have to spend my morning doing the laundry using two machines – Lady O's interview tee shirt demands a machine to itself. Then, there is the drying. I finish the laundry shortly before ten am, then hang up the 'hang-ables', then set off over the hill towards Topsfield Parade and a disused garage which last saw action about the last time I did. (It's an age thing.)
I did catch a bus (W3) after much huff and puff, two minutes or so of hip-wobbling exertions, but the driver decides to have a Pinter-esque pause two stops before Wood Green. We get to the crossroads with the High Street at 10:29am. I race to the station as fast as I dare and by a miracle, the merest whisker, beat Lady O and Kumar to the cinema. (Lady O bears my coffee – very kind.)
THE WORLD'S END is enjoyable, although it did engender a tiny feeling of anti-climax. Never again would Edgar Wright and Simon Pegg team up for a British movie. The robots are a bit lame. Still, I did like the 'I can't think of a processed food that I miss' joke. It's the biggest laugh really.
We have pizza for lunch – Kumar's staple – and Lady O is on zit-bursting duty. Kumar stokes 'em, Lady O spikes 'em. I listen to the cricket as England extends their second innings lead to over 500. Joe Root scores over 150.
In the evening I walk Kumar to the old Hornsey Fire Station, which is now an arts centre. There is a screening of films for the Flipside Film Festival. Disappointingly, the audience is miniscule. There is a quiz and Kumar returns with a book, 'Filmmaking for Teens'. Personally, I wish it read 'Exam Passing for Teens', 'Shaving for Teens', heck, even 'Bathing for Teens'.
In the evening Lady O and I watch episode two of TOP OF THE LAKE, not directed by Jane Campion (surprisingly). It's OK, with the best scene featuring a woman who can only handle seven minutes of physical intimacy. 'Anything more and I risk getting attached.'
Sunday 21 July
Lady O elects to rest and wash her hair rather than go out. Kumar and I make a silly film, MAHLER AND ME, in which I play a human dog. I can confidently say it is the worst film we have ever made, with all my attempts at scripted gags counting for naught. As usual, Kumar ran the battery down when there were passers-by (often) and to watch some poor shots. I was glad when three pairs of batteries (three pairs!) failed us.
We arrived in the West End to see the set up for THE LONE RANGER premiere and a queue of 'French fans for Helena' (Helena Bonham Carter). To them, I would say, 'bonjour'. I hear the film is 'merde' but have tickets for a screening on 30 July in Cambridge.
We 'enjoy' a nuked Subway egg, bacon and cheese sandwich with the flavour completely removed. Kumar has tomatoes in his sandwich (as he did in his burger on Friday) which is a step forward.
We wait until 12:00 when Waterstone's in Charing Cross finally opens and Kumar glues himself to a copy of TOUGH SH*T by Kevin Smith, which really ought to be in paperback. I point out J K Rowling's crime novel, THE CUCKOO'S CALLING, which, surprisingly, isn't discounted (she published it under a pseudonym, Robert Galbraith).
On the way back, Kumar upsets me by dropping my coffee cup. Why did he do that? 'Because I was bored!' I launch into an invective about how boredom is no excuse for vandalism, though often invoked. It is vector eight on the angry Larry scale. Then again, during our filming, Kumar had tugged on the scarf, which he turned into a dog lead, so my fractiousness was understandable. We made our peace later.
In the afternoon, Lady O and Kumar watch PIRATES OF THE CARIBBEAN: DEAD MAN'S CHEST on Sky Movies, which has some amusing moments. I listen to the cricket as much as my fading radio battery allows. England wins the Second Test with a day to spare. Repercussions are promised.
Monday 22 July
Lady O and I have a meeting at Kumar's school. Kumar is supposed to receive additional support but then translates into a middle-aged bloke (not me) talking to him about girls. Very weird! Lady O and I have seen Kumar's report card and we are not impressed. However, the school has a plan. Kumar has to learn to paragraph and write essay plans and get help with maths. It took four years for the school to work that out – incredible!
In the afternoon, Kumar completes his CV and I print it off at the library. We then travel to the Hackney Picturehouse to drop it off. I have the wizard idea (encouraged by Lady O) that Kumar should not spend his summer watching DVDs – he does enough of that at his school - but volunteer at an arts institution. The Hackney Picturehouse is a good place to start. When we get there, Kumar is told to send an email, which he duly does. Oh well...
We watch the pilot episode of COUNT ARTHUR STRONG on BBC2. Kumar laughs. 'He's like you,' he says. I should explain that the TV show, adapted from a radio series is about an ageing entertainer who is friends with his ex-partner's son (Rory Kinnear). Arthur gets muddled up, makes assumptions and is hard of hearing. Also, he is a ham actor. Yes, Kumar, he is like me. The pilot features Arthur getting a two-line part on the radio and replacing the lead, after taking him to the pub between the rehearsal and the recording. Arthur then 'plays' the main part and dies extravagantly. He awaits the play with anticipation but finds his part has been re-recorded. His two lines remain intact.
Tuesday 23 July
With no previews apparently on, I go to see THE BLING RING, at the Cineworld Haymarket (Screen One). The audience is silent throughout. Sofia Coppola picks a trendy soundtrack full of acts I've never heard of. Marc Coppola is a featured actor.
Wednesday 24 July
I make my UK performing debut at JAWDANCE, an evening of spoken poetry and foot-stamping with occasional megaphones at the Rich Mix Arts Venue in Shoreditch, East London. It was either that or see AIN'T THEM BODIES SAINTS. Actually, I try to do both, but left Kumar's USB stick at the library on Monday – we had only just discovered the loss. I retrieve the key but cannot make it to the film on time. So I wax poetical – well, not really. At the end of my performance, I rejoin the audience to watch the end of the show, but it isn't the same. You're not an audience member after that. I fade into obscurity as the crowd dispersed, but happy obscurity. I have done it.
Thursday 25 July
Kumar and I collect Lady O from her office, the Bureau of Moving Things, and take her to Greenwich by tube and bus, where we see THE HEAT. I find that Odeon points earned more than two years ago have disappeared from my Odeon Premiere Club Card, I cannot recommend it. Lady O likes Greenwich Odeon and enjoys the film. Kumar and I are less impressed. We have a pizza afterwards at a nearby franchise restaurant. We get back before 11:00. A good evening!
Friday 26 July
Kumar spends the day at Lady O's Bureau. He enjoys a slap-up brunch of egg, bacon and chips at a workers' gaff. I have cheese bagels for lunch as usual – well, you can buy twenty slices of mild cheddar for three pounds at a high street supermarket.
On the way home, Kumar applies for a volunteering stint at the Screen on the Green. However, they don't take sixteen year-olds. 'We serve alcohol,' the box office attendant sneers. They don't accept his CV.
Saturday 27 July
I launder and shop as usual. We have some luck on the volunteering front when the Phoenix Cinema in East Finchley accepts Kumar's CV and promises to consider him. Hurrah! However, I learn that we did not put Kumar's email address and telephone number on the CV. Gulp! This is remedied by an email to the Phoenix.
On Twitter, Si Horrocks mentions a film screening taking place at a rooftop venue in South London tomorrow. I tweet my interest and Kumar and I are put on the guest list.
Kumar wonders whether he should go to the screening of the 'Blood and Ice Cream Trilogy' (SHAUN OF THE DEAD, HOT FUZZ, THE WORLD'S END) at the Hackney Picturehouse. We all intend to see THE WOLVERINE the next day so he passes.
Rain buckets down. I advise Lady O to close the window and she throws a mini-strop. The TV is switched off, so no TOP OF THE LAKE.
Sunday 28 July
The first 3D screening of THE WOLVERINE at Wood Green Cineworld is at 12:15. If we go, we won't be able to eat out afterwards. Lady O advises us to go out and make a silly film, which I do reluctantly. This one is driven by Kumar. 'You will play THE LONE WRANGLER'. By this, I assume he means I am looking for a pair of jeans. First, I fetch some water from a fountain, then I wander around the London Film Museum (it has a new exhibition) then the British Museum.
Between museums we have a picnic in Green Park and watch park attendants chase people from vacant deck chairs after demanding money. This seems much more fertile territory for a comedy sketch.
After Kumar expresses his juvenile interest in fertility idols (in the Africa Room of the British Museum) and remarks upon some naked statues, we visit Fopp in Gower Street for some DVD browsing, the Renoir Cinema, to check out their programme (and use the convenience), PRET A MANGER for some coffee (for me), then we head to Peckham to the much talked about Bussey Building. I say 'much talked about', but very hard to find. The film screening is supposed to start at 6:00pm. We walk through a car park where people have gathered on the roof but it is for a sculpture park ('one in, one out'). We do eventually find the Bussey Building through a narrow entrance but there is no film show. Kumar is furious. We head straight to Hackney (on buses too numerous to mention) and get to the Picturehouse at 7:35pm. Their short movie event took place 24 hours ago. So, to recap, no WOLVERINE, a bad movie, two non-short film events; a pretty unfulfilling day, but I buy Kumar a branded chicken fillet snack box to put a smile between his cheeks.
We are home in time to see the second episode of LATE NIGHT WITH JIMMY FALLON. Kumar spends all evening editing. At least he is happy.
Monday 29 July
I am watching Kumar. I am watching him do practically nothing, well, watching SUPERBAD for the umpteenth time on DVD on his home computer. I shop, put a pizza in the oven and watch the tail-end of a movie, FREE SAMPLES, with Jesse Eisenberg in a small role, on Satellite TV. It is about a law student who drops out of her course and drives an ice cream truck, 'Mike's Dreams'. She makes friends with an actress (Tippi Hedren). She learns that her boyfriend, whom she has separated from, has got another woman pregnant. She gets over it and lets Jesse's character, a guy who has spent a year and a half studying Paul Auster, be her potential next boyfriend. There are no cuss words. Afterwards, Kumar and I watch SAVAGES, which has a lot of cuss words. Two guys and a girl are in the weed business. Salma Hayek's character wants them to work for her. They refuse. She kidnaps the girl. They fight back. Benicio del Toro plays an exceptionally nasty character who gets away with rape. This, as far as I can tell is the moral of the film. Aaron Johnson plays a Buddhist who has to torch a guy in one scene.
I learn that the screening yesterday was called off. I read Si's Tweet (thank you, anyway).
There is no COUNT ARTHUR STRONG on TV, only Raymond Blanc. He isn't nearly as funny but then he is a TV chef, or rather a professional chef who has appeared on TV. He is not, as far as I know, related to Michel Blanc.
As I write this, Kumar is writing a script. He describes it as a character piece. I guess the twist. 'How did you know?' he blusters.
Lady O brings home Cookie Dough Chip Ice Cream. Kumar is happy.
Tuesday 30 July
As I upload the videos of 'It's Not So Easy Being Clean' and 'Silver Linings Playbook in Song' to YouTube, Kumar writes. Alas, he doesn't produce anything he is willing to share. At the same time, I take one of his ideas, three kids looking for Kevin Smith's script of THE GREEN HORNET and turn it into the first draft of a short film script, entitled THE HORNET'S STING. Kumar reads it and groans. I do the Obi Wan Kenobi thing and try to teach him how to write. He sits agog. I just wish he'd use a chair. I am determined to give him a writing tutorial.
We head off together to the library where I print off two tickets for THE LONE RANGER at Cineworld Wandsworth. But Kumar will not budge from his Future Film Steering Group. So I stick with the 'A' Plan and take Lady O to FOXFIRE, dropping off Kumar at Hungerford Bridge. This after a trip to Fopp in Cambridge Circus at which Kumar procured a copy of CLERKS – him being obsessed with Kevin Smith and all.
Lady O and I have a pre-screening coffee in Starbucks (medium caramel latte). We talk about Kumar's relatively uncertain educational prospects (as usual). We see FOXFIRE at Soho Screening Rooms, though I have to take a toilet break on account of too much coffee (had to do the same thing during PACIFIC RIM; this is what I get from being old). I'm not sure if Lady O enjoyed the film but it is still pretty impressive to me. Kumar meets us afterwards and we travel home together. I procure a pizza to cook for him at home. Lady O has salad and a mini pork pie.
Wednesday 31 July
I spend the morning doing the accounts for the house where we live (it is run as a limited liability company to manage the freehold). We only have about £36 in the bank. Lady O and Kumar watch CLERKS on DVD as well as a few of the DVD extras (an animated, previously unfilmed scene in a funeral parlour and THE FLYING CAR). We have lunch at the Devonshire House but Lady O's mood changes; she cannot decide what to eat – burger or steak and kidney pud. What about a nice Panini? Negative. I order the steak and kidney pud since it is the more expensive option and I don't want Lady O thinking I am cheap (even though I like to save money). She eats it unenthusiastically. Afterwards I put £10 credit on Kumar's phone so Lady O can get a free EE 2 for 1 cinema ticket (less the 3D supplement) for THE WOLVERINE – her type of film, not mine. We see it at Cineworld Wood Green. I would have preferred to see it in 2D, since I am wearing my glasses. You know what? I watched the movie and didn't see any 3D effects. We all were disappointed by the film – Kumar likened it to THE INCREDIBLE HULK, which is the lowest score he can give it on the Marvel Movie Scale (personally, for me, that's ELECTRA).
In the evening, I write a review of THE WOLVERINE whilst Kumar and Lady O watch a documentary on Pixar movies and WALL-E. Kumar does like Barbra Streisand. I check out my buzz score on FILM ANNEX which appears to have shot up to 17 for reasons I cannot adequately explain. I make Lady O and Kumar some corned beef and cheese bagels. A good end to the day! I hope you had a good July at the movies.