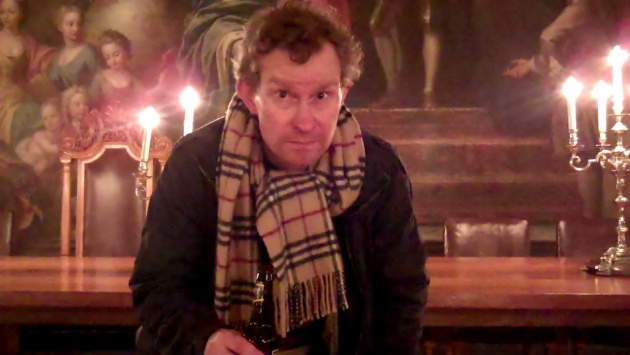 Tuesday 1 October 2013
If procrastination has a name, I'll tell you tomorrow.
Kumar returned to his Future Film Steering Group, a veritable evening of judging short films, five or six of them, made by young people. If any of these are yours, gentle reader, then I apologise.
The best, as voted by the group, was DREAMSWEEPER. Cans of films representing discarded dreams litter the street and our hero sweeps them into the veritable dustpan of lost hope. Our sweeper watches one of them. It involves a girl. He tries to return it to her – 'don't let this one go' - then sees her with another man. Dejected, his aspiration quashed, he walks off sorrowfully. The group, as they say, related.
Worst film [as voted by the group]: THE SALESMAN. This was about a 19th Century salesman trying to sell an elixir or tonic to a modern day customer, who describes as tasting like urine. A sample exchange might be: 'Are you taking the pee?' 'No, you are.' However, the director was far more disciplined than that, though, holding it in. The salesman is played by an actor so over the top that he would sit on his wig if he had one (that's my interpretation). Kumar was the only one who liked it. What appealed to the lad was that it attempted humour. Kumar likes humour, though sometimes in the Chaucerian sense. 'How's your humour today, lad?' 'Temperate.' The rest of the group thought it wasn't funny. I'm not sure what the payoff was – at time of writing, Kumar has gone into a state of manufacturing, or as normal folks say, the loo. But he was roundly voted down. He spent the late evening hanging with his homesters or hamsters, rabbiting away, bunnying up to his buddy pals. I spent the evening writing a review of SUNSHINE ON LEITH and listening to the wireless. Still, good news on the footie front: Arsenal maintained their 100% record in the Champions' League group stage, beating Napoli 2-0, Ozil scoring his first goal for the club.
Wednesday 2 October 2013
If danger has a name, it is the steps at Soho Screening Room. Walking down to check where WHO NEEDS ENEMIES was being screened, I slipped – aieee! The film should have been called WHO NEEDS A HANDRAIL? After discovering that THE SELFISH GIANT was being screened downstairs – seen already (see May 2013, yes 'May 2013', the ultimate computer, available £219.99 from Tesco's) I returned upstairs bearing a bloody elbow. It looked worse than it felt, but give it time and then 'yoww!' The publicists Sue and Liz were deep in conversation with Five Live's David Aldridge. Conversation turned to the LFF and complaints about the size of the screening room – a diatribe of 'I hate NFT2', which is the second screen of the BFI South Bank. Lousy sight lines, apparently. Journalists were being charged £28 to get their accreditation. Cheek if you ask me. Still, it is difficult enough to get tickets as a member (see September, yes 'September' the famous model). At least with a £28 pass you have some chance of seeing some films. It's enough to make me write in BLOCK CAPITALS.
Put it down to the trauma of a flesh wound.
I did manage to put in a word for Si Horrocks. Would the distributor of WHO NEEDS ENEMIES, Ballpark, be interested in seeing it? Liz asked me to send a link, which I duly did after the screening.
I should like to tell you that WHO NEEDS ENEMIES was a low budget masterpiece. The best I can say is that it is the confident directorial debut of Peter Stylianou, who knows his Tarantino from his tarantella. It is significantly less than the sum of its parts with iffy commercial prospects. My subsequent review led to a brief exchange on Twitter with one of its stars, Kris Johnson, but I'm getting ahead of myself (see Delphic Oracle and innumerable puns).
Thursday 3 October 2013
If disappointment has a name, it is missing the Poetry Slam night at the Genesis Cinema in East London. Still, thanks for the tickets. CAPTAIN PHILLIPS is being screened at 20 or so Cineworlds across the country in a simultaneous UK premiere, but I could not get tickets. Yargh! Double disappointment!
Still I applied for tickets for a Comic Con-related Q and A for ENDERS'S GAME on Monday. Thank you E1 for the tweet. Who knows – I might be successful. I also entered Kumar for a ticket - 7 October, 18:30 for 19:00, Odeon Leicester Square, Q and A with director Gavin Hood and several others.
Friday 4 October 2013
If drama has a name, it's Kumar leaving his lunch behind before setting off for school. I had to race up the hill after him. 'Kumar, come back. I'm not supposed to run, I'm very old.' Kumar isn't supposed to run either. Earlier, he had me write a note to his school so he could skip games and revise. 'Dear teacher,' I wrote, 'my lad Kumar has a delicate constitution. He does not even use soap, which he regards as an affront to his acne – 'they have rights, too,' he assures me. He asks very kindly if he can be excused games in order that he might bury his head in a book. He may even open it. He requests that he permitted to practice his answer for his forthcoming mathematics exam, writing 100 lines of 'I don't know it!' Yours in support of your fine edukatshunal establishment, Larry Oratio Oliver.'
When he read it, Kumar fumed. He complained that I should have written 'P.E.' not games. OTHELLO, it's always OTHELLO. That's what Kumar saw at the Phoenix East Finchley this afternoon. Not that he told me anything about it on his return. It was just as well it was just a recording. I could imagine Kumar watching a stage production and being alarmed that Desdemona had lost a handkerchief, offered one of his own, straight from his mantelshelf collection, full of 'jizz' or whatever the young people call it. I suspect Kumar might worry that this would get the actress pregnant. They don't do much revision in sex education; certainly no practical.
In the evening, we watched the second episode of MARVEL'S AGENTS OF SHIELD. Kumar went into full on 'best episode ever' mode when Samuel L. Jackson turned up at the end. After an initially intriguing opening – Coulson facing being dragged through a hole on a rapidly descending plane punctured by an explosion – it was mostly dull. Nick Fury turned up to complain about the damage to SHIELD's plane. Then we watched the pilot episode of THE BLACKLIST. I can't remember much about it; maybe it should be called THE BLACKOUT. No, it's coming back. James Spader has a fake bald patch as master criminal Red Reddington (really) who turns himself over to the FBI ostensibly to advise them to help capture a bunch of even worse criminals in exchange for a MASTERCHEF AUSTRALIA immunity pin. Because he really messed up his deep-fried chicken and does not want to face the elimination round. He is aided by a young female rookie FBI agent who is good for ratings. Her husband is morally dubious; of course, that's why Agent Clarice Starling was never married. The pilot, directed by Joe Carnahan (THE GREY, THE 'A' TEAM) was highly improbable for minute one to minute 48. Lady O was hooked, but Spader is never a sign of quality entertainment.
Saturday 5 October 2013
If tedium has a name, it is Saturday morning: laundry, shopping and Kumar at Maths Revision class. It took all my powers of persuasion to encourage Lady O to join us for lunch at the Devonshire – the usual gourmet burgers. In the evening Kumar and I trekked to Cineworld Enfield to see THE TO DO LIST, availing ourselves of a computer in nearby PC World to book our tickets online, thus getting 10% off. The cinema had been transformed by the opening of a Starbucks. With a 10% discount, the cost is £1.44 – every penny counts, except Penny at school who was bad at maths. I had to wait a while for a filter coffee but it arrived in good time for me to take it back to my seat and watch the trailers. The film was moderately enjoyable though I placed myself a suitable distance from Kumar's hearty chuckles – 8.2 on the rectum scale; they make me want to leave my seat. But THE TO DO LIST has only one screening a day and in such a remote location; how is it supposed to be a hit?
It is my brother's 50th birthday today. He didn't want to celebrate it so I celebrated 'read a bus timetable day' instead.
Won tickets for ENDER'S GAME Q and A, as did Kumar.
Sunday 6 October 2013
If the front line has a modern-day equivalent, it might be the Royal Parks Half Marathon. I had volunteered as a helper and been instructed to report to Water Station One at 07:00 hours, located at the rear of Somerset House on the Embankment. Easy you might think. Sadly, Finsbury Park Station was closed. I had to take a 29 bus to the West End. But buses terminated at Warren Street, a mile away from my final destination. Why? Oh, because of the very race I was volunteering to support. I ran down a third of Gower Street as a 73 bus headed for the stop but it stopped ahead of it and pulled away before I could catch it. Typically cruel bus driver – making old people suffer! I did get the bus behind and take it to St Giles High Street. I walked the rest of the way to Aldwych, past the Royal Opera House and down the steps at Waterloo Bridge to the north side of Embankment. If you look on Google Maps, you won't see me puffing.
I was fifteen minutes late for my shift but it did not matter. We were given T-shirts to wear to identify us as volunteers in case we needed to use the toilet (free entry, see). Having changed and briefly bared my concave rib cage to the world – just get on with it, you've seen your grandparents naked, haven't you – I was given my assignment. There were huge pallets of water bottles. My job was to tear open plastic, take out bottles, pop off the lids and line them up on a camp table. Once I had done this, that is, when I had filled up the table, I copied the lady next to me and prepared more bottles, this time lining them up underneath the table.
We had a briefing about 07:25hours. Breakfast was offered in brown bags, consisting of orange juice, an apple, a high-fibre muesli type bar and a slice of millionaire's shortbread – so called because the manufacturer filed for bankruptcy; 'millionaire, short of bread', never mind.
Then the charity phoned me to check that I was coming. I told the caller that I had already reported for duty. The Station Captain had ticked me off, that is, put a tick next to my name, not read me the Riot Act, which, point of fact, is very long and not that interesting.
Moving on.
The Royal Parks Half Marathon is a huge operation. Our job is to hand out either water or Lucozade, which for my American readers is an isotonic drink designed to replace essential salts and optimise the body's performance. When then does it look like pee? In my experience, no one really drunk the Lucozade, but they are a key sponsor so I should say that the company has a deserved reputation in the health food market, a niche product that happens, unfortunately, to resemble the very bodily fluids one wants to eject. Gentlefolk, lose the colour!
Once I had filled the space under my table, I opened a pallet full of bottles and left them on top of a pallet full of unopened ones. The idea was to use the pallet as an extension of the table. This turned out in retrospect to be a very good idea, though there's no money in patenting it, none. Sorry.
At Nine O'Clock, the first runners left Hyde Park and headed towards the Embankment. These were elite athletes attempting a 31 one mile run and they would finish half way towards Southend – well, Stratford East, at the very least. They did not avail themselves of our station, but instead had their own mini station opposite ours, which was closed down once they headed into the distance. The surplus bottles were then carried over the road to Water Station One, ready to be distributed.
Fact: the Royal Parks Half Marathon attracts 19,000 runners from across the city, the country, the world. Fact: many of them are running for charity. Fact: most are under the misguided impression that they need a drink at just over three miles into a thirteen mile race. That's where we came in.
Water Station One tests muscles that you did not know you had. You stand facing the tsunami of runners holding out a bottle with an out-stretched hand. The bottle would then be torn from your grasp. You would then need to take the bottle in your left hand, put it in your right and grab another bottle with your left hand. Then repeat, repeat, repeat, as the bottles are taken from you. The runners also throw Lucozade bottles at your feet with the word 'swap'. You can get through a table full of branded water bottles pretty quickly. There were three of us near my table. I was sandwiched between a Scottish lady and a younger athletic type. As the number of bottles on the table dwindled, I ran round to the other side to take the bottles from the foot of the table to the top of it, so these could be handed out. When I had down that and the open pallet of bottles prepared earlier had been used up, I tore open more plastic, popped caps and put more bottles on the table.
I had no idea how we got through so many but we did. The half hour or so of intense activity was a blur. By reading out the names of runners coming towards me, I was able to personalise the experience. 'Here you go, Jeff,' 'one for you Louise,' 'there you are strange looking clown like figure'. The Scottish lady kept saying 'plenty of water up ahead - plenty.' As I was on the supply line ensuring she had bottles to hand out, I thought, 'easy for you to say'.
At least the torrent subsided and with it we felt a sense of anti-climax. We cleared up, picking up squashed bottles and pouring Lucozade down the drain – gallons of the stuff. There may not be such thing as a free lunch, but there was plenty of free Lucozade, plus the odd leftover breakfast.
Still, volunteering – it's worth it!
HOMELAND series 3 began. No sign of Nicholas Brody – really, Damien Lewis wasn't in the episode.
Monday 7 October 2013
If Mondays have a name, use a capital letter.
Kumar had his English exam today. No doubt questions answered with long paragraphs. Then after a quick repast, he and I headed to the Odeon Leicester Square to attend a Comic Con branded question and answer session with the cast and crew of ENDER'S GAME.
I have written separately about the event, hosted by Craig Stevens, who interviewed Seth Rogen and Evan Goldberg at the Yahoo sponsored THIS IS THE END event we attended a few months ago. Here, we found ourselves leaving late, catching the tube and on the end of a very long queue.
How long? Well, I took some video footage of it but I'm not sure you'll believe it. You know how the camera adds wait. Wait, weight – never mind. We got in and obtained seats somewhere near the back. I took a 'selfie' in the foyer, which is a photograph, not one of the villains in DR WHO. Free water and crisps meant we were royally treated – isn't that what royalty gets at movie premiere. One cannot abide the sweetened popcorn.
The event was wrapped up in front of an hour. Harrison Ford was his usual slow-talking, deep throated interview self. He tends – to give – his answers – weight – but they seem – less interesting – than – you – hope. 'Why don't you try acting?' was a certain knighted Thespian's response. Still Ben Kingsley was on normal speed. The exit was only minutes away as we shuffled out to leave – then more minutes, and more.
Tuesday 8 October 2013
If nice PR people have a name it is Porter-Frith Publicity. They agreed to let Kumar attend the press screening of WORLD OF HURT, which was admittedly sparsely attended. Kumar would ordinarily be at his Steering Group but – wouldn't you know it – it was cancelled. He desperately wanted to see the weird sounding British movie which blended detective thriller with comedy and science fiction.
There is an expression amongst film directors – those who cannot do, blend. Producers don't hire baristas to helm major motion pictures. They don't recruit mixologists to handle talent - they hire them to handle vodka, lime and a hint of cinnamon. WORLD OF HURT was notable for a dearth of laughter, though there is something about a Welsh accent to make Kumar laugh. He was the only one. I had to shush him. 'Slap him it's Welsh!' I could have been directed.
Still it did take Kumar's mind off his Maths Mock GCSE – paper one (non-calculator). This was to determine whether he would take his actual GCSE exam in November. Kumar finds Maths challenging. It figures in his Top Five list of things he finds difficult. He has asked me not to list the other four.
1.

Vegetables

2.

Getting up in the morning

3.

Tying shoe laces

4.

Personal hygiene without deodorant (there's a Lynx farm under his armpit)

Maths,

being quiet at bedtime and not talking back to Lady O (joint)
So I think we know the answer. Still he received some good news: MACHETE KILLS is rated 15. That means he can see it. Is that a good thing? I'm getting ahead of myself.
Wednesday 9 October 2013
If Film Festivals have a name, it must be, well, film festivals, silly.
The 57th London Film Festival began today. How many films shall I see? SPOILER ALERT! One! It is my eldest brother's birthday today. Happy birthday to him! In celebration – well, not really – I wrote a piece on HOW I LIVE NOW.
Thursday 10 October 2013
If stylistic conceits are tedious, it must be this one. Kumar took his second Maths mock GCSE exam (calculator). He said it went better than the first. He was disappointed not to see NOW YOU SEE ME in the two tickets, drinks and popcorn for £10 at Cineworld because the timing of his dental appointment made it difficult to reach the cinema in Wood Green in good time. A case of NOW YOU SEE ME – no, you don't. In solidarity I cancelled my Sky Movies ticket for CAPTAIN PHILLIPS at Vue North Finchley – a cinema trip too far. Instead, I cooked the contents of Lady O's shopping bag - prepared Gammon Shanks and mash, a meal for two split three ways.
Friday 11 October 2013
If I begin one more diary entry with 'if', there'll be eleven. Kumar and Lady O rested chez nous. Apparently they did 'rien'. Watched AGENTS OF SHIELD featured our former neighbour Ian Hart – lives on the posh side of the hill – as a mad scientist whose first line is, 'Are we there yet?' A vitally important World Cup qualification match – lost you already – was played today. England beat Montenegro 4-1. One more match to go!
Saturday 12 October 2013
If a poetry launch is to live up to its name, it must feature ... Canadian singer-songwriters.
The occasion was the launch of Annette Smith's third book, FLAME DANCER, at a small performance space (346 Sheridan Road) in Forest Gate. The place (Forest Gate) is particularly special to me for reasons that I'll shamelessly exploit at some later date. Let's just say – no, let's not. But a Monday evening in January 1990 is very important.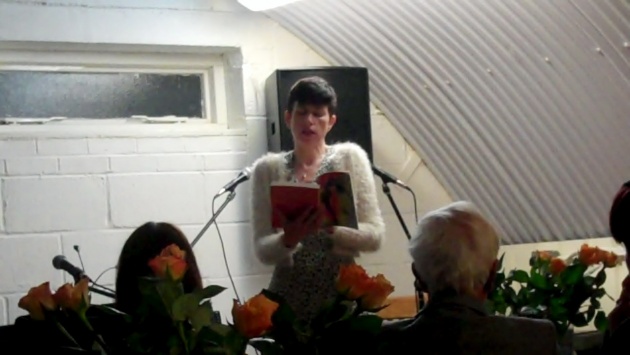 Photo: Annette Smith reads from FLAME DANCER, 346 Sheridan Road, London E7, 12 October 2013
Long before I filmed and thespiated, I worked in 236 Romford Road. There I met a local counsellor Greg – I changed the name to annoy the living – who put me in touch with a left leaning magazine to which I submitted my first film review. Reader, it was published and I launch the good ship Film Criticism, a somewhat leaky vessel prone to abrupt course changes and likes and dislikes of directors that surprise even me.
So I headed East via the tubular network, which jettisoned me at Bow Church, or as I call it, Boundary Zone Two. There I boarded a 25 bus and crossed the oceanic traffic jam as I bobbed and eddied my way along – you see there were Bob's and Eddie's on the bus and I brushed into them. I took out my trusty Flip – steady – and filmed my former place of servitude with its broken window and warning sign from the local council. I overshot by one stop.
Reader, I did not experience the thrill of recognition. There was Iceland and a whole row of other shops that I wish I had noted down. As I walked past the railway station, I felt a frisson of je ne sais quoi, which is another way of saying I smelt ladies' perfume.
I exaggerate, but the walk was longer than I expected from the map – it's just a couple of squares on the A to Z what's the matter with me? Reader, I found it, this small bomb shelter of a venue that screamed council budget cuts.
The welcome could not have been warmer. The poet, Annette said 'hello' and I explained that I had received her invitation at last month's JAWDANCE and saw her perform. To my untrained ear, she sounded Australian. Clearly not the thing to say to her father, who had not travelled continents as I first thought – just down the M1. I could have wrapped my scarf around my face in shame – but I'm getting ahead of myself.
I swiftly moved from Mr Smith to Miss Smith's former employer who had just returned from Kampala. How did he find it? He worked for a pharmaceutical arm of the UK government (Medical Research Council?) dispensing grants to developing countries. His department had just received in its 28th Nobel Prize. 'What did it look like?' I asked. 'It's a medium-sized building.' 'No, the prize?' He didn't know, but imagined it was cash in an envelope – maybe a gift certificate, 12 Swiss Francs off a bar of chocolate, that sort of thing. He spoke about how security had been tightened in Kampala since the shopping mall attack in Nairobi (in neighbouring Kenya). Now the men with rifles have actual bullets. Still no word on whether they had to pay for the ammunition themselves.
With a glass of wine in my hand the entertainment began. A warm welcome to Larry – could Larry please take the stage. Not me of course, but another Larry who was by birth Canadian but by work visa living in the UK. He was another of Annette's extended series of former colleagues.
This Larry had a guitar strapped to his chest and could sing. I have a defibrillator attached to my chest which could ping. We had nothing in common. 'Thank you,' said Larry, 'I would like to draw your attention to the great Canadian songbook. [Pause] I'd like to begin with –'
And here's where I should have taken notes.
OK, I remember now, it was Neil Young and as he sung, as Larry sung a song about a father a beautiful woman burst right into tears, inconsolable damaged anger tears, messed me up now put me right tears, Claire Danes' tears, flanked by two friends who did what friends should do, quietly, and without spoiling the chorus.
'Thank you very much.'
This next song – sorry 'this next song I think some of you will know from that 2002 film SHREK from a gentleman by the name of Mr Leonard Cohen. No, he wasn't in SHREK – that's an animated film – that's SHREK, not Mr Cohen. Ladies and gentlemen, honoured guests, I give you HALLELUJAH.'
That was the gist, anyway.
'Has anybody heard of [names obscure Canadian singer no one has heard of]? You haven't. Well, he's a helluva guy and here's [obscure song no one has ever heard of].'
Applause, yes, I heard that.
This next song is by that famous Canadian Paul McCartney – he adopted the Maple leaf, to hide his modesty.'
No, I should point out that Larry did not say that. I'm not even sure I should be name-checking songs that he performs in case the songwriters go in search of royalties. If novelists quote a song, they have to pay, right? What about at funerals? Not so much the last rites as the last rights! 'He loved this song.' 'What's the crowd?' '200.' 'My client wants fifty cents times 200.' 'But he's dead.' You're right – fifty cents times 201.'
After the Beatles classic in which he was accompanied by a young lady, Larry performed HEART OF GOLD. A lady in the crowd knew that one, whoo-hoo. Shouldn't they have cheered the Beatles song?
'You're a great crowd, keep on rocking.'
He didn't say that one either – not the second bit.
'I teach guitar – in Bexleyheath. If any of you are in Bexleyheath and like what you hear and think I could do that-'
We got the gist. You too can teach guitar in Bexleyheath.
He didn't mean that.
So that was Larry, Gentleman Entertainer, Mountain Rock in a sea of pebble dash – that's Bexleyheath.
Let's hear it one more time for Larry.
As you can tell I am a frustrated performer. I used to practice 'equity deputy' when I was on the loo. Of course, it didn't help – wrong end.
Next we would take a short break and another of Annette's friends would read some poetry or as he described to me 'dinosaur porn'. This gentleman worked for the Entertainment Union and – let's not go any further. I don't think it is right to describe past industrial disputes involving named individuals. After all, the companies don't publicise when they have won. So let's remember that there's only so much one can describe in a publically read blog.
The union man had discovered the art of writing poetry late – and that isn't a polite way of saying only his later poems were any good. The first poems produced by any would-be poet focus on rhyme, then metre and only then on well-honed phrases. I don't think this gentleman was on the third phase but he was discovering his voice, which can take a long time. Hint: write about stuff that provokes a strong reaction in you the author. It's always something personal.
So, dinosaur porn – that was just one poem. It was amusing enough but felt like an exercise. He had not reached the poet's nirvana: an experience that can best be reflected in verse form.
We had two sessions on the 'dinosaur porn' poet – one pre-watershed and one post. Then it was time for Annette to read from her book.
Earlier I had spoken to the cover designer whose direction was 'not to make it look like teen fiction'. As Annette read, it became apparent that she was recounting experiences from her teenage years.
At this point though, I had to leave. It was six o'clock and Kumar was making his way to the Odeon Surrey Quays to meet with a friend to watch MACHETE KILLS. What I didn't know – and only became apparent from his text – was that the Jubilee line was suspended and with it a clean journey from Green Park. Kumar searched for a replacement bus service and then phoned me for help but alas I could not assist.
He let his buddy pal down.
I on the other hand travelled to the Cineworld Surrey Quays and saw first FILTH then ROMEO AND JULIET (2013). I then travelled back to North London. So the day ended ordinarily with Kumar and Lady O watching DJANGO UNCHAINED on Sky Movies.
Sunday 13 October 2013
If anti-climaxes can be described, let's not.
So, I write made lunch and accompanied Kumar to a screening of MACHETE KILLS at Cineworld Wood Green in North London. Reader, he did not enjoy the film. Later Lady O and I watched HOMELAND on TV. C'est tout!
Monday 14 October 2013
If a picture is worth a thousand words, who needs to draw? I wrote a piece on LE WEEK-END that barely qualified as a review much less a decent piece of writing and then posted it on Film Annex. Fin.
Tuesday 15 October 2013
If publicists understood, they would know that the screening they invite you to frequently clashes with others. I was not allowed to attend a screening of JKILL YOUR DARLINGS at Soho Screening Rooms as it was for journalists who will participate in tomorrow's junket only. So I missed the film. Kumar attend Future Film Steering Group. He received his Maths mock GCSE result: a 'D' – an improvement on his previous 'E' but not enough for him to be entered for his GCSE proper in November; he'lll have to wait till June instead. In the final World Cup qualifier England beat Poland 2-0, with goals from Rooney and Gerrard. England fans are heading to Brazil with something of interest, not just to turn up in thongs.
Wednesday 16 October 2013
If remakes are a bad idea, they must be called THE TUNNEL. This reimaging of the Danish-Swedish TV series, THE BRIDGE featured halves of two bodies founds in the Channel Tunnel. Stephen Dillane and Clemence Poesy investigate. The first episode was directed by Dominik Moll, realisateur de LEMMING. His talent was not evident here. Directly afterwards, Lady O, Kumar & I watched the first episode of Stephen Merchant's TV comedy series, HELLO LADIES, or as I call it, 'goodbye humour'. The debt to TWO AND A HALF MEN was obvious. Merchant plays a British web designer incapable of not offending his date. Why should we care? I left half way through.
Thursday 17 October 2013
If I had not spent so long at a quiz, I could have caught New Writing Night at the Genesis Cinema in Stepney. Alas, my assistance to a team of economists on matters British, American and Canadian resulted in us coming fifth. Not good enough. The winners scored 86. We got 82. Still, not good enough. The hot dogs and pizza were welcome but there was nothing served that was authentically Canadian, except the cold.
By the time I arrived at the Genesis Cinema in East London (9:25pm), the performances of new writing were over. I was desolate. At home, I listened to BBC Question Time on the radio.
Friday 18 October 2013
If Kumar had tried harder, he could have got an 'A' in his GCSE mock. Instead he got a 'B'. This was enough for him to be entered into the exam in November. Still, 'B' is good.
In MARVEL'S AGENTS OF SHIELD, a group of red faced security guards got stung for diamonds. The diamonds are traded but never retrieved. The villain is an ex-SHIELD agent. A pattern is emerging. Lady O stayed up to watch THE BLACK LIST. I had an early-ish night.
Saturday 19 October 2013
If litter has a name, it is the contents of Kumar's pockets.
As I clear them up from the bookshelf, I ask myself: 'how many tissues does Kumar need?' I don't recall this from the 'ward supervision manual': 'if your man child is in the bathroom for half an hour, he isn't washing his face, or playing with a clothes hanger which, trust me, isn't a euphemism'. As I sang to him this morning – my way of saying 'get out of bed, you lazy pup' – Kumar told me to abate that sound. At least, I think that's what he said.
Today he attended a special LFF event at first BFI South Bank, then BAFTA, Later, I told him he first went there as a baby. He said something like 'no way' and I said 'way' and we traded contradictory positions for a while. At 16:00 I collected him from BAFTA and showed him the fancy dress store Escapade, which specialises in costumes for people who want to dress up as comic book characters or zombies – which I thought were the same. Kumar accuses me of being ungenerous. We do not find a GREEN HORNET mask. The sixteen year old tyke is distraught. What to do?
Sunday 20 October 2013
If Kumar was ever going to like PHILOMENA, I would have been surprised.
He didn't – but I did. I could not get Lady O to leave the house. No surprise, there. But I had two bites.
Ante-Meridian: I accompany Kumar to the Odeon Greenwich with me. We see PHILOMENA, which costs me 400 Odeon points (well spent). I enjoy, Kumar laughs but professes not to like it. We take a series of buses back to Finsbury Park – turning down paying £12 a pop to see DRINKING BUDDIES (it opens in November).
Post-Meridian: after a late lunch, Lady O falls asleep. I want to take her to the movies but she looks so comfortable. So I offer Kumar the chance to see SAVING MR BANKS at the Odeon Lee Valley. I have a ticket but not in paper format, so I photograph the ticket on my computer screen with my phone. Hopefully, this will be OK.
We head for Lee Valley. It takes three buses. On the W3 bus, I talk to a man who needs directions to where he is going. I don't know the road but he gets to the correct drop off point, just past the exit of Alexandra Park (Wood Green side). Kumar and I get to the cinema just in time, though not with enough time for me to do an old man's business – which is not a euphemism for putting a bet on a horse. The female ticket collector does not want to let us see SAVING MR BANKS – we need a paper ticket – but her male colleague is helpful. So we find our seats and the film has not yet started – Tom Hanks is being interviewed on the red carpet of the London Film Festival Closing Night Gala at London's Leicester Square, beamed to our screen. This is my only London Film Festival screening (see 9 October).
Kumar has an extreme emotional reaction to the movie – he loves it. But it reminds him of the day when running for a bus, I almost made it to that big cinema in the sky (March 2011). My reaction is straight-forward: loved the 'making of MARY POPPINS' stuff, less enamoured with the scenes set in Australia. Yet these, involving Colin Farrell as Travers Goff, moved Kumar so.
Kumar and I had a disagreement. Reader, he cried. But we made up.
Monday 21 October 2013
If THE INVISIBLE WOMAN is a good movie, I'm in the wrong profession.
I had hoped to take Lady O to see Ralph Fiennes' second film as director, but she had her Job Appraisal Mid Year Review (at the Bureau of Moving Things) and had work to complete. I waited outside the Odeon Covent Garden more in hope than expectation. She did not appear. Meanwhile, Kumar saw PRINCE AVALANCHE at Odeon Panton Street and fell asleep, an experience I repeated in Paris twelve days later (1 November).
Why is THE INVISIBLE WOMAN not good? It is about Charles Dickens' relationship with a young would-be actress who idolises him. But the love story isn't conveyed in a poignant way; nor does it illuminate Dickens' writing and living methods. It has good scenes but fails on two levels. Lady O didn't miss much.
Tuesday 22 October 2013
If Arsenal wants to win the Champions League, the football team cannot lose at home to Borussia Dortmund, 2-1. But reader, they did. Kumar attended Future Film Steering Group. I mourned my team's inability to avoid a late goal.
Wednesday 23 October 2013
If I hadn't been such a hoarder as a young man, I wouldn't have had to take delivery of 17 boxes and a set of movie lights. But, reader, I did.
I waited in for my kind brother to drop them over after a fruitless search for the component parts of Kumar's GREEN HORNET costume. This was not as the name might suggest a set of wings and some Baby Bio but a face mask, black waistcoat, green jacket, green tie and fedora hat. We found nothing that Kumar deemed suitable, though we toured the shops around Haringey Sainsbury's (including Poundland) as well as the Angel Islington and the top of Holborn. Kumar went to Film Academy and I went home.
Brother did not arrive until 20:00. He stayed until 21:30 but Kumar had not yet returned. Fortunately they saw each other as they passed. I was left panting and breathing heavily after lugging umpteen boxes up two flights of stairs.
Thursday 24 October 2013
If pandemics inspired good movies, there would be more of them. As it is THE FLU, which I took Lady O to see at Soho Screening Rooms is only one of a handful of movies that deal with killer germs, the others being OUTBREAK and CONTAGION. Lady O enjoyed it but I nodded off briefly towards the end. Kumar stayed at home and watched ANCHORMAN and episodes of THE BIG BANG THEORY and HOW I MET YOUR MOTHER – nerd TV.
Friday 25 October 2013
If costumes were easy to buy, Kumar would have got one already. As it is I was required to meet him at Escapade in Chalk Farm to buy a Red Mist outfit. This I should explain is the villain from KICK ASS as played by Christopher Mintz-Plasse, or as I call him, Kumar's role model. The costume retailed at £69.99 but retailed on line for £40 plus delivery. I spent most of the day phoning the store to buy it at the on-line price and collect it but it was permanently engaged. As it was I got £20 off the in-store price saving Kumar's pocket money. They also found a small one for him to try on.
Saturday 26 October 2013
If Comic Con were interesting, Kumar would have stayed for longer. I took him and a friend to the tube station in East London from where he would catch a replacement bus service. He waited over an hour to buy his ticket. As Red Mist, he received an appreciative handshake from a stranger – got to watch that. He only stated at Comic Con until 15:00. That's a con, all right.
After shopping at Canary Wharf, I failed to persuade Lady O to see DEMI SOEUR at the Cine Lumiere so went on my own. The film wasn't great but I noted that Josiane Balasko was a ringer for Angela Merkel – I see a satire coming on.
I failed to persuade Lady O to see THOR: THE DARK WORLD at a past midnight screening in Greenwich so went on my own. The hospitality was very pleasant and the setting for pre-screening revelry, the Painted Hall in the Old Royal Naval College in Greenwich was atmospheric. There were few people my age there so it was a rather lonely experience. One punter dressed up as Thor.
On the football front, Arsenal won 2-0 away at manager-less Crystal Palace. An Italian food store opened up in Stroud Green Road and served friends and strangers (including me) some tasty treats. Well worth a visit.
Sunday 27 October 2013
If a storm comes tonight, it'll probably knock over the bins. Kumar returned to Comic Con for a second day whilst I caught up with my sleep. I wrote and posted two pieces on THOR: THE DARK WORLD and THE FLU.
In the evening our dysfunctional family unit watched TOY STORY OF TERROR on Sky Movies, a Hallowe'en set rip off of TOY STORY 2 as well as two episodes of FALLON and 40 minutes of HOMELAND. The storm came....
Monday 28 October 2013
If there is a shoo-in for a Best Picture nomination, GRAVITY is it. I saw it with Lady O at Warner Bros. Preview Theatre. She was as impressed as I. As I only had a plus one, not plus two, Kumar made do with seeing CAPTAIN PHILLIPS at Cineworld Shaftesbury Avenue. However, he enjoyed his flick.
Tuesday 29 October 2013
If Arsenal were a better football club, they would not be out of the Capital One competition, losing to Chelsea 2-0. I'm glad I did not hear it. I spent a pleasant afternoon at the BFI South Bank watching shorts produced by students at the London Film Academy and attending a reception, where I met some of the filmmakers and their families. One actor asked me which shorts I had appeared in. I explained that I was merely a critic. It's the scarf, you see.
Wednesday 30 October 2013
If I had an alternative career, it might have been in the Foreign Office. I found a letter written by me as an English exercise in my 1W English Book (circa 1977). Me in the Foreign Office – perish the thought. I'd more likely be a Jedi Knight. I disposed of four bags of paperback books, donating them to charity then made dinner and prepared for my trip to Paris.
Thursday 31 October 2013
If I spent Hallowe'en in Paris what would I see? Plenty of cobwebs on bars but no fireworks. I did watch two movies: BLOOD TIES – not good - and THE YOUNG AND PRODIGIOUS T S SPIVET – very enjoyable. I walked through Paris in THIRD CONTACT T-shirt trying to manufacture a photo-opportunity ('THIRD CONTACT comes to Paris – sort of') but it was too dark. Hope you had a good Hallowe'en with less wasted shoe leather.