Here I am looking goofy at this year's Pittsburgh Independent Film Festival which took place over the weekend. I was there for my short film 'Last Remnants.'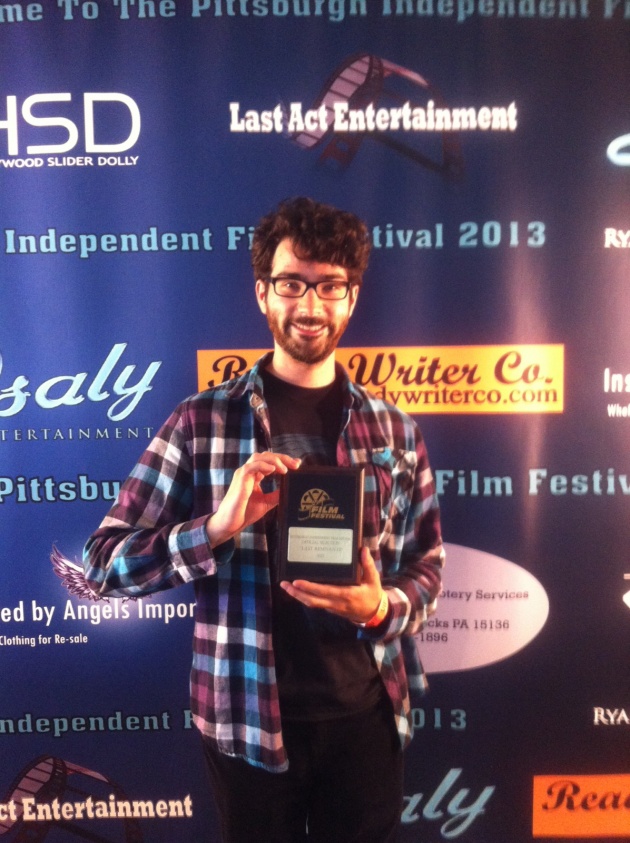 My film went over well (though it screened to a small audience as this is only the festival's second year and they are not kidding about the 'independent' part in its name, ohoho). People responded well to both the film's awkward, sad humor at the beginning and its strangely ominous tone at the end.
And I'd love to be able to show the full film here on Film Annex as well so you too could see both it's humor and strangeness, but I can't because film festivals are a funny thing and as such the majority of them won't accept films that are available freely online. This is staggeringly annoying for after spending a great amount of time and effort to create a short film one sure wants to be able to share it with the widest audience possible, but nope, if you want it to maybe screen in a film festival, you just can't share your work online!
I understand festivals wanting to have exclusive work and all but I won't lie...It's a dreadful nuisance for sure! 'Last Remnants' was finished in December of 2012 and probably won't be able to be publicly seen online til after October of 2013 or so...
So grumble grumble grumble. Perhaps if it continues to get into other festivals I will grumble less! Til then do check out it's teaser trailer right here on Film Annex: