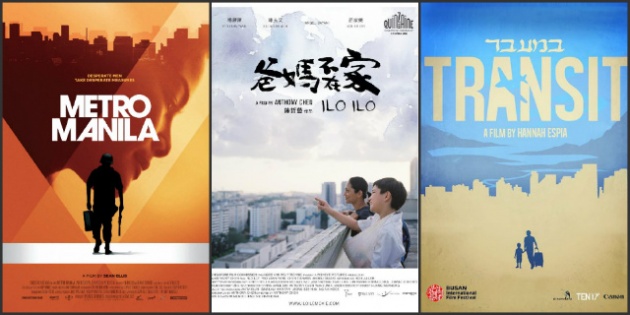 And finally, the Philippines, my homeland, submitted its Oscar Best Foreign Film contender. The film is called "Transit" which won 10 awards at the Cinemalaya Independent Film Festival. It's about overseas Filipino workers in Israel from director Hannah Espia who also took home the Best Director Award at Cinemalaya along with the Best Film trophy and Irma Adlawan for Best Actress.
But wait, there's more!
The United Kingdom chose "Metro Manila" as its nominee, while Singapore picked "Ilo Ilo." British director Sean Ellis helmed "Metro Manila" about Oscar Ramirez, a country boy who left the province for the big city in pursuit of a better life.
"Ilo Ilo" is from director Anthony Chen and it tells the story of a Filipina domestic worker from the Philippines province of "Iloilo" and how she witnesses the trials and tribulations of a Singaporean family with the 1997 Asian financial crisis as a backdrop.
Here's the complete submission for the Best Foreign Language Oscars. We will see if the Philippines scores a nomination when the official nominees are announced on January 16, 2014. Good Luck!
Australia - The Rocket, directed by Kim Mordaunt (Lao)

Austria - The Wall, directed by Julian Polsler (German)
Bangladesh - Television, directed by Mostofa Sarwar Farooki (Bengali)
Belgium - The Broken Circle Breakdown, directed by Felix van Groeningen (Flemish)

Bosnia and Herzegovina - An Episode in the Life of an Iron Picker, directed by Danis Tanović (Bosnian, Romany)

Brazil - Neighbouring Sounds, directed by Kleber Mendonça Filho (Portuguese, Mandarin)

Bulgaria - Colour of the Chameleon, directed by Emil Hristov (Bulgarian)
Canada - Gabrielle, directed by Louise Archambault (French)
Chile - Gloria, directed by Sebastian Lelio (Spanish)
Colombia - La Playa DC, directed by Juan Andrés Arango (Spanish)

Croatia - Halima's Path, directed by Arsen Anton Ostojić (Bosnian)
Czech Republic - Burning Bush, directed by Agnieszka Holland (Czech)
Denmark - The Hunt, directed by Thomas Vinterberg (Danish)

Dominican Republic - Who's The Boss?, directed by Ronni Castillo (Spanish)

Finland - Disciple, directed by Ulrika Bengts (Finnish)
France - Renoir, directed by Gilles Bourdos (French)
Georgia - In Bloom, directed by Nana Ekvtimishvili and Simon Groß

Germany - Two Lives, directed by Georg Maas (German)
Greece - Boy Eating The Bird's Food, directed by Ektoras Lygizos (Greek)
Hong Kong - The Grandmaster, directed by Wong Kar-wai (Cantonese, Mandarin)
Hungary - The Notebook, directed by Janosz Szasz (Hungarian)

Iceland - Of Horses and Men, directed by Benedikt Erlingsson (Icelandic)
India - The Good Road, directed by Gyan Correa (Gujarati)
Italy - The Great Beauty, directed by Paolo Sorrentino (Italian)

Japan - The Great Passage, directed by Yuya Ishii (Japanese)
Latvia - Mother I Love You, directed by Janis Nords (Latvian)
Lebanon - Ghadi, directed by Amin Dora (Arabic)
Luxembourg - Blind Spot, directed by Christophe Wagner (Luxembourgish, French)
Mexico - Heli, directed by Amat Escalante (Spanish)

Montenegro - Bad Destiny, directed by Draško Đurović (Serbo-Croatian)

Morocco - God's Horses, directed by Nabil Ayouch (Arabic)
Nepal - Soongava: Dance of the Orchids, directed by Subarna Thapa (Nepalese)

The Netherlands - Borgman, directed by Alex van Warmerdam (Dutch)
New Zealand - White Lies, directed by Dana Rotberg (Maori)
Norway - I Am Yours, directed by Iram Haq (Norwegian, Urdu)
Pakistan - Zinda Bhaag, directed by Meenu Gaur and Farjad Nabi (Udu, Punjabi)

Philippines - Transit, directed by Hannah Espia (Filipino, Tagalog, Hebrew)

Poland - Walesa, directed by Andrzej Wajda (Polish)
Portugal - Lines of Wellington, directed by Valeria Sarmiento
Romania - Child's Pose, directed by Calin Peter Netzer (Romanian)
Russia - Stalingrad, directed by Fedor Bondarchuk (Russian)
Saudi Arabia - Wadjda, directed by Haifaa al-Mansour (Arabic)

Serbia - Circles, directed by Srdan Golubovic (Serbian)
Singapore - Ilo Ilo, directed by Anthony Chen (Mandarin, Hokkien, English, Tagalog)
Slovakia - My Dog Killer, directed by Mira Fornay (Slovak)
Slovenia - Class Enemy, directed by Rok Biček (Slovene)
Spain - 15 Years Plus a Day, directed by Gracia Querejeta (Spanish)
South Africa - Four Corners, directed by Ian Gabriel (Afrikaans, Tsotsitaal)

South Korea - Juvenile Offender, directed by Kang Yi-kwan (Korean)

Sweden - Eat Sleep Die, directed by Gabriela Pichler (Swedish, Croatian)

Switzerland - More Than Honey, directed by Markus Imhoof (German, Mandarin)
Taiwan - Soul, directed by Chung Mong-Hong (Mandarin)
Thailand - Countdown, directed by Nattawut Poonpiriya (Thai)
Turkey - The Butterfly's Dream, directed by Yılmaz Erdoğan (Turkish)
Ukraine - Paradjanov, directed by Serge Avedikian and Olena Fetisova (Russian)

United Kingdom - Metro Manila, directed by Sean Elllis (Filipino, Tagalog)
Venezuela - Breach in the Silence, directed by Luis Rodríguez and Andrés Rodríguez (Spanish)