As part of Film Annex's relationships with organizations related to Afghanistan, USAid recently created a Web TV on Film Annex with several videos about their work and projects.
Here are the latest news on Mobile Money in Afghanistan. About mobile money, USAid says: "Mobile money allows people and organizations to transfer money instantaneously and in full to a "mobile wallet" account on a cell phone and withdraw cash as necessary at local retailers. In Afghanistan, 96% of people lack bank accounts, while about half the population now use mobile phones and service is available in most of the country."
This month, USAid has led the effort to establish the Better Than Cash Alliance, whose goal is to replace cash with electronic payments to improve transparency and promote financial inclusion. The UN Capital Development Fund, home to the Alliance's secretariat, hosted a panel discussion with over 200 people about new payment methodologies and access to modern financial services.
Last August, over 90 leaders from the Afghan government and mobile network operators (MNO) attended the Senior Executive Seminar on mobile money in Kabul. They shared thoughts on how to extend the payments sector and tested some mobile money applications. Since then, ministries and banks have met on several occasions and progress has been made in order to give government salaries and pensions via mobile money applications.
USAid is co-sponsoring the mWomen Design Challenge, as announced at this year's Social Good Summit in New York. This challenge's goal is to "engage the global digital design community in creating solutions that will make smart-phones more intuitive for women in developing countries who struggle with technical literacy." Due to illiteracy and a lack of knowledge about mobile devices, women have less access to mobile services in developing countries. This challenge aims to overcome those barriers by providing tools with simple interfaces.
A nationwide mobile money app competition was held this year in Afghanistan and received more than 5,000 submissions by students. 3 women were among the 8 winners. The application ideas focused on how mobile money can help the Afghan government provide basic services to its people. One of the female winner proposed an app that would help Afghan business women to easily access their money. She will use her prize money to start her own company.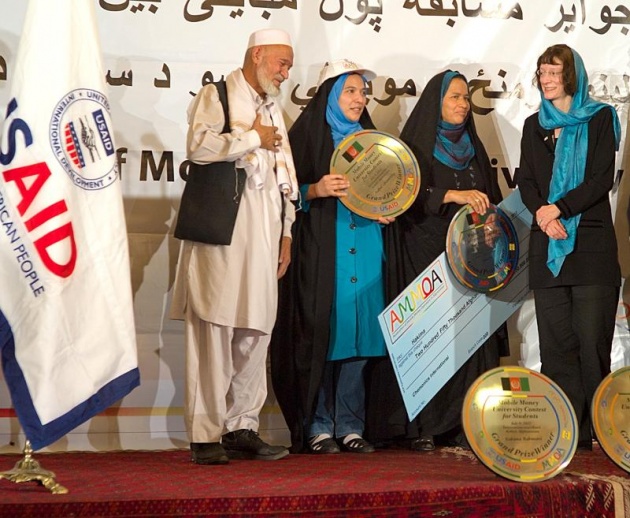 To know more about USAid and mobile money, visit USAid Web TV.