I often got asked where did I learn Calligraphy, and most of them cannot believe that it was just through social media such as Instagram and Facebook. Back in the last quarter of 2015, the year where I got interested in Calligraphy, I can recall some friends who also showed interest in the said craft. At that moment, although the source of materials and the knowledge about Calligraphy is very limited (compared to the current time) I am confident because I have enough courage and desire to pursue it as a "Hobby" because I know that I am alone. To simplify it, I learned this craft because I have a community that ,shared information knowledge, tips and even encouragement as a walk in this Calligraphy journey. It was a good time indeed!
Unfortunately, the fun only lasted a year because as I welcomed 2017, I stopped going to Art Meets and events because of work. Also, my calligraphy buddies became busy with their own career. I guess we all come up at the point of our lives where we experience downfall and lack of motivation, even in the things that we used to love. Hence, if we really love that thing, there will always be an urge to go back right? It might not be smooth sailing as before but indeed we can always go back to it. And maybe this is my way to find myself back to the craft that I used to love.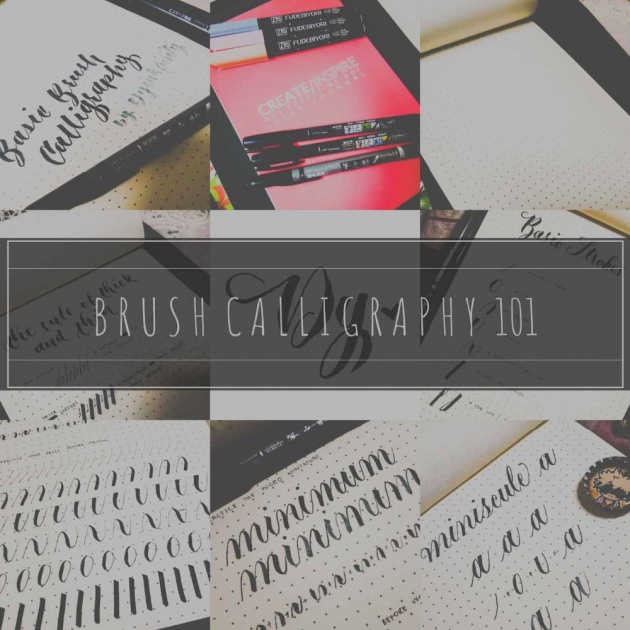 Photo Credits: Yannn via bitlanders.com
Okay, honestly the very reason why I am writing this is because of lack of topic. I cannot clearly think of any topic to write (I mean I have some in my mind but I think I am not ready to write about it. It feels like I need more time to think and to study about it, you get my point?) But now as I write this blog, I come up with my senses that I really wanted to share this knowledge with you, so I thought "Why not?". I haven't shared this to my Instagram Art account yet, but I guess this is the perfect medium to impart my knowledge about calligraphy. I am talking about "Basic Brush Calligraphy Tutorial".
"To build up your expectations, I am no pro in this craft (not yet maybe soon! If God will permit) I don't take all the credits in this Basic Brush Calligraphy Tutorial, I just obtain the same knowledge from different Artists I look up to. It's like merging all my knowledge from the different artist into one quick tutorial. Also, if you have some tips or knowledge that I wasn't able to mention here, please feel free to comment it in the comment section. I am still in the process of learning so I will gladly accept any tips coming from you guys."
So, shall we start?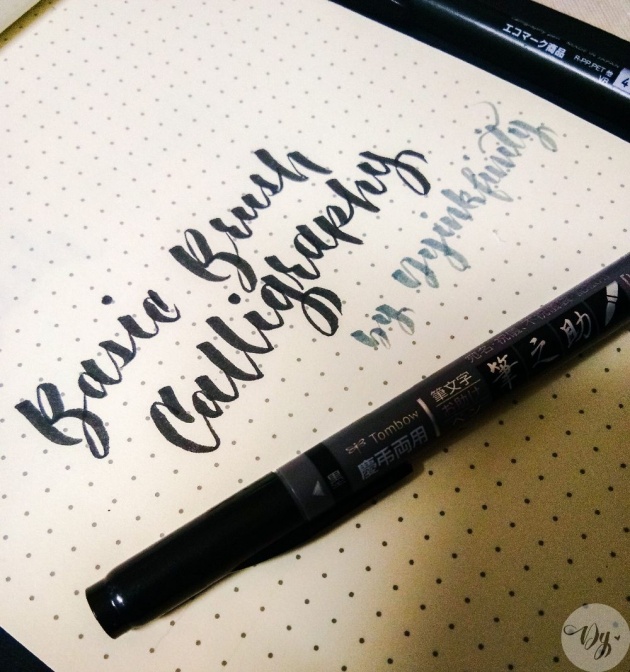 Photo Credits: Yannn via bitlanders.com

WHAT IS BRUSH CALLIGRAPHY?
Wherever you are in your calligraphy journey, brush calligraphy is a great way for beginners to learn. The ink is already loaded and there are plenty of options to choose from when finding a pen you like.
Video Credits: Pieces Calligraphy via youtube.com

Brush Calligraphy might be the most famous medium of Modern Calligraphy. Aside from the availability of the materials (where you can find them in every bookstore now), the level of difficulty of it is less challenging compares to Pointed Pen Calligraphy (based on my experience). Although it's easier than Pointed Pen Calligraphy if you really wanted to learn you'll be needing a lot of patience, courage, and consistency in your pocket. Because this isn't a game that if you wanted to move forward, you'll use some cheat to advance, you need to work hard for it. But also, there isn't a game over in this craft as long as you don't give up. Enough for drama and let's get going to the real thing here.
STEP 1: KNOW YOUR MATERIALS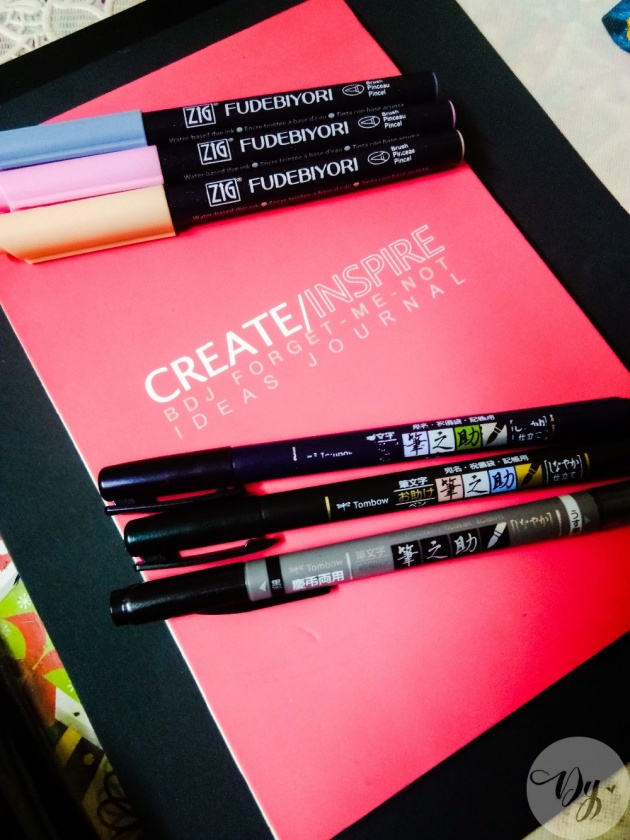 Photo Credits: Yannn via bitlanders.com

Now that you know what is Brush Calligraphy, let's first start off with the proper materials to use. Take note that I used the word "Proper Materials" right there. In the broad world of Calligraphy where brands and people tried to explore materials what to use, keep in mind that choosing proper materials will not just make your output well-done but it also prevents your materials to last longer, especially your brush pens. Here's my say to beginner's Brush Calligraphy Materials:
Oops before that let me just say this,
Disclaimer: The brand of materials mentioned in this post was not sponsored in any matters. Upon mentioning such brands, it is my own choice to include them in this blog. No one paid me to promote or to advertise the said brands. All is well.

• BRUSH PEN •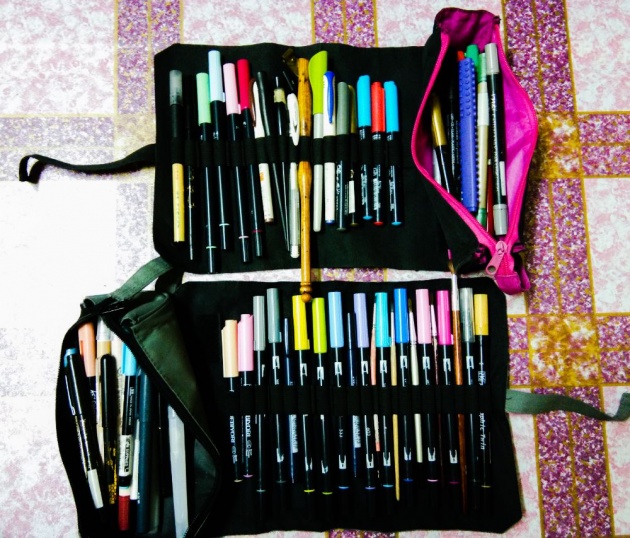 Photo Credits: Yannn via bitlanders.com
The main tool to accomplished Brush calligraphy is no other than, brush pens itself. If you're already familiar with Brush Calligraphy you probably know that there are tons of branded and generic brush pens all over the world. You might be wondering, "Which brand should I trust? What type of brush pen should I buy as a beginner? Does the price matter? Should I buy colored Brush pen or just start with black first?" Hold up a second. All those things matter but as a beginner, you don't need that stress much at the start of your journey. Relax and enjoy the journey.

So, I'll be sharing with you not just my favorite brush pen but also my trusted one.
ZIG FUDEBIYORI
Zig Fudebiyori is a beginner friendly brush pen. It's a solid, hard tip brush. This is my first ever tool to use as I practice Brush Calligraphy. I highly recommend this brush for beginners because using Zig fudebiyori will train your hands in doing the "Thick and Thin Rule" of Brush Calligraphy. If you master this rule using this tool, it will be easy for you to manage and use another brush-tip tool.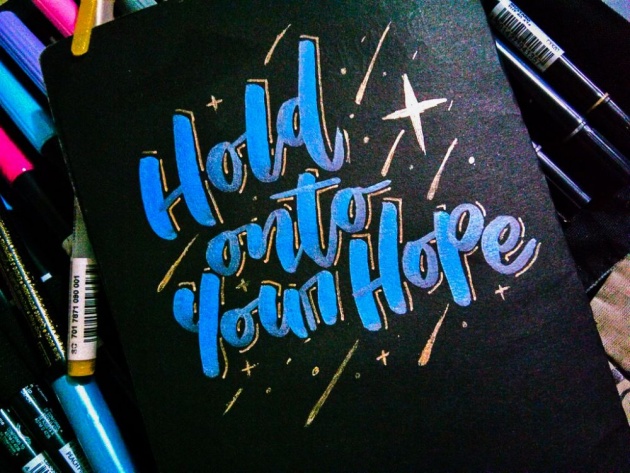 Photo Credits: Yannn via bitlanders.com
Here's my review for Zig Fudebiyori:
Quality: High – Almost all of my Zig Fudebiyori brushes are still alive, after years of using it (except those brush that retires already because it ran out of ink)
Brand: Well-known – Zig is famous not just in the Philippines but it is known worldwide.
Price: Affordable – Compared to other brush pens, the price of Zig Fudebiyori is affordable and acceptable. The last time I check, Classic Fudebiyori costs Php 65.00 each, while the metallic ones range from Php 100.00-150.00 each.
Availability: Easy to find – Based on my observation there are several stores (whether online or physical stores) who caters the said brands. That even include the huge bookstore in the metro known as National Bookstore.
TOMBOW FUDENOSUKE
Tombow indeed has a lot of different type of Brush pens as well as Zig. But as for beginners, I would suggest using Tombow Fudenosuke (Fine Tip). It's a solid, hard tip brush just like Fudebiyori but the only difference is the tip. Fudenosuke has a smaller and fine tip compared to fudebiyori. It's an ideal brush pen for long messages or just your normal handwriting. Also having a fine tip, it will be easier for you to control the "Thick and Thin" process, but the distinction between the thick strokes and thin strokes will not be that distinctive unlike the output when using Zig Fudebiyori. But it's still worth a try!
I've been a huge fan of Tombow since 2016, it's been my Dream brush pen. So, knowing that it will be available here in the Philippines really made me happy. Indeed it was my favorite Brand of Brush pen since then up until now.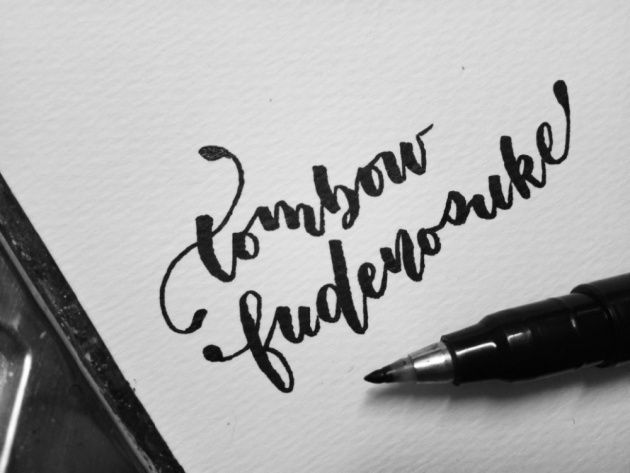 Photo Credits: Yannn via bitlanders.com
Here's my review for Tombow Fudenosuke:
Take note that these two are just a few of many choices among great Brush pens, but these two are my personal and favorite pick. Remember that you are free to choose what Brush Pen you will use, I suggest you use the one that you're comfortable with. Also, sometimes Brush Pens doesn't rely on the "Brand name" try to explore and find the tool that suited you and your style. You can also read my previous blog about my favorite brush pens here, Calligraphy 101: My Top 3 Favorite Brush pen brands.
• PAPER / NOTEBOOK •

People often think that any quality of paper will do in doing Brush Calligraphy. But I highly suggest for beginners to use 100 GSM smooth papers. Rough texture papers such as Oslo papers are not healthy for our dear Brush pens. Aside from it will make your brush pen fray, it will absorb more ink that will allow our pens to be dried easily.
Even before I begun to be a Calligrapher, it has been my hobby to hoard different kinds of a notebook, not just to store it as a collection but to use it as well. So, when I become a Calligrapher and some friends taught me what paper should I use, I tried to explore as much as I could. And luckily, I found some good papers to use. But as a beginner I recommend you to find a Calligraphy pad with formats or worksheet. Ms. Alexis Ventura and Ms. Fozzy Dayrit have their own exemplary. But if you wanted to start simple, find a Lined, Dotted or Grid notebook. That way, it'll be easy for you to track your strokes and font.
BELLE DE JOUR DOTTED PAD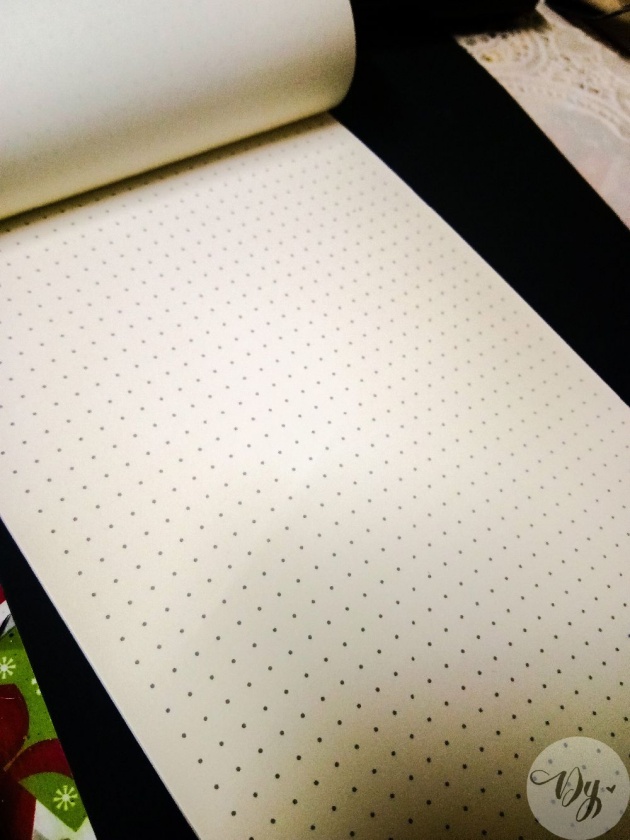 Photo Credits: Yannn via bitlanders.com

My recommendation is this dotted notebook from Belle De Jour. Actually, I am not fully aware that BDJ has this kind of notebook (all I know about them are their girly and cutie planners). Finding this dotted notebook is such an accident, I was rooming around on National bookstore last Manila International Book Fair when someone offered me this notebook. (I included it on my previous blog, you can check it out here.) And upon trying it, it surprises me because it actually has a good quality, plus I only got it for a cheaper price.

Here's my review for Belle De Jour's Dotted pad:
Quality: Good – Still testing this pad though, but so far so good I can say.
Brand: Known – I believe BDJ has its name in the Industry (They have been our loyal sponsor during school events way back years ago)
Price: Expensive – All in all the brand BDJ is expensive especially their planners. But this dotted pad's price is reasonable. The regular rate of the dotted pad is Php 180.00 but since I got it in a special event, I got 2 dotted pads for the price of one.
Availability: Rare – The planners are visible but I rarely see the dotted pads in the bookstore. So, I assumed that they just newly launched this last year.
GRID PAD FROM DIVISORIA
Another pad recommendation (as I mentioned earlier is a grid paper/pad), you can find some in Muji specialty store. But since it is a well-known brand expect that it will be quite expensive. But as I explore for useful and worthy materials, I found a gem in an unexpected place and surprisingly it's a good one!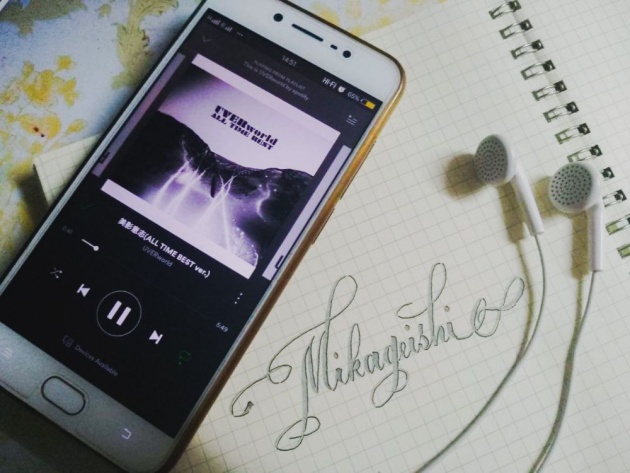 Photo Credits: Yannn via bitlanders.com
We were looking for some Christmas gifts in Divisoria last year when I bumped into a store where they sell a grid pad. My officemate is looking for a notebook for her daughter and this dotted pad suddenly caught my eyes, but unfortunately, there is only one stock left. So, I decided to give it to her instead and get the grid pad instead. Besides, I'll be just using it as a practice pad so no worries.
Here's my review for Grid Pad from Divisoria:
Quality: Good – Surprisingly, bought this from a crowded and a place such as Divisoria I must admit that it exceeds my expectation. I even used the pad with watercolor sometimes. (though the wet and wet technique is not recommended in this pad)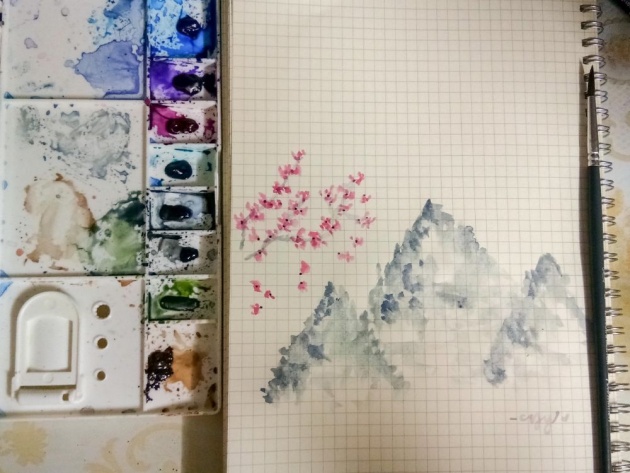 Photo Credits: Yannn via bitlanders.com
Brand: Generic – It doesn't have a specific brand. Although as I said earlier, Muji produces quality grid pads.
Price: Affordable – Yes!! This grid pad is actually affordable. I bought it for only Php 150.00. While if you will buy it to some specialty store it will cost you about Php 300.00 or more.
Availability: Rare – Although Divisoria is known as a place where wholesale materials are being sold, it still gives us difficulty to find such pad. Gladly, we found a gem in this kind of place!
STEP 2: THE RULE OF THICK AND THIN

After we familiarize ourselves with materials, we should begin studying the fundamentals of Brush Calligraphy. One of the most important things to learn is the "Rule of Thick and Thin".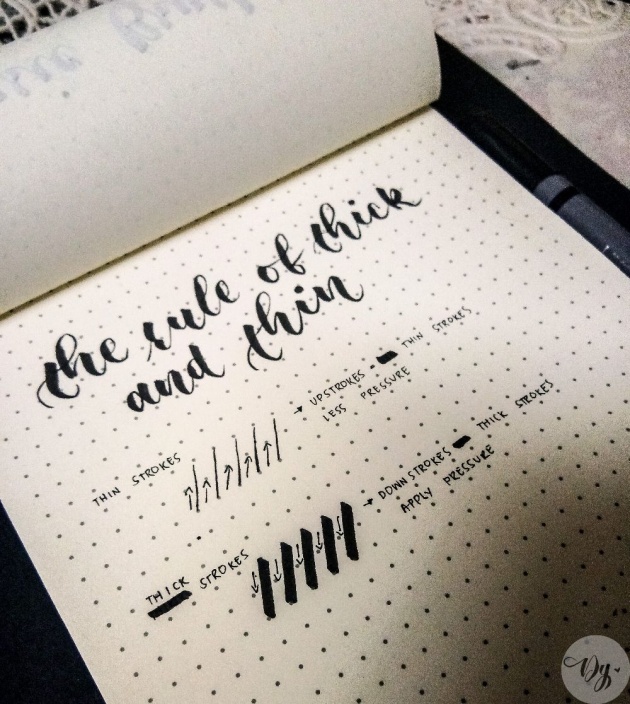 Photo Credits: Yannn via bitlanders.com
Commonly mistake that beginners commit is related to this rule. Calligraphy isn't the same just like your handwriting, where it's free-flowing and no distinction. But in Calligraphy, you'll be able to identify two different strokes. There's a "thin line" and there's a "thick line".
I supposed every calligrapher went to this stage where before proceeding to write letters, words, and sentences. Frankly speaking, before I was able to write a proper word with "Thick and Thin" I practiced non-stop with the "Thick" and "Thin" Line. Upon accomplishing the "Thin" line, move your pen upwards with less pressure from your hands. Repeat it until you achieve the perfect thin line and create muscle memory. While studying the "Thick" line is less stressful than doing the "Thin" line. Start moving the pen downwards applying pressure (have enough pressure to create a thick line).

Here's a short video of me doing the thick and thin rule.
Video Credits: Yannn via bitlanders.com
It seems easy as 1,2,3 but I'm telling you that it will require your consistency to build up good muscle memory. If you succeed doing this rule then it will be easy for you to conquer Brush Calligraphy and be good at it in no time!

So I guess I'll end the 1st phase of my Basic Brush Calligraphy tutorial here, stay tuned on the 2nd part of my Basic Brush Calligraphy Tutorial for more tips.
Thank you for reading everyone!
Have a great day!