Image Credit: @artbytes via bitlanders
A picture paints a thousand words!
Unfortunately, you can not just upload one picture here in bitLanders and call it a blog post. We all know very well that we need more than 250 words to get our blog at least a one-star rating. And to get more stars, we need at least a thousand words and ten pictures. Often times we also need to put some words on a picture itself.
Some of the top-earners here in Bitlanders like Jean-Beltran, Sharon-Lopez, among others (this author included) are using Canva to create eye-catching web and social media graphics.
Canva is a free graphic-design tool website, founded in 2012. It uses a drag-and-drop format and provides access to over a million photographs, graphics, and fonts. It is used by non-designers as well as professionals.
Two weeks ago, however, I learned about another web-based graphic-design tool from a post from mostlyblogging.com. Pixteller: How to Make Dazzling Inspirational Images.
The graphic-design tool is named PixTeller (http://www.pixteller.com).
As my title says, I am going to let my pictures tell my story on this blog. Of course, I still need to include at least a thousand words in this one. In this post, I will share with you the following:
My First Encounter and Quick Tour on Pixteller
How I won a free premium account
What is Pixteller
My initial review of Pixteller.
What you can do with Pixteller
Features of Pixteller
First Encounter and Quick Tour on Pixteller
The blog post I mentioned above came with a contest. Janice Wald, the owner, and main author of mostlyblogging.com invited the readers to post comments to join a contest. 4 commenter will be chosen randomly to win one of the free lifetime Premium Account given by Pixteller.
Before I entered my comment, I went to the site www.pixteller.com first and gave it a try. Since I am using a tablet, I was half expecting that a web-app like this one will not work properly or it will be too slow. However, by simply enabling the Desktop Site on Chrome, I was able to use the web editor with ease. It was relatively fast too.
After a quick tour on Pixteller, I made my comment.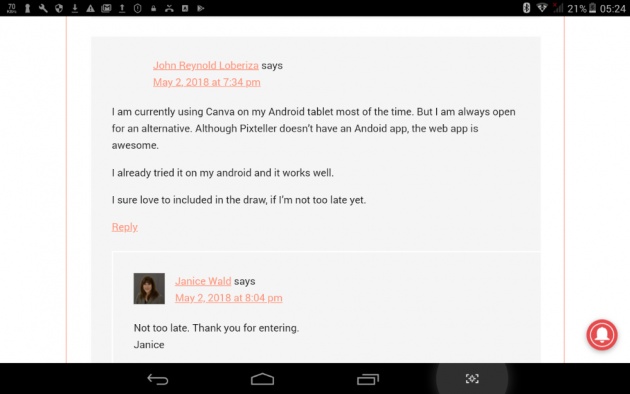 The comment I entered on mostlyblogging.com
Image credit: @artbytes via bitlanders
I have not given it another thought after that. After a few days, I tried to make a title graphic for my blog "Road Trip To Panay", but I got an error this time.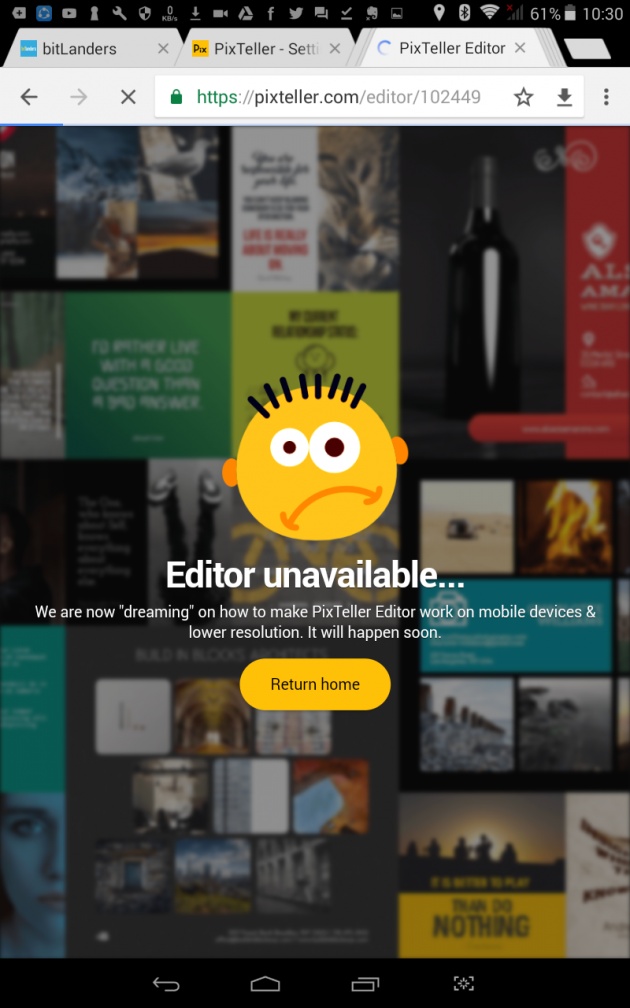 This is the error message that appeared on my browser.
Image credit: @artbytes via bitlanders
I thought, maybe I tried to open a high-resolution template, or maybe it was because of my slow Internet again. I was sure I had it working before. (I forgot to click on the Desktop Site this time). I dismissed the error and created the graphics using Canva for Android instead.
Free Lifetime Premium Account
On May 7, I received an email from Janice Wald.

The email saying I won a free premium account.
Image credit: @artbytes via bitlanders
True enough, there is another email from Janice Wald with the instructions how to claim my Free Lifetime Premium Account on Pixteller. I followed the instructions and entered the code.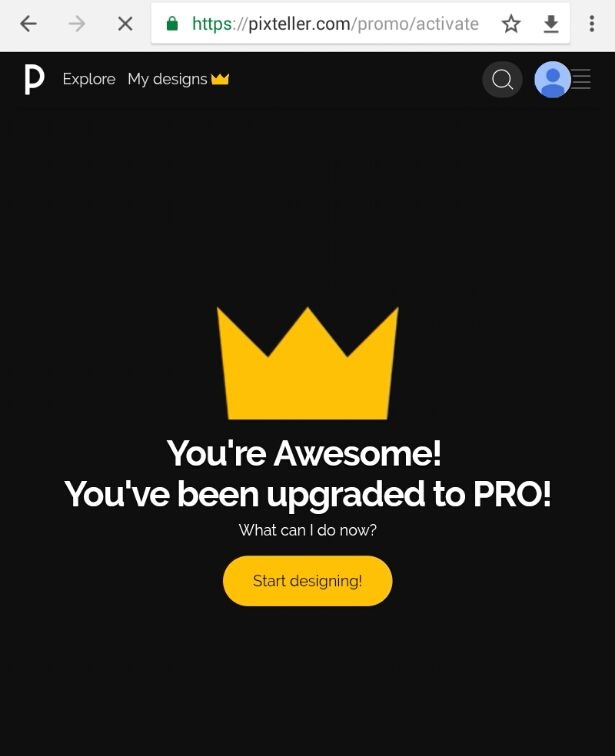 Upgraded To Lifetime Premium Account
Image credit: @artbytes via bitlanders
What is Pixteller?
Before I describe what I got with the Free Premium Account, let me tell you first more about Pixteller. Better yet, let me borrow the words of Janice Wald from her blog post;
PixTeller is an easy-to-use graphic design tool you can use to create or customize any image in seconds.

Design engaging images, social media covers, banners, digital ads, print materials or any other design in seconds.
Video Credit: Alexondru Roznovat via YouTube
Graphic Design Tool - Alternative to Canva
As I have mentioned above, many bloggers including myself are using Canva as a graphic design tool these days. Suffice to say, Pixteller is a great alternative to Canva.
I have been using Canva for Android for quite a while. Unfortunately, I cannot use the web application on my Android Tablet, thus I cannot compare the two directly.
My Initial Review on Pixteller
This is just an initial review. I created my first graphic using Pixteller three days ago only.
Then I remembered that I need to switch to Desktop Site, in order for me to use it on my tablet.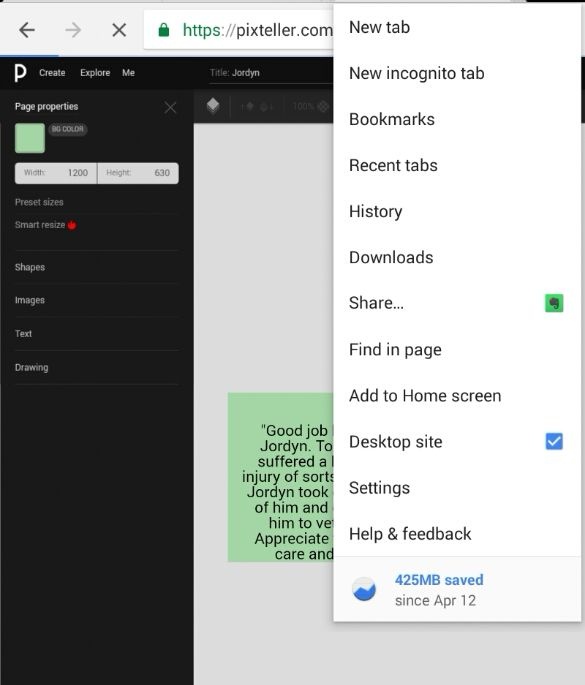 Switch to Desktop Site
Image credit: @artbytes via bitlanders

What you can do with Pixteller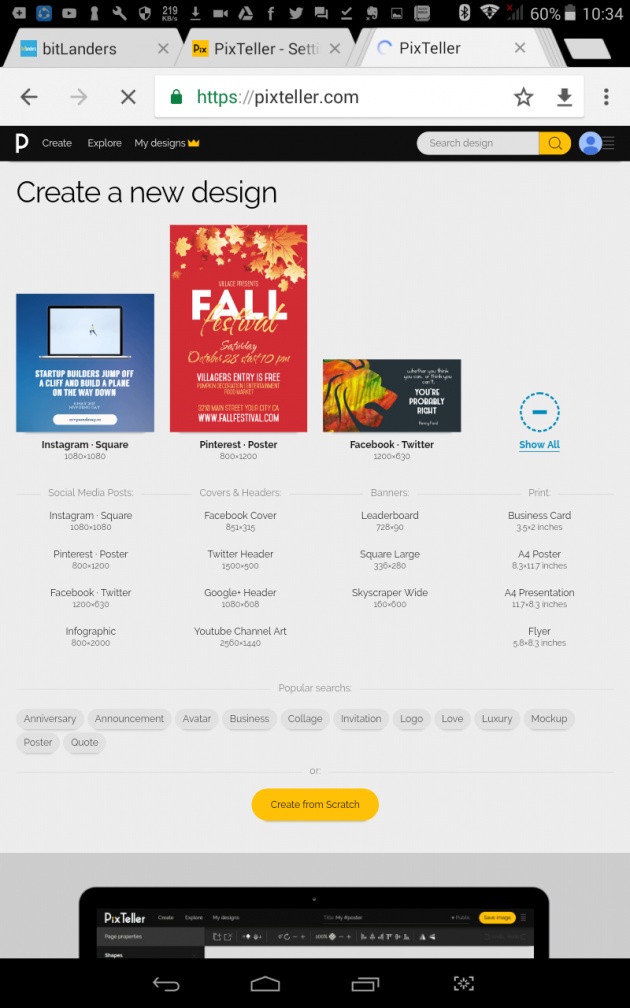 Pixteller landing page
Image credit: @artbytes via bitlanders
With Pixteller, you can create images for almost any social-media or web banners, e.g.:
Instagram
Facebook Header
Facebook Post
Twitter
YouTube Cover
Web Headers
Leaderboard
Skyscrapers
Infographics
Or you can even create layouts for print.
Calling Cards
Poster
Presentation
Flyers
I was even able to create a design for a custom mug.

1800 px by 600 px mug design
Image credit: @artbytes via bitlanders
You can create these graphics by using any of the thousands of existing templates or you can create your own from scratch.
Pixteller Features
For the free account or known as "Forever Free" has the following features:
Main Editor Features
Unlimited Storage
Over one million free photos
Over 10,000 free shapes
The Premium Account or Pro Account comes with the following features:
All Editor Features
Unlimited Storage
Over one million free photos
Over 100,000 free shapes
Access to all designs
Color Gradients
Transparent PNG
Custom Fonts
Save as Private

-reference: https://www.mostlyblogging.com/
I still have to explore the advantages and added features of the "All Editor Features" compared to the "Main Editor Features". One thing that I love about Pixteller though is the 'Filter' Feature.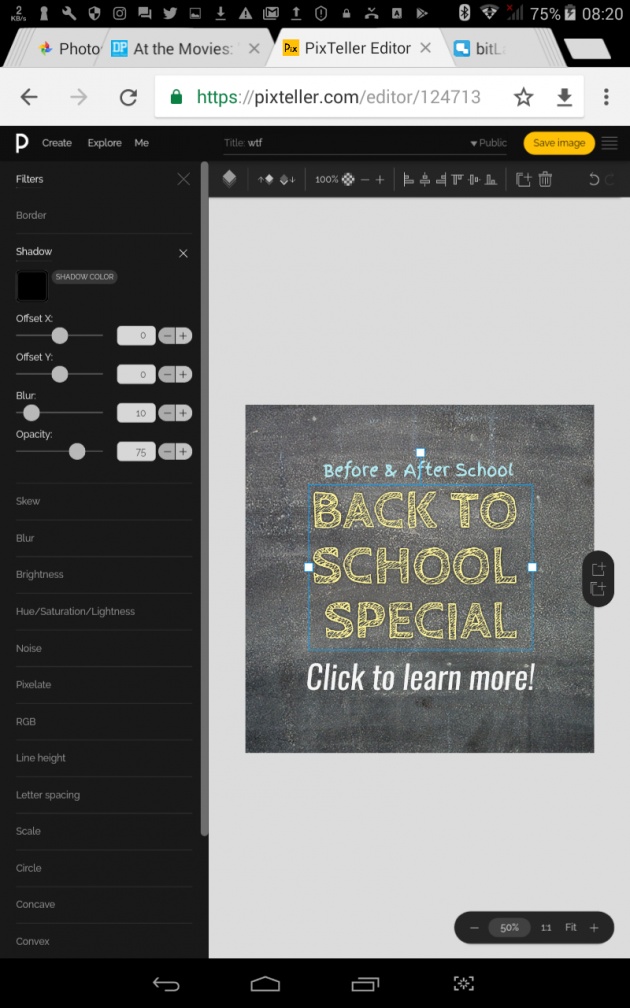 Some of the filters available on Pixteller
Image credit: @artbytes via bitlanders

Some of the filters that you can apply to almost any objects are:
Border
Shadow
Skew
Blur
Brightness
Hugh/Saturation/Lightness
Noise
Pixelate
RGB
These are just some of the features under filters. Different object types have additional filters. At the moment though, I'm not sure if these features are available on the free account.
I am particularly fond of the 'Shadow' feature. I always use a drop shadow, especially on text to add contrast between the text and the background and to give it a three-dimensional effect.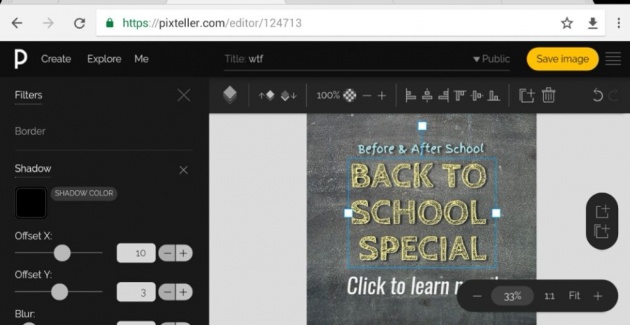 Adding shadows to text
Image credit: @artbytes via bitlanders
Wrapping it Up
Pixteller is true to its words that you can create eye-catching designs in seconds. When I created the personalized mug design, I was only using my mobile Internet and getting less than 1 Mbps of speed. However, even with my slow Internet connection, I was able to finish my design in a few minutes. That included the time consumed when I searched for the background image.
When I created my first design on a desktop computer with up to 3 Mbps Internet speed, I was able to finish the design in less than a minute.
Since I am using my tablet most of the time, Pixteller has the features that I was looking for that Canva for Android could not provide. Plus I can create my own design from scratch.
So if you are looking a graphic design tool as an alternative for Canva, Pixteller is the best alternative that I have used so far.
I will make a more detailed review and tutorials on how to use Pixteller in the future. For now, let me leave you with a tutorial made by Alexondru Roznovat.
Video Credit: via YouTube

Thanks for reading.
~oO0Oo~
John Reynold Loberiza (a.k.a @artbytes) is a freelance graphic artist, web developer, and blogger. He is also a licensed Financial Advisor under Insular Life.
The content of this blog post is the author's original work. Proper credit is always given to the respective sources of information and images. Please feel free to check out my other blog posts: http://www.bitlanders.com/Artbytes/blog_post
If you have any reactions or inquiries regarding the subject of this post, please write it in the comment or send the author a private message.
If you have a reaction or want more information or you have some questions regarding this post, feel free to post a comment below. You can also:
Visit my personal blog: https://jrlcentral.xyz
Follow me on Twitter: http://www.twitter.com/jrlcentral
or email me: jrcreativeideas@gmail.com
~oO0Oo~

JOIN BITLANDERS
If you are not a member of bitLanders yet, you can join bitLanders and start earning from your contents by clicking this link: http://bit.ly/Join_bitlanders