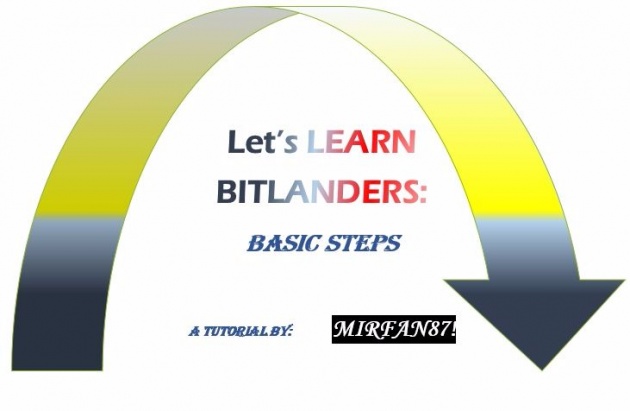 Image source: personal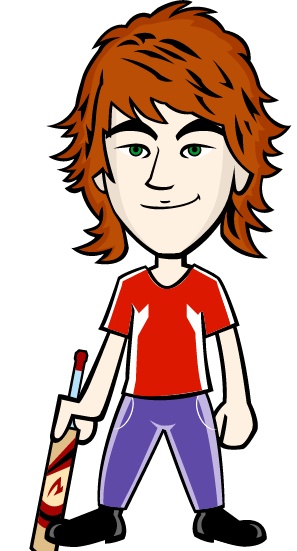 My Avatar :)
Before start to discuss about my topic "Lets Learn Bitlanders! Basic Steps" I want to introduce myself to all of you. My name is Muhammad Irfan and I joined bitlanders as Mirfan87 when one of my bestie MubashirNNN (Bitlanders user) told me about this site. He explained that there is a web called "Bitlanders" on which we can earn if we do our social activity. As it was very good to hear such thing and I thought about starting working on this web.
But for doing proper working I have to get answer that what is bitlanders? So, I started exploring out from the website and I found a way to operate this website with ease and in a meaningful way. So what I found there, i will share those ideas with you in this blog. I Hope when you will read this blog completely then you will be able to understand what Bitlanders is and how we can use it in a proper way.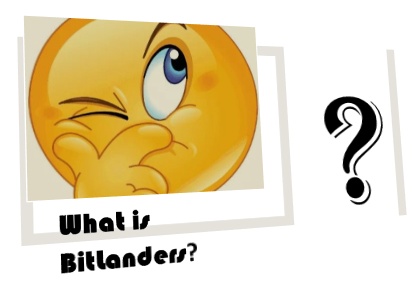 Image source: personal
Of course, bitlanders is rewarding social platform and game where you are ranked with a Buzz Score. Increase it by uploading and sharing content, bringing your friends, getting followers, and interacting with them. I hope everyone know this and this is the reason for which we all joined this website. Everyone wants to earn and this site being a rewarding site give rewards to its user. But How? Yes but how, I will explain it today so don't worry and panic my dear fellow readers I hope in the end of this blog you will come to know each and everything about such a wonderful rewarding platform. I am pretty sure that you will get all answers about your questions in this blog. So have tolerance and study this thoroughly. Below here I goanna talk about man things in detail.
Now it's time to answer the questions that are rising in your minds. So my dear BITIZ! For me Bitlanders is a game where we come to make score and that score is called "BUZZ". I hope now you will ask what BUZZ SCORE is? Relax Guys, just above in blog it is mentioned if did not notice it then I will explain each and everything.
BUZZ SCORE is the bonus or reward through which we get by posting, sharing, uploading our contents with our friends/followers.
Remember you first day my dear buddies when you joined this web? On very first day when you made an account here you all were asked to do your initial tasks. Those tasks were very simple and everything is hidden in that tasks.
Graphical Representation of Buzz Score is here for better understanding my dear followers. The image below is clearly telling about Buzz Score definition. There are many ways to earn a Buzz.
Graphical Representation of Buzz Score:
Image source: personal
Above Picture is clearly showing the ways to earn buzz score or bonus. Now it will worthy to explain about the items shown above. So my dear followers it will not be a new thing for all of you to learn the steps that I will show here. I am just doing it for your better understanding or for those users who really feel hesitate to ask about buzz score or bonus or for those who are always searching ways for getting buzz score. So I am going to start my work.
Uploading and Sharing:
First of all, what is Uploading & Sharing will be discussed here. And this includes different parts. Because on bitlanders we can share or upload our contents in different ways. In general, we have four buttons in our wall of profile from which we can share, write and upload our material.
Such as,
1. Write Microblog (Post short status updates, questions, thoughts, pictures, etc.)
2. Write Blogs (Write quality blogs of your own)
3. Upload A Movie (High Quality Movies)
4. Add a Photo gallery (Own Pictures are useful)
We can upload write and share any kind of content what we want by click a + sing button which is available on right above corner of our screen when we sing in to our bitlanders account.

Image source: personal
Submit Content For Review:
Now my dear readers, another and most powerful way of getting a high buzz score is to submit your content for review. My Dear fellow readers content review meaning is that when we can submit our Blog, Movie and Gallery for review then the Bitlanders team review it and we get result of our content, hence rating of content is shown by giving stars to our content. Hillary_Summers is the team member of reviews the contents.
Please note that, Submitted contents may receive additional Buzz bonuses depending on their quality. Higher quality contents will receive higher scores and higher bonuses.
I will share some snapshot of my Blogs who got stars when I submitted it. And please note down my colleagues, we require gems to submit our content for review. Minimum 10 gems are required for each time review. So please don't waste it my friends. Your gems are your power, save them for better use.
For more information about writing blogs please go to the link http://www.bitlanders.com/pages/customer_support/
Video about submitting a blog for review
Source:
www.bitlanders.com/movie/submitting-a-blog-for-review/151771
When review is received from Miss Hillary, users are provided stars for their work. The rules of reviewing a blog is right of bitlanders and they give rating to blogs according to work. So different blogs get different stars accordingly. You can see the reviewed blogs in my profile as well many other users by clicking the name and just opening the blog button. You will notice that there are stars marking on reviewed blog. So, I am sharing some pics of reviewed blogs.
My reviewed blog getting 4 stars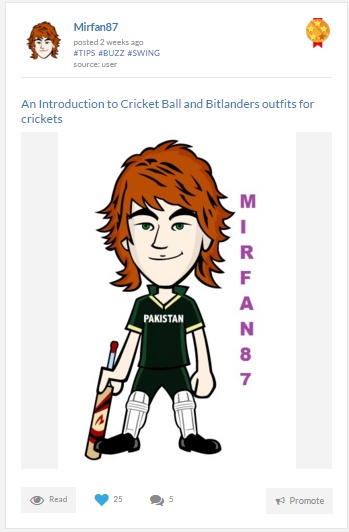 Buy Avatar Accessories:
Another way for earning buzz score is to buy things from bitlanders shop for avatar. The buzz bonus is depend on the item you purchase. We can use gems or bitcoins to buy those items.
There are many items regarding decorating Avatar so we can go to shop a one for ourselves.
By Donating:
Bitlanders being a rewarding platform is providing an opportunity to his users to donate their rewards to some popular charities which are working with bitlanders. So at bitlanders we can share and give our helping hand to others who really deserve our help. Many victims have been provided help through this platform.
To donate is not just a way of providing here, but when a user share his reward with charities he/she is given a reward in form of Buzz Bonus that is very necessary in this web to earn a good rank and reward.
A list of charities can be found in shop.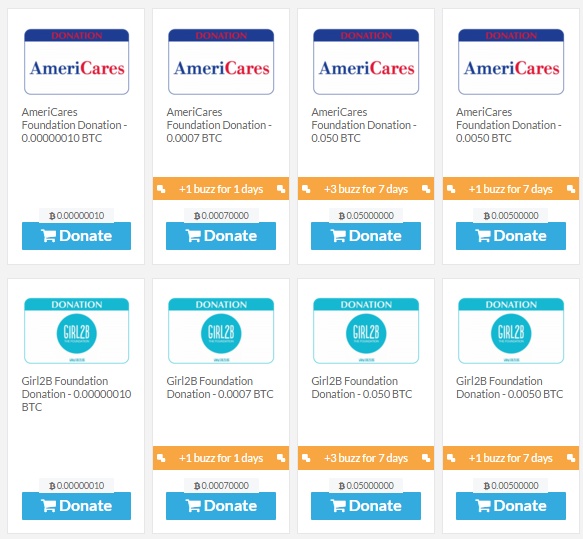 Screenshot
My video tutorial about buying Avatar dccessories and for donating to Charities
Source: Personal video
Bring a friend/Daily Buzz Bonus:
Every day when a user come online at this web, he is provided a daily buzz bonus and is a part of Daily quest task that is given to all users on every new day. This quest task keeps the buzz score up and all user do this task regularly for maintaining a good buzz score.
Now Daily Quest task has a task of Bring a friend. This part is used by many users who introduced other users to this website by their referral link. The best part of this option is that when a user bring a friend here is given a Buzz bonus equals to +3 Buzz for 2 days and also he will receive 20% reward of his referral for lifetime. This sound good and really a good option. To get a reward for lifetime is really a handy one. I hope everyone wants this.
Fulfill Daily Quests:
A daily quest box is provided to every user. Upon completing this quest he is provided with Buzz Bonus which normally stables for one day and expires automatically.
This quest includes some daily task like,
1- To watch 5 Videos
2- To Read 5 Blogs
3- A new task introduced containing +10 buzz score
4- Bring a friend on Bitlanders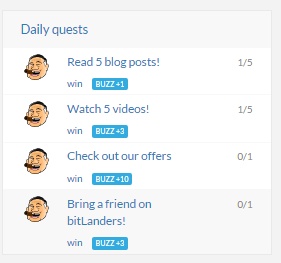 screenshot
Receive Buzz and Followers:
Every user can receive buzz from the followers. All time when we upload or share some contents on our page. Our followers come onto that and hence we receive buzz from them. So, this is a very sound way to receive buzz from our followers, We must share some quality content to get follower to our page. This buzz score increases our influence and rank at bitlanders.
Now in the end I will share a pic containing tips for better working at bitlanders. Every user must follow this for getting good buzz score and a nice rank. This rule is for every user so feel free to do this.
The tips are here.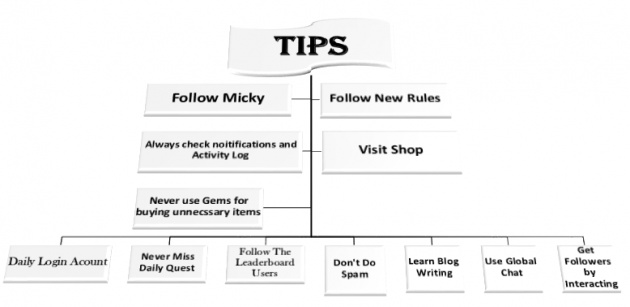 Source: Personal
In the end, I hope that you enjoyed reading it and hope that you will get benefit from it.
Wish u good luck my dear followers!
Stay safe , stay connected
Happy Life!