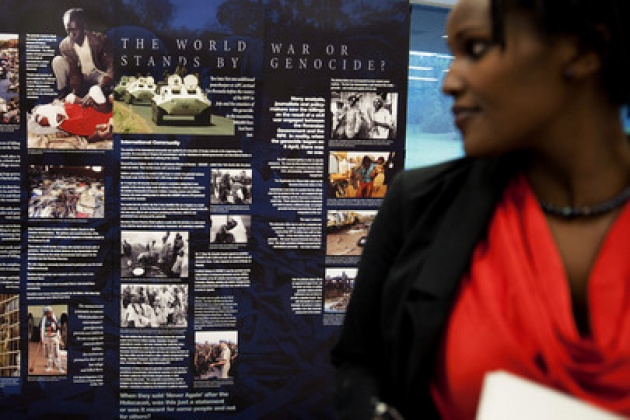 Around 800,000 Rwandans, mostly ethnic Tutsi, were massacred by Hutu militia and government forces over a period of just 100 days in the spring of 1994. In response to this collective failure and in an effort to learn from the past, the United Nations outlined an action plan for the prevention of genocide in 2004. The Rwanda Genocide is observed by the UN every year on April 7 (although this year most UN ceremonies occurred the following week due to scheduling conflicts)
"Book of Life"
"The Book of Life," is a collection of letters "from the living to the dead," written by widows, orphans and perpetrators to their lost loved ones and to their victims. The idea for the project came to artist Odile Katese as she witnessed the pain Rwandans were experiencing recounting memories of those who had been killed. It prompted her to find a way to revisit the genocide "in a more peaceful way because we have to make peace with our history." Artist Odile Katese was in exile at the time. Despite being far from the killing, she was not immune to the deadly events and their repercussions. Returning three years later, she barely recognized her country.
"The one thing that seemed to hurt Rwandans the most was the fact that the victims were dead and nothing else, What if we could create a very symbolic way of keeping in touch and, in this way, somehow bring peace to both the dead and the living," the artist said, adding that the writing process itself was healing and essential. "I think it is really important to write your pain and nostalgia. You feel lighter and more serene." (From UN News Centre)
"Remember & Move Forward:
Seeking to "balance the testimonies," the project aims to create a more serene and peaceful space from which Rwandans can revisit and process the genocide, so that they can move forward, the artist said. It seeks to put a more "human face" on the lengthy list of names traditionally read aloud each year during genocide commemorative ceremonies, and strives to commemorate the victims' lives, rather than their deaths. The letters often recount how the lost ones laughed and brought joy to life.
"There have been many efforts to rebuild the country, this project tries to help Rwandans heal and move forward with their lives at a much more personal level," Ms. Katese said, adding that she hopes that by participating in an interactive project such as hers, Rwandans can reconcile themselves with themselves, and with life and death. "This is about memories that reconcile you with your self, it's a memory that appeases your pain, and brings to life the victims of the genocide…because I think that, over time, if we tell the story of how they die, we kill them again and again."
A Universal Project:
Ms. Katese said she hopes the "Book of Life" project will continue to grow, extending to generations beyond and across borders "so that my kid and the next generation will find the testimonies of the survivors, stories of perpetrators, and they will find also that we continued to think about them and even our kids can write to them if they want." She envisions setting up a space where people can write to the victims, remembering them and their lives, and having people from 100 countries write 100 letters on how they are affected by the genocide and having the collection bound into a school manual for all to learn from.
See Film for Blog Report-"Rwanda Genocide Remembered"
Ambassador Muhamed Sacirbey - FOLOW mo @MuhamedSacirbey

Facebook-Become a Fan at "Diplomatically Incorrect"







Twitter – Follow us @DiplomaticallyX







See more at our Popular Video Blogs & Current News Event Articles – www.diplomaticallyincorrect.org