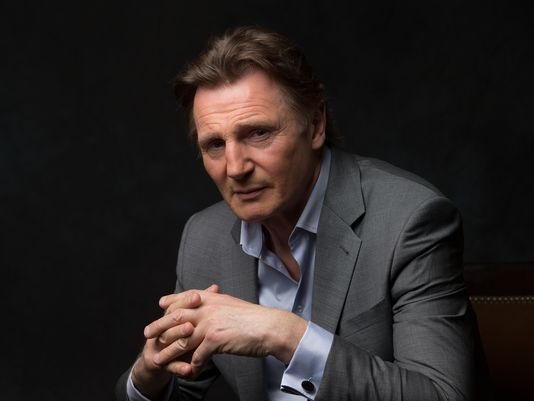 Liam Neeson is embracing his evolution into a middle-aged action star with his latest thriller, 'Non-Stop.'(Photo: Dan MacMedan, USA TODAY)
LOS ANGELES — Hollywood's biggest action star concedes that he's no match for a good spot of tea.
Liam Neeson's weakness for Yorkshire tea — decaf — runs so deep that the actor carries the 75-cent bags wherever he travels because "Americans really don't know how to make tea." If the Brit is reading a script and caves to brewing a cup by page 15, "I know there's something wrong with the story."
Sure, whiskey or a martini (shaken, not stirred) may be the preferred beverage of other Hollywood heroes. But Neeson relishes the unexpected, "maybe because I'm unlikely as an action figure."
Indeed, at 61, the Oscar-nominated star of Schindler's List has become one of the industry's most bankable stars when it comes to toughs with a very particular set of skills. The anchor of the Taken franchise next hops aboard Non-Stop (opening Friday nationwide), a thriller set almost entirely aboard a commercial airliner.
Neeson, whose other recent films include Unknown and The A-Team, says he hasn't been in a fistfight since he gave up amateur boxing as an Irish teenager. But he trains for roles with current and ex-military members, and he's learned how to handle himself in brawls, street fights and rooftop shootouts — at least on-screen. Among his tips for kicking rear and taking names:
• Know your opponents' weak spots. "Real fighting is nasty, dirty stuff," he says. "If the guy is a little big in the middle, hit him in the solar plexus to wind him. If not, a knee to the (groin) works. All men have that weak spot."
• Pay attention to household items. "If you're surrounded by five guys, notice everything around you: knives, forks, a hot coffeepot. You have to be able to use anything as a weapon.''
• Don't square up for a fistfight. "Turn to the side and crouch a bit," he says. "It gives them less of a target."
• Notice your exits. "I know it doesn't sound like action-hero stuff, but the first thing you do when the beer bottles start flying is to leave. You don't know who is armed. If there's no way out, then you go into action."
• Remember, you're a star. Neeson admits he "gets a little uneasy with heights — unless I'm on a plane." So what about when he sprints along all those European rooftops? "Well, I do have a stunt double," he says, grinning. "He runs the path first to make sure it's safe."
Not that Hollywood intends to let Neeson down anytime soon. The actor signed on for Taken 3, and while the film doesn't have a release date, Neeson hints at a different approach to action.
"I said I'd do a third, only if no one gets taken," he says. "People would be expecting that."
Source: USA TODAY
Annex News - Movies