Filmmaker Lisa Stock and photographer and 3D artist Connie Toebe recently released The Weeping Woman, a shadow puppet film they collaborated on, inspired by the legend of La Llorona. Connie and Lisa have been working together for several years on projects inspired by myth and magic realism.
Below is a cross interview with Lisa and Connie about The Weeping Woman, the techniques used, the filmmaking process along with some anecdotes on the project.
Film Annex: How did the idea of Weeping Woman start? What were your sources of inspiration?
Connie Toebe: Since October, the idea of doing a Day of the Dead themed film seemed apropos. We took the traditional Mexican ghost story of La Llorona (the Weeping Woman) as our starting point. We wanted to add elements of MesoAmerican folklore and mythology as well. One of the interesting things about the MesoAmerican versions of the underworld (Xibalba for the Mayans, Mictlan for the Aztecs) is that they saw the underworld as a city. Since both Lisa and I are city dwellers (and city lovers), I wanted to place our story in an urban setting.
Lisa Stock: From a story we both imagined, I sat down for a few months to write a script while Connie got busy making shadow puppets and backgrounds. Each puppet is crafted from a different paper with Connie adding beautiful fabrics and textured papers that speak to their characters but are not necessarily seen on screen. The story takes influence from Mayan mythology – the Underworld of Xibalba and its Houses of Cold, Fire, Jaguars and Bats. Cityscapes of Chicago actually stand in for our Xibalba. Connie used a technique called "TTV" in which she photographed houses, streets and museum dioramas pointing her camera through the viewfinder of an old, larger format camera. The result is a beautiful, warped landscape with heightened color – vividly haunting.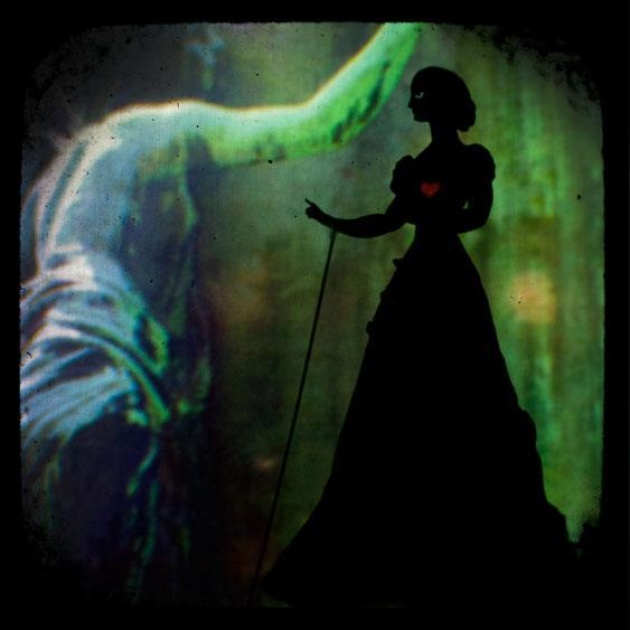 FA: Connie, can you tell us more about this TTV technique that you used?
CT: TTV stands for "Through the Viewfinder". In this technique, you take a picture of the image in the viewfinder lens of a second camera. Most people using this technique, myself included, use old twin-lens cameras for the "bottom" camera. They have large viewfinders and are generally square. The images have odd distortions from the curve of the viewfinder lens as well as occasional dirt and reflections that make the pictures seem more analog and less digital. I really like this technique on its own merit but thought that the odd, otherworldly effect that the viewfinder lens gives seemed to fit in well with a story that takes place mostly in a mythical underworld.
FA: How was the whole experience of working with puppets?
CT: Although I had never made shadow puppets, I have a lot of experience with manipulating Victorian images for my shadow boxes. All my puppets were created mixing and matching Victorian figures along with some hand done details. For instance, the first puppet I made was Tezcatlipoca, a shape shifter, in his jaguar guise. I used the head and paws from this Mayan jaguar image and added them to a Victorian print of a large wild cat. All the puppets have part of them that is made from clear, colored gel. Again, it was an experiment. I wasn't sure if it would turn out well but the effect ended up being vital to the film. Maria has a hollow heart through the movie. At one point she meets a skeleton and it turns to ice. Only in the end, when she is reunited with her children does her heart glow red.
LS: In the film, you'll notice that each character has a gel "cut-out". These color touches illuminate through the back light of the film and help to tell each person's story: Maria's heart, Tez's blue mirror, Anton's red slashes, and Ixchel's green snake. I loved each one of the puppets, but I think my favorite was the bats! Connie cut out several bat silhouettes and strung them on to crossing rods, so they could swing and fly around. We affectionately called it "The Bat Mobile."
FA: What challenges did you meet along the creation process?
CT: One of the challenges of shadow puppets is creating a character solely in silhouette. Sometimes details that make sense in a drawing just don't translate well in shadow. For instance, Tezcatlipoca, in Aztec art is shown with a magic mirror made of obsidian. Most often one of his feet is replaced with that mirror. That just isn't something that makes sense in silhouette. For our film, I took the artistic liberty of putting Tez's mirror in his chest. It is depicted as an oval made of clear blue film.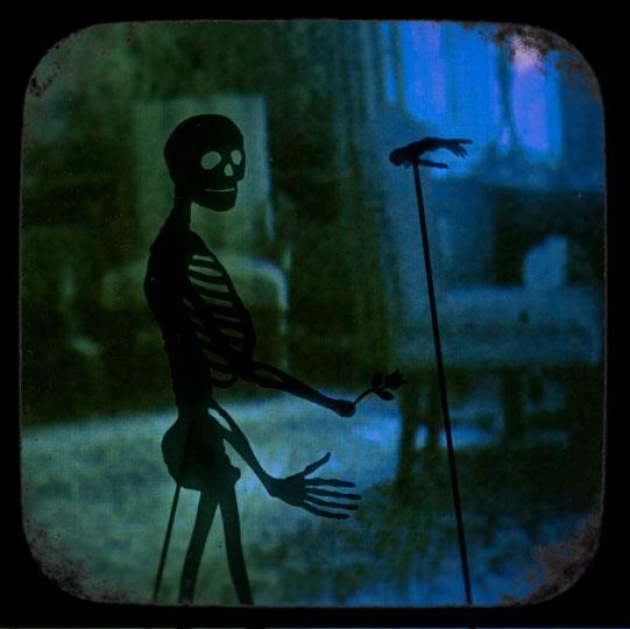 FA: One of the movie's character was submitted into an auction. Can you tell us more about that?
LS:
During pre-production in 2012, Connie and I submitted "The Weeping Woman" into an auction to benefit author and artist
Terri Windling
. We auctioned the opportunity to create a character for the film. And to our delight, fantasy author
Patrick Rothfuss
outbid everyone else. And we can now reveal that the Pat's character was modeled after fellow fantasy author
Anton Strout
– whom Maria meets in the House of Jaguars. We had a lot of fun working with Pat and bringing Anton to life – in puppet form.
CT: Author Patrick Rothfuss won the auction and said he'd like friend and fellow author Anton Strout to be the character in the film. Neither Lisa nor I know or have even met Anton so it was a bit tough to know what to do with him. Patrick said that he would like Anton to be in the House of Jaguars and to have been killed by jaguars (just for the movie!) It is a long standing joke that they are mortal enemies. With jaguar inflicted death in mind, I thought it would be fun to have Anton as a Victorian explorer, pith helmet and all.
FA: Tell us about the filming part.
CT: For the actual filmmaking, we set up a sheet in my basement and projected images onto it. Because of ceiling height limitations, the projection had to be somewhat low. This meant that we had to lay on the floor to handle the puppets. We put down towels and pillows but it was still quite a challenge. Neither of us could move a puppet all the way across the screen so we would have to hand them off to each from time to time. In the end though, it was all worth it and we are thrilled to have the movie our there for people to enjoy.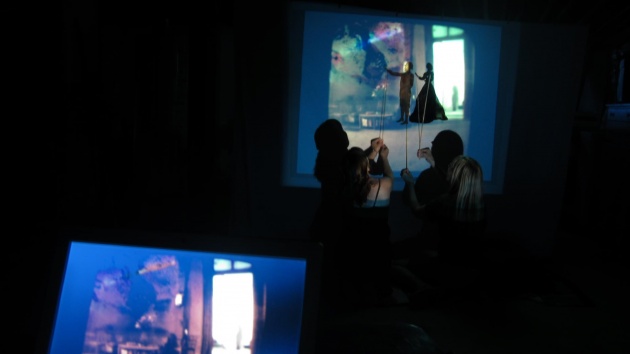 LS:
Last May I flew to Chicago, where Connie lives, to film the movie. We set up a studio in her basement, and with cats in tow, spent three days making our story come to life. Making a shadow puppet film is quite an challenging experience. It's not easy to lay on the floor all day under the camera's eye and work a puppet in front of screen. But we had a lot of fun doing it and welcomed people into our insanity during production via UStream b'cast. You can watch that here:
http://www.ustream.tv/recorded/22849359
(under videos). We only broke our filming marathon to go out for tacos, tapas, and really good fish & chips. Chicago has some amazing restaurants! Once done, I loaded the footage onto my drives and flew back home to start editing, while Connie created all the dialogue plates and sent them to me. Last October, one year after we had started, the final cut was done and sent back to Chicago, where Connie's husband, Neil Jendon, scored the film. Neil's score is more than music – it's a soundscape comprised of drones, chimes, and classical guitar. It's fascinating to me how musicians complete a film, and Neil has given another layer of life to each character, each house and every scene. I just love it!
You can watch The Weeping Woman below: