Photo credit: LoveHopeFaith Facebook Page
Ready to save a life? Help Cancer Patients fund their medical treatments. LOVEHOPEFAITH (LHF) IS AN ALL-FILIPINO SOCIAL ENTERPRISE THAT WAS FOUNDED AS AN INSTRUMENT TO PROVIDE CARE AND ASSISTANCE TO A CANCER PATIENT. This blog is intended to provide information and guidance on how to support this cause and become a live saver!
Yesterday afternoon, while my colleagues and I were at the ground floor of our company building, Charo showed me a watch package and introduced us to this purchase a watch cause online. When I heard that the beneficiaries are children cancer patients, I didn't think twice anymore and immediately responded that I would be willing to buy two watches so I can help the children with cancer. This is another way of giving back to the community and to those children who are battling with this disease. Hopefully this act would help them and would let them feel that there is hope and there are people out there who are willing to help them fight this battle together in the form of the love hope faith group organization.
This moment was very timely as a few days ago, James, my husband also received a newsletter from the organization which we are also supporting - save the children. The org sends these updates to all the supporters as a heads up on what they are working on and what are the things that have changed because of the support they receive. The letter had a subject of Making Children's Wishes Come True. It includes a photo of the Filipino children who are beneficiaries of the program.
Video credit to Save the Children Philippines via YouTube.com
Here's the content of the letter:

Dear James,

Hey, it's already May! Here's what we've been up to this month.

We went around schools across the country to listen to the dreams, needs, and aspirations of students. We met a young girl who wants to become a social worker someday. She wants to use her experiences as a disaster survivor to inspire and serve others.

We also flew to Mindanao where we met indigenous children who wish for better school supplies and facilities. One boy, in particular, wishes for a library.

During these field visits, we evaluate and ensure that our health, nutrition, education, and protection programs are appropriate, effective, and up-to-date. To do this, we consult the local government, the communities, and the children themselves.

Thank you for your continuous support! Together, we're delivering life-saving and life-changing programs to Filipino children.
Photo credit to Save The Children PH
I have been very vocal about this cause and I had personally shared this from my previous blogs as below:
In every opportunity to help, my husband and I always make sure we are grabbing that as there is nothing more rewarding than sharing your blessings to others. There are ways in helping your fellowmen, the list below are very simple and affordable that it doesn't really hurt your butt or your wallet at all and I make sure that I am doing my fair share in this actions. There are a lot of ways, and it would depend on the willingness of your heart. For me, these are my simple ways which you can also copy:
1. Bank ATM Transactions
Photo credit: Kent Adrian G. Rebultan Instagram
In the Philippines or at least in my city, Cebu, every BDO Automatic Teller Machine allows you to donate Php 5 to support WWF's climate change, food security and environmental conservation programs across the country.
With just a small amount, together with BDO, we will find ways to build the future.
2. KFC Add Hope on your orders
Dining in KFC is another means of helping. The menu doesn't only list the food available to feed your tummies but it also includes a menu to feed you hearts and souls.
With an amount of Php 10, one can help KFC through its Add Hope initiative continue its global commitment to end hunger. It is very evident that the Philippines has a huge percentage of children who are malnourished thus donating a few amount would definitely go a long way and help these kids get the proper nutrition for them to perform better in school.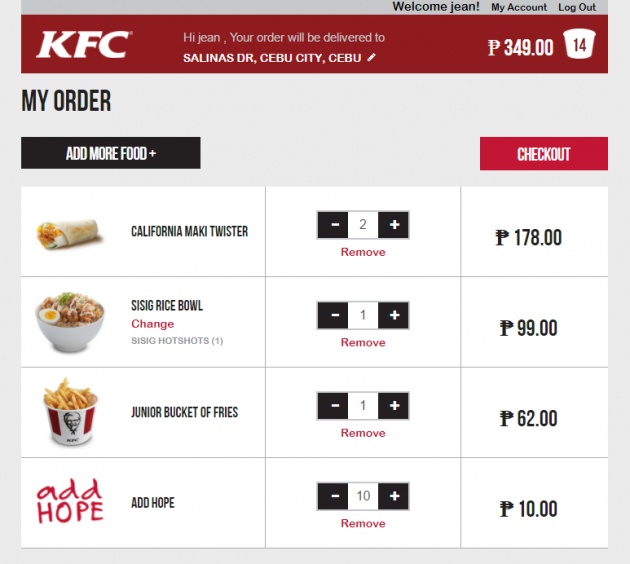 Today's online delivery order. Photo screenshot from KFC.com.ph
Every child deserves a chance for a better tomorrow. Don't let hunger stop them from making their dreams come true. Take part in adding hope to their future with your PHP10.
Here are the steps:
- Tell the cashier you wish to Add Hope of P1 or more to your meal.

- Give the Add Hope amount to the cashier.

- Check the receipt.
I did this today and on the future meals at KFC. I do hope other fast food chains would participate in this cause too. I believe that the customers will be more than willing to share too, their change can make a difference!
3. Donate in bitCharities
Another medium for me to share my blessings is through bitLanders. The daily donation has gone a long way from helping children who are abused, to those children affected by calamities and to those who are abandoned. The bitCharities provide a wide range of charities to choose from.
Photo credit: bitLanders.com
In every share of content, every purchase of items from the bitLanders Shop and in every accomplishment of tasks as well as viewing of videos, blogs and galleries, the top favorite charity would receive certain amount in bitMiles points and will become a vessel to help these organization fulfill its goals and missions.
Donating does not just benefit the receiver but also the giver as it also comes with additional buzzes depending on the amount donated. So it is actually a win-win situation and there's every reason to be encouraged in supporting this cause.
4. Help SavetheChildren
Video credit to Save the Children Philippines via YouTube.com
I had mentioned this earlier and this was one important decision we had made with my husband. With the help of the volunteers who had willingly served this non-profit organization, we were educated on what this organization is all about and how we can also help save the children in the country.
Every month, we get to donate a certain amount which are used to give good education, save the lives of every abandoned and abused children and provide better lives to these young generation.
It all started last year and both my husband and I never regret signing up for them. It was a channel for us to give back. I encourage you to do the same. There are lots of non-profit organizations and charities who does the same.
5. Embrace items with a cause, be a life saver!
Photo credit: LoveHopeFaith via Facebook.com
A new addition to the list is on purchasing items which has causes in it. Charo's (my colleague) introduction to this has given us yet another means of helping out kids, this time, kids who are enduring this very ugly disease - cancer.
I don't know how they feel but I believe they are hurting and they need love. They need support, they need special care and above all, they need monetary help to treat their bodies and their hurting souls which is being claimed by this cancer.
My heart goes to every little soul battling against cancer, I know it isn't easy. I know the battle seemed hopeless but I want to be a part of this generation who are fighting together with these little souls to help them recover and become cancer-free children.
The children are our future and helping them are within our hands. That is why, I have grabbed this opportunity and I am sharing this to you as well so that you can be encouraged and would also support this.
The concept is very straightforward. This online shop offers watches and t-shirts and 50% of the net proceeds from the purchases are donated to the medication of these kid cancer patients.
The Charity
Photo credit: LoveHopeFaith via Facebook.com
LoveHopeFaith (LHF) is an all-Filipino social enterprise that was founded as an instrument to provide care and assistance to a cancer patient. As the business grew, LHF was able to add non-profit institutions to its list of beneficiaries. Fifty percent of the net proceeds from the purchases of LHF products are donated to its causes.
LoveHopeFaith aims to give joy and hope through a cause-oriented enterprise by providing affordable products to Filipinos and giving back to the community. LHF aspires to be an inspiration and a channel to empower cancer patients and the communities they aid. The LHF family envisions being a model group that cares, unites, provides equal opportunities and works hard for the betterment of everyone.
The Items
Photo credit: lovehopefaith.com
Life Saver Watch 3.1 features Japan Movement Technology with stainless steel Back Casing and Silicon Strap.
The watch is water-resistant, not waterproof. It can withstand sweat and accidental splashes of water only. It should not be submerged to water at any time. Watches with Japanese movements have mechanical movements, automatic movements or quartz movements that are manufactured in Japan. Many watches are famous for having Swiss movements. Japanese movements continue improving in quality, and they're rivals to watches with Swiss movements.

For fashion, style and charitable cause: this watch will save lives.
Photo credit: lovehopefaith.com
The life saver tshirt offers white and black colors only, it has sizes ranging from 2XS to 3XL. The size differences have been posted too in their website so one would have an idea on their actual sizes. The size chart also provides an illustration on how to measure these differences.
The material is 100% cotton and all the shirts except for the 2XS size are unisex.
The Beneficiaries
"God didn't promise days without pain, sun without rain. But He did promise strength for the day and light for the way"
Today, while I was browsing through their Facebook page, I stumbled upon a new update that one of their beneficiaries had been called back by the Creator. She was two years old who was battling leukemia. Reading on the story, it makes me sad for her and for the family. I know there's an emotional burden they are carrying now.
Stories like this makes me sad but encouraged at the same time to help.
These are the beneficiaries: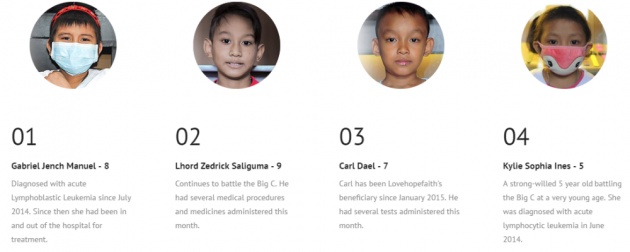 Photo credit: LoveHopeFaith
There's only one reason why I am posting this and that's to encourage others, specially you, the reader to also share and give to those who are in need most importantly to the children who are our future. The ones who will be our future leaders and future generation.
These little acts will go a long way and although the beneficiaries don't know you, the God Almighty sees every action and every desires of your heart.
Be kind and generous.
Let me end this blog with this quote:
"One ripple of kindness can go on to create a large wave."
Best Regards,
Jean Beltran-Figues
bitLanders user since 2015