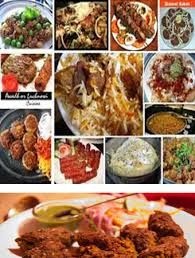 Lucknow a hub for foodies
Lucknow is situated on the bank of river Gomti. This city is popular for its Mughlai dishes, marvellous monuments and Nawabi demeanour.There are some places in Lucknow which will give a remarkable experience for food lovers.
Tunday Kababi it's the best and most and popular Kabab in India. Those peppery Kababs are so delicious that it's really tough to resist yourself from eating those yummy kababs. The main and the oldest Tunday Kababi is in Chowk near Akbari gate, the locality also creates Mughlai ambience and gives remarkable experience.
Idris Biryani, this place is mainly for Biryani lovers and they give a quality eating experience . It's a prominent eating outlet for all foodies. They provide various range of Biryani. Mutton Biryani is the speciality of Idris Biryani . It's located in Chowk .
Dastar Khan, if you want experience the whole Mughal culture then Dastar Khan is the best place for you to visit. It's a high quality restaurant where they provide a huge range of Mughlai food. It's located in Hazratganj one of the porch market area of Lucknow.
Royal Café is a complete family restraint. If you are fond of street food then visiting Royal café must be on top of your list. They give the best Basket chat and Golgappas . They have excellent accommodation for customers and please don't forget to ring the bell if you enjoyed their food.
We cannot ignore desert after having such a yummy food so don't worry Prakash Kulfi is the place where your desire for eating the best desert can be fulfilled. They give huge variety of deserts in very affordable price. Their specialities are Matka Kulfi and Falooda Kulfi . They provide fruit kulfi also which tastes divine.
So please if you do want to experience the combination of Hindu culture and Muslim culture then do visit Lucknow. It's the place where two traditions meets and sets the best example of brotherhood.