Have you ever heard of this urban legend stating that humans use only a small portion, about ten percent, of their brain's capacity in their regular living? As it suggests, if one could work on increasing that percentage, it might lead to rapid development of his intelligence and inactive skills. Writer/director Luc Besson explored this myth and turned it into a sci-fi action film starring Scarlett Johansson as the title character. Lucy is about a woman who got accidentally caught up in a horrifying situation as a drug mule of a high-valued substance that could transform humans beyond science could explain.
❂ The Movie Trailer ❂
Lucy - Official Trailer (HD) - Video Credit: Luc Besson via bitLanders
❂ The Cast ❂
A happy-go-lucky, foreign student who was forcefully made a mule to deliver a packet of a drug called CPH4
A professor and scientist who has been conducting studies and researches on the phenomenon of human cerebral capacity
Korean mob boss whose business involves illegal drug manufacture and trade of CPH4
◈ Amr Waked as Pierre Del Rio
Local police captain of Paris who helped Lucy track the other drug mules carrying the remaining packets of CPH4
Lucy's short-time boyfriend who tricked her to deliver a briefcase containing CPH4 to Mr. Jang
Movie Poster - Photo Credit: Collider
❂ The Movie Plot ❂
Lucy Miller, an American student currently studying in Taipei, got tricked by her newfound boyfriend named Richard to deliver an important briefcase to a guy named Mr. Jang. At first, she was hesitant and insisted she does not want to partake in his business. However, as she was about to leave, Richard cuffed the case to her arm forcing her to do as she was told.
As she nervously entered the reception, she approached the front desk that she was looking for Mr. Jang to deliver the suitcase on behalf of her friend, Richard. The receptionist called Mr. Jang's room and was asked of Lucy's name, to which she frightfully gave. As Mr. Jang's men came down to fetch Lucy, she witnessed Richard being shot dead right outside the hotel.
When she arrived at Mr. Jang's luxurious room, she saw dead bodies of men the Korean mob boss killed. Scared she might be next, Lucy begged him to spare her life and that she was just tricked by Richard who she was dating for just a week. She emphasized that she knew nothing about anything.
Scarlett Johansson as Lucy - Photo Credit: Collider
Since Mr. Jang cannot speak and understand English, he called a translator to communicate his message to Lucy. He asked about what was inside the briefcase Richard instructed her to deliver. However, Lucy insisted she did not know either.
He wrote a three-digit code in a piece of paper and handed it to Lucy. Confused, she asked the translator what he meant with the numbers. According to him, Mr. Jang wanted her to open the case by herself as he does not trust Richard.
Lucy cried she does not trust Richard as well. But Mr. Jang insisted that she opened the briefcase quickly as he had other business to do. While he hid in outside the room and his men covered themselves with fireproof shields, Lucy frightfully opened the briefcase while crying.
Choi Min-Sik as Mr. Jang - Photo Credit: Collider
When Lucy successfully opened the case, she saw four packets of blue powdered substance she was not familiar with. She described it to Mr. Jang who then approached her after finding out nothing dangerous was in the case.
He carefully examined the substance and had one seemingly lunatic man try ingesting it. After the man took up the substance, he started laughing uncontrollably in front of Lucy which made Mr. Jang shoot him straight in the head.
After the traumatic scene, he offered Lucy a job, which she declined saying she didn't need a job. One of Mr. Jang's men blew her lower face and knocked her off her seat. She then lost consciousness.
Morgan Freeman as Professor Samuel Norman - Photo Credit: Collider
In another scene, Samuel Norman was seen giving a lecture about the human's brain function, specifically the cerebral capacity. He mentioned that as a hypothesis, only ten percent of the cerebral capacity is used by humans. The only living thing which makes use of its cerebral capacity more than humans are the dolphins.
Lucy woke up with no clothes on and a fresh stitch on her lower stomach. She was fetched by Mr. Jang's men to meet him up in his lounge. As she arrived the place, she was introduced three other men who would also do the same job as hers.
As revealed, her stitch was a result of a minor operation done on her, including the other three men, to place a packet of substance inside them. Their job was to arrive at their designated locations and meet with Mr. Jang's people to deliver the packets of substance. In short, they were made illegal substance mules.
Lucy dragged to Mr. Jang's room - Photo Credit: SACCSIV
Lucy was transported to Korea. Upon arriving at her designated location, she was punched and kicked by a man who tried to harass her. As she was kicked badly on her stomach, her stitch went open and the packet inside her got destroyed.
The substance inside the packet spilled over her body into her bloodstream. It created a chaotic reaction inside her. When the wild convulsions ceased, opened her eyes and sit back to her original poise, looking like nothing happened.
Another man came to check up on her. She seduced him by opening her legs, gesturing to the man to come to her. However, as he came close to her, she knocked him off, killed him and stole his gun.
Lucy after the effect of CPH4 - Photo Credit: Wikia.com
She went out of the room, straight to the men who were guarding her. She shot all of them then went outside to look for a cab. When she found one, she instructed him to bring her to the hospital.
When she arrived to the hospital, she went straight to the operating room where doctor and nurses are currently conducting brain surgery on a patient. After looking at the patient's condition, she decided to shot him dead telling the doctor he wouldn't also survived due to continuous spreading of tumor in his brain. She ordered the doctor to focus on her instead since she needed urgent help.
As she laid on the operating bed, she borrowed the doctor's phone to call her mom. She told her that she could feel everything and remember everything including memories of when she was a baby. The doctor asked her what was inside her that needed to be pulled out. She blurted out synthetic drug called CPH4, to which the doctor got shocked.
Lucy at the hospital - Photo Credit: Collider
After the doctor successfully removed the packet with the remaining half of CPH4, Lucy went to Mr. Jang's place to track down the location of the three other mules. She then started doing research of her current condition and stumbled upon professor Norman's work.
She contacted professor Norman and told him about what happened to her. She made an appointment with him and flew to Paris. On her way, she contacted a local police captain named Pierre Del Rio to stop the drug trades and hold the mules in his custody.
On the plane, Lucy drank a sip of champagne which caused her cells to destabilize. To prevent herself from further disintegration, she ingested the remaining CPH4 that was took out of her stomach. She woke up fine in a hospital as they landed Paris.
Lucy - Photo Credit:Hollywood.com
In Paris, she personally met Del Rio who was shocked to witness her unfathomable skills. They had an encounter with a group of men Mr. Jang sent to retrieve the remaining packets of CPH4 from the other three mules. As the head of the group was about to escape the hospital with the briefcase containing the substance, Lucy stopped them by controlling their bodies.
Lucy and Del Rio headed to professor Norman's laboratory to share everything she knows, after the latter convinced her that the best thing to do at this point is to pass on the knowledge she has. As they were about to begin recording her point of view, Mr. Jang and his men arrived at the place to get the three remaining packets of CPH4.
When the gunfight ensued between the police forces and Mr. Jang's group, Lucy insisted the professor and his colleagues to administer the remaining amounts of CPH4 in her body. As the substance was continuously injected to her bloodstream, Lucy's cerebral capacity was also increasing. A thick, black substance started to appear in her body, out of the floor and into the computers inside the room.
Scarlett Johansson in Lucy - Photo Credit: Vox
Lucy was seen travelling through space, in different locations and time. At one point, she was face to face with a monkey-like creature implied as the discovered, theoretically oldest ancestor of mankind, Lucy.
A few moments before Lucy reached one hundred percent of her cerebral capacity, Mr. Jang entered the room to kill her. However, when he started firing the gun to her head, she already completed reaching the maximum cerebral capacity and started disappearing. Del Rio then appeared in the door and shot Mr. Jang to death.
Professor Norman and his colleagues was shocked of what they witnessed. Del Rio, on the other hand, confusingly looked for Lucy worrying about her state. But as he asked where she was, his phone got a message stating "I AM EVERYWHERE."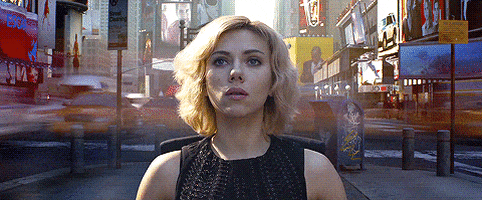 Lucy travelling through space - Photo Credit: GIPHY
The film ended with Scarlett Johansson's voiceover narration stating:
Life was given to us a billion years ago. Now you know what to do with it."
❂ My Movie Review ❂
(8 out of 10 ★★★★★★★★☆☆)
Lucy is probably one of the very few movies I had the chance to see in cinema. The first time I saw it was a blast. Not only me who enjoyed it, but the entire theater was filled with sound of satisfied murmurs when the film ended. I probably saw it a few more times on free TV, but I still felt the want to re-watch it to give a more detailed movie review for The bitLanders Film Series.
Go Behind the Scenes of Lucy (2014) - Video Credit: FilmIsNow Movie Bloopers & Extras via YouTube
◈ Story and Screenplay
According to Wikipedia, despite its box office success, Lucy received mixed critical response with the negative ones directed towards the film's assertion of the ten-percent-of-the-brain myth. I personally agree on this view. It seemed misleading for a film, so seemingly science-focused, to romanticize on such a widespread urban tale. And yet it could not be considered faulty.
However, I do not consider the film's story line to be a total mess. In fact, I enjoyed the movie so much (except the ending) and started to get absorbed into the plot. The execution was perfection, most probably because it features really believable actors. And oh, of course, because I love action movies as I always say.
Querlo chat: "What kind of movies do you like?"
◈ Cinematography and Direction
Luc Besson may have written the film but he did not committed a complete chaos. His directorial approach, known to be fast in pace, seemed to have worked perfectly on the film. I hate movies that are draggy, and Besson gave me ease watching Lucy.
The visual effects were also high quality. Unlike typical sci-fi and superhero movies, Lucy did not call for complicated CGI. We surely need a timeout from your well-loved Marvel and DCEU films.
◈ Scarlett Johansson and Women Empowerment
Can you think of the times Hollywood offered us sci-fi movies featuring a female character as the lead? I bet you barely have a number in mind. But Besson made it sure to create films that would show support for women empowerment by featuring heroines than male leads.
For the role of Lucy, Besson looked for someone believable as vulnerable woman but also superpower-ed with incredible skills. After meeting with Scarlett Johansson, he was impressed of her professionalism and interest on the script.
Obviously, it was a perfect choice to have Johansson as the film's heroine. We have known her for her badass characters like the very famous, Marvel's Black Widow. Johansson's performance was very effective, both as the frightened woman made drug mule and as the psycho-physically enhanced Lucy.
Querlo chat: "Do you support women's empowerment?"
◈ Overall Rating
Overall I would rate the movie 8/10 stars, with its strength primarily Scarlett Johansson's performance and Luc Besson's direction. How about you, have you seen Lucy? What do you think about it? Let us know!