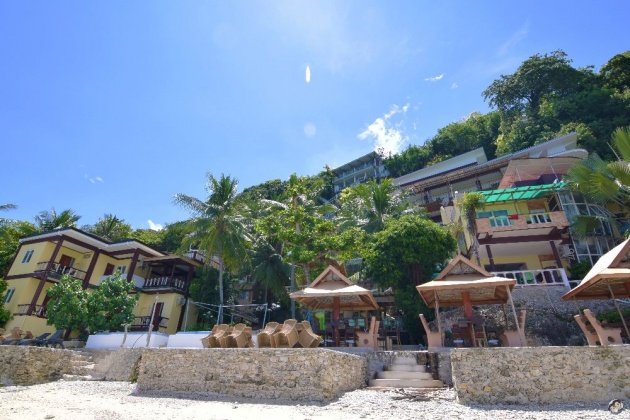 Image credits: Jean Beltran-Figues via bitLanders.com
Due to the numerous resorts emerging in different parts of Oslob and its neighboring towns such as Boljoon and Santander, James and I had thought about visiting each single one of them in each weekend that we are in Oslob. I believe it is a great idea as it would be hitting two birds with one stone. One, James can go home and visit their gamefowl farm and will make him happy and two, I can visit a new spot for a blog entry here in bitLanders which will make me happy as well. So I agreed with him on this deal. Although I have some reservations because traveling from Cebu City to Oslob is now becoming a stressful one due to the increasing number of passengers who are of course traveling to the south too most are also looking forward to have their first or perhaps second Butanding experience.
Video credits: Jean Beltran-Figues via bitLanders.com
For the past two or three times that we have been going home to Oslob, we have to wait and ensure at least three hours at the Ceres Bus terminal. Anyways, let's move forward with the main topic which is our Lunch at Seafari Beach Resort.
Seafari Beach Resort Rates
The Seafari Beach Resort takes pride for being included in the top 10 list of resorts in Cebu with a beautiful infinity pool. I found it very interesting as well so and since this weekend we went to Oslob, I thought it would be the best time to pay a visit. However, their pricing discouraged me a bit. Upon inquiring from their website, I found their lowest room rate is at Php 2500 and that's a fan room only while their air conditioned rooms starts from Php 3000 up to around 7k pesos so I have to ditched the check in ideas.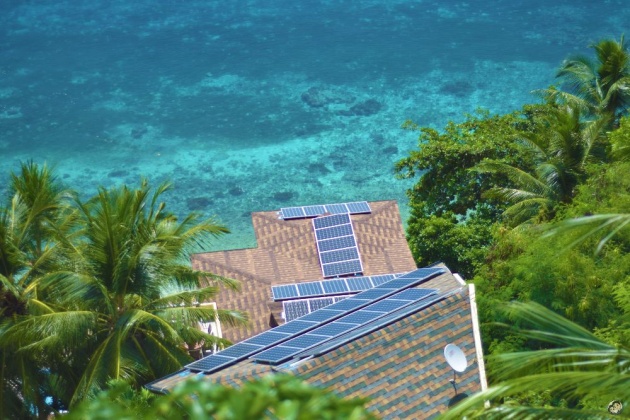 Image credits: Jean Beltran-Figues via bitLanders.com
Day tour is another option as they do offer it as well. It costs less for around Php 750 for the package which includes plated lunch which will go from 10 in the morning until 5 in the afternoon while their whole day tour is from 7 in the morning up until 10pm which includes breakfast, lunch and dinner. And so we decided we'll get the day tour with plated lunch as the best option and James agreed to it.
Seafari Experience
James and I took the scooter towards Cancuay, the barangay before Tan-awan where the Whale shark watching is located. James almost missed the resort as he was running the vehicle in almost full speed, glad I was able to spot the resort's signage, that was quarter to ten, we were a bit punctual.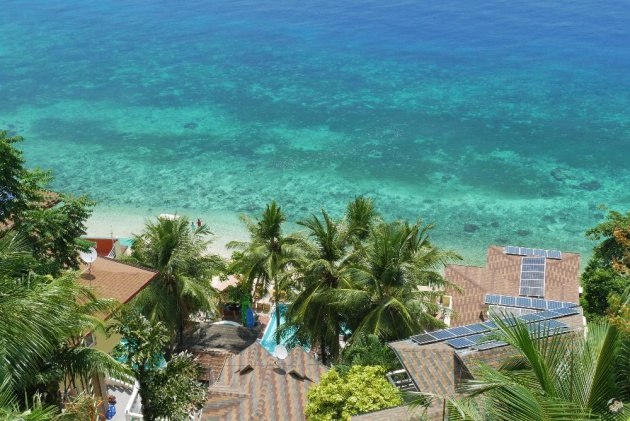 Image credits: Jean Beltran-Figues via bitLanders.com
A security guard greeted us from the gates, I find their entrance area untidy by the way, there were some debris from what they were constructing and it was not very pleasant to the eyes of the guests.
But upon looking out to the horizon and down to where the resort is situated, the beauty of the resort was just captivating so we have to fill up the guest information and told the security we are up for the day tour.
More than two hundred steps has to be trekked down to reach the main resort while there are already rooms along the way too. But we already had taken lots of clips and photos while walking down the steps so upon reaching the reception area, we were almost over the beauty of the resort. So we ended up just having lunch instead.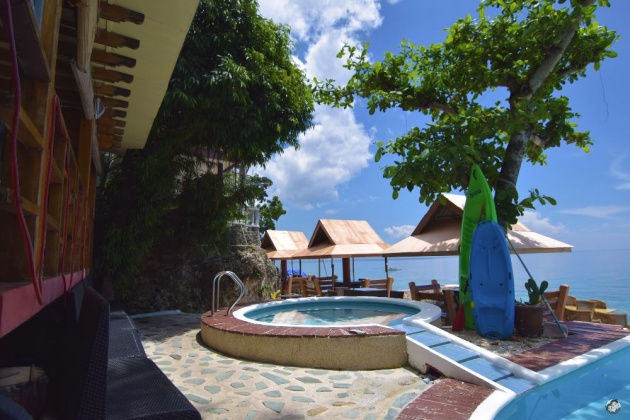 Image credits: Jean Beltran-Figues via bitLanders.com
Before lunch, we roamed around the entire resort and even reached their artificial garden at their condo building which enables the guests to star gaze at night and perhaps watch the sun rise too in the early morning. Sunrise view would definitely be a wonderful view from here.
I was ecstatic as well on our way up while climbing the stairs, we stopped awhile to take a few breath when a spotted a turtle slowly swimming from the sea just very near to the shore! I then remembered what they had posted on their social media account about turtles visiting the resort. As per the security, there are lots of them in there already living together with a bunch ones which also lays their eggs in there. That is really something and I do understand thatnis because there are lots of seagrasses in that part of the beach.
Video credits: Jean Beltran-Figues via bitLanders.com
But the beauty of the horizon where the sea meets the skies was beyond compare. It was such a fine, calm with lots of nice clouds scattered above plus the blue hues of the sky gave it a pretty add on.
Lunch Time
I had to order couple of items in their menu such as the Ceasar salad, Fried chicken with fries which the restaurant staff recommended and Grilled Pork Chop with Grilled Pineapple on the side. For the srinjs we ordered Pineapple shake because they don't have mangoes available yet. Then we also ordered Banana Split for the dessert but ended up unserved so we had to cancel that out off the bill.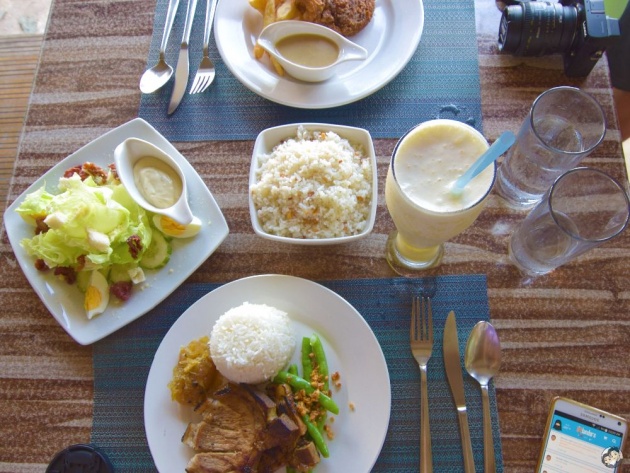 Image credits: Jean Beltran-Figues via bitLanders.com
I find the food specially the Grilled Pork Chop just okay although I like their Ceasar salad, James didn't really like the Fried Chicken, I find the pineapple juice very sour too but it was tolerable. At the end of the meal, we decided to ask the staffs to pack the remaining food so it won't go to waste. Plus the garlic rice as well which James didn't touch during the meal but ate it that night at home.
The view from the restaurant is great as it has a direct sight of their infinity pool and the beach as well. There was accompanying music too the entire time and the staff was very active in assisting us the entire time. The only lapses they had was not serving our dessert so I asked them to deduct it from our bill instead.
Seafari Resort Review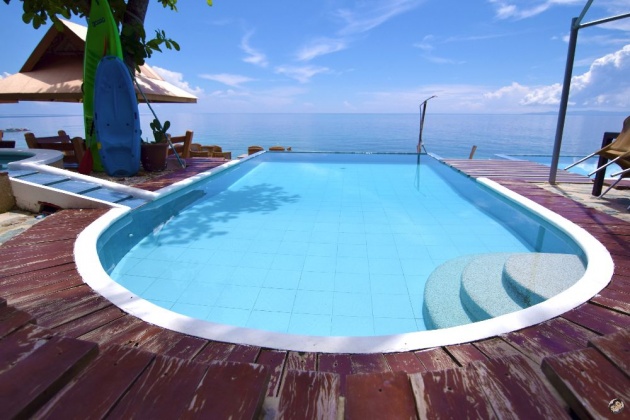 Image credits: Jean Beltran-Figues via bitLanders.com
I personally find the resort to be overpriced. Their room rates are definitely high as well as the day tour which I believe doesn't suit the amenities they offer. First off, they have around four swimming pools which are all of small sizes. Their infinity pool was a bit disappointing because it seemed to be for kids because it was shallow and small. There were broken tiles as well at the edge which is really prone to accidents. Hopefully no one had experienced any accidents yet.
The kitchen and restaurant accommodates few heads as well. There were four tables available which can accommodate around two people per table. The cottages from the beach area can also be used for dining but it would be very hot during day time.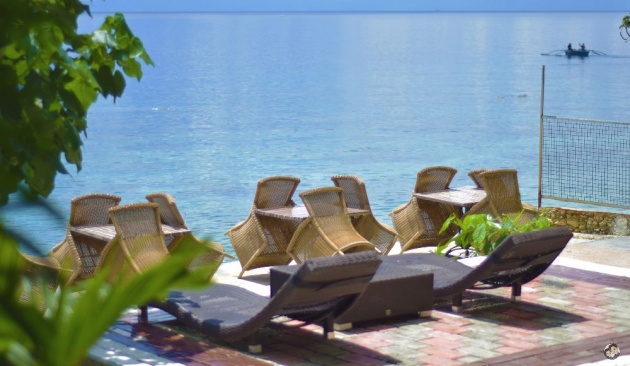 Image credits: Jean Beltran-Figues via bitLanders.com
The main issue though is that it requires the guests to walk around 260+ steps to and from the resort. It would be fine to take a rest every once in awhile while climbing up to avoid leg muscle spasms which I still had felt the next day while James didn't have even a single muscle ache.
As per the staff who had accommodated us, they are working on the lifter which will be a great help for their future guests who are senior citizens and those who have babies with them. Currently, they have a zipline type of system which brings guest bags from the entrance down to rooms and back.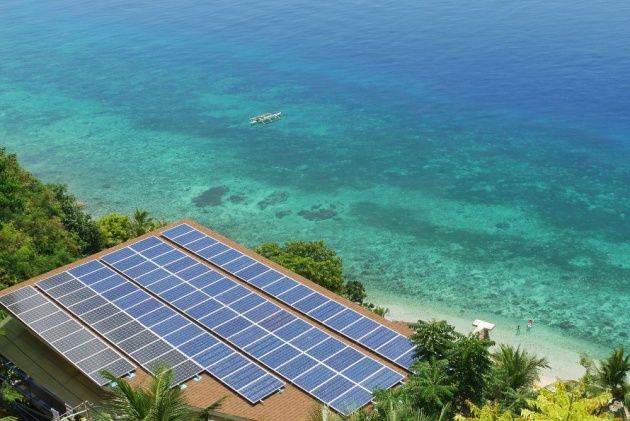 Image credits: Jean Beltran-Figues via bitLanders.com
Our favorite part of the resort though is their artificial garden at the condo building. We truly believe that is the perfect spot for star gazing and even a perfect one to witness the sunrise. There were beach chairs provided there too for the guests to sit or lay down while waiting for the sun to rise.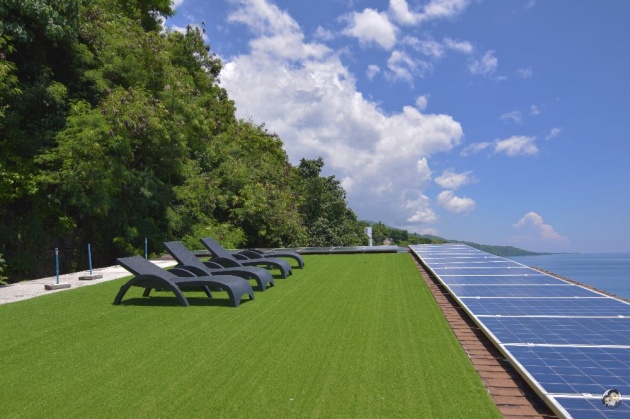 Image credits: Jean Beltran-Figues via bitLanders.com
Their solar power system too is something to be appreciated. Oslob has a pretty hot and sunny weather almost all year round so renewal energy is a perfect source for power. I commend the resort management for that. Also, I learned from the staffs that all their staffs and workers are from Oslob. That again is such a blessing to the Oslobanons.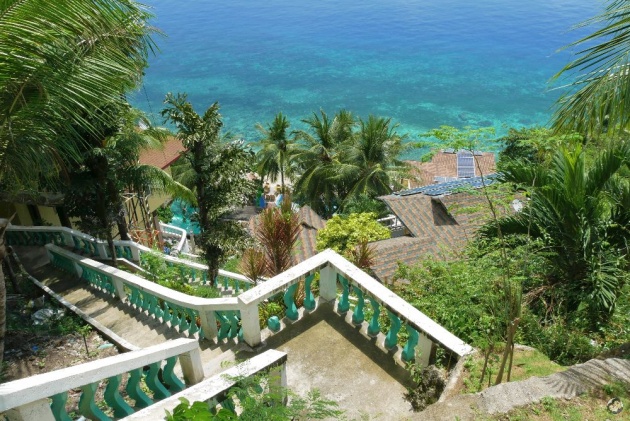 Image credits: Jean Beltran-Figues via bitLanders.com
Overall, I have rated it 3 out of 5. It may have a pretty view but rates are too high considering they only offer few amenities. The Seafari Beach Resort is good for those young couples who would like to have a solemn and private place to unwind but it is definitely not good for those who have kids and grandparents or even elderly ones. Kids won't be able to run around much as most of their spaces were intended for staircases. Perhaps the only place where they can run around would be the beach shore area but that would require them beach shoes or slippers as there are rocks and stones as well.
I was still glad we opted to dine for lunch instead of the day tour because we had lowered down our expenses to almost half.
xoxo,
Jean