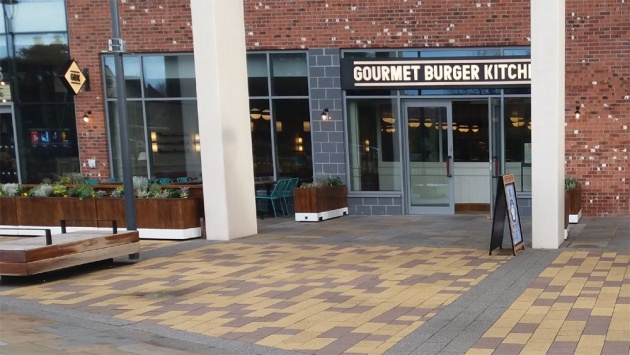 Location
Gourmet Burger Kitchen, Unit 18 Flemingate Centre, Chantry Lane, Beverley, East Yorkshire, HU17 0PW, UK.
Tel: (01482) 679294
Initial Impressions
Gourmet Burger Kitchen (or GBK) is a chain of restaurants specialising in burgers. This particular branch is in the Flemingate Centre in the town of Beverley, East Yorkshire. The Flemingate centre is a new shopping and recreation location near to Beverley town centre, having an outside pedestrian shopping precinct, a hotel, a cinema and eating places and is closer to a new building for East Riding College.
This branch of GBK is in a pedestrian zone, so there is no parking outside. The Flemingate Centre does have a large multi-story car park on the site, which costs £1 for 3 hours parking, making it a cheap place to park, and it is only a couple of minutes at most walk from the restaurant. As well as dining in, food can be ordered to collect. Most of the food is burger based, but this does include chicken, buffalo, lamb and vegetarian options, as well as salads.
The restaurant was visited on a weekday lunchtime, and was very quiet, with only a couple of other tables occupied. On entering, customers are shown to a table and given a menu. In this case, there were three menus: the normal menu, the Lunch Menu and the Christmas Bundle. In addition, there are a number of specials listed on a board on the wall.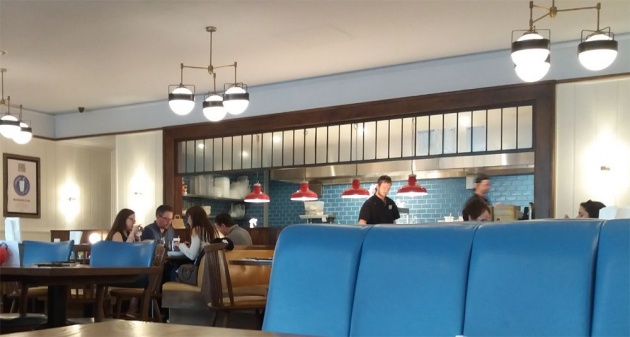 The main kitchen is visible from inside the restaurant itself. On the table are paper napkins, cutlery, a bottle of tomato ketchup, a shaker of hei hei salt and a metal container with some more napkins. A condiment stand elsewhere has more napkins, a range of different sauces, and small glasses which can be filled with the complimentary shell-on peanuts.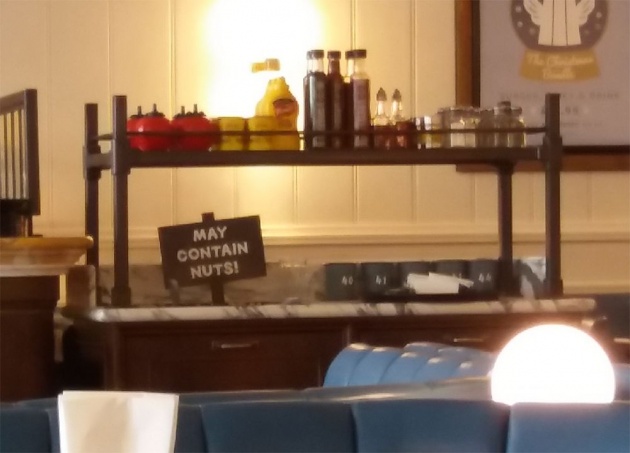 To order, you have to go to the tills to place it and pay at the same time. This can be inconvenient when dining alone, but the restaurant was empty enough, and the seating allocated anyway, that this wasn't a huge problem. Once the food has been ordered and paid for, it is delivered to the table when ready.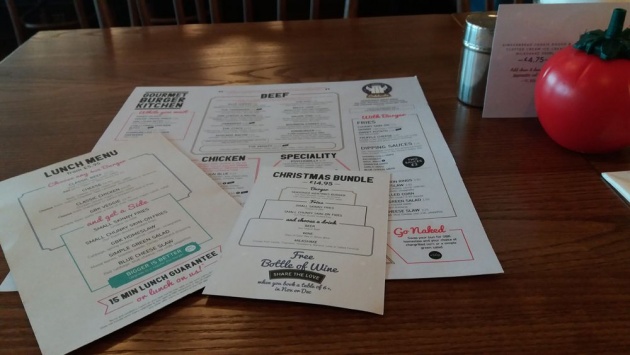 The Food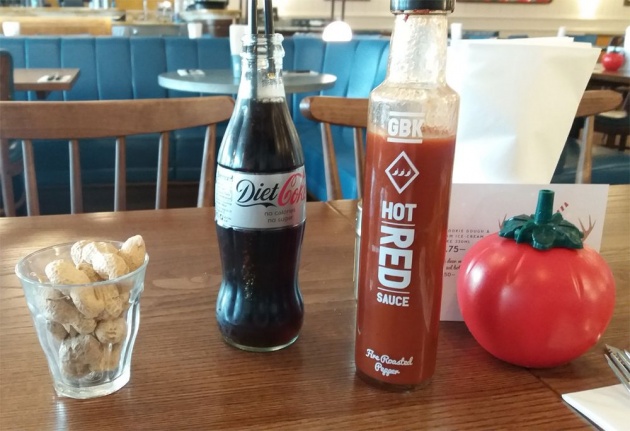 The food was ordered from the main menu. A glass of peanuts was collected from the condiments counter, as well as a bottle of Hot Red Sauce (made from fire roasted pepper). The drink ordered was a 300ml glass bottle of Diet Coke, which was served in the bottle and with a straw. The peanuts were fine, if a bit messy to eat - bits of shell tended to go everywhere - and the Coke was nicely chilled. With the latter being bottled, it was of a superior quality to the more common draught. The Hot Red Sauce was not tremendously hot, but it would probably be too hot for some diners.
The Burger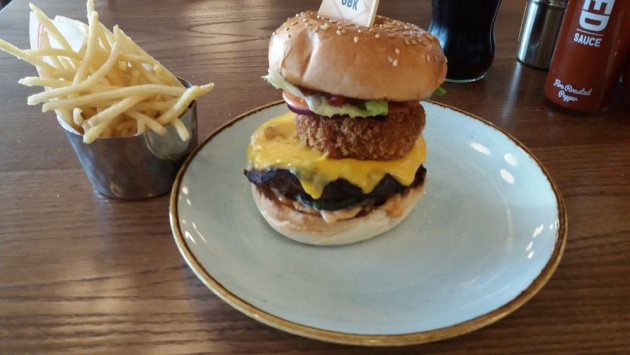 The burger ordered was The Taxidriver and a small portion of Skinny Fries was ordered to accompany it. Although it is sometimes possible to get burgers cooked to taste, in this case it wasn't, and it was cooked Well Done. The burger comes with American cheese, a house onion ring, Cajun relish, smoked chilli mayo, dill pickle and salad, the salad being lettuce, sliced red onion and a slice of tomato. This is all held together by a large wooden skewer with a GBK flag at the top of it. The whole construction is quite tall, and eating it with fingers would be really difficult. The burger itself was nice; all the ingredients were fresh and there was a variety of different tastes. It would perhaps have been better if it could have been cooked other than well done, but this didn't seem to be an option. The house onion ring is a bit different; it's much thicker than an onion ring would normally be, with a crunchy batter.
Because at GBK it's "all about the burger" the burger is served by itself on a plate. Any accompaniments are served separately. The Skinny Fries were served in a small, metal container with a piece of waxed paper. A bigger portion of fries was possible, but this was quite adequate. The fries themselves are very thin, only a few millimetres thick, which makes them difficult to eat with a fork. They also cooled down quickly, but this was probably at least partly due to them being emptied from the container onto the plate. The chips themselves were fresh, being neither under- nor overdone.
My Review
The price of the food, including the drink, came to £14.40. The burgers are not cheap - this is not McDonald's - but the quality is superior. The service was fast - the burger was served in ten minutes. Although the restaurant was quiet, this does not necessarily mean that service is going to be quick.
The location itself is easy to visit, due to the large multi-story car park on site, although it may prove more difficult at busier times of the year, due to the parking being perhaps the cheapest parking in Beverley for the time allowed.
The food itself was nice. Although it was a bit more expensive than other places that might be visited for burgers, especially at lunchtime, such as fast food places or the J. D. Wetherspoon's in Beverley (perhaps why it was quiet), it was of a superior quality. Needing to leave the table to order and pay could be a problem, but less so than it would be in such as a pub. The Gourmet Burger Kitchen in Beverley is recommended for those who want to have a burger and are willing to pay a bit more to get one of a substantially superior quality.
All images copyright eGDC Ltd