The final destination of our Macau day tour is at the "World's Highest Bungy Jump" - Macau Tower. It is the best location for the adrenaline junkies to do a free fall on 233 meters high at Largo da Torre de Macau, Macau. Building this tower was once an inspiration by a Macau businessman named Dr. Stanley Ho Hung-Sun after having a good impression of the Sky Tower in Auckland, New Zealand during his visit to the country. This idea became reality with the help of Architect Gordon Moller and was operational to the public on December 19, 2001.
Since then, the Macau Tower has become Macau's iconic landmark thus welcoming national leaders and important personalities since it has been opened. It also garnered many awards and one of which is from the Guinness World Records and been recognized as "The World's Highest Commercial Bungy Jump". This tower is owned by Sociedade de Turismo e Diversões de Macau, S.A.R.L. (STDM) that is founded and managed by Dr. Stanley Ho and managed by Shun Tak Group which is a Hong Kong-based business conglomerate for transportation, hospitality, investments, and property.
MACAU TOWER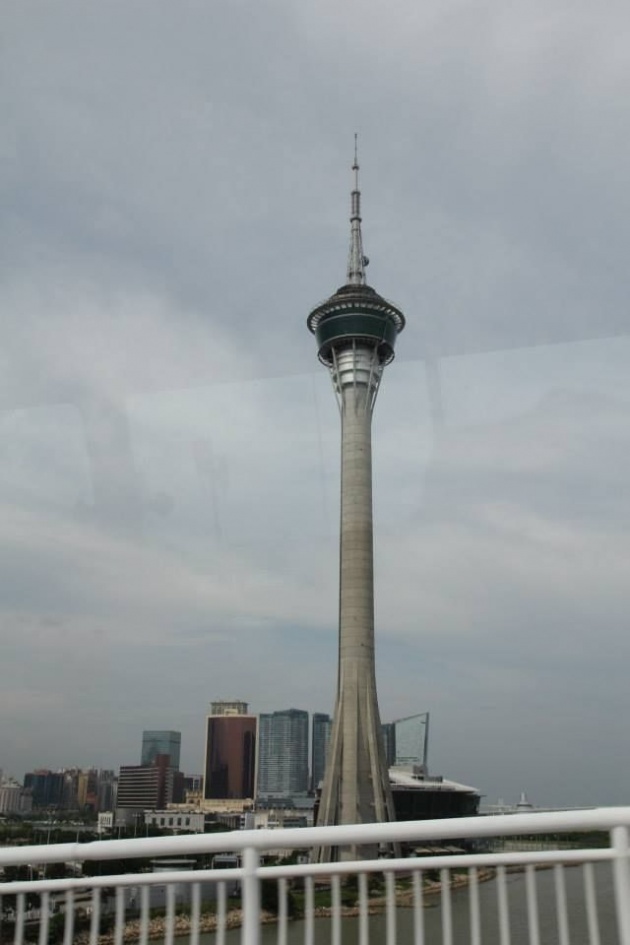 Macau Tower / Photo Credit: Dimpsy via Facebook
Took this photo while riding one of the hotel-casino's complimentary buses. I used to see this tower on TVs but now I'm seeing it personally and exploring the entirety of it. The entire length of this tower including the antenna is 338 meters equivalent to 1,109 feet from the ground level to the highest point of the antenna. It is also considered to be the highest summit in Macau. There is an observation lounge in the tower that will allow you to have a panoramic view of Macau skyline. Not only that this tower is used for entertainment and observation purposes but it also served for telecommunication and broadcasting purposes as well.
Here is a video from AJ Hackett International who popularized the extreme sport of Bungy Jumping after doing a famous bungy jump from the Eiffel Tower on June 26, 1987. After being widely known for his bungy stunts and earned Guinness Records he then opened and jump out of Macau Tower that holds the title as the highest commercial bungy in the world. In this video, you will see what Macau Tower has to offer depending on your adrenaline level. AJ Hackett company not only introduced the extreme sport of Bungy Jumping in Macau Tower but also some other activities such as the Skyjump, Skywalk, and Tower Climbing that belongs to the extreme category.
WHAT TO EXPLORE IN MACAU TOWER?
► OBSERVATION LOUNGE
The best possible way to have a full view of entire Macau is to be in Macau Tower. If Bungy Jumping, Sky Jumping, Skywalking, and Tower Climbing is not what you wish for then be at the Observation Lounge for a panoramic view of Macau.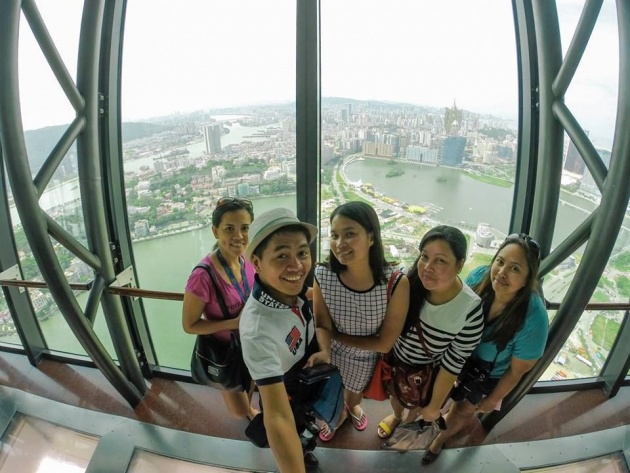 Observation Lounge / Photo Credit: Joseph Bacalso via Joycee Abaquita's Facebook
Finally here at the Observation Lounge of Macau Tower. In the photo above you can see at our back the Macau Peninsula, Mangyang Hill, Taipa and the Cotai Strip recognized by the Casino Lisboa building that stood amidst with its golden lotus flower form from among all other casino hotels in the area. The Observation Lounge was covered with glass panels that provide a wide and clearer vision of entire Macau and having a bearable temperature inside.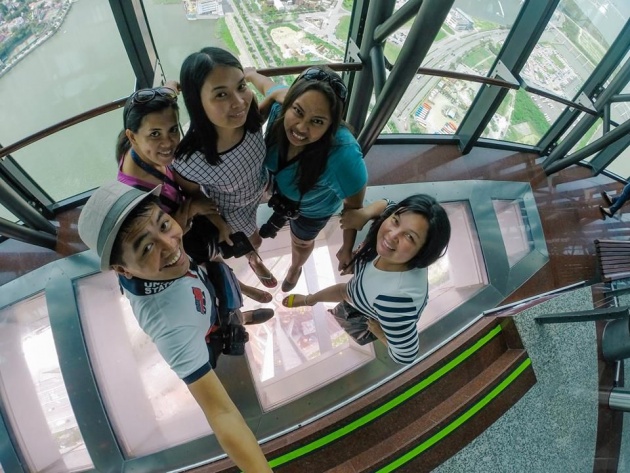 Observation Lounge Glass Floor / Photo Credit: Joseph Bacalso via Joycee Abaquita's Facebook
Let me show you a little detail of the flooring of the Observation Lounge. It is made out of glass panels as well and is situated just an arm's length from the window glass panels. To give emphasis to the glass floor we stuck out each foot to show the transparent glass flooring that sees through down the lower ground. If you can notice my left hand, I was holding on to the railing of the window panels for fear that the glass floor will break or collapse so just in case it will happen I can hang myself like a monkey on that railing...hahaha. Weird thinking though but that's a sense of a little panic when you are an Acrophobic by nature but I was able to survive trying not to step on the center of the glass but rather on the support metal flat panels. Just playing safe. LOL
BREATHTAKING VIEWS AT THE OBSERVATION LOUNGE
Below are the lists of panoramic views that you can see while you're at the Observation Lounge.
MACAU PENINSULA, MANGYANG HILL, AND TAIPA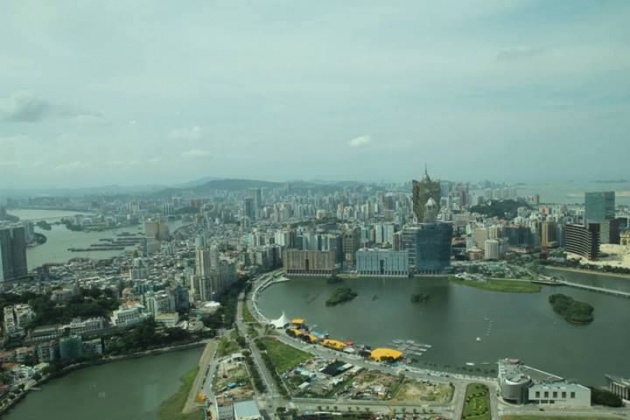 The most common thing to do when you are in Macau Tower is to have a panoramic view of Macau skyline at the Observation Lounge. As soon as you step into the glass elevator it will transport you in just a minute to as high as 223 meters and you will be treating yourself for a breathtaking view of Macau. The photo that you see in the photo is the Macau Peninsula, Taipa, Manyang Hill, and Cotai Strip.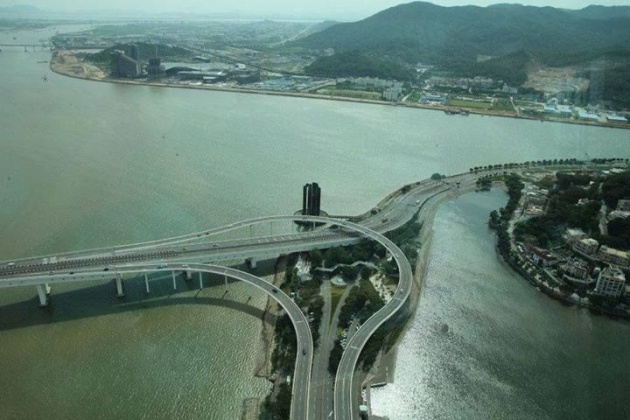 Pearl River Delta / Photo Credit: Dimpsy via Facebook
What other views that you can see on the 58th floor is the Pearl River Delta view. The river is also called as the Golden Delta of Guangdong. As you can see in the above photo the river has been divided into three major rivers and these are the West River - Xi Jiang, North River - Bei Jiang, and the East River - Dong Jiang. An ongoing planning phase for the longest bridges in the world is the Shenzhen–Zhongshan Bridge that will connect Pearl River Delta in the two cities of China the city of Shenzhen (Eastern side of the Pearl River) and the city of Zhongshan (Western side). One of the bridge-tunnel system that connects the three major cities of China: Hong Kong, Macau, and Zhuhai are among the longest fixed links in the world and the major landmarks of Macau is set to open to vehicular traffic on the 1st of July this year. That is one great way to cross the border from Hong Kong to Macau by land.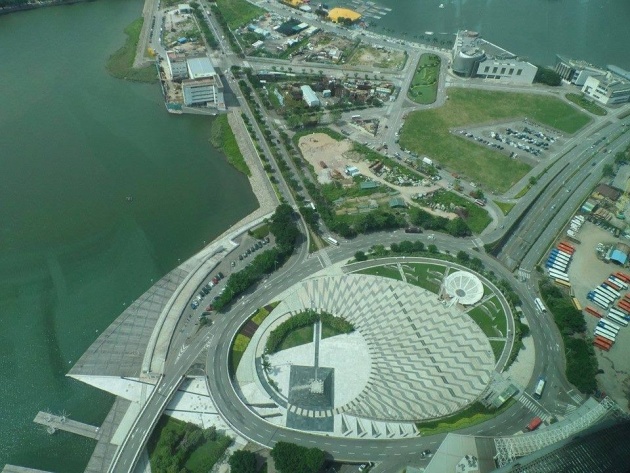 The Mainland of Macau / Photo Credit: Joseph Bacalso via Joycee Abaquita's Facebook
If you are going to look down from the 58th floor you will see the mainland of Macau. Doing the bungy jump gives you a clearer view of this area while falling off from the adventure deck with 233 meters high above ground level. Your viewing is not limited to the city of Macau alone but for some other neighboring islands of Hong Kong and China. They say that the 58th floor is the best way to witness the fascinating sunset and the spectacular night-view of Macau.
► ADVENTURE DECK
If you are looking for a thrilling adventure then this is the place for you to feel your ultimate adrenaline rush and dare to try out to do the extreme tower adventures that I listed down below. So take a pick and feel the rush!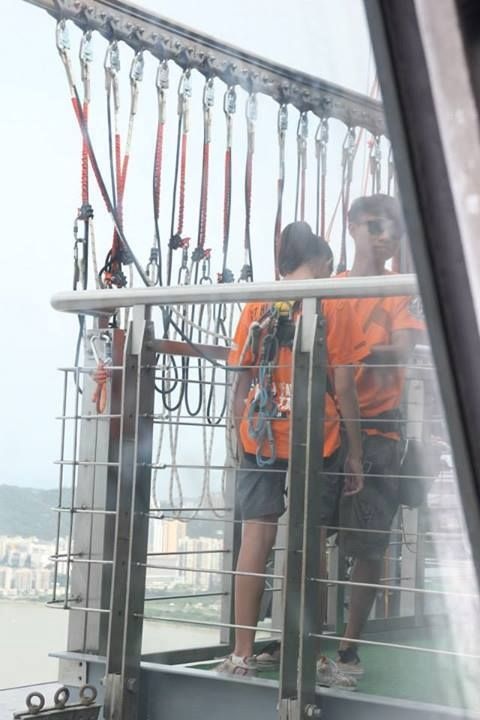 Getting Ready / Photo Credit: Dimpsy via Facebook
An extreme sport that made famous by AJ Hackett. In the photo, a couple getting prep for their bungy jump. If I were to do this kind of thing this will be the biggest leap in my life. One of my bucket lists is to do a bungy jump but knowing the cost of the free fall -- I backed off. The cost of the bungy jump is $3,488 (as per Macau Tower website) when converted it into Philippine currency it is worth P174,400 if the equivalent rate to a dollar is P50.00. If I have that money I'd rather spend it traveling to other countries than taking a risk and spending my money like a drunken sailor.
I found a video on Youtube from the uploader Happylives during his free fall at the world's highest bungy jump in Macau. Showing off a sorry note to his parents for doing the bungy jump down to the free fall and how he was descended at the ground level. Such a nice extreme sports experience that I'd like to do but don't have the guts to do so. If you think you can do it then take the biggest leap of your life.
How about you, what sports do you like? Do you consider doing an extreme sport? Share your thoughts by using Querlo and let's have a chat.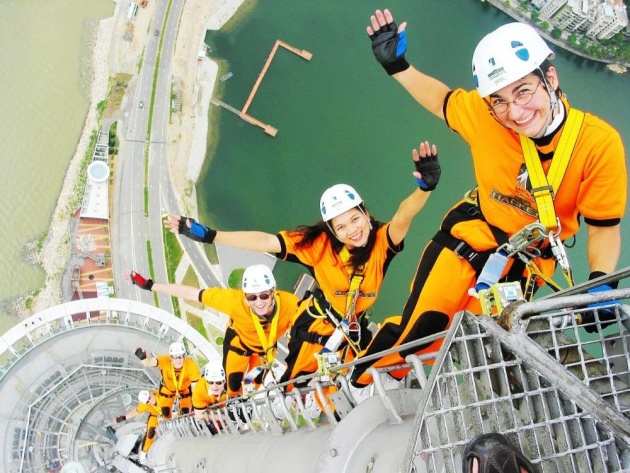 Starting from the 61st floor of Macau Tower guest thrill seekers will climb the 105 masts vertical ladder up to the top of the highest summit in Macau with a guarantee of a 360-degree view of the city of Macau in an open and exposed space. You should allocate 2-3 hours of your time for this activity alone for you to explore the unknown and reach the highest summit in Macau.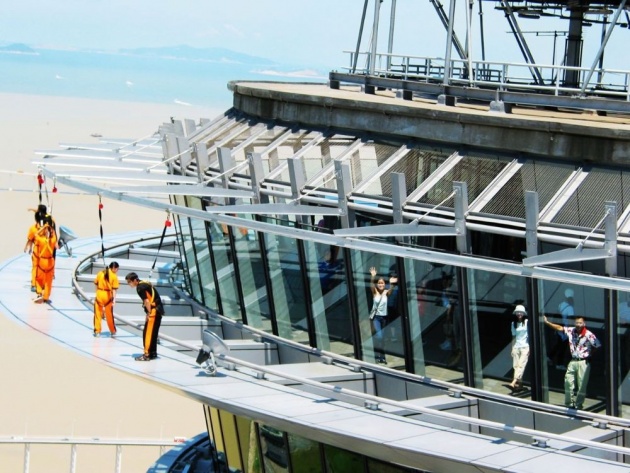 In an open space on the outer rim of the 233 meters high or 764 feet high above ground level tower is where you take a stroll without any handrails to hold and with a walkway of about 1.8 meters wide to test your nerves and conquer your fears. The only thing that keeps you safe is the harness that is attached to you while strolling, sitting on the rim, or raising your other leg on air while the other leg is on the edge of the rim. This is a fun and exciting activity that you can try. I have tried skywalking here in Cebu though it's not as high as the tower it's one nerve shaking and an experience that I can never forget and ticking it off on my bucket list was the best thing it did for me.
► TELESCOPE CARDS
At the Observation Lounge, you will find a couple of interactive telescopes that will allow you to explore in details the city of Macau.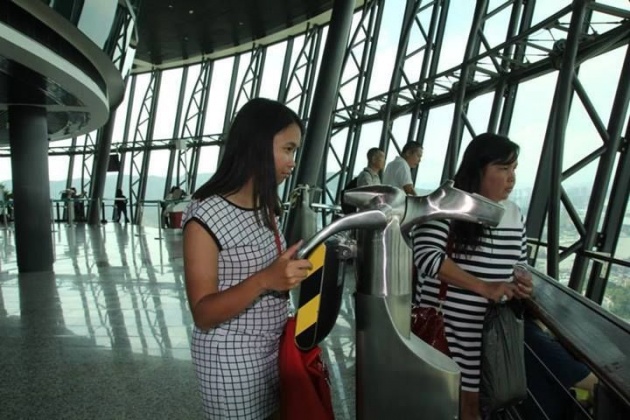 Telescope Cards / Photo Credit: Dimpsy via Facebook
At the ground floor ticketing area, you can purchase the telescope cards. Unfortunately for us, the ticket we bought doesn't include a telescope card so I really don't have any idea oh how to use the card. If you happen to be here make sure to check on these machines to have a wider and detailed exploration of the city.
END OF MACAU TRIP
That ended my Macau trip at the Macau Tower. It was a fun fulfilling day adventure from the city tour, hotel-casino hopping, Venetian Macao tour and Macau Tower tour in just a day was just a hectic and time constraint one. All the important landmarks and tourist spots that we wanted to see and explore were all covered and explored. For the rest of the landmarks and beautiful spots that were missed will all be explored once I set my second visit to Macau. I don't know when but definitely, I will be coming back.
OTHER INFORMATION
►HOW TO GET TO MACAU TOWER
COMPLIMENTARY BUSES

The most convenient and cheaper way to get to Macau Tower is by taking a complimentary bus/es offered by one of the hotel-casinos either in the ferry terminal or at the airport.

TAXI

You can hail a taxi from the airport or from the ferry terminal or the nearby road but be aware that there is a metered charge of MOP 17 flag fall and surcharges may apply when traveling to islands.

BUSES

Recurrent buses that will take you to Macau Tower are buses number 5, 9A, 18, 18B, 23, 26, 32 and 73.
►MACAU TOWER WEBSITE
►OPERATING HOURS
Bungy Jump / SkyJump / Skywalk

September – June

Mon – Thurs
10 am – 7:30 pm
Fri
10 am – 9 pm
Sat–Sun
10 am – 10 pm

July – August

Mon – Thurs
10 am – 9 pm
Fri – Sun
10 am – 10 pm

Tower Climb

Monday – Sunday
11:00 am - Morning Session
Monday - Sunday
3:00 pm - Afternoon Session
►ONLINE BOOKING
►PRICELIST
You can check the prices for the extreme activities by visiting the official website of Macau Tower or you may click it here to direct you to the price list page.
►CURRENCY
The official currency of Macau is Macau Pataca or MOP but Hong Kong dollar is also honored.
♥ ♥ ♥
Thank you for reading my blog and hope to see you again on my next travel blog.
♥ ♥ ♥
You might want to read my other Macau related blogs:
For my other travel blogs, you may click it here.