Hello readers! Just a week ago, I watched Deadpool for writing a review but after recommendation from some of bitlanders-friends and my brother, I had to watch the latest part of Mad Max movie. It has been few days after I watched this movie and now got time to write it down. It is one of the highly recommended and tending movies on the internet even after months of its release. This a movie of my type so in the review, it will not be spoiled.
George Miller is the director of this movie who has won several awards as a director. Although the Australian director has named an academy award for his Happy Feet in 2007, he has been hailed for showing a great enthusiasm in Mad Max movie series. It is the fourth in the franchise released in 2015 having more than 30 awards out of which some are academy awards. The movie stars Tom Hardy and Charlize Theron as main characters. Genres in the said movie are action and adventure composed with post-apocalyptic and science fiction. Let's move towards the story.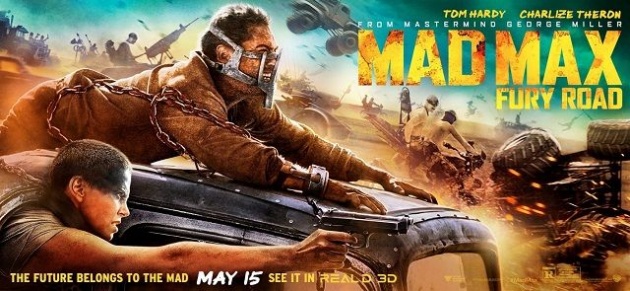 (This image is taken from Google.com.)
Story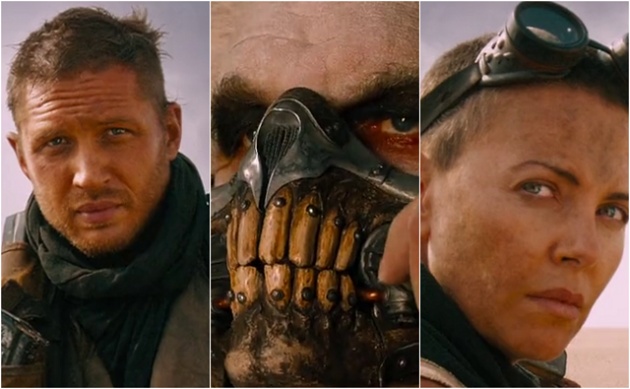 (This image is snapped from movie and edited by me.)
Civilization has fallen and the world has become a uninhabitable after a nuclear apocalypse. Those who survived have been suppressed and tyrannized in the Citadel by an oppressor despot, Immortan Joe. Max, one of the survivors, is captured by Joe's army and imprisoned to donate blood to weak war boys. Joe's warrior, a woman, Imperator Furiosa is dispatched with a convoy called "war rig", to bring gasoline from gas town and bullets from the bullet farm. Furiosa takes Joe's five wives and hides them in her war truck. She leaves the route to the destinations and starts leading the convoy in another route. When Joe learns about the Imperator's deception, he commands his war boys to catch Furiosa and bring his wives back. Furiosa drives her war truck into a sandstorm while a war boy carrying max in a pursuit vehicle follows her. Later on, Max and Furiosa form an alliance in getting rid from Joe's army and searching for a hope to life. They find Furiosa's mother's friends somewhere in the desert and get to know that there is no hope to live if they keep moving forward. The whole team decide to go back, fight the Joe's convoy and take over the Citadel. Some of Furiosa's mothers friends get killed in the fight while Furoisa gets badly injured. Eventually they kill Immortan Joe and his war boys. And capture his Citadel.
Watch the trailer of Mad Max: Fury Road below.
(This video is taken from Youtube.com and uploaded by Warner Bros. Pictures.)
Cast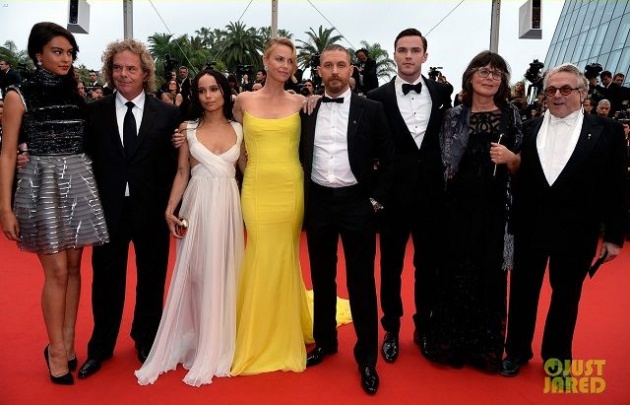 (This image is taken from Google.com.)
From heroes to villains, cast seemed very conscientious and perfect. It was one of the notable features of the movie. Some of the main cast is written below.
Tom Hardy as Max, a survivor of the holocaust and main actor in the movie.
Charlize Theron as Imperator Furiosa, leader the warriors of Citadel.
Hugh Keays-Byrne as Immortan Joe, head of the Citadel and mostly known as Dad.
Nicholas Hoult as Nux, a war boy of Joe.
Rosie Huntington-Whiteley as Splendid Angharad, one of the five wives of Immortan Joe.
Nathan Jones as Rictus, son of Immortan Joe.
Richard Carter as The Bullet Farmer, controller of the munition factory.
John Howard as The People Eater, owner of the Gas Town.
You can see whole cast regarding this movie on IMDb. After a thorough view on the characters and story, follow the post for movie's review below.
Tom Hardy - A phenomenal Thespian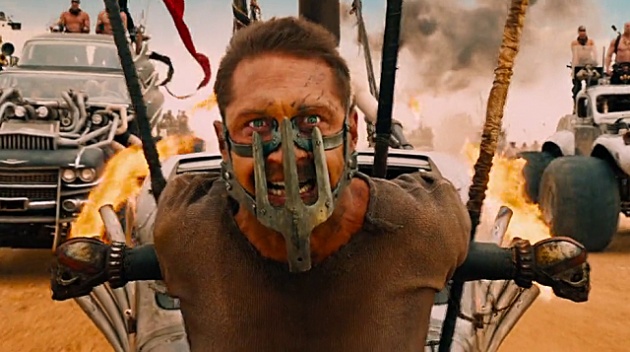 (This image is snapped from movie.)
Star Trek was one of the significant works of his Hollywood career where he adorned the the screen with his acting. He showed and extraordinary acting if we look at the physical and historical challenges the actor the actor had in the movie. Working with the continuous battering of dusty air in the real African deserts and making a notable duet with his co-actress Theron was outstanding. He gets more plus points by keeping the same pace as Max from previous Mad Max movies.
A Cutting-Edge Story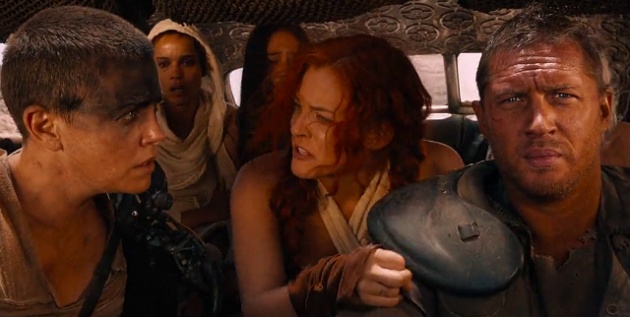 (This image is snapped from movie.)
The Hollywood movie industry is congested with numerous superfluous sequels and prequels. Luckily, written by Miller with his co writers, this movie is not one of them. It presents us a different story and maintains some necessary connections with its previous parts. These factors fill the movie with fresh action and thrills. The audience gets more drama and several kinds of actions to explore in the movie.
High-End Visual Effects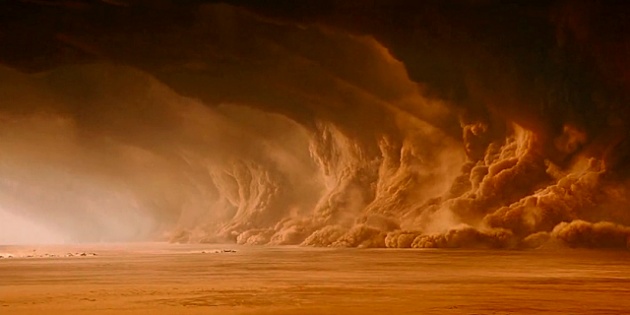 (This image is snapped from the movie.)
Visual effects is the best thing the movie delivers. Without CGI effects, it would not be possible for the movie makers to turn a desert into an under-battle wasteland. Crafting over 2000 VFX shots in Namibian desert was an amazing work. Here comes a name Andrew Jackson, the visual effects supervisor in this movie, who led a team of experts to create an impressive VFX. A finest example of the movie's visual effects is the glamorous sandstorm in the desert.
Violent but Legit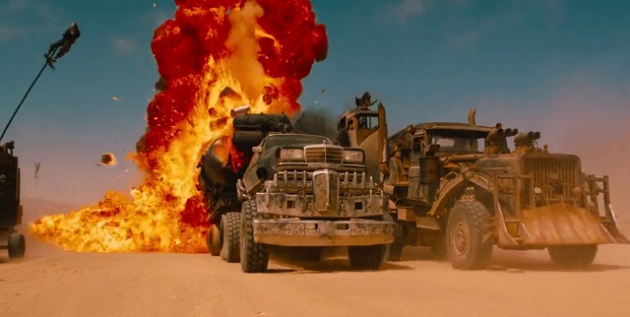 (This image is snapped from the movie.)
There are movies which lack the interest of audience because of high violence. It's a matter of fact that the spectacular Mad Max is also violent and completely based on vicious plot. Plenty of scenes is just showing continuous deaths and a little bit nudity. But it is okay. The age rating doesn't allow immature audience to watch the movie. The whole set shows a decay of humanity and living environment. In such a place, violence plays a necessary role and cannot be faded.
High-Risky Tradition Breaker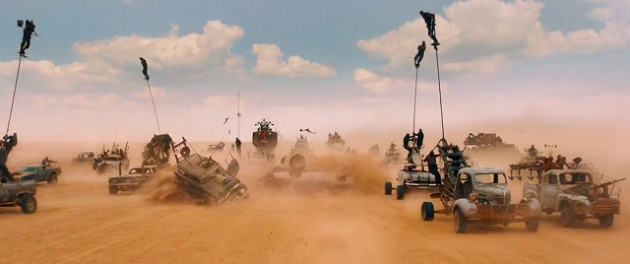 (This image is snapped from the movie.)
Remember all the movies you have watched. One common element in all is a struggle to take the characters to realism. In this movie, the director beautifully pushes the game in an advance level by making characters of his own concept. They exhibit different kinds of actions like people hanging on a pole attached to moving war rigs. 90% of the dangerous and life threatening stunts are real. Therefor, it would be right to say that the risk factors related to grabbing the audience and and shooting dangers were exceptional.
Verdict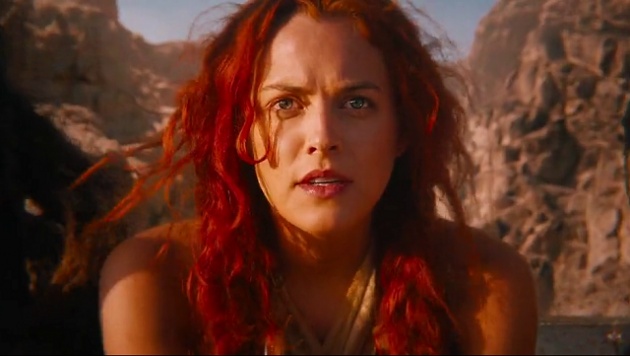 (This image is snapped from the movie.)
Mad Max: Fury Road gives time's best performance in all aspects. A devoted cast in a fully rhythmic story line, awesome effects and all in the hands of an experienced director made a perfect super-combo. However, it was released almost a year ago, I would recommend to try this one if you didn't watch it.
It gets 9 out of 10 which is the best score yet.