Cmsideas have created Magento mobile theme that will help you take use of mobile device for your business as much as possible. Magento Mobile Theme is a necessary Magento theme which allows you to install into your Magento store, and set up the configuration on color, layout and so on to fit with your current theme.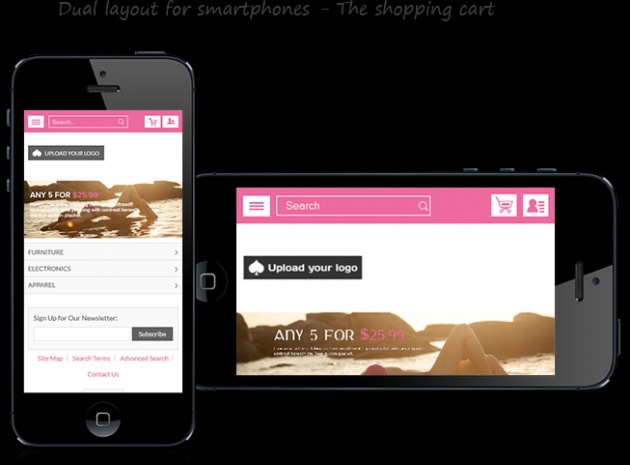 Especially, whenever a shopper browses your website via mobile devices, the mobile system automatically detects and switch to the mobile layout. Then you have a perfect mobile website and users can go shopping and payment via their mobile interface. This theme can work well for the iPhone, iPad, Android, Blackberry, Windows 7, Palm Pre and many other devices. Give your visitors a beautiful interface to your Magento store.
Wonderful opportunity:
- Firstly, you can get Magento Mobile Theme together with four other extensions at a very special price – Magento Ecommerce Package 02 – the $215 worth of files for ONLY $119
- Secondly, two popular Magento themes of our store namely Magento Lingerie Theme and Fashion Magento Theme are also on offer at discount price if you buy them together with this above package.
Magento Mobile Theme Features
- Ability to detects and work with smartphone automatically
- Easy to change design and layout, logo
- Can be installed on sub domain
- Resolution independence
- Just HTML, CSS, and JavaScript
- Google Analytics account for mobile view
- Multi store support
- Device rotation support
- iOS 6 support
- Windows Phone compatibility
- Android support
- BlackBerry OS 6 compatibility
- Easy to Install & Customize
- Easy, Simple, Beautiful & Powerful Magento Theme Screenshot