Making of Dual-tone-multi-frequency (DTMF) Generator by Using "Lab view software" (Part 2)
Block Photo of the circuit of DTMF (Part 2 of the remaining circuit):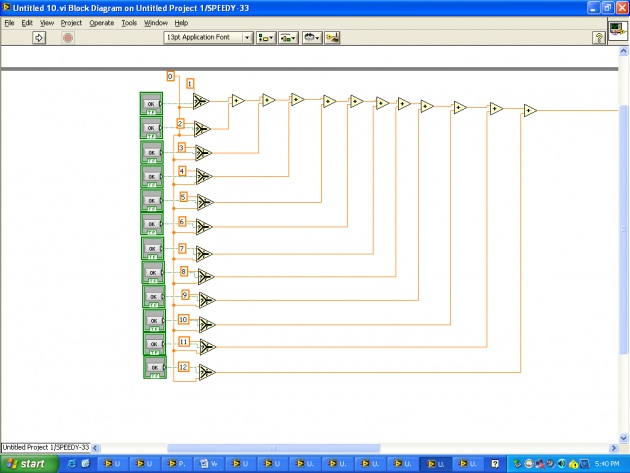 Block Image/photo (Part 2) of DTMF Generator:
Again in the Block image I rearranged the OK Buttons vertically in one line as shown in the above screen shot:
Then I select the 12 blocks of greater then sign from the comparison sub option and placed near the OK Buttons and connected their input with the output of the OK Buttons individually.
After that I connect each OK button with constant its index constant value at its "t" input as shown in the above figure:
And I connected the common 0 constant to all the OK Buttons at their "f" input.
After that I insert 11 adders' blocks and placed them in a horizontal line. Then I connect the first two outputs of the comparison blocks with the fist adder similarly the this adder output and the third button output with the second adder and so on as shown under block diagram:
Clearly I added all the outputs of the select buttons and connected the final result with index of the two arrays, as in the following fig:
In order to generate the tone for a certain period of time, I put the For loop around the simulate signal blocks along with the analog output block as shown in Block Diagram Part 1.
For minimum 42 ms tone length and generating 154 ms I used a divide block setting its sample 154 and Sampling rate 16. 2 connect this with for loop, It means that each for loop is 16.2 ms as mentioned previously and the number of "iterations" required will be the 152 ms /16.2 ms as shown in Block image Part 1.
At the end of the task I add one while loop to the whole circuit design and run it successfully.
This task of the Lab view is very benefit and essential for knowing the concepts of key pads of modern cell phone like i-phone, smart phones or all the touch screen sets and i-pads etc.
Writer: Amar Annex