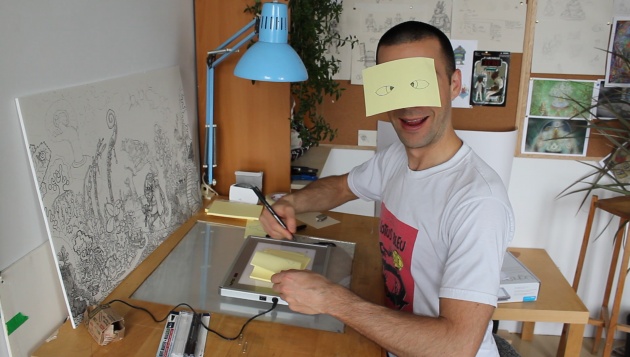 (Malcolm Sutherland - Drawing and playing around with Post-it Notes in his studio)
With the upcoming internet launch of my 2013 animated film, Yellow Sticky Notes | Canadian Anjiam, I am presenting a blog series with interviews and profiles on some of the animators who animated segments of the anijam.
For the film, 15 of some of the biggest names in Canadian indie animation came together to create a collaborative animated film. An 'Anijam' is a collaborative animation with various animators who do individual short animated segments that link together to make one larger film.
This week I'm featuring and interview with Canadian animator extraordinaire, Malcolm Sutherland! Malcolm Sutherland was introduced to me by Anijam mentor, Marv Newland, who demanded that I needed to bring Malcolm on board because his animation talent is mind blowing. Marv was right! After watching Malcolm's many animated short films, I personally consider Malcolm an animation genius and one of the most brilliant and innovative animators I've ever met. When I saw his animated segment for Yellow Sticky Notes | Canadian Anijam for the first time, I was blown away with his imagination, timing and flow...he really took animation meditation literally!
Malcolm Sutherland's first film, Robot City (2002), produced independently at the Quickdraw Animation Society in Calgary, has played at several festivals, including the Ottawa International Animation Festival. His first professional animated film, False Saints, was produced at the National Film Board in 2003. Originally a student of astrophysics, Malcolm went on to study classical printmaking at the Alberta College of Art and Design. There he received numerous awards and scholarships, including an artist residency award which allowed him to live, work, and study at Arcosanti; an experimental pedestrian city. His drawings, prints, and films have been shown in galleries and at festivals all across North America.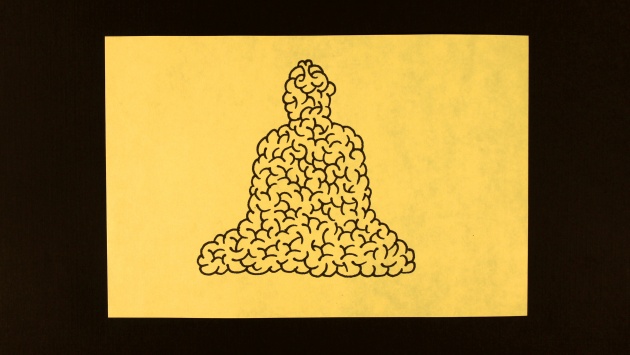 (Still from Malcolm's sequence in Yellow Sticky Notes | Canadian Anijam)
MALCOLM SUTHERLAND INTERVIEW:
* For the interview blog series, all the anijam animators were asked the same series of six questions.
1. What inspired you to become an animator?
MS: I stumbled onto animation at an elective class while at ACAD, where I took a basic sort of introductory animation class with crazy genius animator Kevin Kurtynik. It was really meeting him more than anything else that started me on my animation path.
2. Which animated film of yours are you most proud of and why?
MS: The one I am working on now! I am proud of it because it has been the longest, most gruelling development of any film I've made, and finally it is working, I am ready to start production, and I love it. It's been like running a really long marathon (which isn't over!)
3. What do you think makes for a successful short animated film?
MS: I think honesty is the key. If a director is transparent about who they are, what they can do, and what they are trying to say...then a film will usually work well. I think it is a common thing that directors try to be / do / say something that isn't true, and for me that's when a film falls apart.
4. What advice do you have for students wanting to become animators? Any animation tips or wisdom you've learned over the years?
MS: Advice! Jeez, I'm not that old. I guess my advice would be the cliche - "do what you love, and the rest will follow". I guess it comes back to the honesty thing. Keep it real! And yeah I got a secret tip : there are no rules!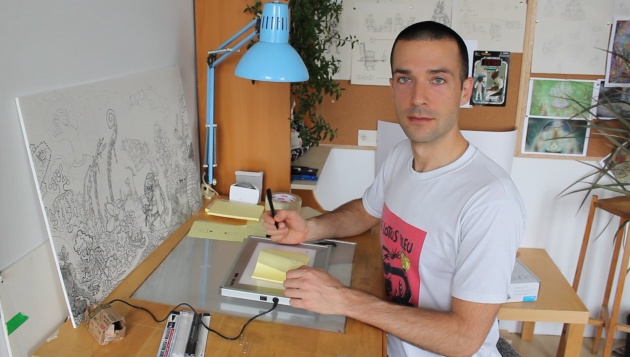 (Malcolm Sutherland without Post-it Note mask!)
5. The Yellow Sticky Notes Project is a foundation created as an extension of our Yellow Sticky Notes | Canadian Anijam to teach kids and youth classical animation using sticky notes and collaboration through anijams. From your experience, how do you feel animation can be used to help foster creativity and self-expression?
MS: I think just having the chance to animate is instantly gratifying, surprising, and rewarding. If one can approach animation in an open way without trying to do anything "right", sitting down to animate is like looking into a magic mirror!
6. What are you working on now and when can we expect to see it?
MS: I am working on a new short film, which as I mentioned has been in development for ages. Ages!! It is kind of about a bunch of frogs and their frog problems. I won't make any promises when it will be done, maybe in a year? I am in no rush.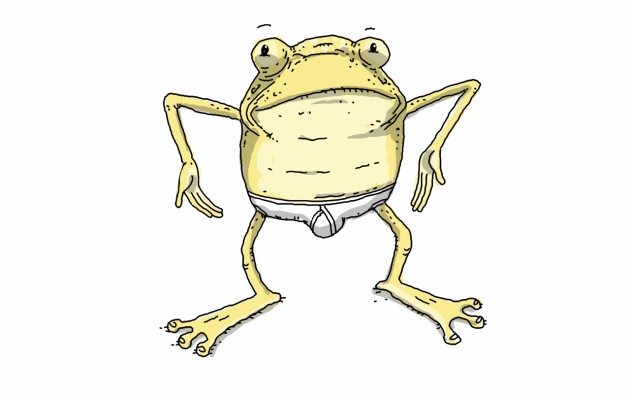 (Still from Malcolm's upcoming film - courtesy of Malcolm Sutherland)
YELLOW STICKY NOTES | CANADIAN ANIJAM ARTIST STATEMENT FOR MALCOLM SUTHERLAND'S SEQUENCE:
"I was in the middle of a meditation retreat when Obama was elected in 2008, and one major thing I noticed during the retreat was the way that my mind was relentlessly trying to fabricate meaning out of the events around me. It was fascinating to be having such an internal experience while such a major event was happening in the outside world. My mind wanted to have it all mean something important, but the reality was that I was sitting there breathing!"
Below you can watch Malcolms's animated segment from Yellow Sticky Notes | Canadian Anijam. Enjoy! Please subscribe for new blog posts in this series (many other great animators to come) and more clips from the film!