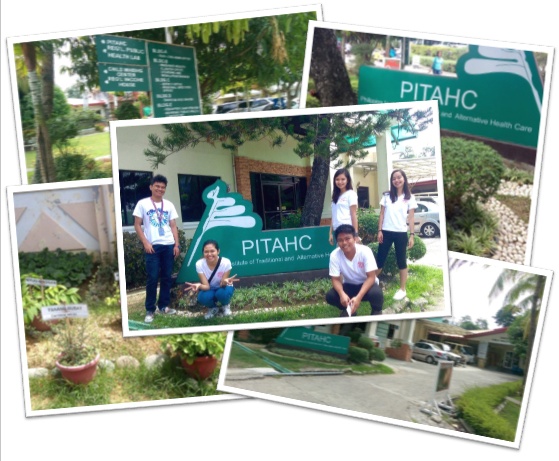 CHED mandated a practicum or on-the-job training (OJT) for BS Pharmacy students as a requirement for graduation (see source - section 10). Students will undergo a total of 960 hours of hands-on training to provide them with actual experience in the various fields of pharmacy. 200 hours will be spent for each area of pharmacy, namely the retail (drugstore), clinical (hospital), and manufacturing (pharmaceutical company). The final 360 hours will be allocated to a major internship. This will help the students decide the particular specialization they will pursue and provide them the necessary competencies and skills.
~ 200 Hour Internship - requirement ~
Part of our requirement as a Pharmacy student is to comply for a 200-hour internship in a manufacturing company, and in order to achieve that, we were sent off to Davao City to be assigned at the Philippine Institute of Traditional and Alternative Health Care. PITAHC is located at J.P. Laurel Avenue, Bajada, Davao City. It is an Herbal Research and Processing Plant, which happens to be also located conveniently inside the Department of Health compound just in front of SPMC Compound, the dormitory where we are staying. It is my first time to visit a Manufacturing plant (as well as my first time at Davao City- known to be the safest city and the official residence of the President of the Philippines).

~ Whole Day Lectures ~
Upon arriving at the compound on our first day we were immediately flocked towards the flagpole for a mandatory flag ceremony—an event that we attended every Monday morning of our stay in Davao. They'd give few announcements and some important matters for their employees after the flag ceremony and this gave us the chance to see the interns from the other schools and the various faculty members at the institute who are all lining up in the quadrangle. Afterwards we would make our way towards the conference room where we would discuss our activities for that day and have brief lectures. For our first week we had our orientation and lectures pertaining to the aspects of traditional and alternative medicine and the practice of manufacturing pharmacy. They also discussed about the 10 Halamang Gamot (Medicinal plants) approved by the Department of Health and how we could optimize the benefits of the natural plants we have in our surroundings. Upon completion, we had to take and pass different set of quizzes in which we were tested at the end of the week to measure our understanding from the lectures as well as what we acquired from the school since we are already done with the pre-requisite subject- Manufacturing Pharmacy from the recent semester. The first week basically served as our orientation, merely sitting at the conference room listening to a whole-day lectures. Please see photos below.

~ Hands on Plant Experience ~
The succeeding week(s) consisted of the hands-on experience in the plant. Every morning after timing-in we would make our way towards the gowning room, where we would execute every sanitary precaution and gear ourselves with the standard Personal Protective Equipment- wearing laboratory gowns, mask, goggles, gloves, and foot map in order to enter the Production Department.

(In the pictures above, we weren't using gloves because these were taken after doing the tests since we just knew by then that we can actually bring cameras inside. We were just posing like we're doing something but we're not.. don't be fooled LOL)
Each day we spent in the Production Department gave us the chance to observe and practice tasks that employees of the company do on a daily basis. However, being pharmacy students we focused on the Quality Control and spent most of our time doing the usual tests that are required by such department. We had seen and even tried on the different manufacturing equipments (which we did not experience using- in our school at Cagayan de Oro City). Used in the overall production process of the Sambong tablets; from raw materials to sampling, quarantine, weighing and dispensing, tablet manufacture process; and primary packaging to secondary packing process.


It was indeed an interesting experience being our first time and me personally gets excited to try on different equipment and operate machines specially in the packaging process. Here is a video clip in the Primary Packaging Area:
Source: My own video uploaded in Youtube
~ Internship ~
During our internship at the Philippine Institute of Traditional and Alternative Health Care (PITAHC-DOH) at Davao City we learned a lot about the field of Manufacturing Pharmacy that for sure would really help us in the future- to add-on to our expertise as a Pharmacist. And I'm very thankful we really had hands-on experience since other Manufacturing Plant only just assign their interns in the Packaging Area, which is basically just less experience on the Pharmacy related area which is obviously a much important one so for the whole experience, I would like to express my gratitude to our clinical instructor for giving us her unconditional effort by guiding us in our stay in Davao for our internship. And also, to the people in PITAHC, for giving us the chance to experience how a manufacturing plant works, for all the knowledge they shared, the hands-on experience we had as well as to their warm approach to interns like us. The staffs were all so kind and friendly. And lastly, for the School Administrators and of course to our parents who had given us their full support. It was indeed a great and unforgettable experience.
Educational Tour at University of Immaculate Concepcion- Davao (Pharmacy Program)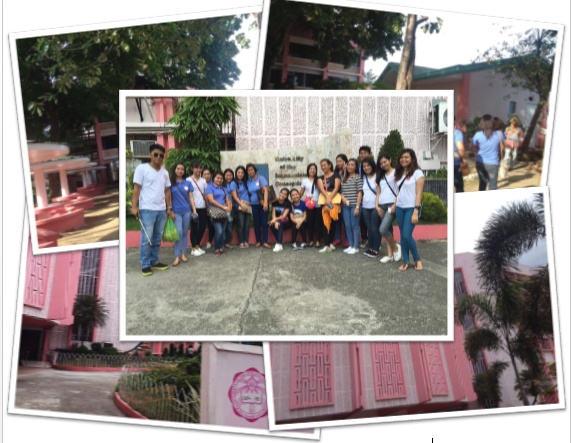 On May 13, 2016 (done with the internship at PITAHC), we had our educational tour at the University of the Immaculate Conception Pharmacy Department- Davao. It is one of the schools administrated by the RVM Congregation which is known by its pink color buildings and university uniform. This school also produces a number of Pharmacy board topnochers.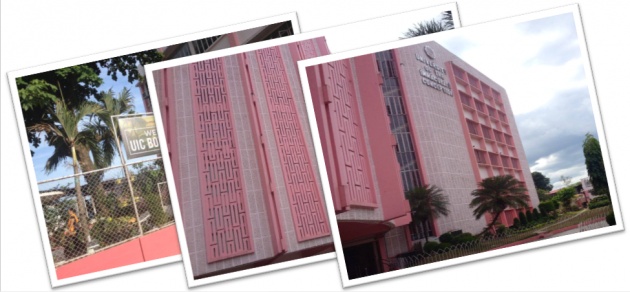 The tour started at about 2:00PM at the Pharmacy Program Dean's office where the staff welcomed us and we grouped ourselves into 10 per batch so that we won't be that crowded inside the laboratory since there were staffs and some students doing their research. So we've seen their Laboratories which includes the Chemistry, Physics, Anatomy, Biology and many more, each having different laboratory equipment. We passed by their zoology hall, visited some of their classrooms. Then we took a quick tour at their Mini Manufacturing Pharmacy. It was really nice inside since It was like a mini PITAHC complete with the Production and Quality Control Department where you should also need to gear up with the Personal Protective Equipment upon entering the room. Although they don't really have everything inside as to as PITAHC but at least their students can already experience what it's like producing different dosage forms of medicines and how the workflow of the plant is even before internships at the actual Manufacturing Plant. They also have a Mini Community Pharmacy which displays the pharmaceutical and cosmetic products personally made by their students. So, after the tour in the building we headed downstairs to visit their Botanical Garden and Animal House. It was just a 3-hour tour and with that short span of time, we enjoyed the moment, especially visiting their laboratories which are a lot different to ours since ours are smaller and with less equipment. Overall the school really amazed us with their facilities. Here are some photos and a video clip during the tour: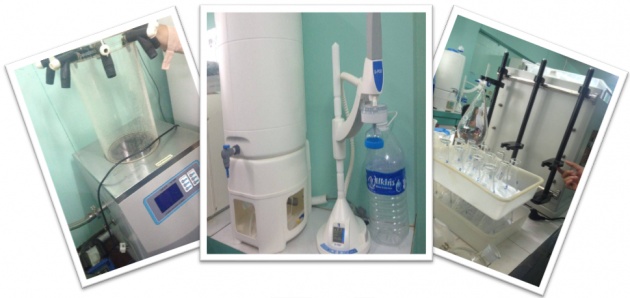 :
Source: My own video uploaded in Youtube
All photos are my own original content.
THANK YOU ALL FOR READING!
GOD BLESS