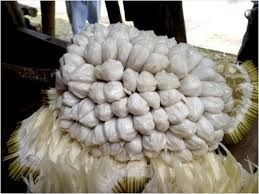 Have you tried eating Marang?
Its sweet taste will surely capture your taste buds.

The Marang fruit is round and oblong-shaped with soft spines usually with yellowish,
brownish and greenish color. When ripe, its rind can be opened with bare hands with
minimum effort. Its white pulp has a peculiar sweet taste and its smell is not as strong
as the durian. It is also less expensive.
Best eaten fresh in one sitting or it loses its flavor after being exposed to the elements.
After eating its pulp, gather the seeds, wash them clean, then sun dry. Afterwards,
roast the seeds without oil. When the seeds turn brown, it is cooked. Rub its thin layer
and presto! Eat them like peanuts.

The Department of Science and Technology (DOST) has identified the following processed products from marang:
puree, flour, jam, jelly, pastillas, paste, concentrate, brittle, marmalade and candy.

Where To Buy Marang:
Davao City is the most popular place to buy Marang but provinces in Mindanao also have this fruit.
.....................