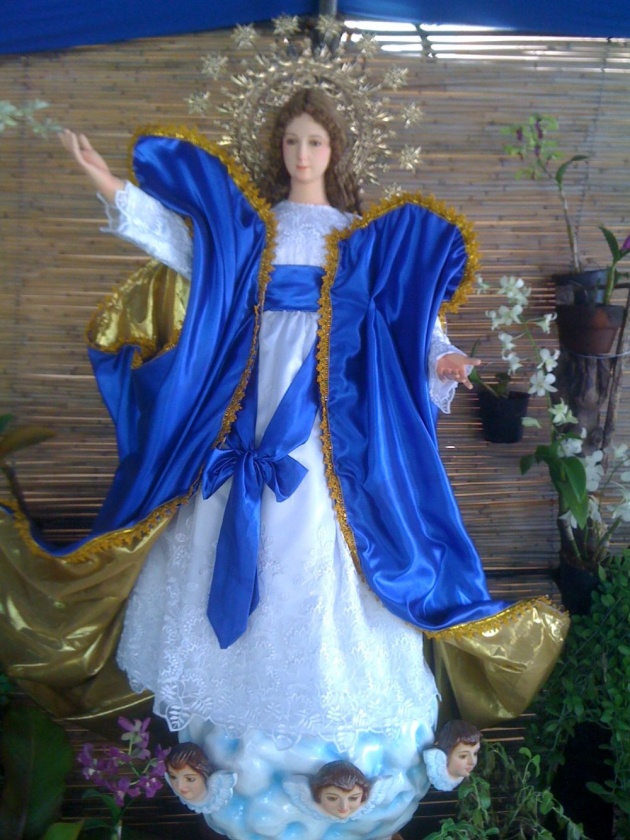 Filipino's are well devoted and love our loving Mother Virgin Mary. In fact we have different images and description about her personality. We believe that she is the closest person to our Lord Jesus Christ that's why we often ask for her help during our prayers.
I am glad to share to you that I was invited last October 18, 2014 in Balucuc, Apalit Pampanga where there is said to be a Marian Festival. I was curious at first because I don't know what kind of festival or activities they celebrate. It is declared that the month of October was the month intended for the Holy Rosary. This year's theme was, "Maria, tanglaw ng mga layko sa landas patungo kay Kristo", which means that Mary the light of the laity towards Christ. The pope declared this year as the year of the ordinary servants of the Lord, which are not the Priest, Nuns other holy people. The Marian festival was celebrate during the month of October every year. Many Marian images are exhibited in the parish of Nuestra Seniora Del La Divina Pastora were each are shared by the owners of Balucuc to be viewed in public. I will try to share every picture and description of the images on my next blogs.
The said exhibit started last October 5, 2014. The "Harana Kay Maria" or serenade to Mary was conducted last October 18, 2014 and many liturgical singers and choirs are invited to sing Marian songs and to serenade Virgin Mary. I was lucky to be invited. It was a night full of beautiful liturgical songs and a solemn night. Last October 19, 2014 they conducted a Marian talk. It was an educational teaching about Virgin Mary's life and holiness.
Upcoming schedules are Manyanita on October 24, 2014 at 7 PM. It was a night of prayer, singing and dancing. On October 25, 2014 there will be an assembly at 3:30 PM and mass will follow at 4:30 PM. Living Rosary at 5:30 PM where the members of the parish will act as the beads of the Holy Rosary praying altogether. After this is the Grand Marian procession, where all the images will parade in the Barangay of Balucuc, Apalit. Come and witness this beautiful event. It is more fun in the Philippines, and more fun in Pampanga!
Here are the images with history and description in the said exhibit. Click link to see pictures and history.
1. Rosa Mystica
2. Coronation of Maria Y Reina Del Cielo
3. Mary Help of Christians "Maria Mapag-ampon Sa Mga Kristiyano"