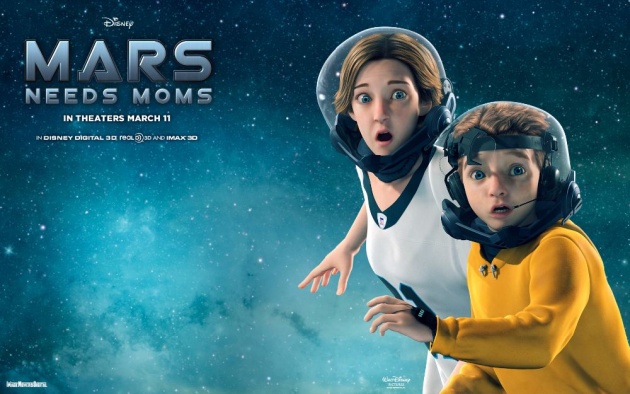 (Source=Google)
Mars is neighboring planet to our charming planet Earth. With progress of Science, human has exceeded his limits on the base of knowledge "Explore Beyond Limit" is their motto to research on far away planets. NASA is solving the mystery of this universe and their first aim is to find live as it is on earth on some other planet in our Solar System or in another neighboring galaxy. Astronauts have been working for many years to have definite access on Mars and to find out any possibilities of the occurrence of life their. Many movies have been released on experiment programs of NASA but "Mars Needs Moms" delivers many messages keeping the concept of life there.
I wanna mention a special thing I noticed in Fictitious movies i.e humans always thinks that out there are species who are stronger, sharper and more advance in technology than them but ultimately in the end no matters how strong and equipped with heavy technology, Human wins at last.
In Mars Needs Moms, life actually(Fictitiously) existing on Mars but human unable to locate it as the Martians are living underneath the surface of Mars. Martians are more advance than human beings but they don't know how to raise their children. Martians are using Nanny bots to raise up their hatchlings(As Martians' babies don't take birth from female, they hatched from ground in this movie) and they need humans' moms memories and experience they use to raise and control their children. So, Martians take away moms but unfortunately, Milo happened to follow them from earth to mars when they were taking his mom away from him.
Milo is a 9 year old boy who loves to play, read comic and watch Monstrous movies but he doesn't listen to his mom. His mom strictly forced him to ear broccoli and do some home works which are his responsible to do. Milo said to his mom, "My life would be so much better if I didn't have mom at all". This hurts Milo's mom and eventually Milo's harsh words changed him to much obedient son than before as he realized his love for his mom.
Trailer:
Before we continue to "Mars Needs Moms", Let's have a glance of movie in short trailer.
(Source=Youtube)
Mars Needs Moms movie is based upon the book Berkeley Breathed. The Film was released on 11 March, 2011 by Walt Disney Pictures and directed by Simon Wells. (I read about Mars Needs Moms) It was also the last movie from Image Movers Digital. Mars Needs Moms was also shock the records of Box Office in 2011 and still 4th biggest ratted film grossing thirty-nine million dollars.
Details of Film mentioned Below:
Genre: Science Fiction
Release Date: March 11, 2011.
Production Companies:

& Image Movies
I love animated movies more than others because in animation people expresses their imaginations in front of us. Animation is actually way of expressing what you are seeing? What you want to this world to be? All of these things are possible cause of animations. Animated characters of this movie is Milo, Gribble, Ki and Supervisor; They were voiced by Seth Green, Dan Fogler, Elisabeth Hamois and Mindy Sterling respectively.
This is the boy on which the whole movie "Mars Needs Moms" centered i.e Milo.
(Source=Google)
When Martians watched Milo's mother controlling him great, Supervisor ordered to bring her here to take her memories. Meanwhile, when MIlo's mother was being taking, Milo chased them and somehow he managed to enter in their spaceship but he lost his consciousness (Due to movement against Gravity Field Force result in low blood supply in brain) as the spaceship rushed to escape earth's atmosphere. Martians took her mom and also captured Milo and looked him in a cell. Luckily, when Milo got his consciousness; he listened to a human voice (Gribble's Voice) asking him he was right or not?. Gribble opened up his cell as its connected to computer and asked him to jumped into the Shoot No. 3 (Few tunnels that was designed to reached special parts of Mars Shoot No.3 represent sewers) and MIlo was being attacked by SiSS(Supervisor Secret Security). So, he had to trust on the person whom he was listening to.
This is Gribble.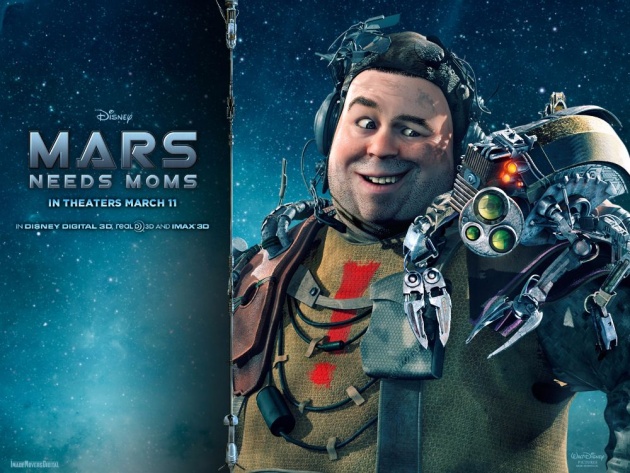 (Source=Google)
Martians just not only took away mom of Milo but also many years before they took away Gribble's mom too and later he left alone on Mars as his Mom was killed by Supervisor after taking her memories. He Helped his little buddy to get out of cell. So, he has a company now with him but Milo was determined to save his mom and take her back to earth. Gribble told him that was impossible because he tried to save his mom but in vain. He asked him to stay with him and forget about his mom; Milo asked him that what would they do to his mother. He said, "When the sun will come out, they take your mom memories and your mom will die". Milo at that time was only of 9 year old boy but he didn't lose heart at all. He compelled Gribble to help him at any cost. Gribble told him the procedure of escaping from Mars with his mom but he had to save his mom with in 7 earth hours. Gribble didn't want another boy lose his mom. But when Milo entered the area of Supervisor he was spotted and they tracked Gribble as well. Milo managed to run from them with help of Gribble but meanwhile, they had tracked Gribble and busted him to punish in front of every Martian. On that time Milo met a new friend Ki who can speak English Language but she was Martian. Milo scared once as he felt threat from Martians but she told him that she was not busting him. He could relax. He told him that they had tracked to whomever you were talking to.
Ki or I call her Paint Girl, she's the first who stand against Supervisor but she really doesn't know. She likes colors and to paint on walls as she saw humans doing crazy stuff with colors i.e Painting. She just fell in Love with Colors and also like humans too.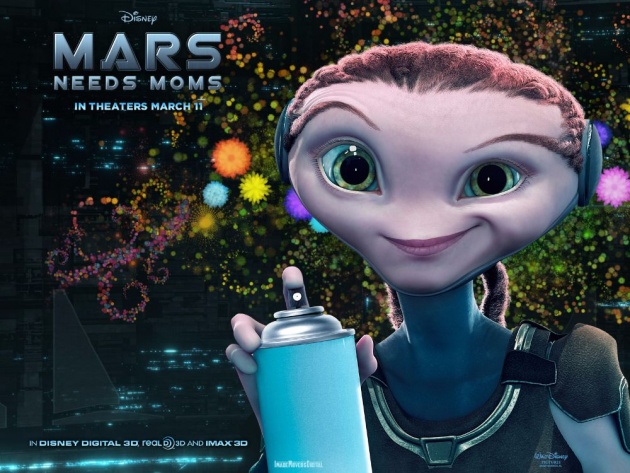 (Source=Google)
Ki learnt English from their researched data on humans. She helped Milo in saving his friend Gribble from punishment by Supervisor. She took Milo's side instead of Supervisor. Milo and Gribble drowned in a river that leaded them to a new place which gribble had not seen it in years. There, Ki saw a photo of Parents and Child of Martians. He asked Gribble what is that? Gribble told him you really didn't know about parents? Milo said,"Parents are the people who the raise their children, You must have too". Ki said, "But Supervisor told them that Martians were always raised by Nanny Bots. We were never raised by other Martians". Gribble realized her that Supervisor lied to them. She willing to help Milo in saving her mother from Supervisor and She did greatly. Also, she told the truth to her people that they never meant to raise by machines. They were meant to raise by parents. They should have that "Crazy Love Thing".
This is wicked Supervisor of Mars. She was ruling the whole Mars and responsible for many death of many innocent children's moms.
(Source=Google)
Supervisor is a evil character of this movie. She lied to her people that they were meant to raise by Nanny Bots and for this they need Humans' moms memories to do that. She's heartless. She had killed many moms for their memories. But Ki found out that Supervisor lied to them. Supervisor thought that females don't have time for raising hatchlings that's why she created Nanny bots and thew all men to sewers as she don't like men because they never helped in raising a hatchling. But at last, Martians realized that Supervisor is an evil. She lied to them and punished males for no reasons. They took away Supervisor and whole Mars celebrated freedom with their Males back.
Message of Movie
The message of this movie is to tell children that importance of their moms. Milo realized her mom importance and his love for her, when she was taken. Mars Needs Moms gives the importance of family in our lives. Our dear moms love us so much. They can even sacrifice their live if any thing bad happened to us. The Director simple showed his message in the last few scenes of movie. Simon Wells made me cry at the end of the movie and that love of Milo's mom for him turned the whole martians into families.
This event of life Changed Milo a lot and he turned into a Good Boy who listens to his mother all the time.
(Source=Vimeo)
Everyone should know the importance of family and have that crazy love thing. Humans being are role of love to nature and to each other. I love such movies in which they are giving message of love and importance of our family and friends.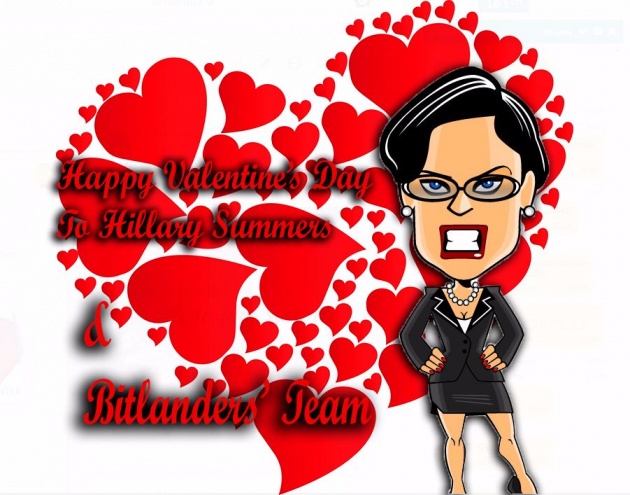 I'm wishing Hillary Summers and bitlanders' team Happy Valentine's day.