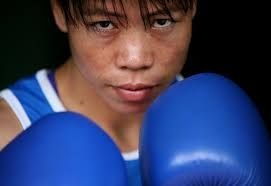 Mary Kom was much anticipated to be a huge it and one of the best movies of this year, but alas! Even though Priyanka Chopra's acting was outstanding still the movie was unable to touch the heart and soul of the viewers who failed to connect with the movie. Directed by Omung Kumar, the movie Mary Kom was the biography of the female Indian boxer M.C. Mary Kom which was played by none other than the "Barfi" girl Priyanka Chopra. In the first week after the release the movie did not received the response which it was hoping.
The movie being produced by eminent director of the B-Town, Sanjay Leela Bansali along with production house Viacom 18 Motion was launched in all over India except the hometown of the wrestling champion, Mary Kom, which is Manipal. The reason for such an action is that the movie halls in Manipal are prohibited to show Bollywood (Hindi) movies from the year 2000, due to the regulation stated by the Revolutionary People's Front party who also claim to threat any of the owners of movie theaters who does not act in accordance with this order. The other north eastern place where the movie is banned is Mizoram and Nagaland besides Manipur.
For this movie Priyanka had to drastically change her physique and also she did a lot of research on the Indian wrestler, following her to her hometown and staying a couple of days with her to know her ways and habits. Though this movie is free of tax in few of the cities still it failed to compel the public to watch it. This came as quite a shock to the makers of the movie and also to the actors. The movie's total turnout was reported to be thirty six crores up till Tuesday.