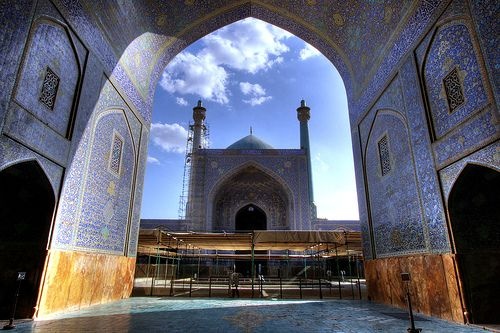 Masjet-E-Jam is the most popular mosque in Afghanistan, its located in the heart of Afghanistan Herat. The meaning of Heart is also in heart that's why we call it stays in heart of Afghanistan. It's also called as the Friday mosque or Blue Mosque, this beautiful mosque was called as Friday mosque because in Islam Friday is considered as a holy day and many of Muslim gathers here for noon prayer.
The basic design of this monument is very beautiful; the basic pattern of this beautiful masque is so impeccable that it can grab anyone's attention. The basic structure is delicately designed so that if anyone is fond of true art and its form one can find his world here. The beauty of mosque is still that same even over all these years so many changes have been done with beautiful mosque which had emphasized the beauty of this mosque. It's a beautiful monument for non Muslims and place with lot of spiritual value with awesome infrastructure. This mosque is a perfect amalgamation of art, delicacy, beautiful infrastructure and spirituality.
This mosque was built in 12 century by Timurid's and then this mosque came under the rule of so many different rulers. All the rulers gave lot of importance to this beautiful mosque and renovated and improvised the beauty of this mosque. That is why this mosque has always been as beautiful as it was but unfortunately when British government came to Afghanistan they brutally destroyed this beautiful mosque in to a spoiled monument with some of good memories. But the renovation and reformation of this beautiful mosque took place in year 1943 when British left Afghanistan. The reconstruction increased the tourist attraction and it the tourist visit to this mosque was increased by thousands of people per year.
So if you are fond of culture around the world then do visit this beautiful mosque in the city of heart.