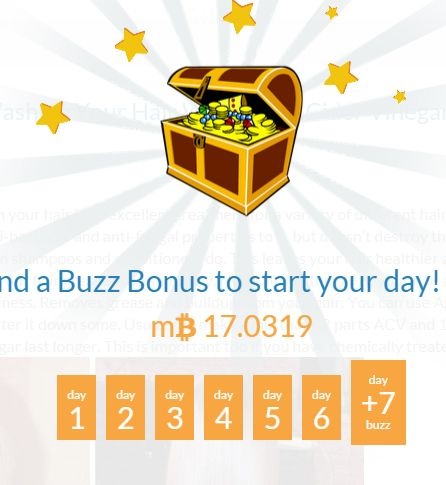 You know what I love about 9pm?
I bet you know it already but I still have to say it, it's the specific time of the day where my treasure box and maybe yours as well shows up! It has been consistent for almost three weeks or so. I have been tracking that because whenever I am not in the house, I would make sure to it that at 9pm, I am logged in to get my bonus score and the plus seven buzz points additional.
Well last night was really exciting as usual, I get really excited whenever that times comes and I then received that same treasure box screen! Woot woot. My conscience was telling me to open it immediately and I listened to it.
That photo above shows my latest bonus and that is so far the highest bonus score I had ever received in bitlanders. How cool is that?
I could site certain things which had made this realistic as I had been saying before, it requires consistency which had always worked for me.
When I say consistency, it should be on all aspects, videos, blogs, microblogs and galleries too! I am posting three or more to those categories on a daily basis. I post more on microblogs though. I as well interacts with my co bitlanders, I don't just put copy pasted comments, whatever interests me, I would surely put a decent comment on it and or else a cute emoticon. Thanks to bitlanders for adding that up, we all have our own excuse if we can't put words in that box.
Aside from those stuff, I had been really engaging well with whatever bitlanders is putting for us. I just really regret that I didn't know we can add funds in here and so I missed to purchase the crown. But anyway, I am looking forward for that to be available soon as well. For now, Bitlanders had given us the cricket costumes and I had already purchased it. I am not sure with what it would do to my account but I am excited on what it has stored for us.
Anyway, that should be it, oh by the way, don't forget to share that is also an important thing to do here in bitlanders, let the outside world know we are all happily engaging with this site.
More power to bitlanders!